---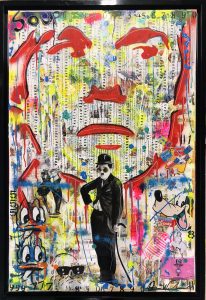 -ICONIC ERA-
100 X 70 cm with black frame
Collage painting with acrylic.
---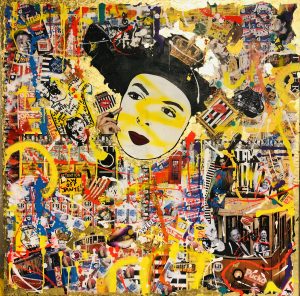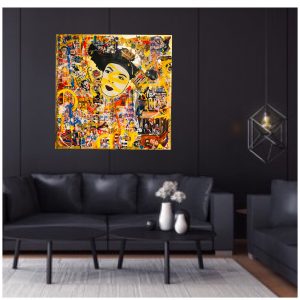 -LAGOM-
100 X 100 cm collage painting, acrylic and golden leafs
---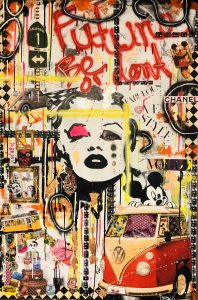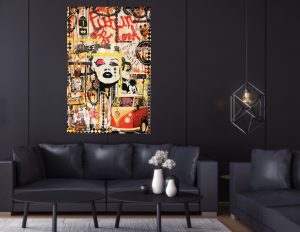 -FUTURE-  SOLD!
150 X 100 cm acrylic painting & Collage
---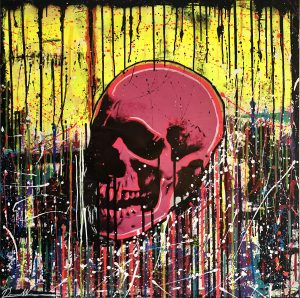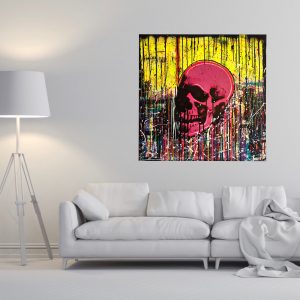 -Skull of love-
100 X 100 cm acrylic paint with collage
---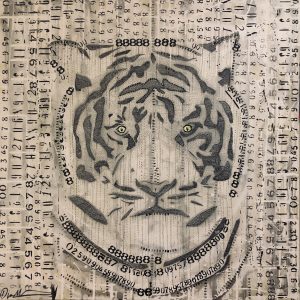 -Ramonas Tiger-  SOLD!
100 X 100 cm
---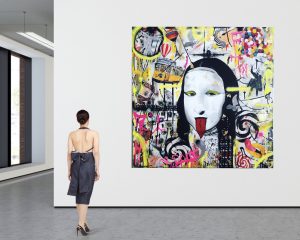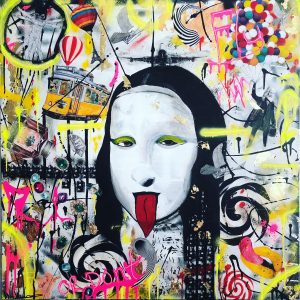 SOMEDAY-LISA
100 X 100 cm acrylic on canvas & collage
---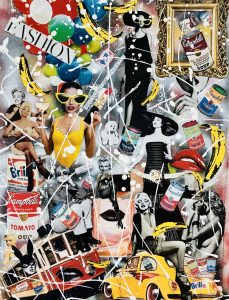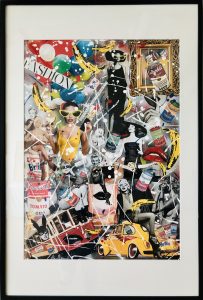 -Go banana-  SOLD!
Collage painting 90 X 60 cm with frame
---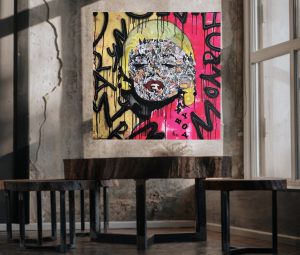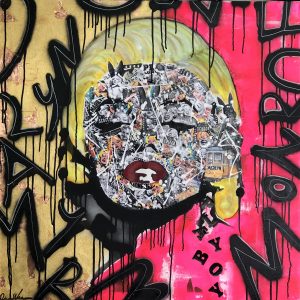 -MARILYN PLAYBOY-
80 X 80 cm Acrylic paint on canvas, collage & 22 carat gold
---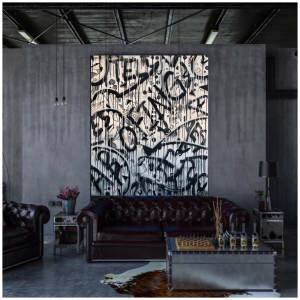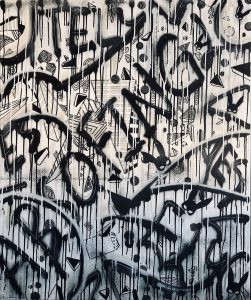 -ABSOFINGLUTELY-
120×100 cm acryl on canvas
---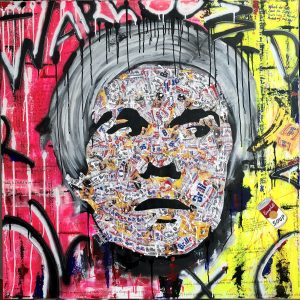 -ANDY WARHOL-
100 X 100 cm acrylic paint on canvas & collage
---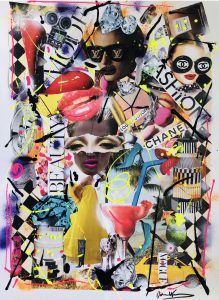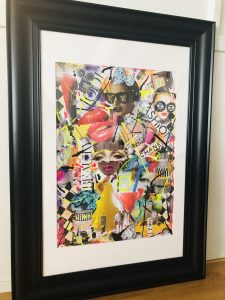 -ON MY MIND-
Collage painting 90 X 60 cm and comes with frame.
---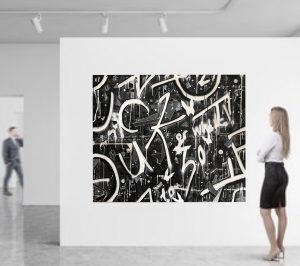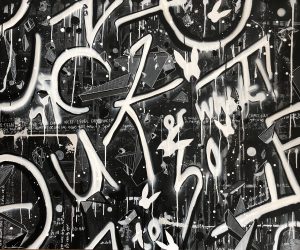 -FYOU SOMETHING-
120 X 100 cm acrylic paint on canvas and resin oil.
---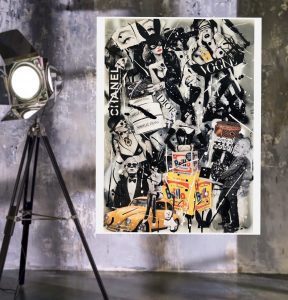 -SHOPPING SPREE-
90 X 60 cm with frame, collage painting.
---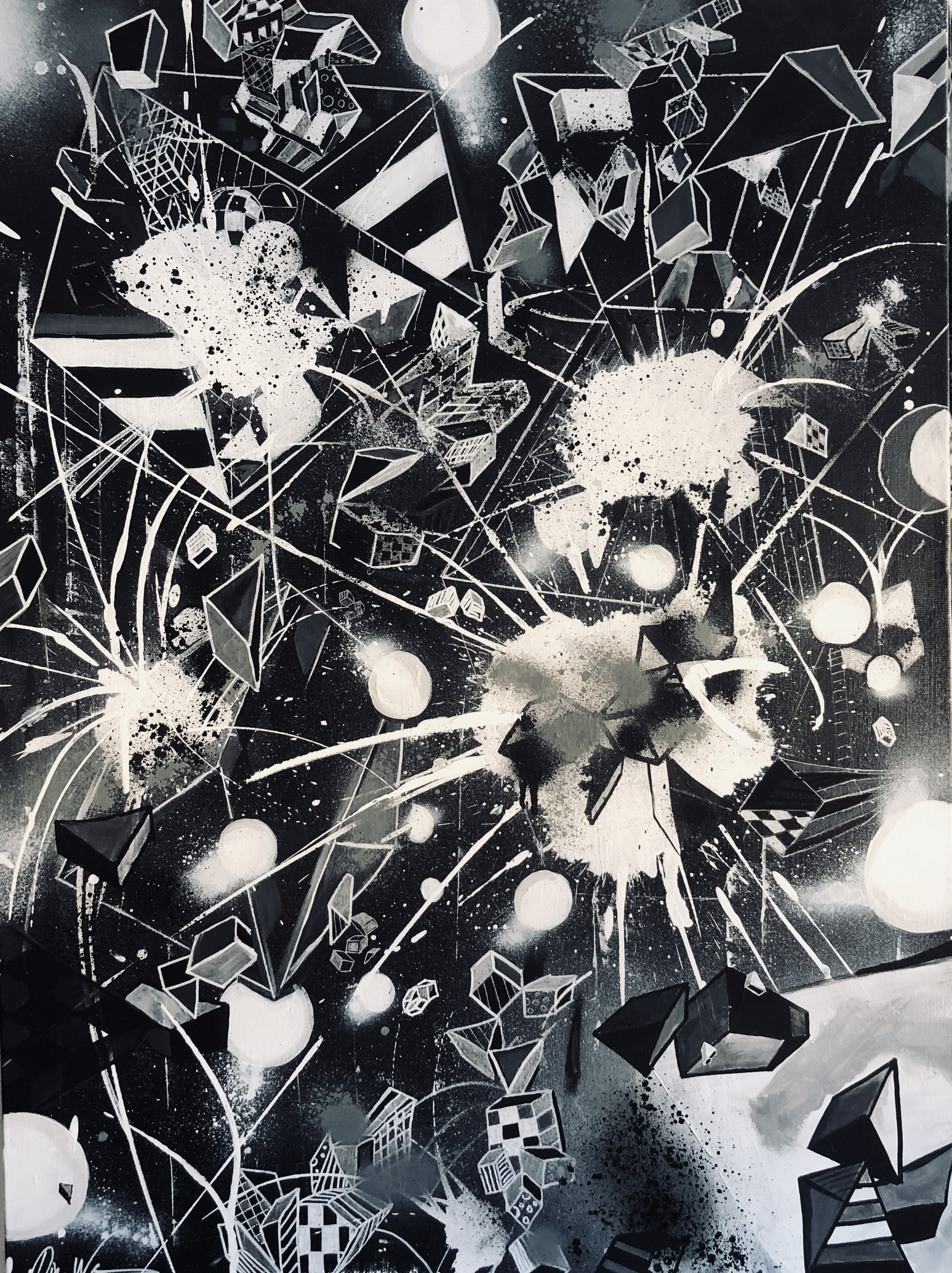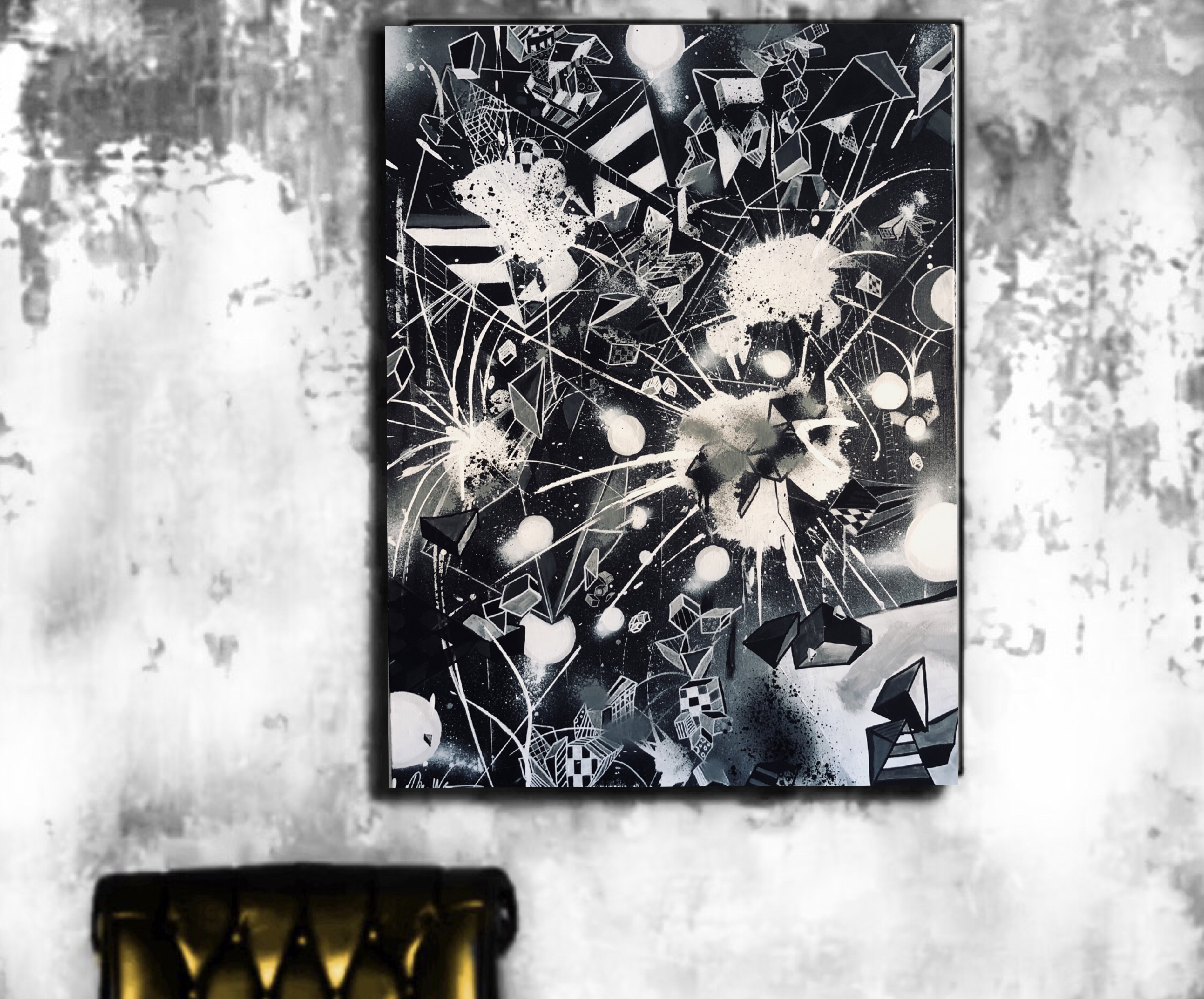 – Breaking out –
80 X60 cm. Acrylic painting canvas
---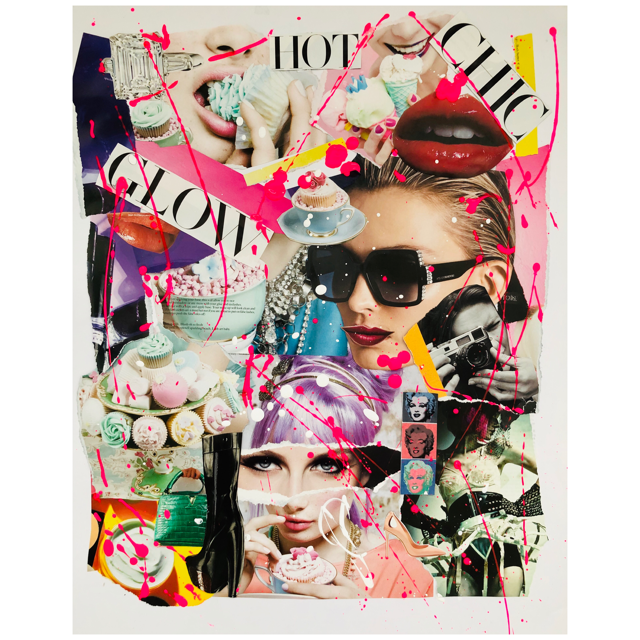 -EAT ME –
Collage painting (sold)
---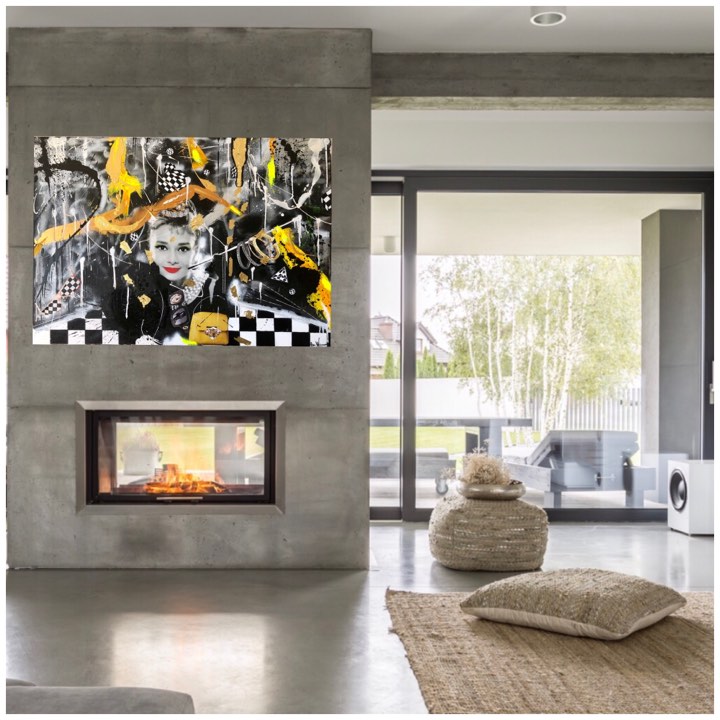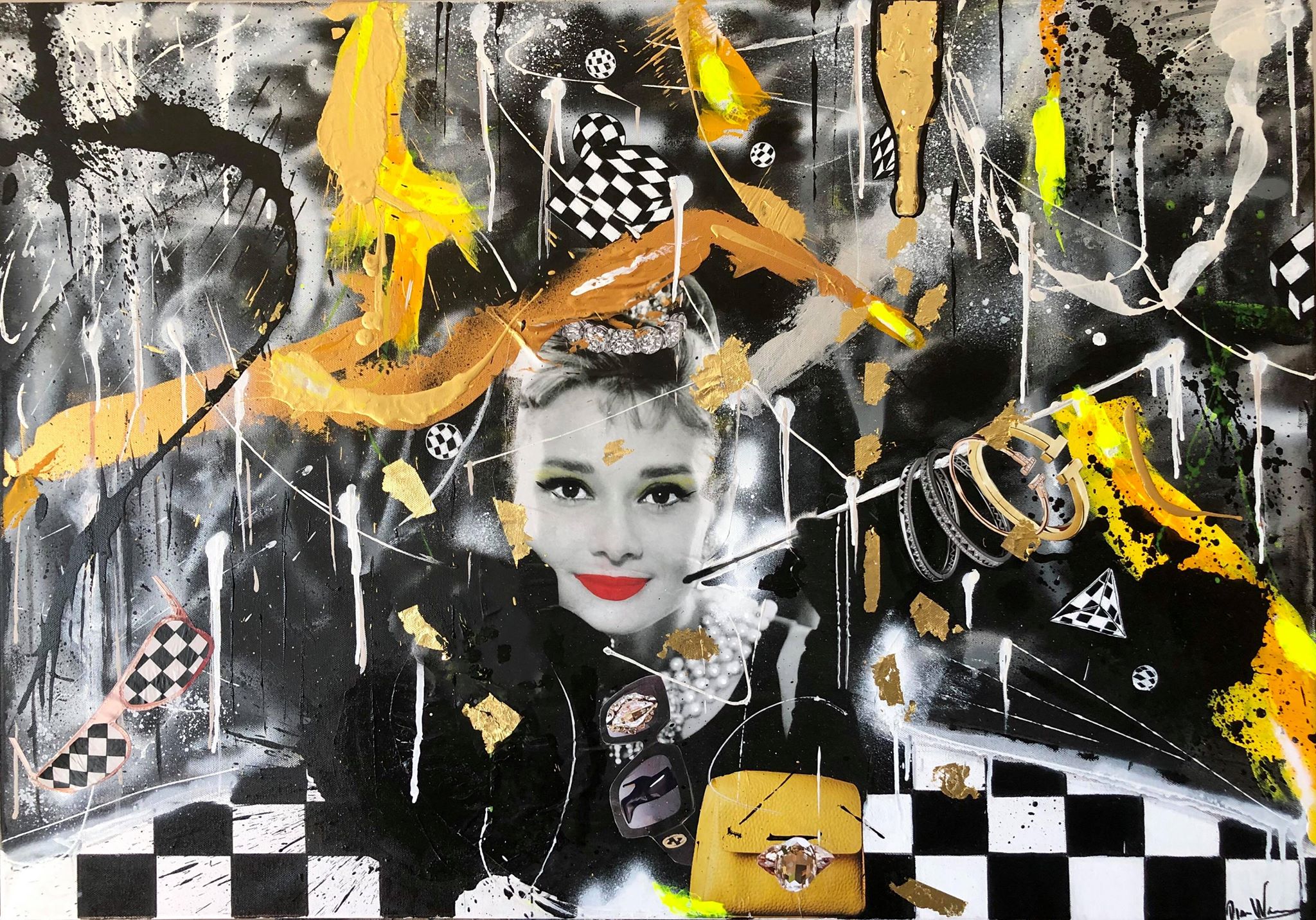 -What do you want-
100 X 70 cm
Acrylic,canvas, collage, 22 carat gold
---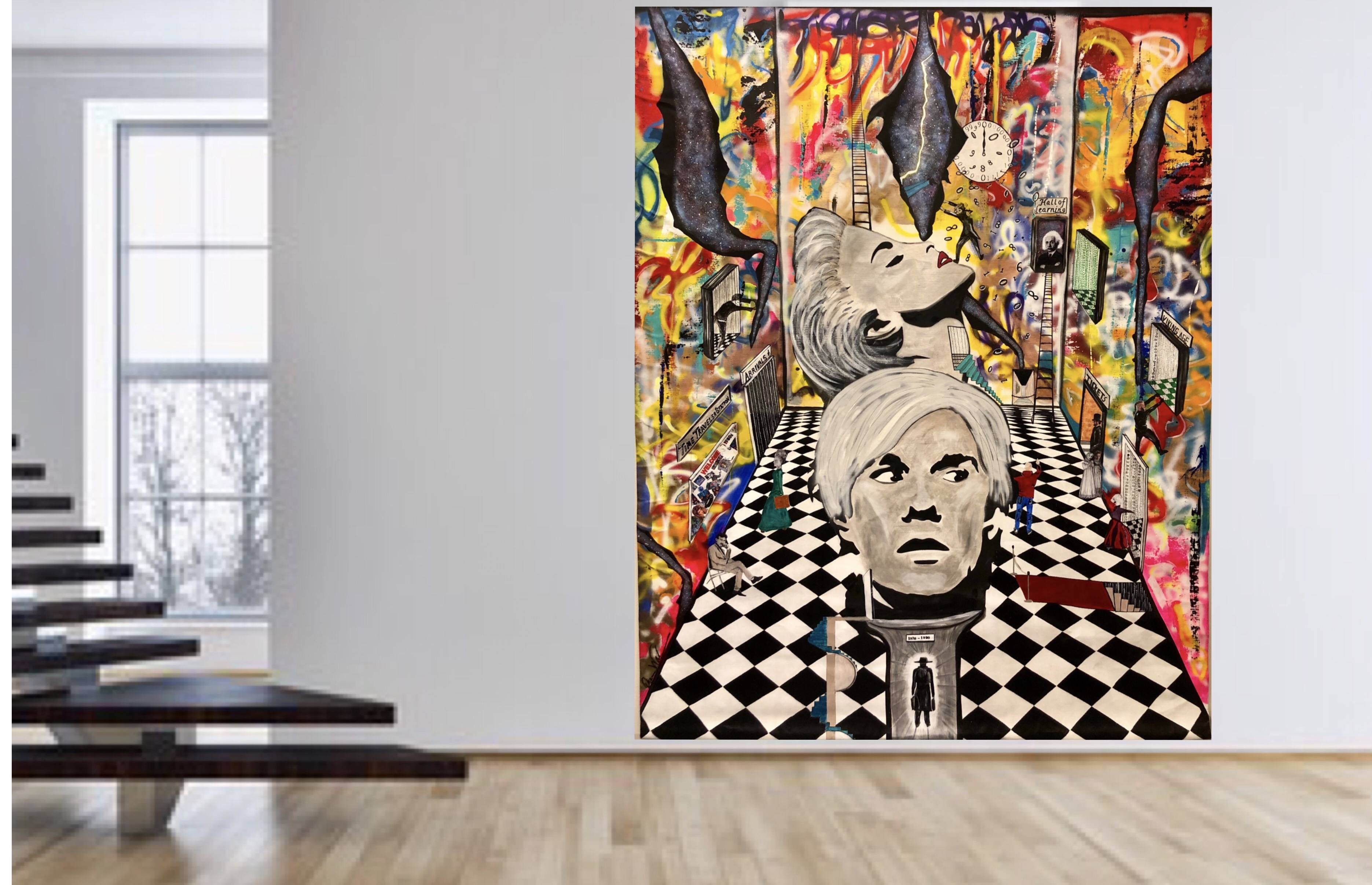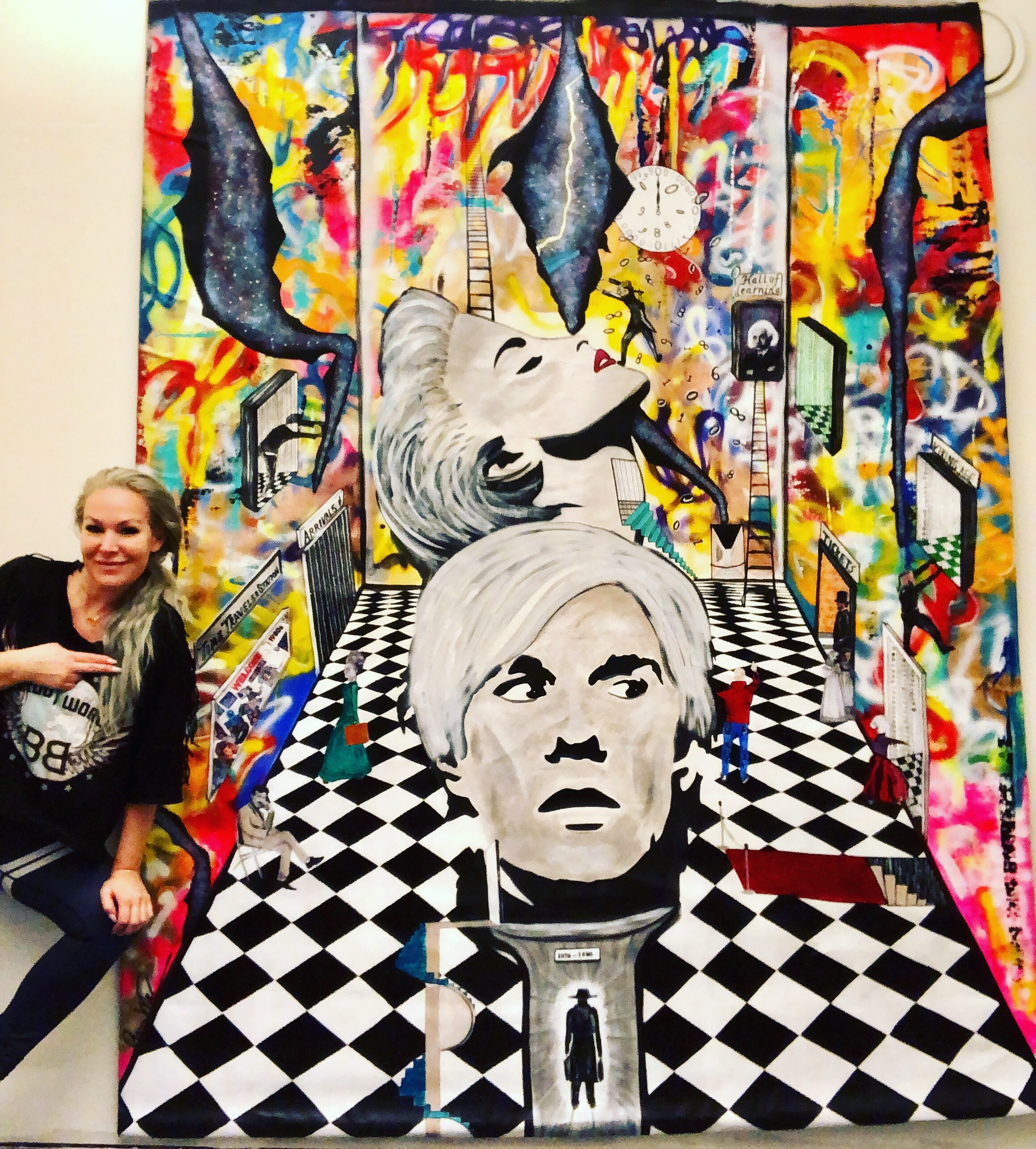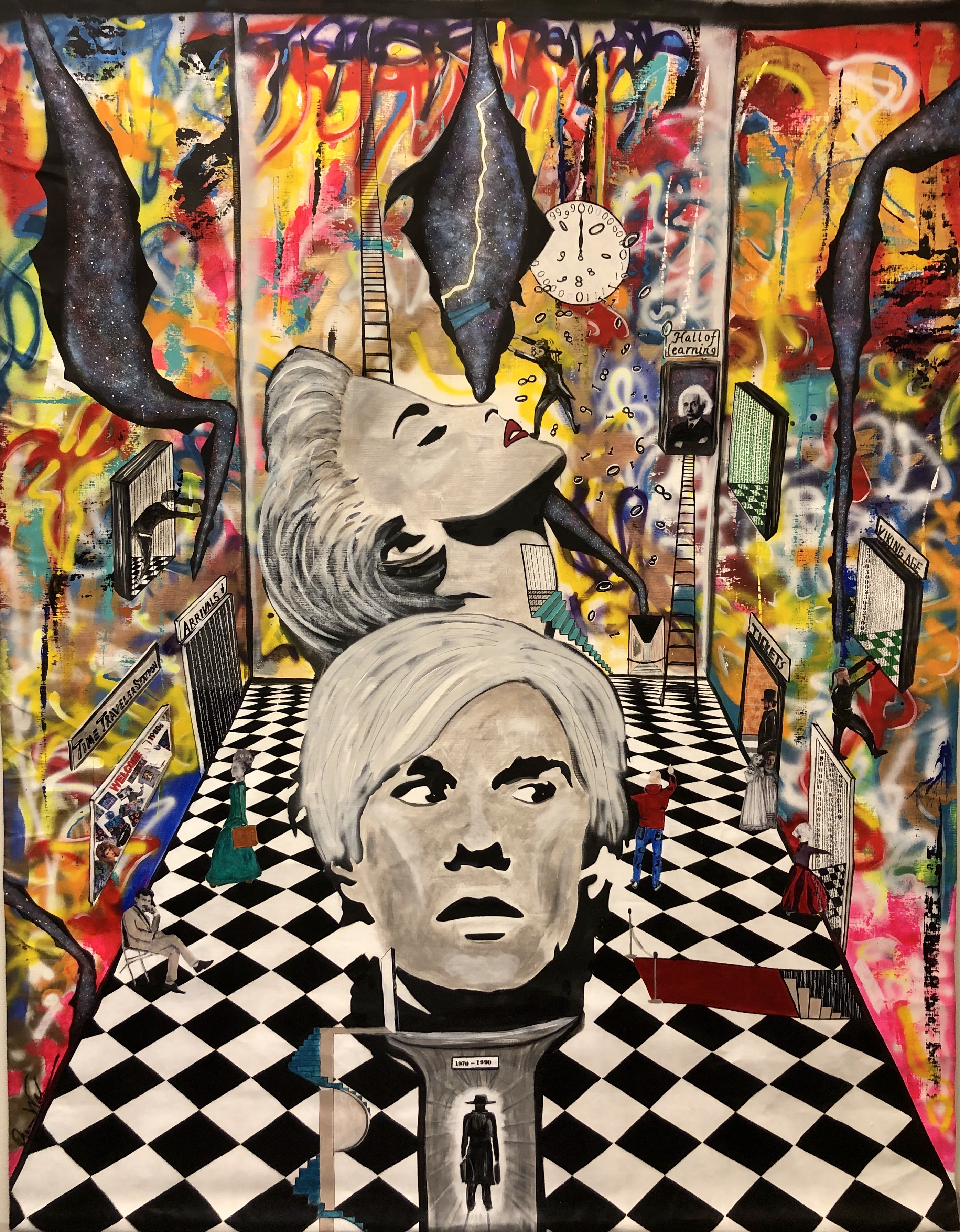 Time traveler station
2X3 meter acrylic, canvas
---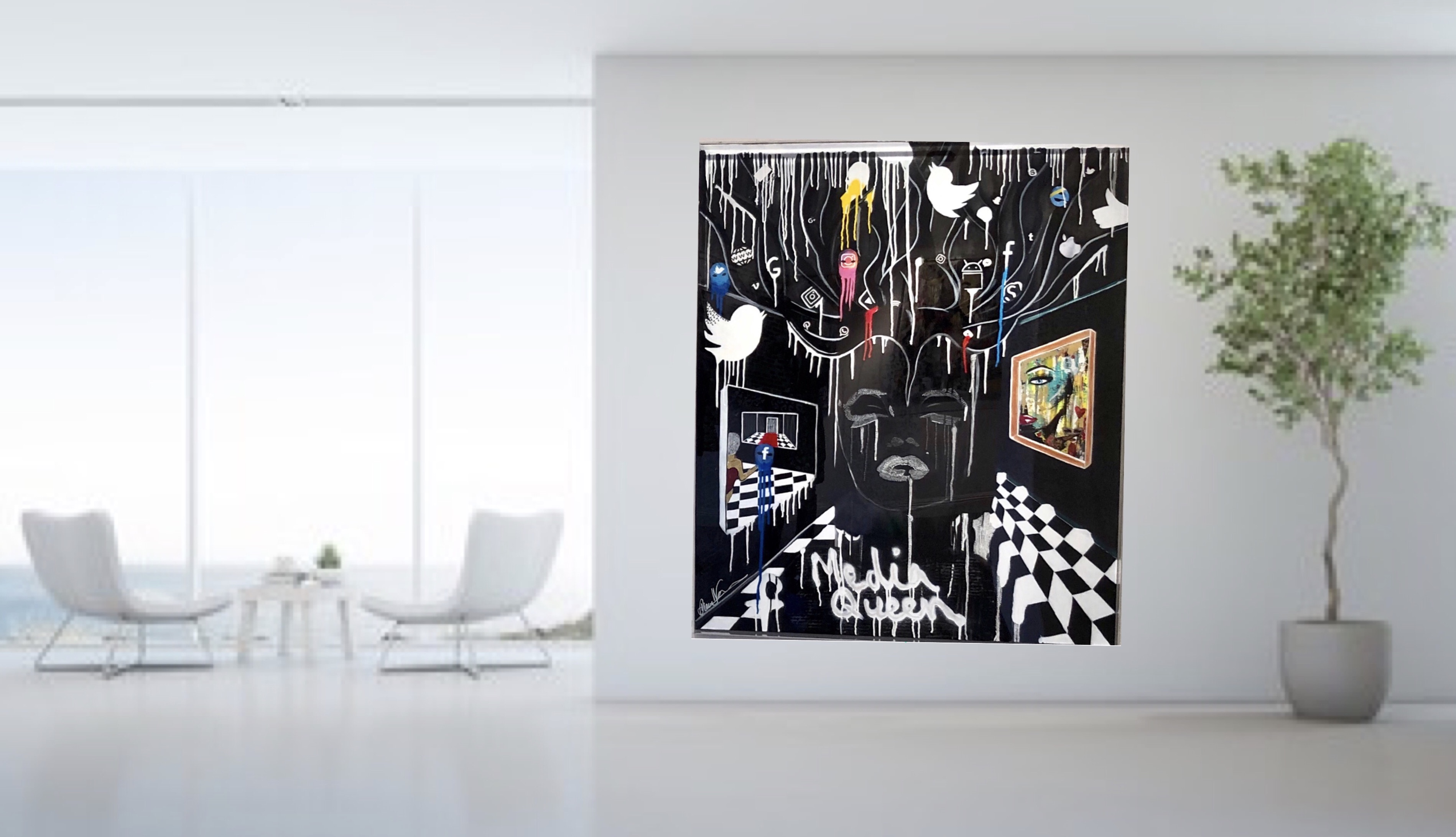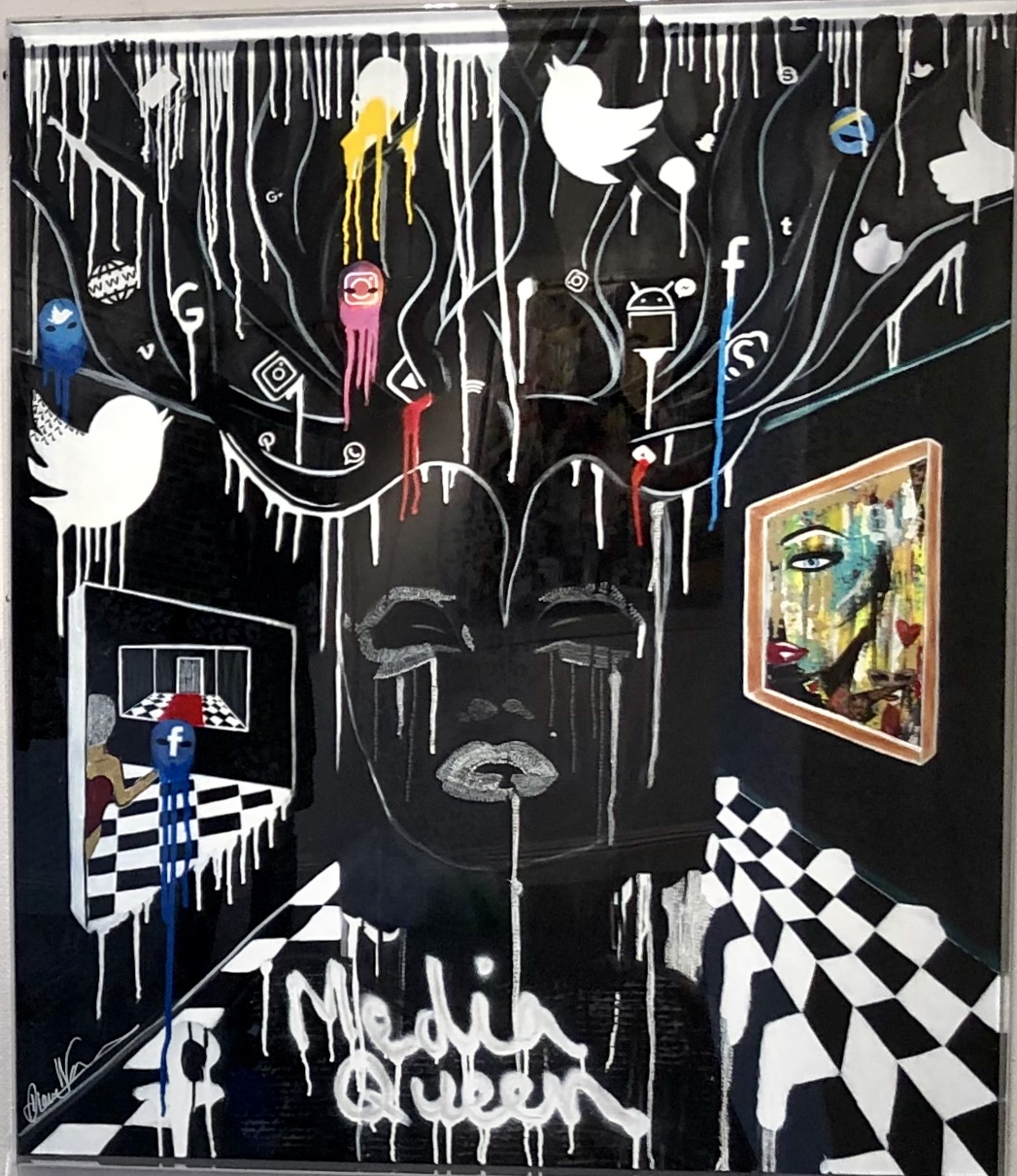 Social media queen
120X100 cm acrylic, canvas
---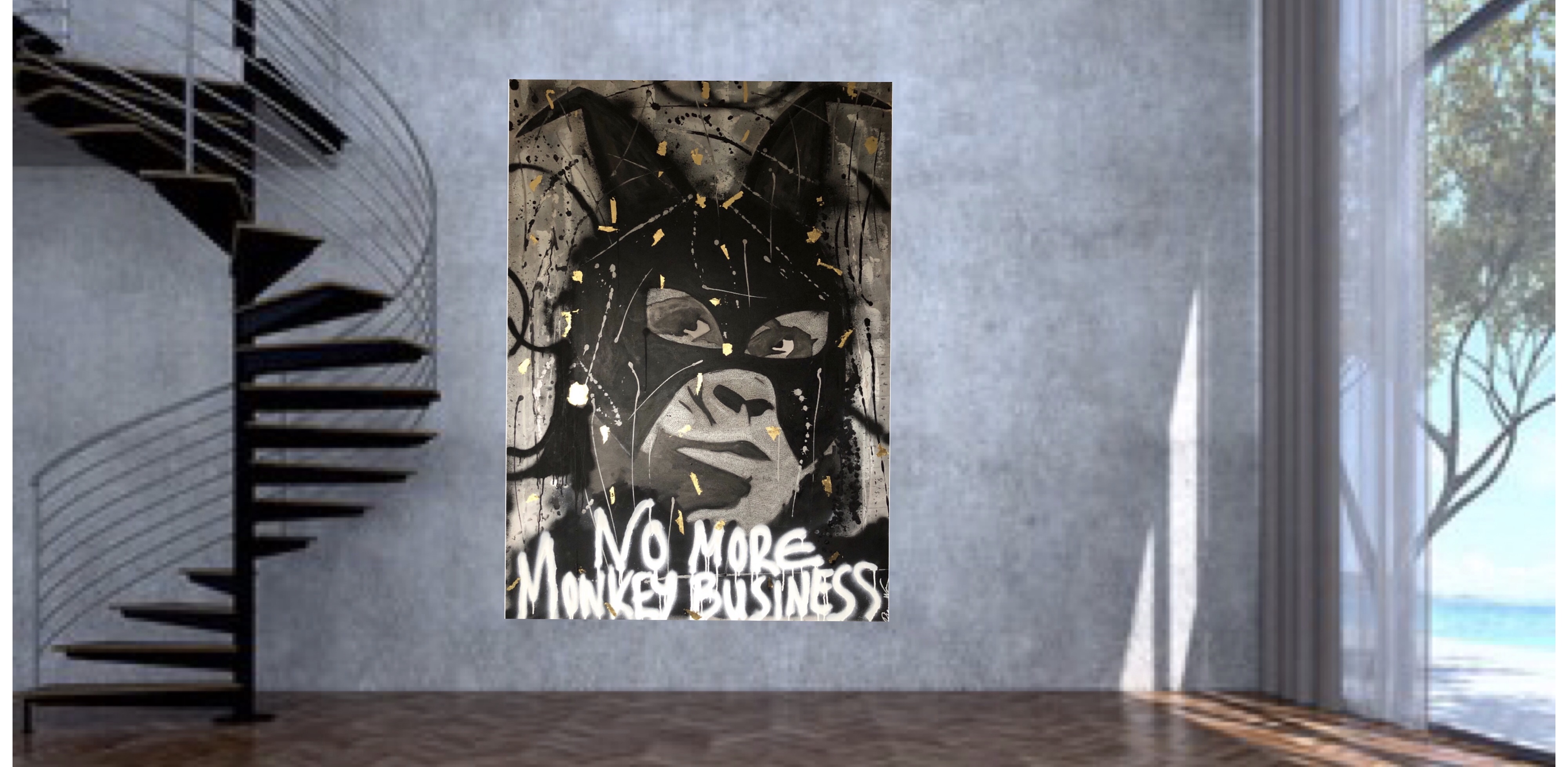 -NO MORE MONKEY BUSINESS- SOLD!!
150 X 100 cm
Acrylic, 22 carat golden leafs,
resin. canvas
---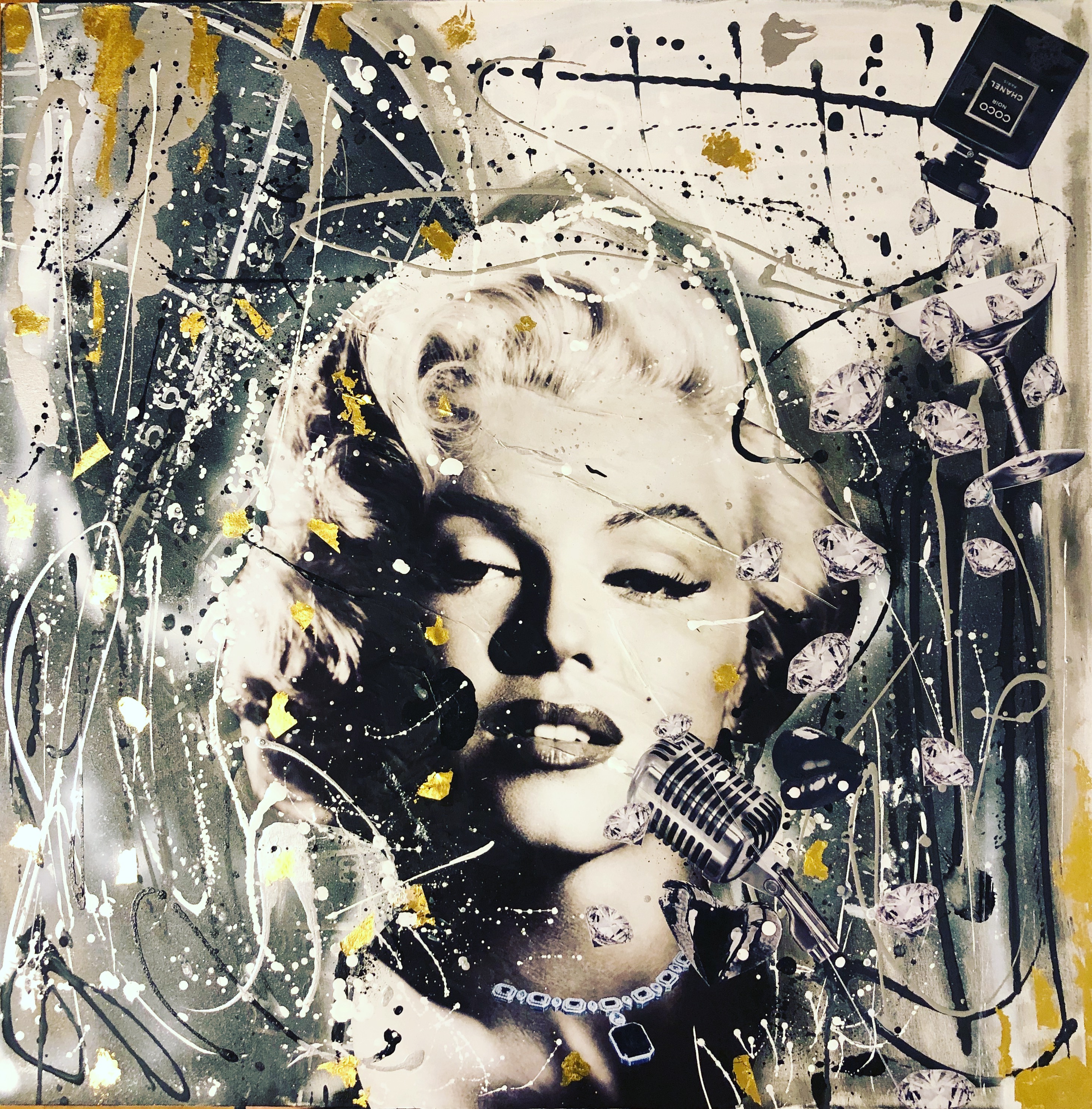 – SPEAK UP- SOLD!
100 X 100 cm
Collage, acrylic, 22 carat gold leafs. canvas
---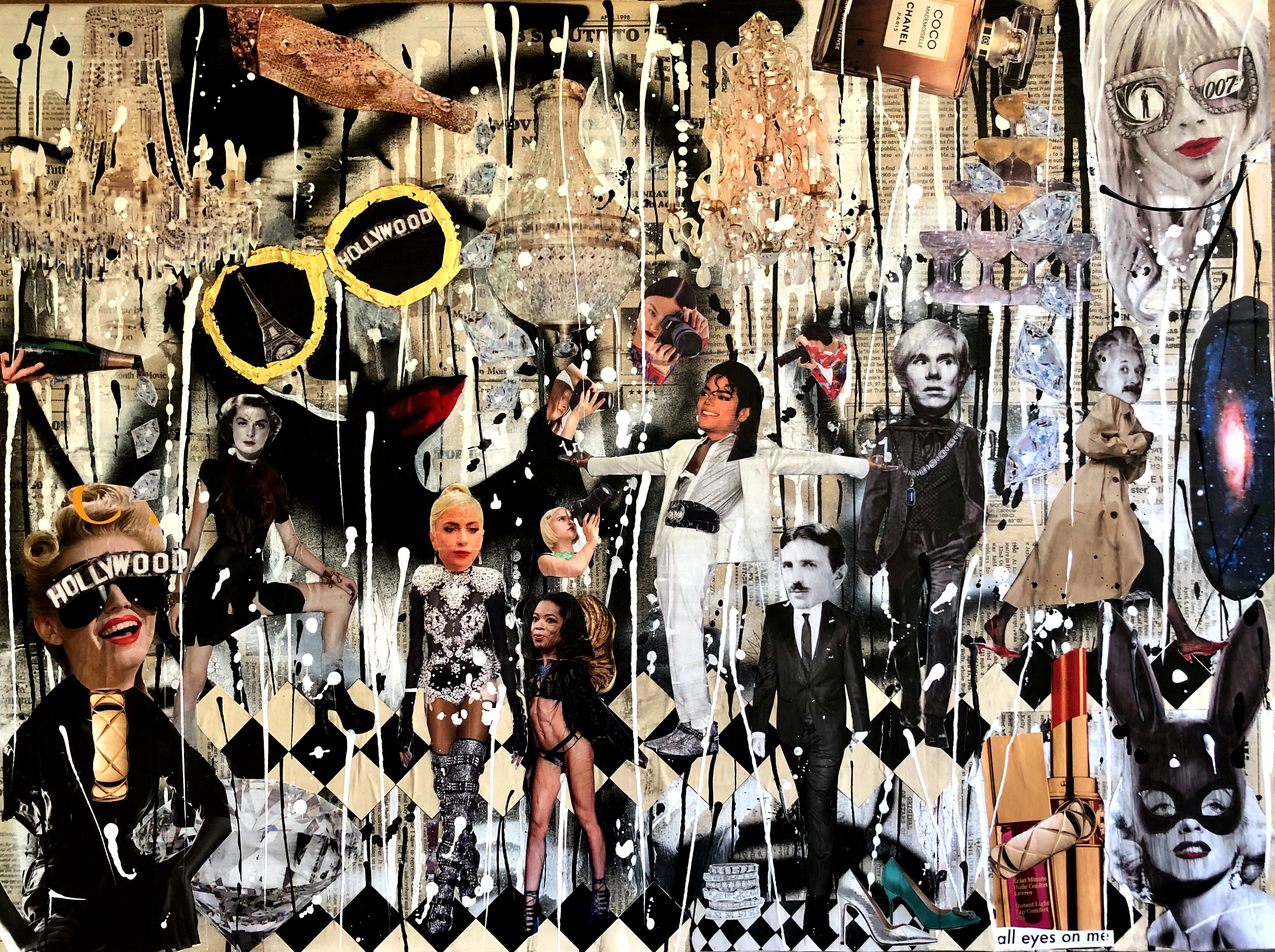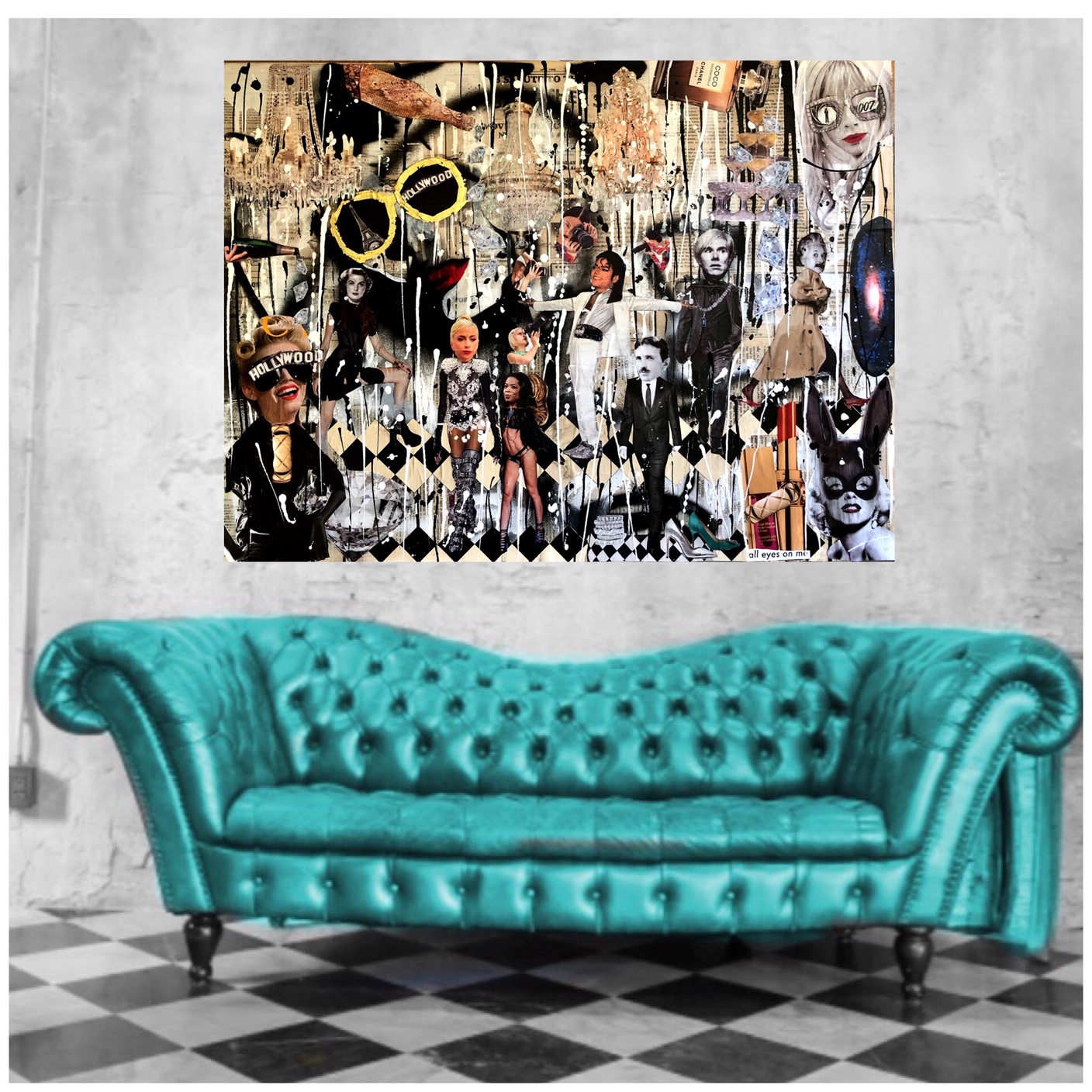 – Imagine – SOLD!!
80 X 60 cm. Acrylic, 22 carat gold & Collage, canvas
---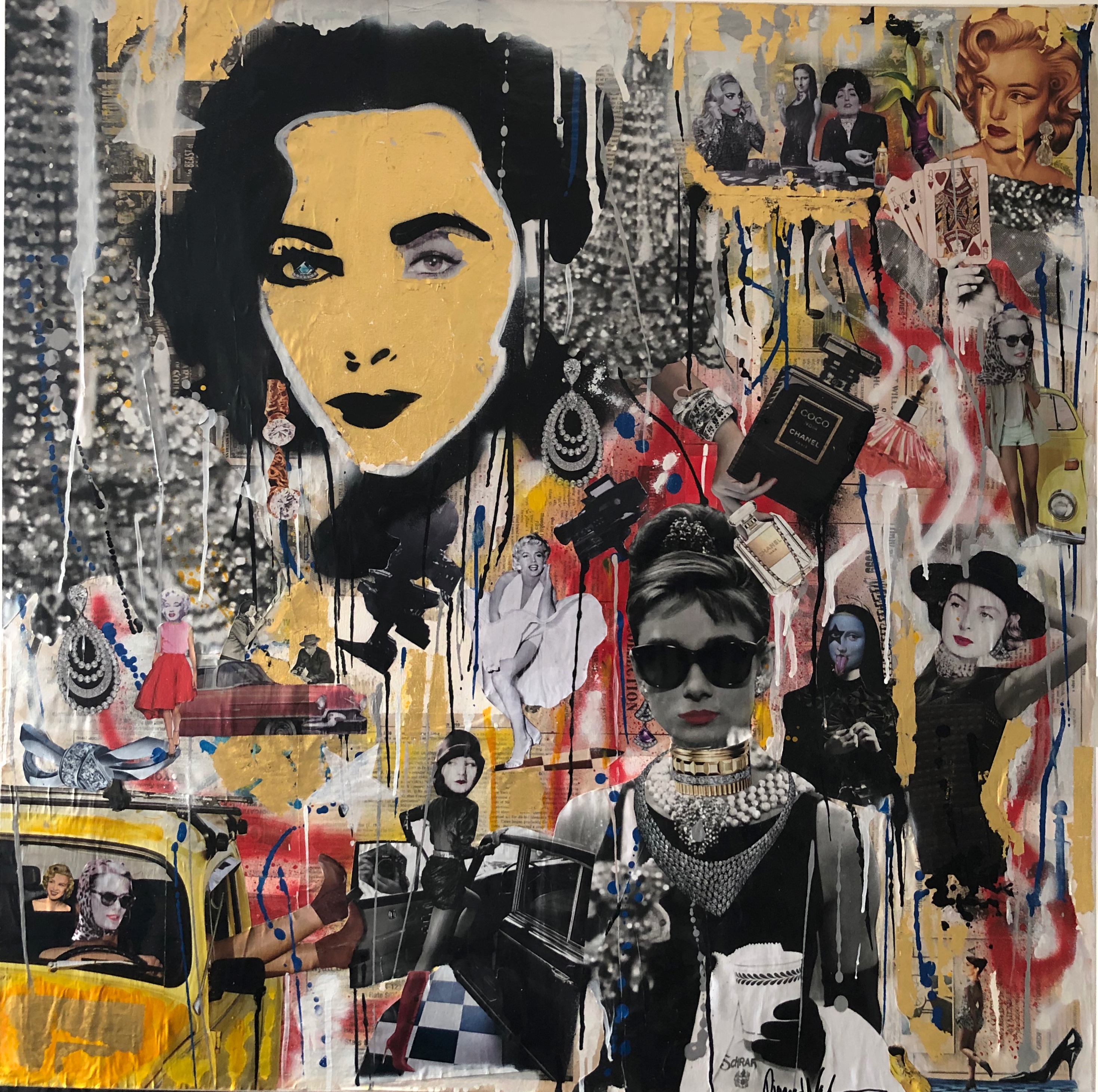 – What's your story? – SOLD!
100 X 100 cm
Acrylic, resin, collage, 22 carat golden leafs. canvas
---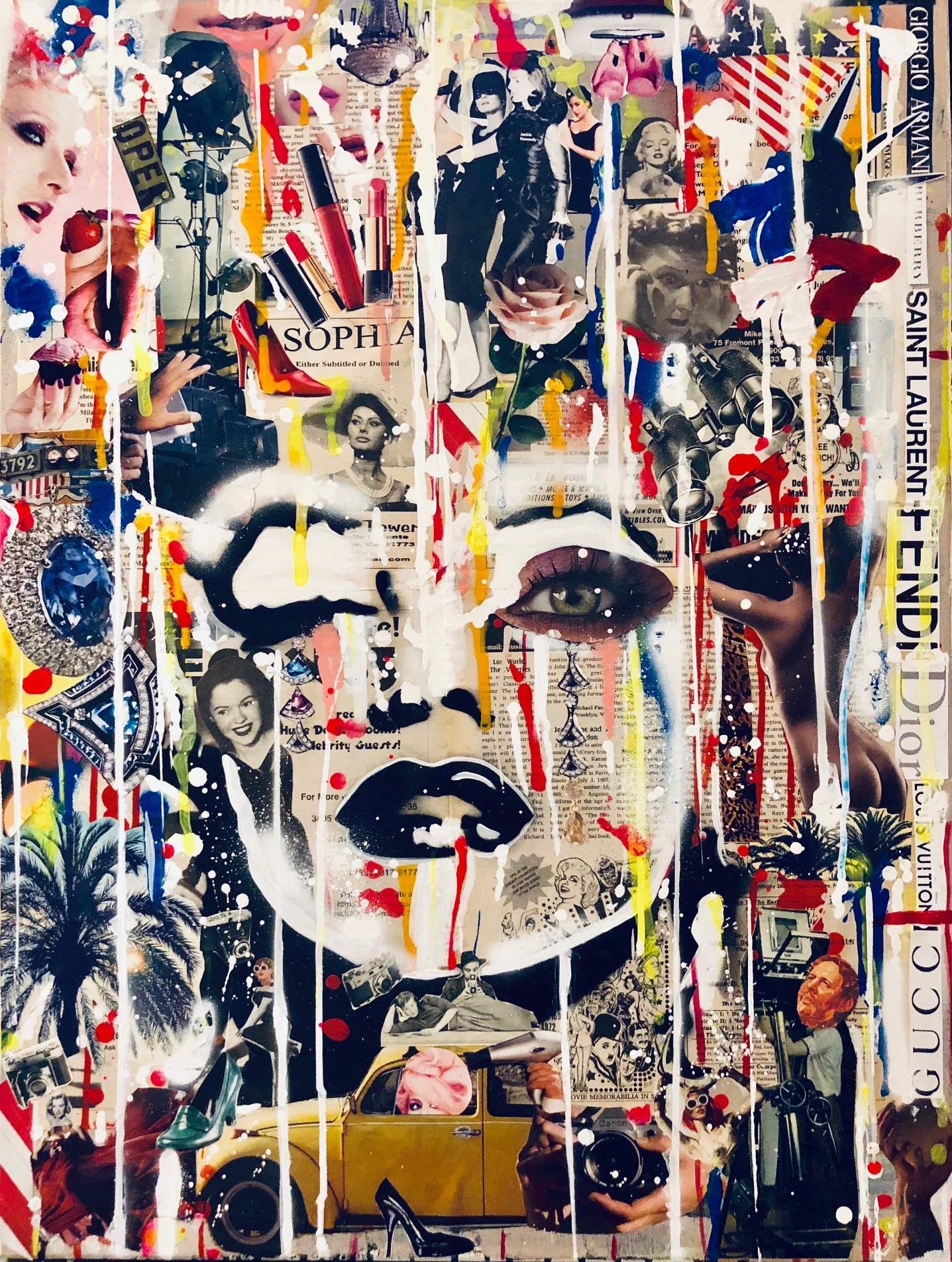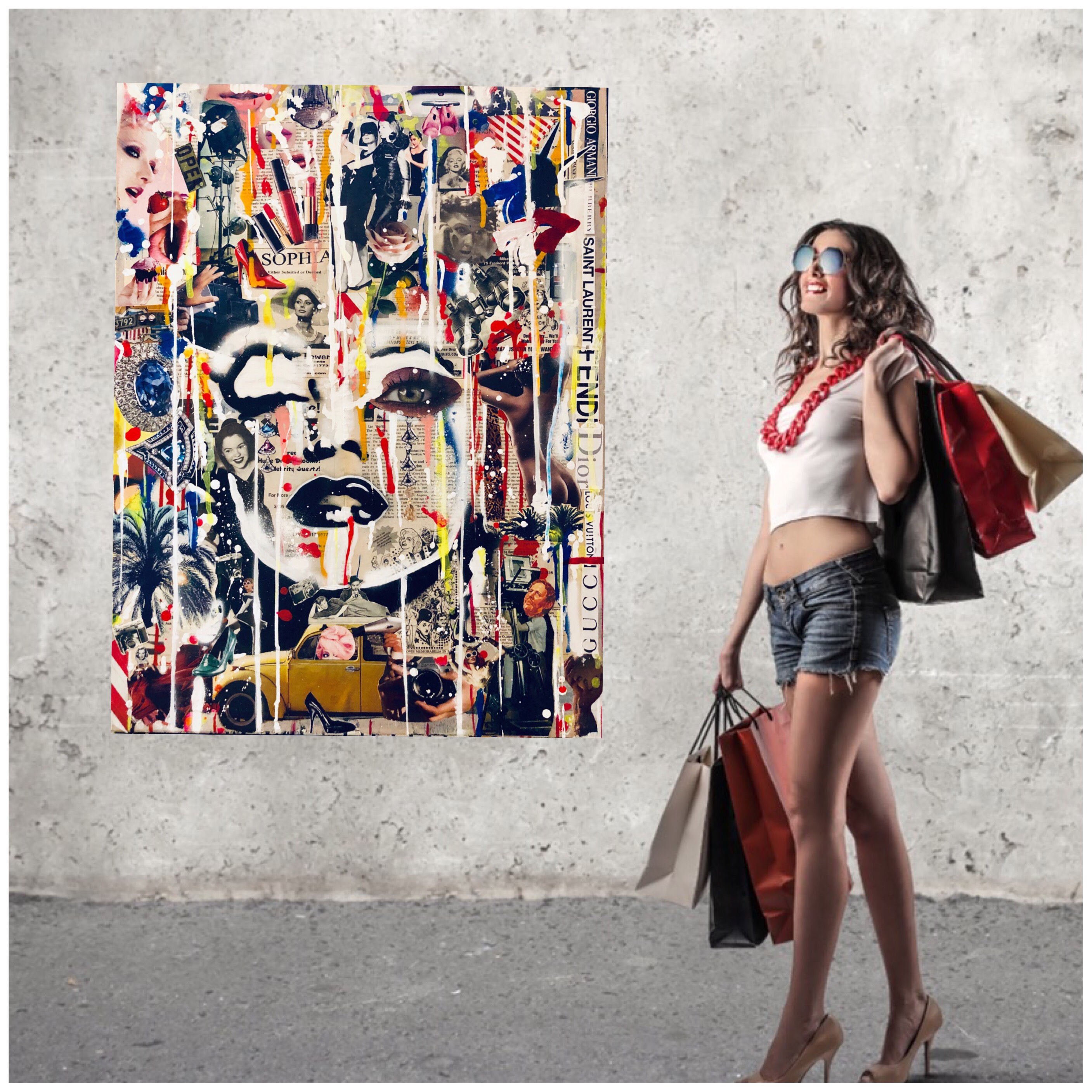 SOLD!
-Facets of life-
Collage 80 X 60 cm
paper, acrylic, resin oil
---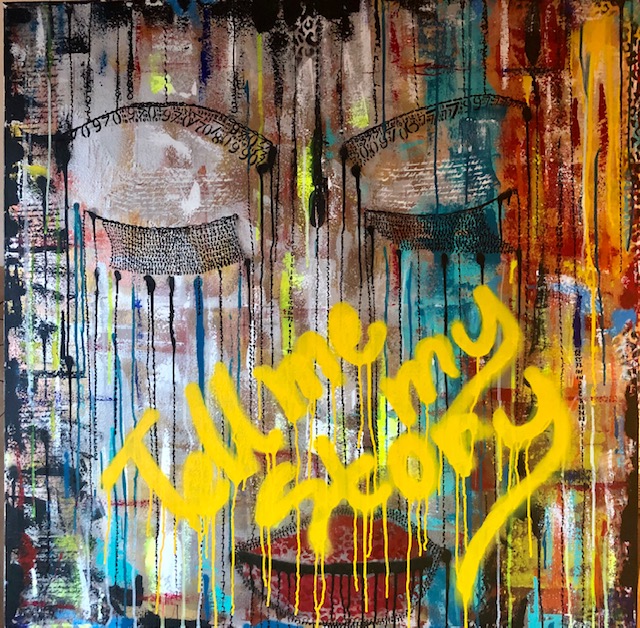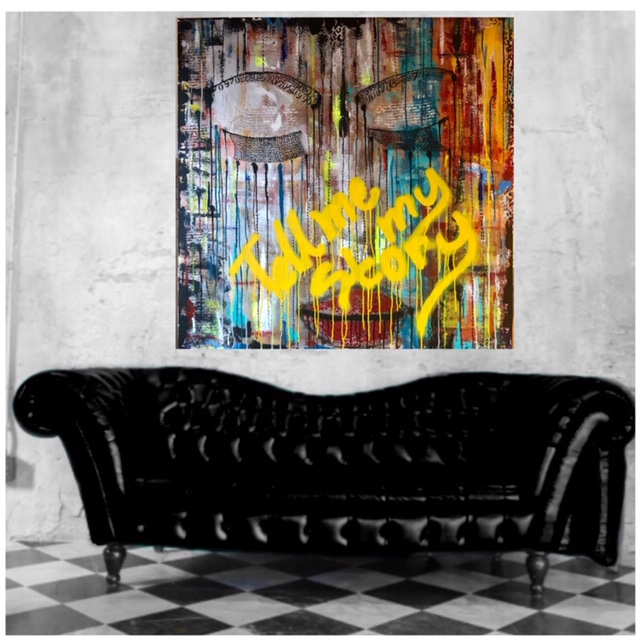 -Tell me my story-  (SOLD!!)
100 X 100 cm acryl
---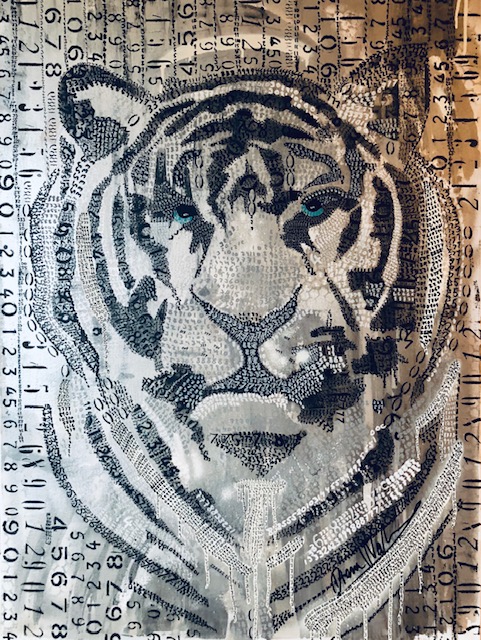 -Tigers code- (SOLD!)
100 X 70 cm acryl
---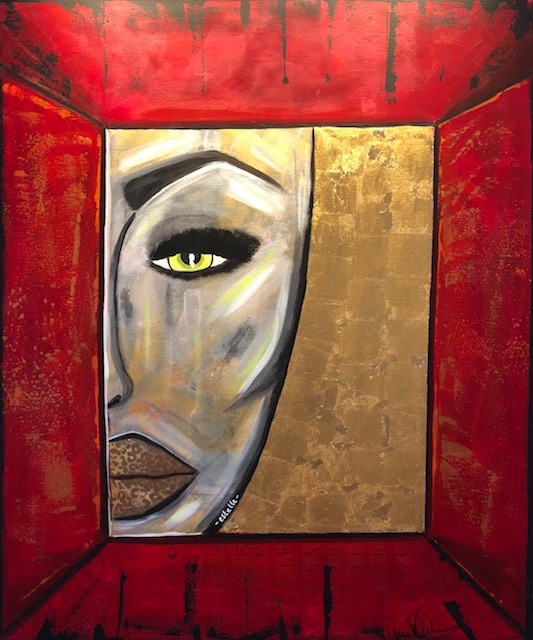 Inner gold -Estelle- SOLD!
120X100 cm acrylic & 22 carat gold.
Find your inner space that's covered in warm gold..
That feeling when you feel totally aligned with every aspect of yourself..
Your inner golden room is your highest Treasure..
---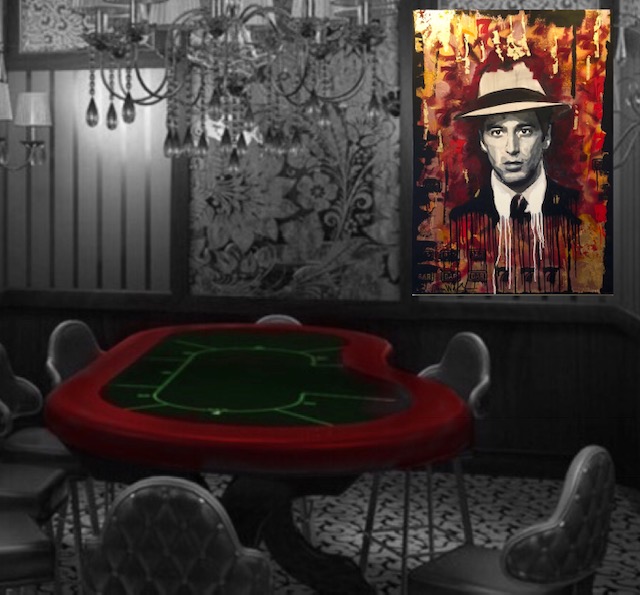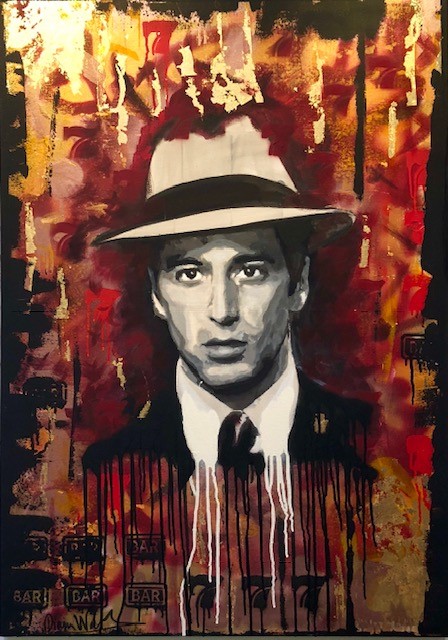 -Michael Corleone- SOLD!!
100X70 cm acrylic & 22 carat gold
From military hero to Don Corleone…
Sometimes fate and family ties is stronger..
---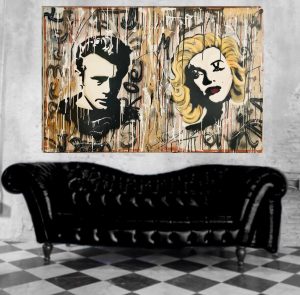 -James & Marilyn-
150 X100 cm acrylic
Died young, but still made such an imprint on the world..
Icons that followed their inner desires..
---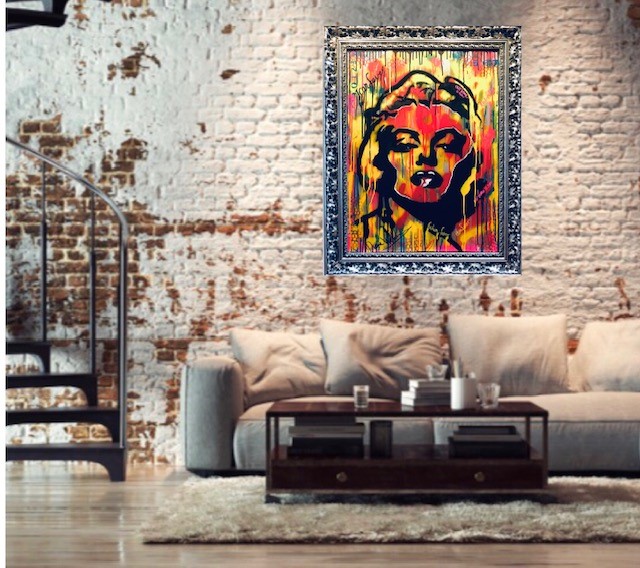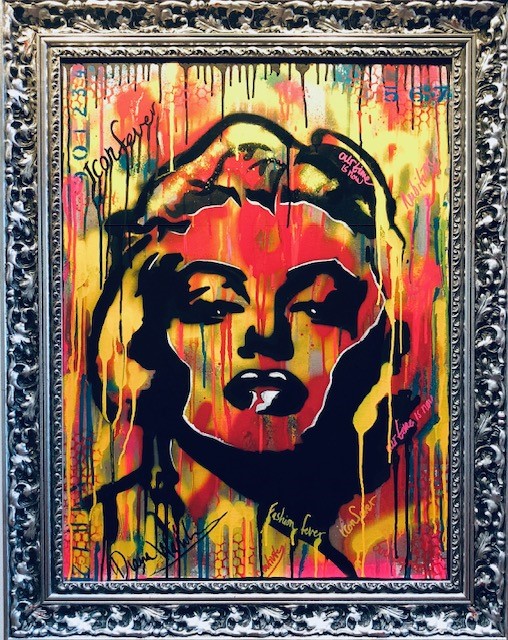 -Marilyn- Confidence- SOLD!!
80X60 cm acrylic
If you don't believe in yourself! Then where will you go?
How do you challenge yourself to reach your hearts desire?
To believe in yourself is the most important fuel for a happy life… You are your highest asset..
---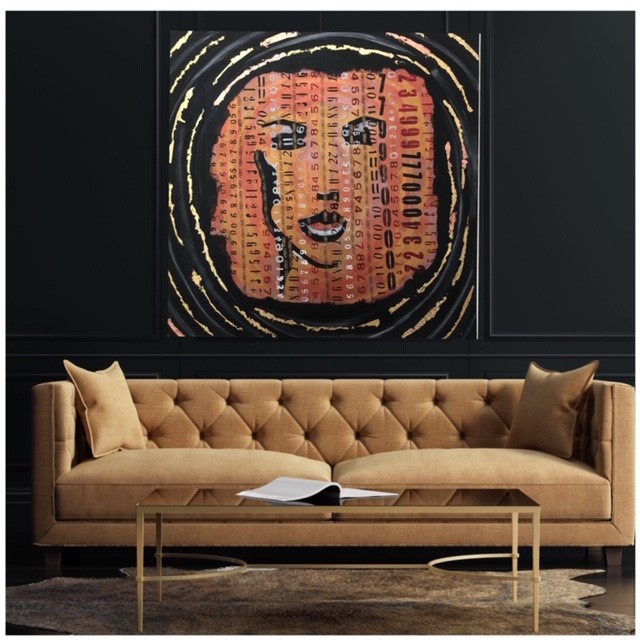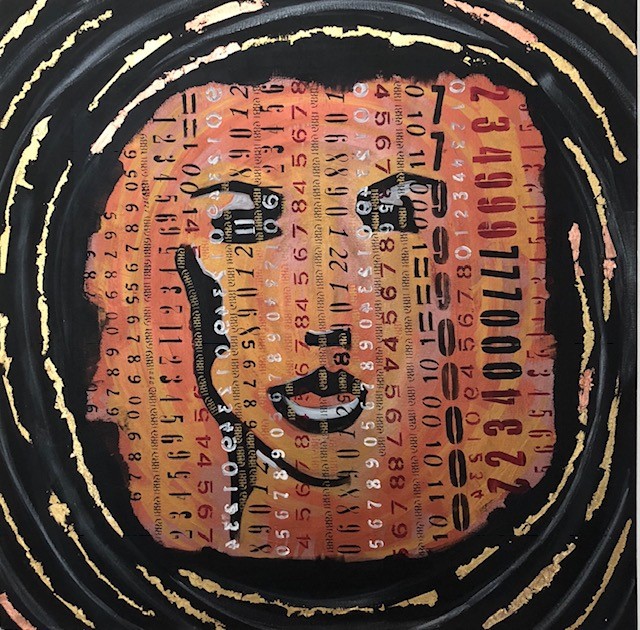 -Souls journey- SOLD!
100X100 cm arylic & 22 carat gold leafs
To let your inner hearts desire lead you forward on your path in life with as little resistance as possible.. Let your inner compass guide you when you feel lost..
Let your heart be the seat of your soul..
---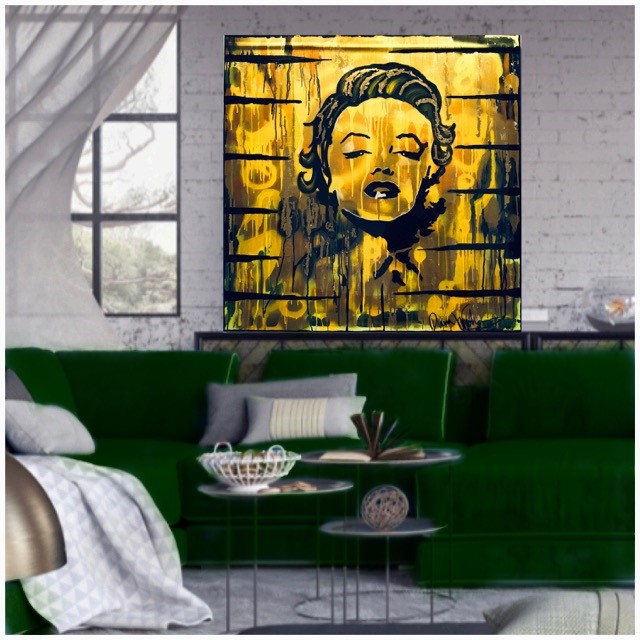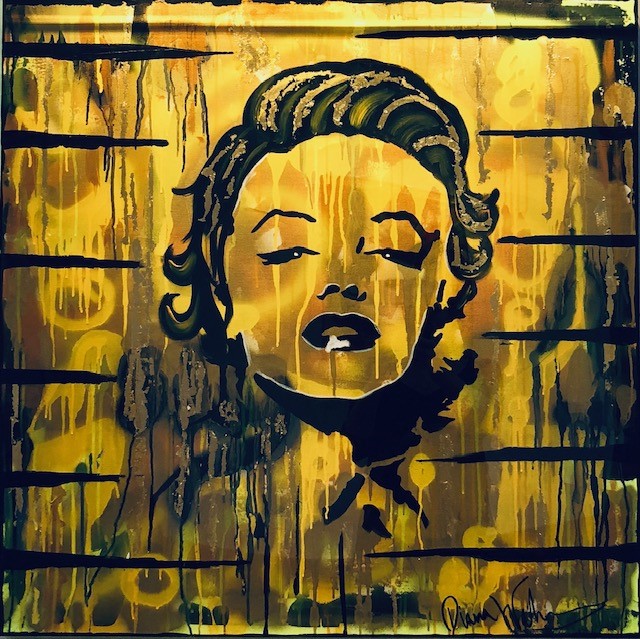 -Marilyn black-  SOLD!
100X100 cm acrylic & 22 carat gold
Success is yours to claim..
Let's go and get it….
---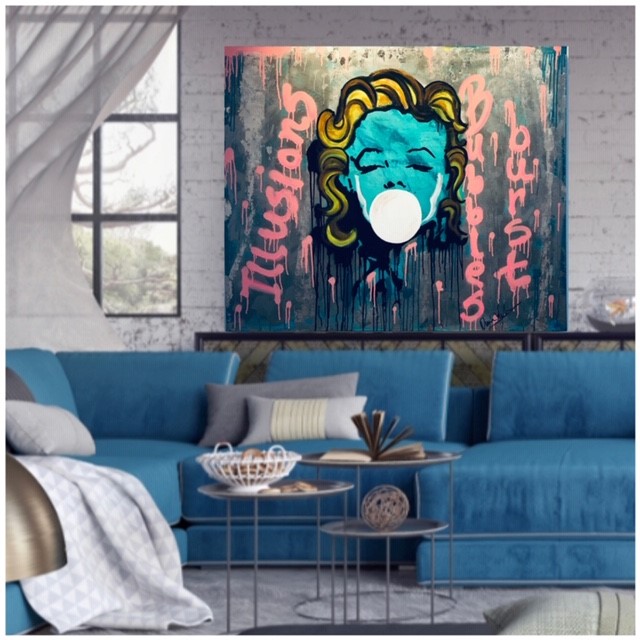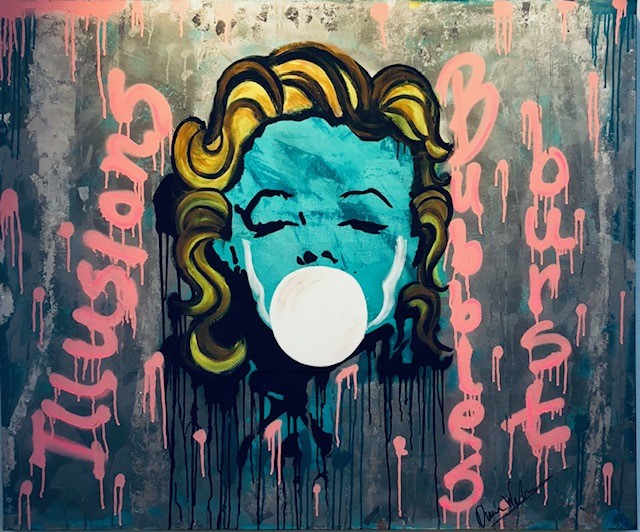 -Illusion-
100X100 cm acrylic with silver leaf
Illusion is our prescription for a life experience..
Sometimes it's really good….. and sometimes it's not..
---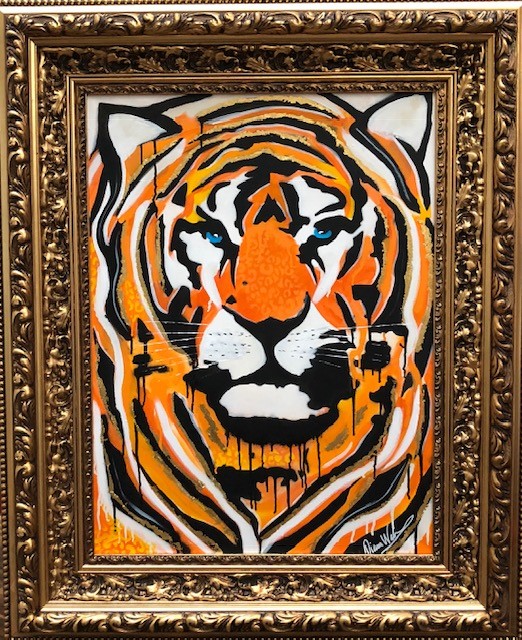 -Tiger power- SOLD!
80X60 cm acrylic & 22 carat gold
Own your strengths, take pride in your natural gifts..
Use your personal power with humility for yourself and others..
Honor your way that is like a tiger..
---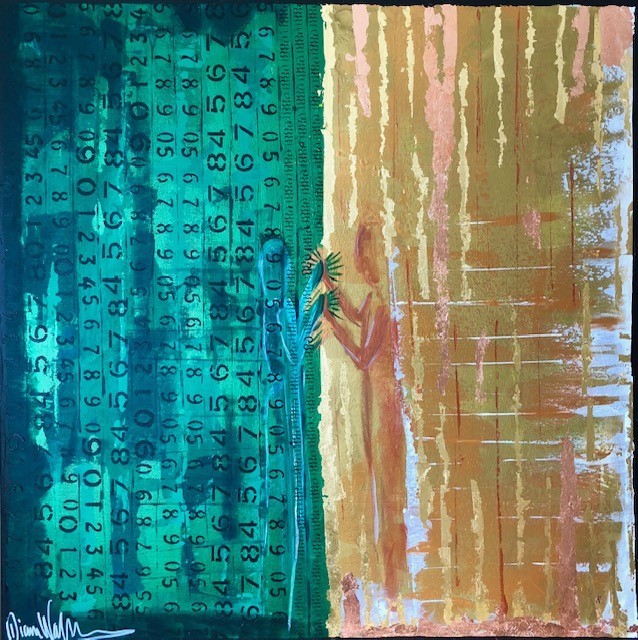 -Contact- SOLD!
80X80 cm acrylic with 22 carat gold leafs
When two different energies make contact within or outside of you,
its contact wants to integrate, understand and make a new and better way…
---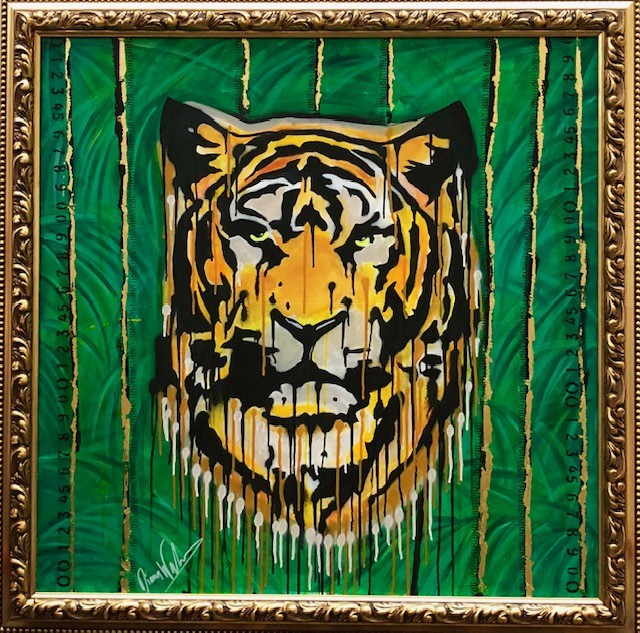 -Tiger state of mind- SOLD!
100X100 cm acrylic & 22 carat gold
Tigers don't think about what others think..
They have their own path and do what their instincts tell them..
They don't ask if their way is wrong or if they are lost.. They just are..
Be more like a tiger…
---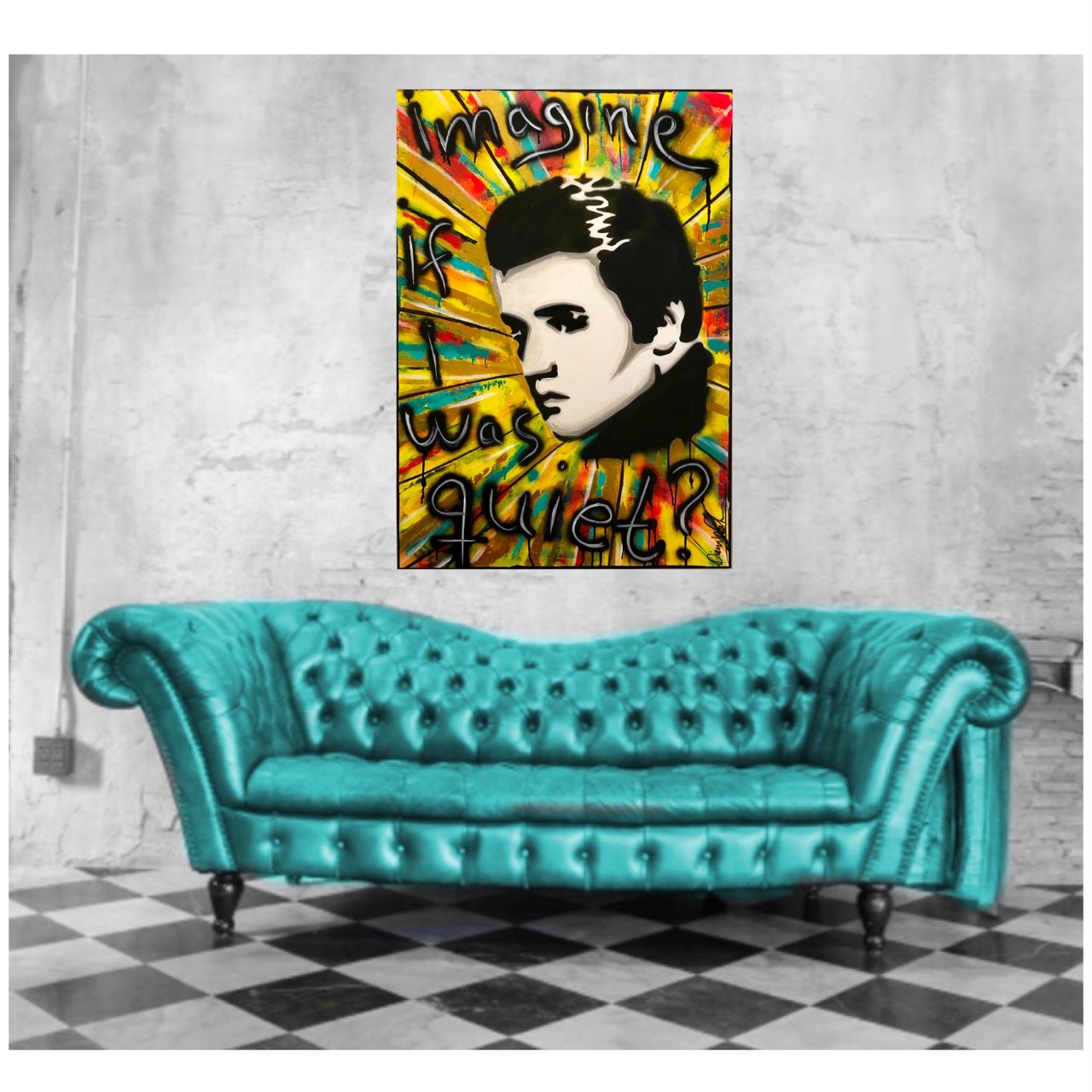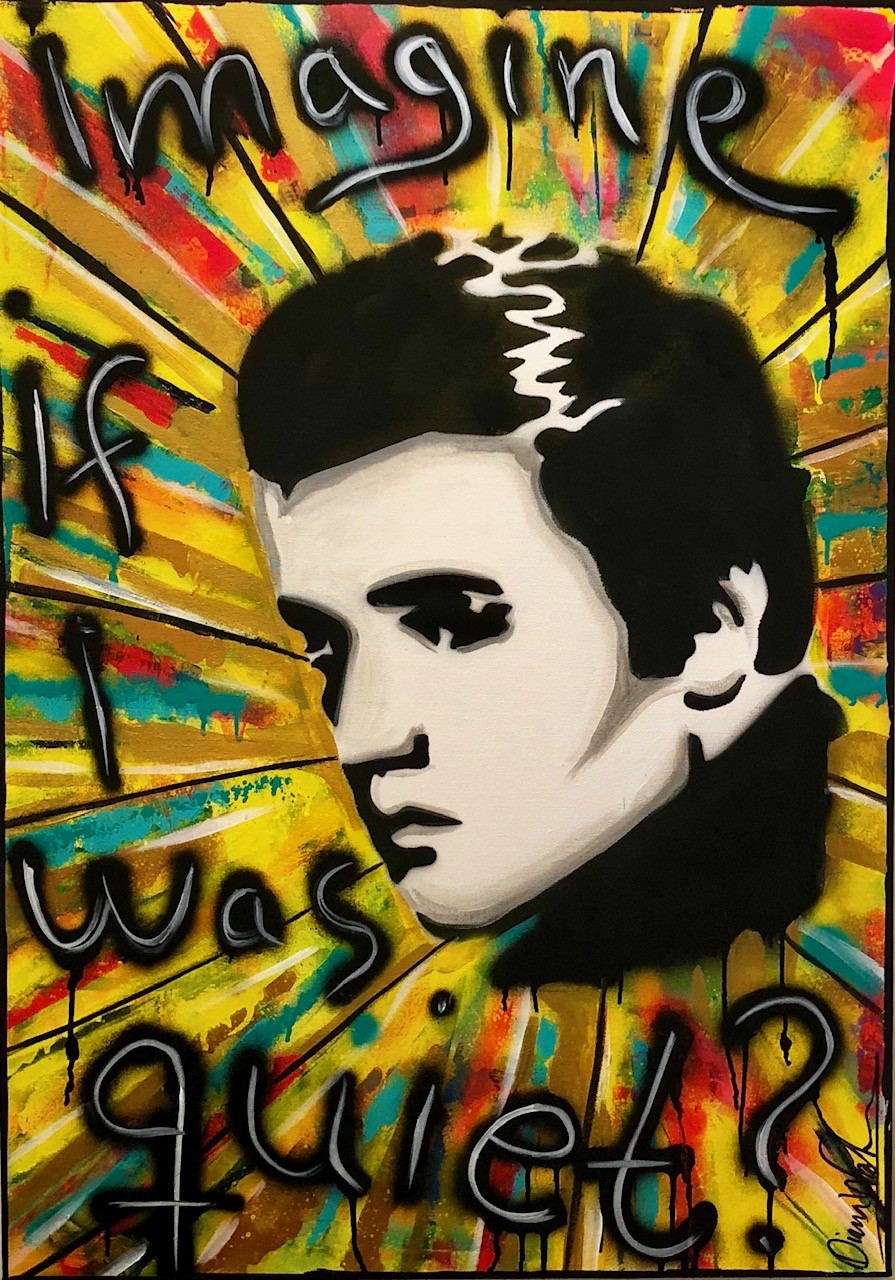 -ELVIS-
Imagine if I was quiet?
100 X 70 cm acryl.
---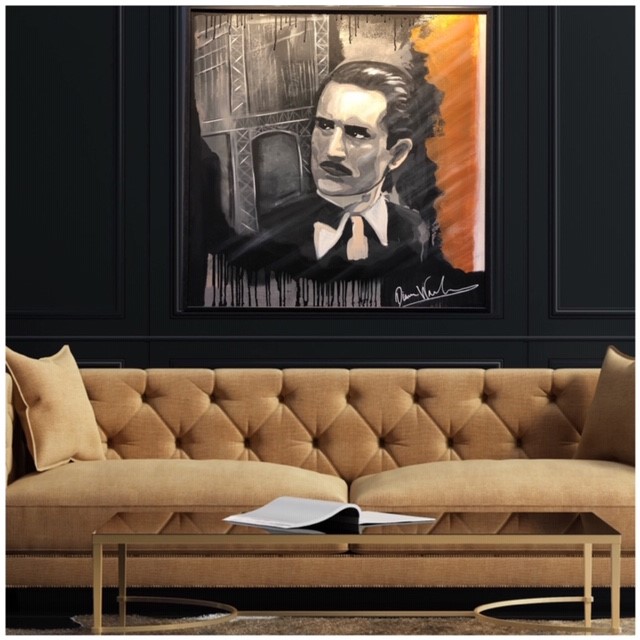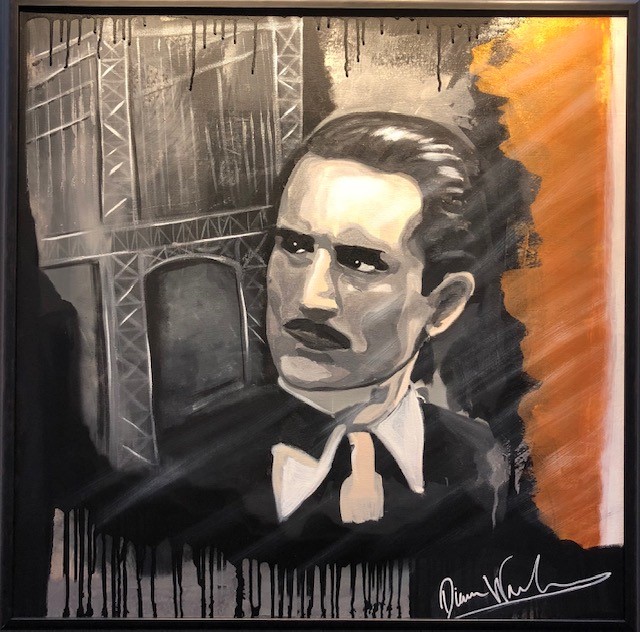 -Young Vito Corleone-
80X80 cm acrylic
Ambition will make a way where there is none.. Ambition creates opportunities..
Intelligent act of knowledge will get you there..
---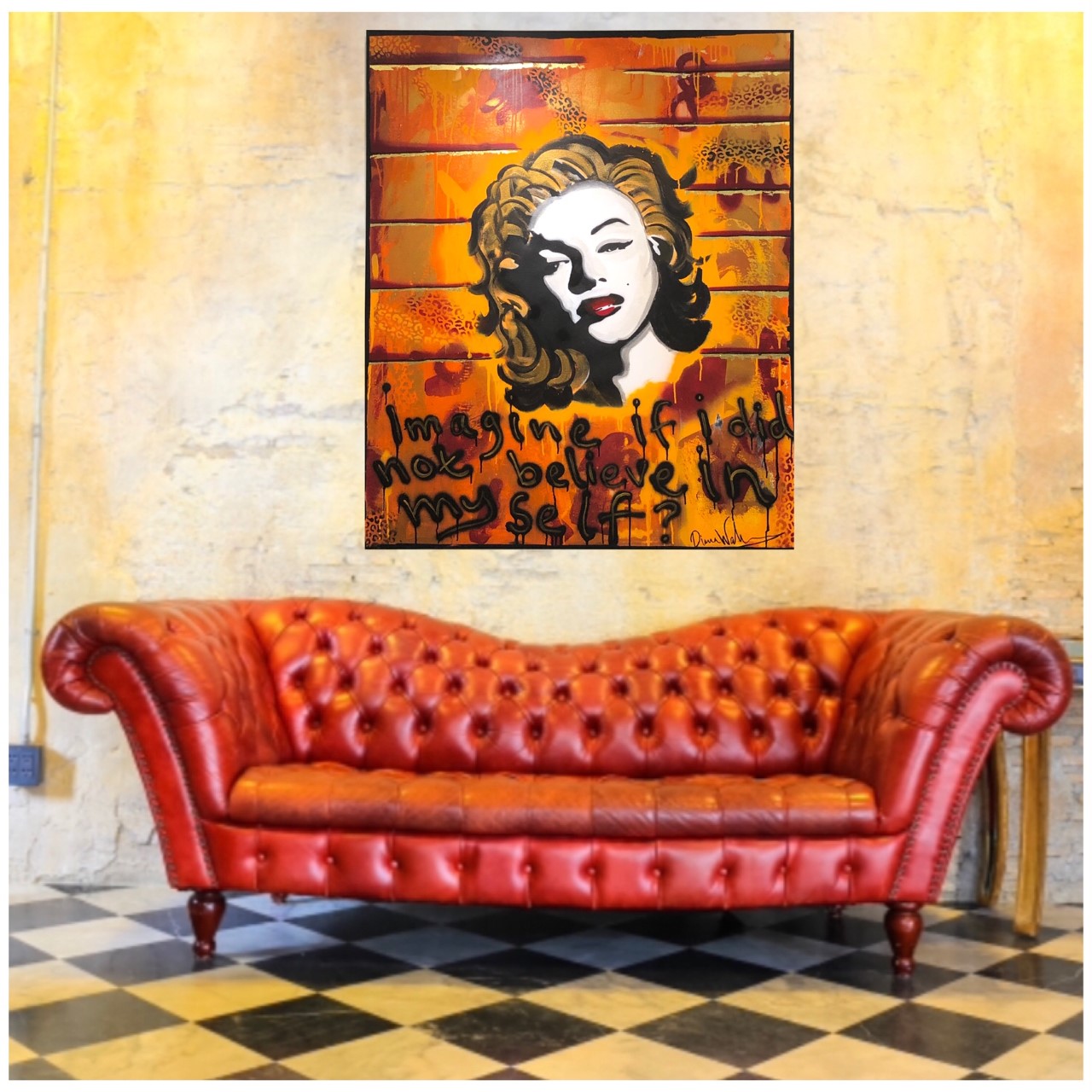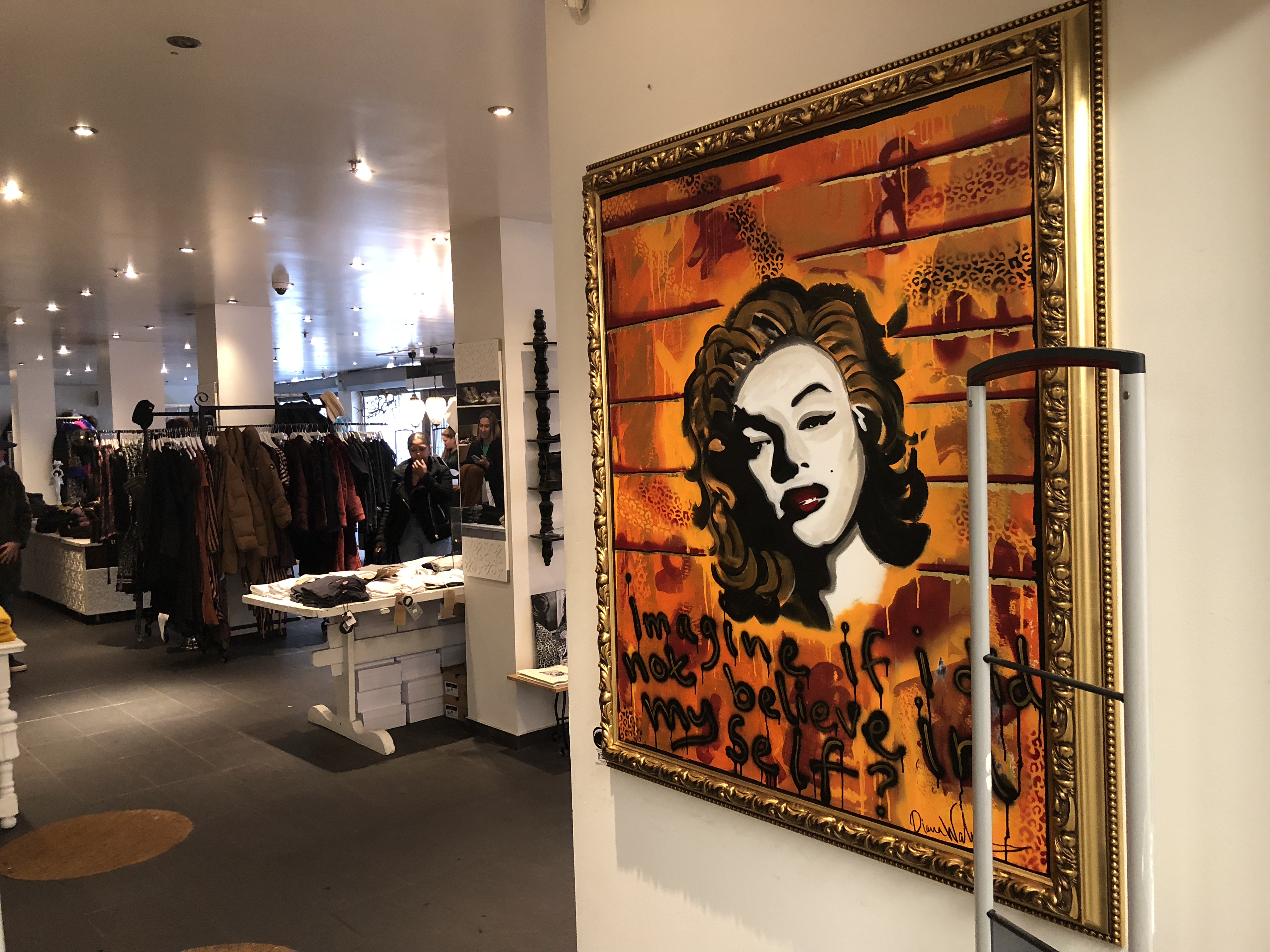 -Marilyn-  SOLD!
Imagine if i did not believe in myself?
120 X 100 cm aryl with 22 carat golden leafs.
---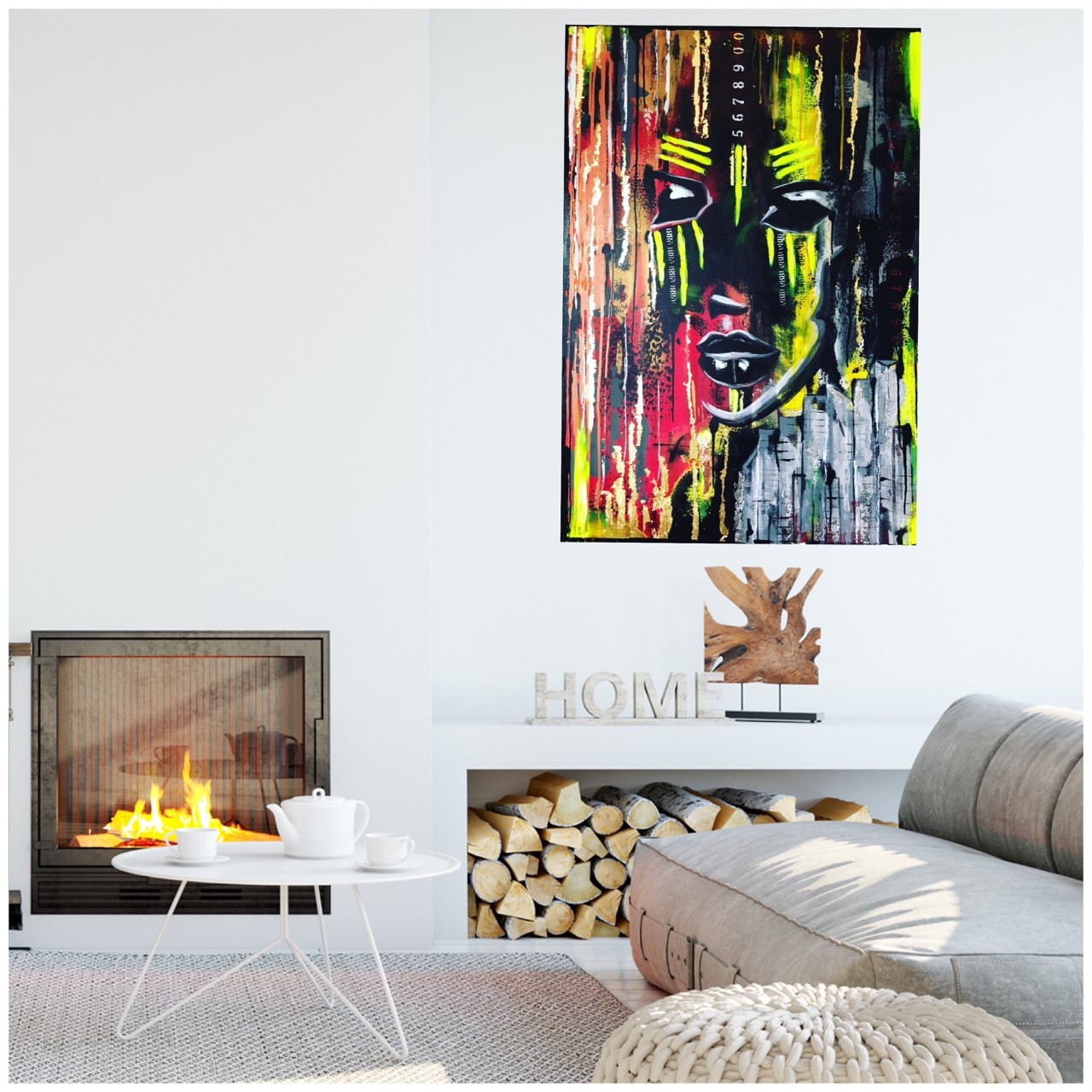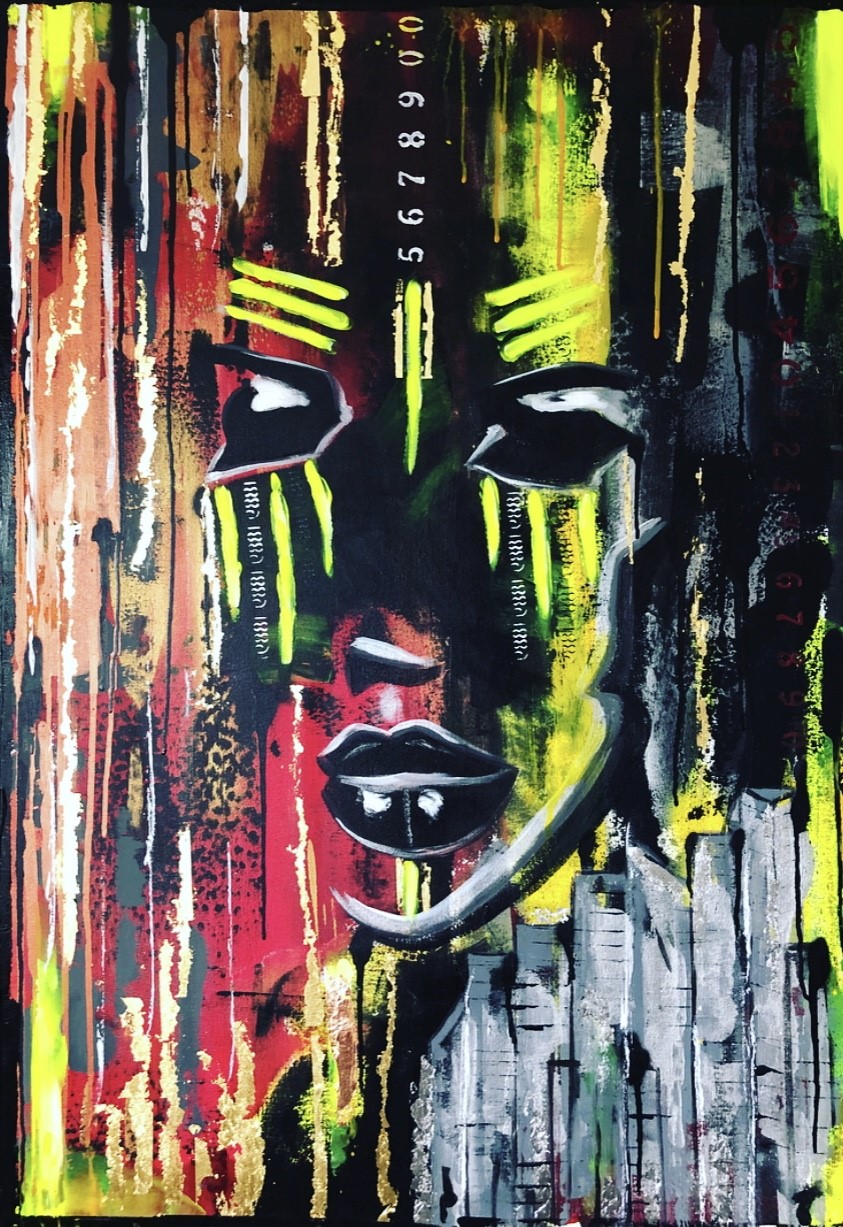 -Urban Tribe- SOLD!
70 X 100 cm aryl with 22 golden carat leafs.
---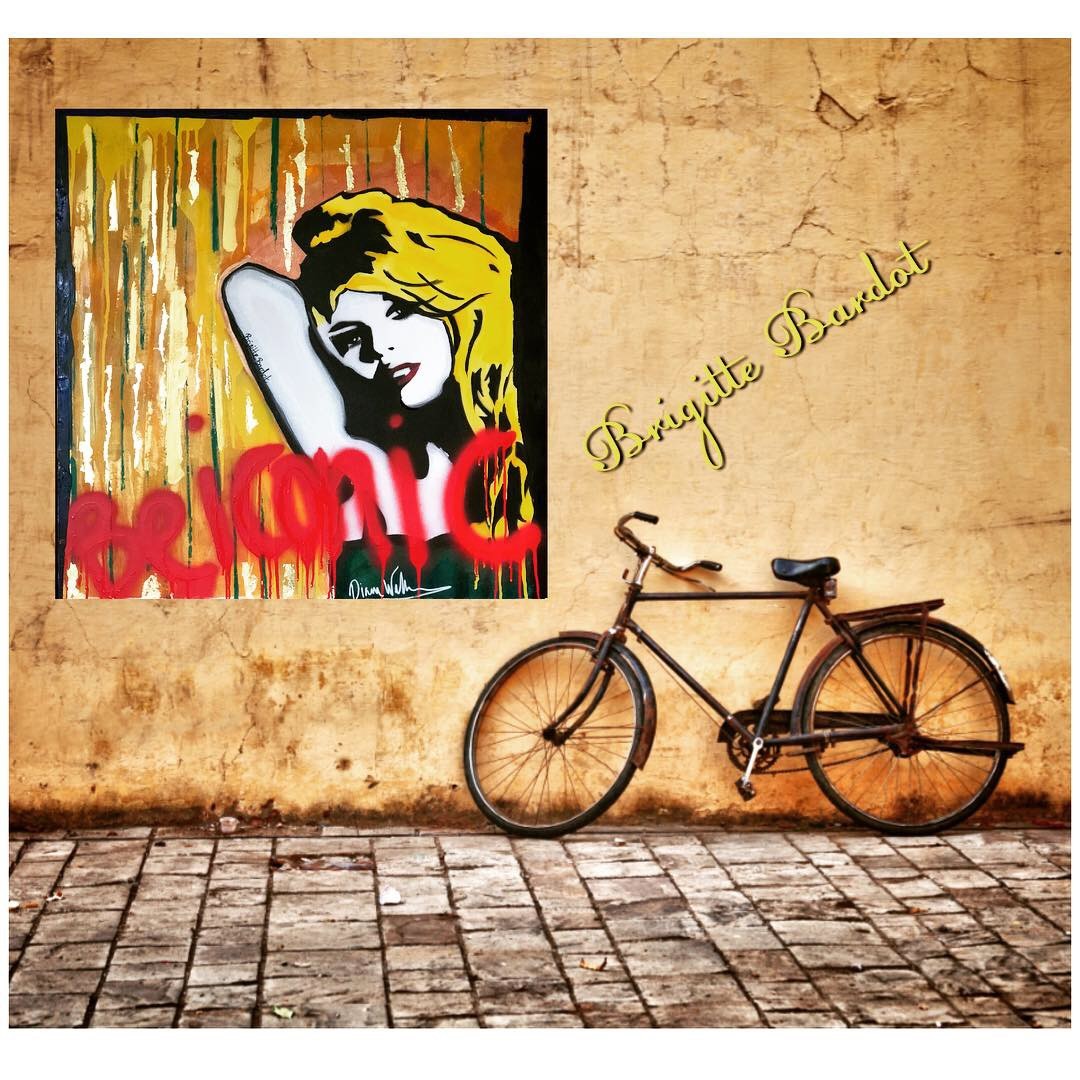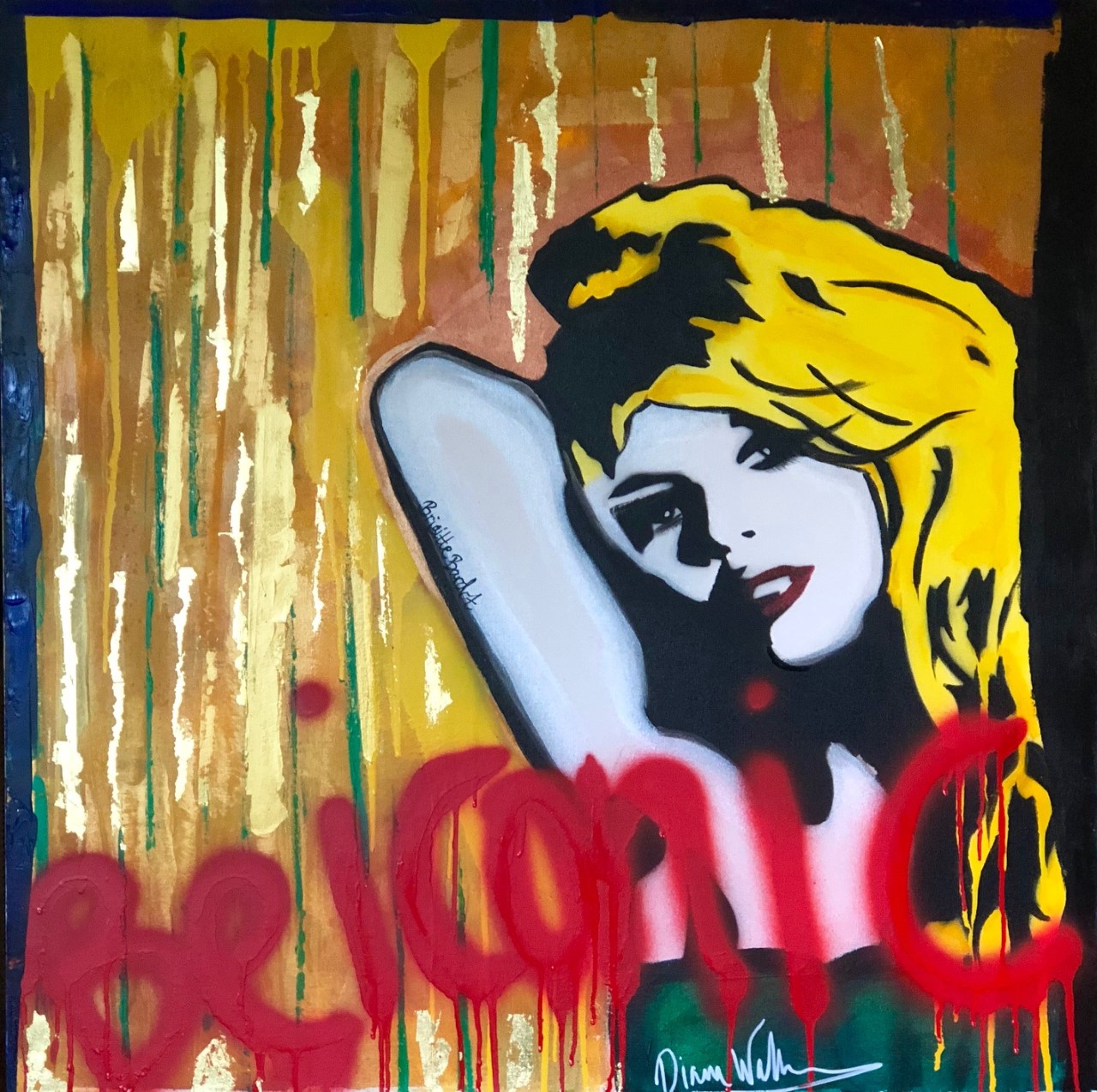 -Brigitte Bardot- SOLD!
80X80 cm acrylic & 22 carat gold
No matter how loved you are by fans around the world, in bed at nights, no one can console you..
---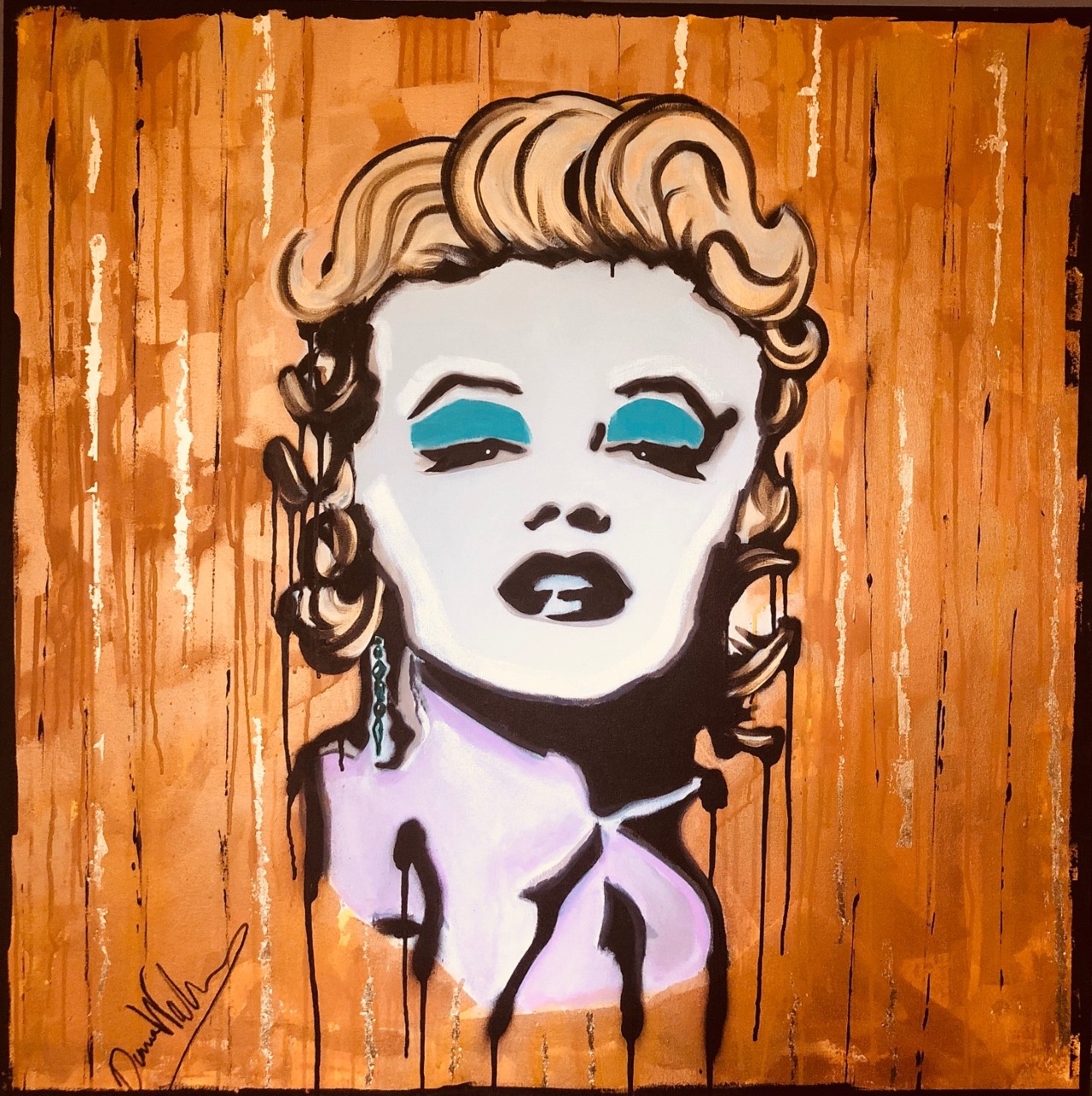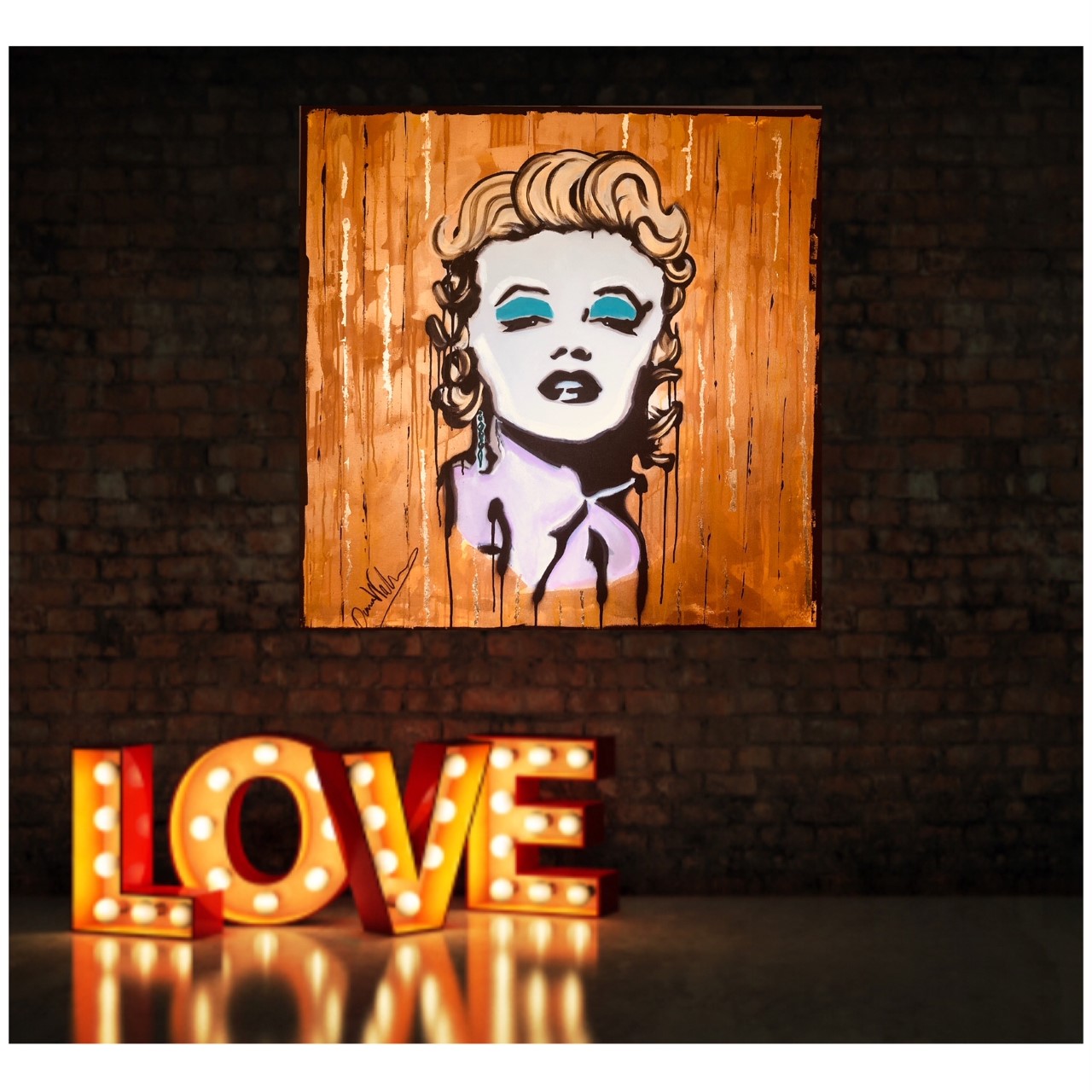 Marilyn -Love me-
100X100 cm acrylic & 22 carat gold leafs
To receive love, you need to love yourself.. To truly love yourself will give you beautiful experiences of happy and healthy relationships.. First yourself then others…
---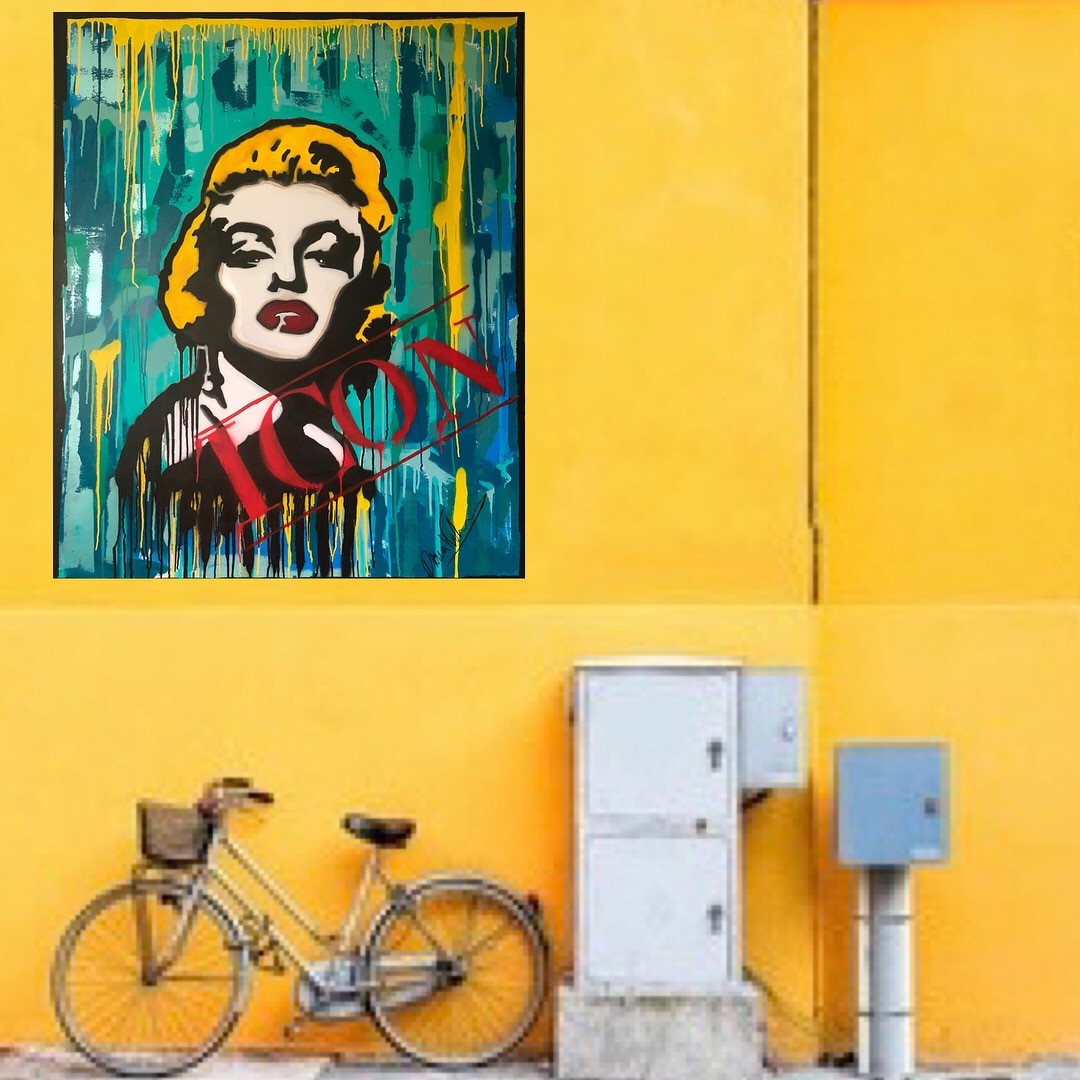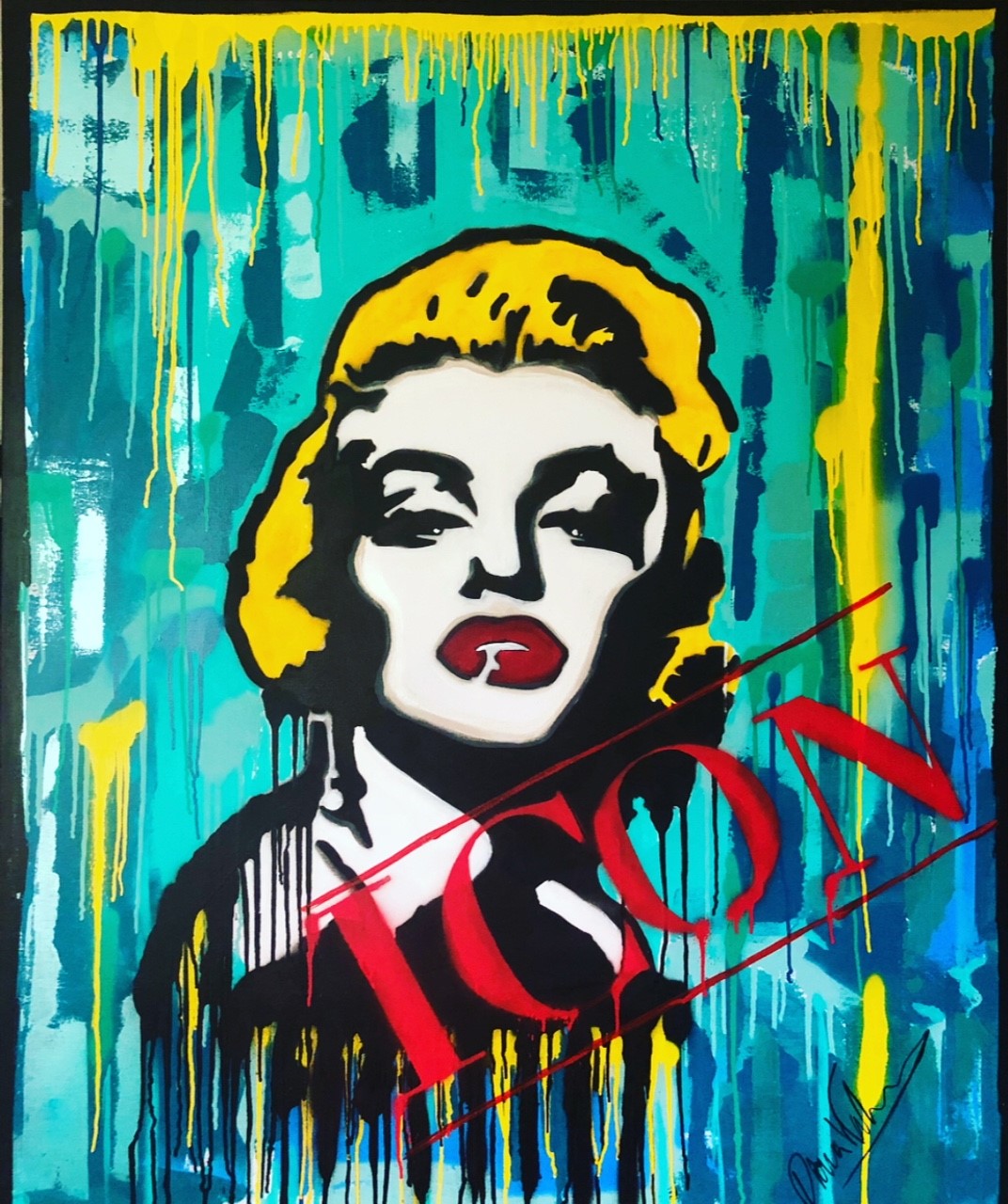 -Icon- SOLD!
120X100 cm acrylic
Icons see, think and act outside society's box and rules. They dare to be who they truly feel they are inside… Be more like an icon…
---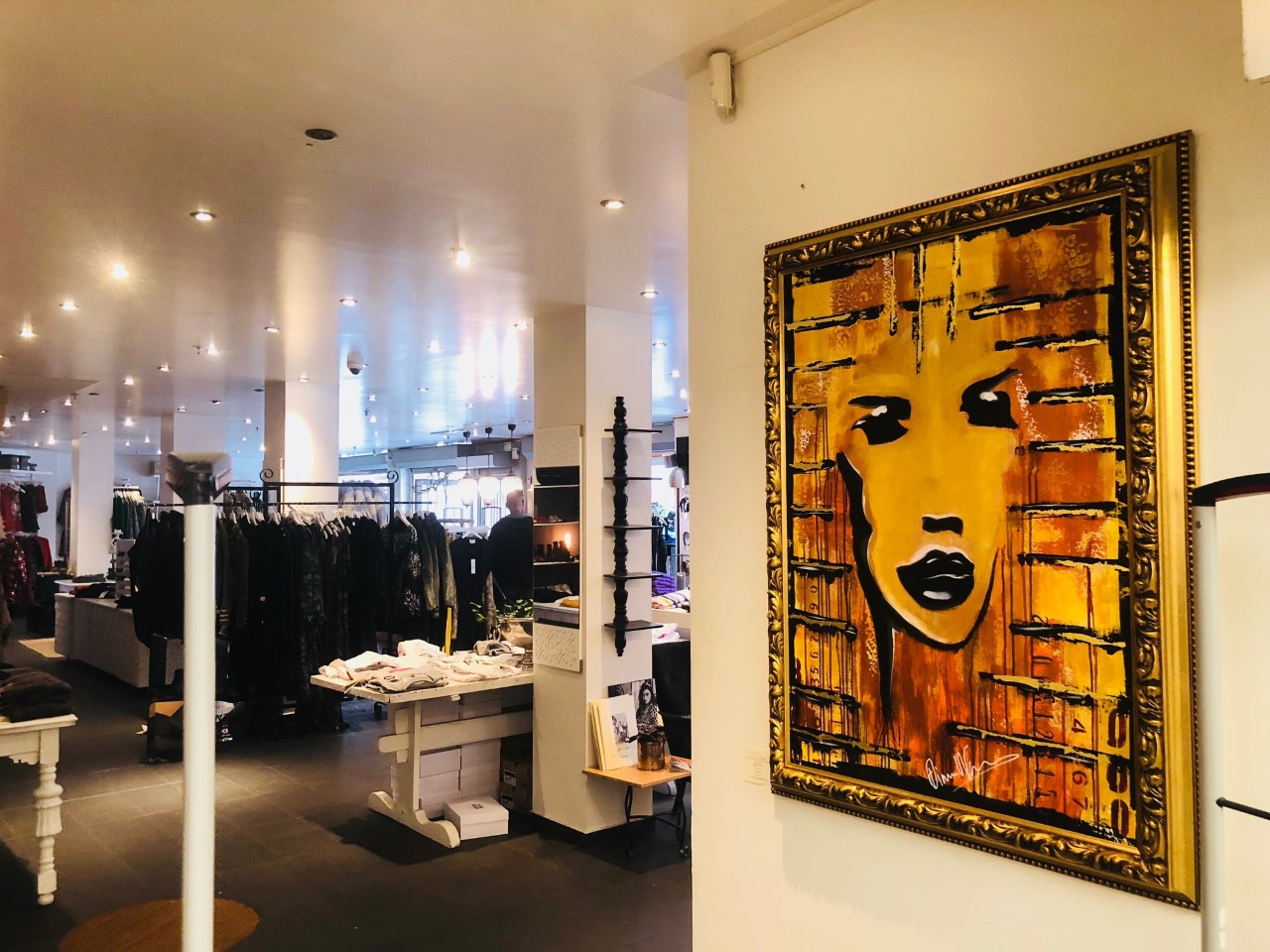 -ISA- Treasure`s from autumn. SOLD!
Acryl on linen 100 X 70 cm with gold leafs & gold frame.
---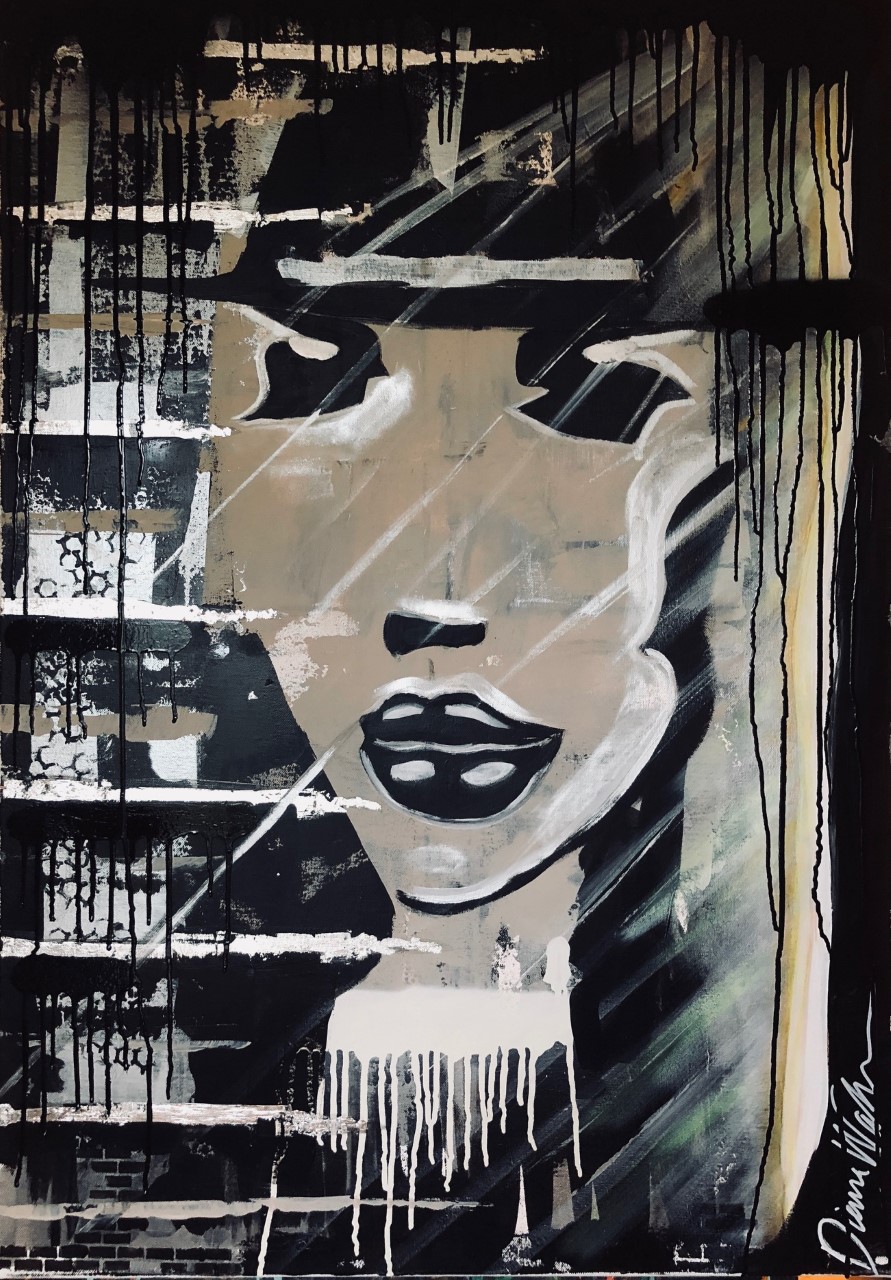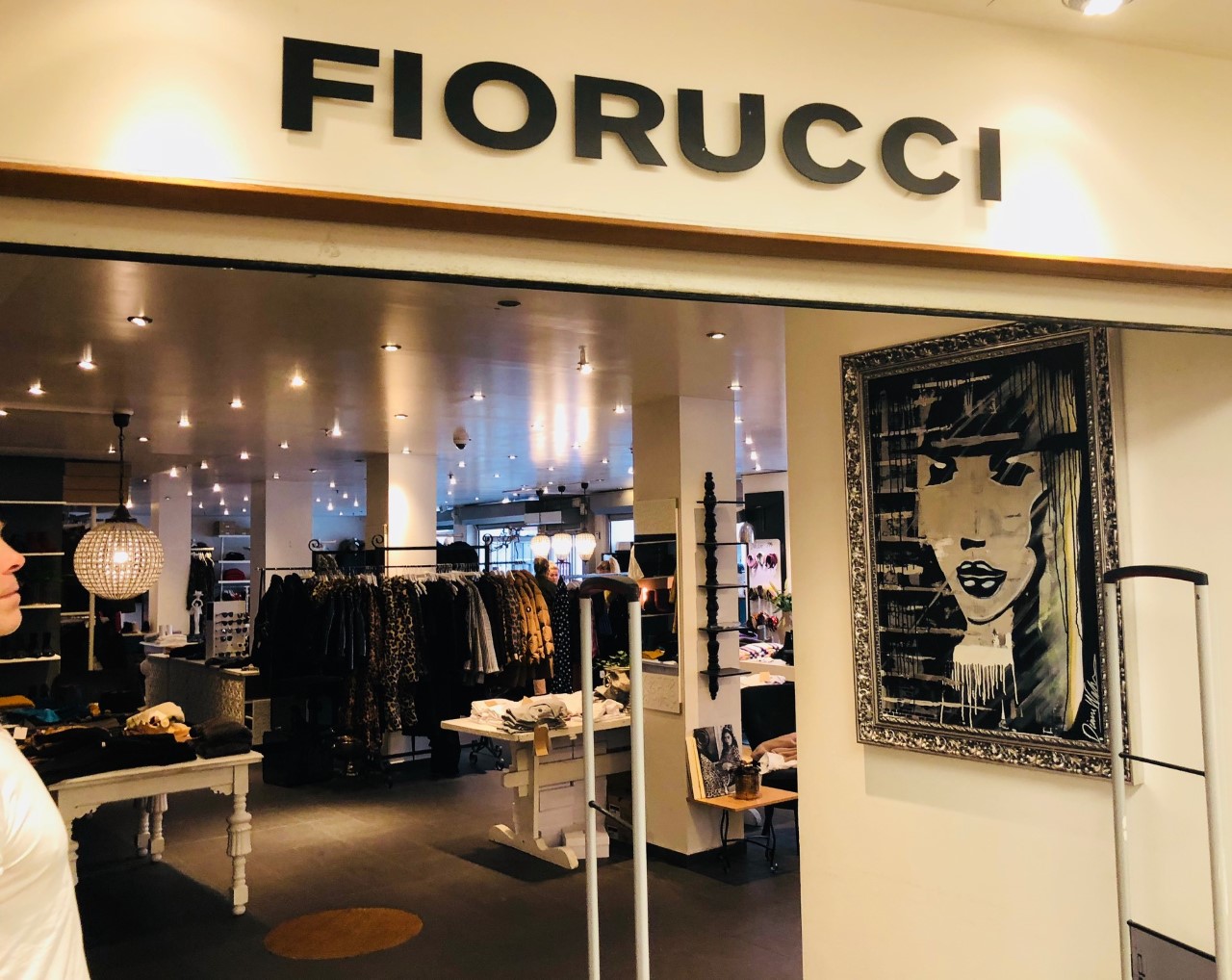 Sold!
-ISA- Back to basic,
after a long time spent in the concrete jungle it`s time to go back to basic!
100 X 70 cm aryl with silver leafs.
---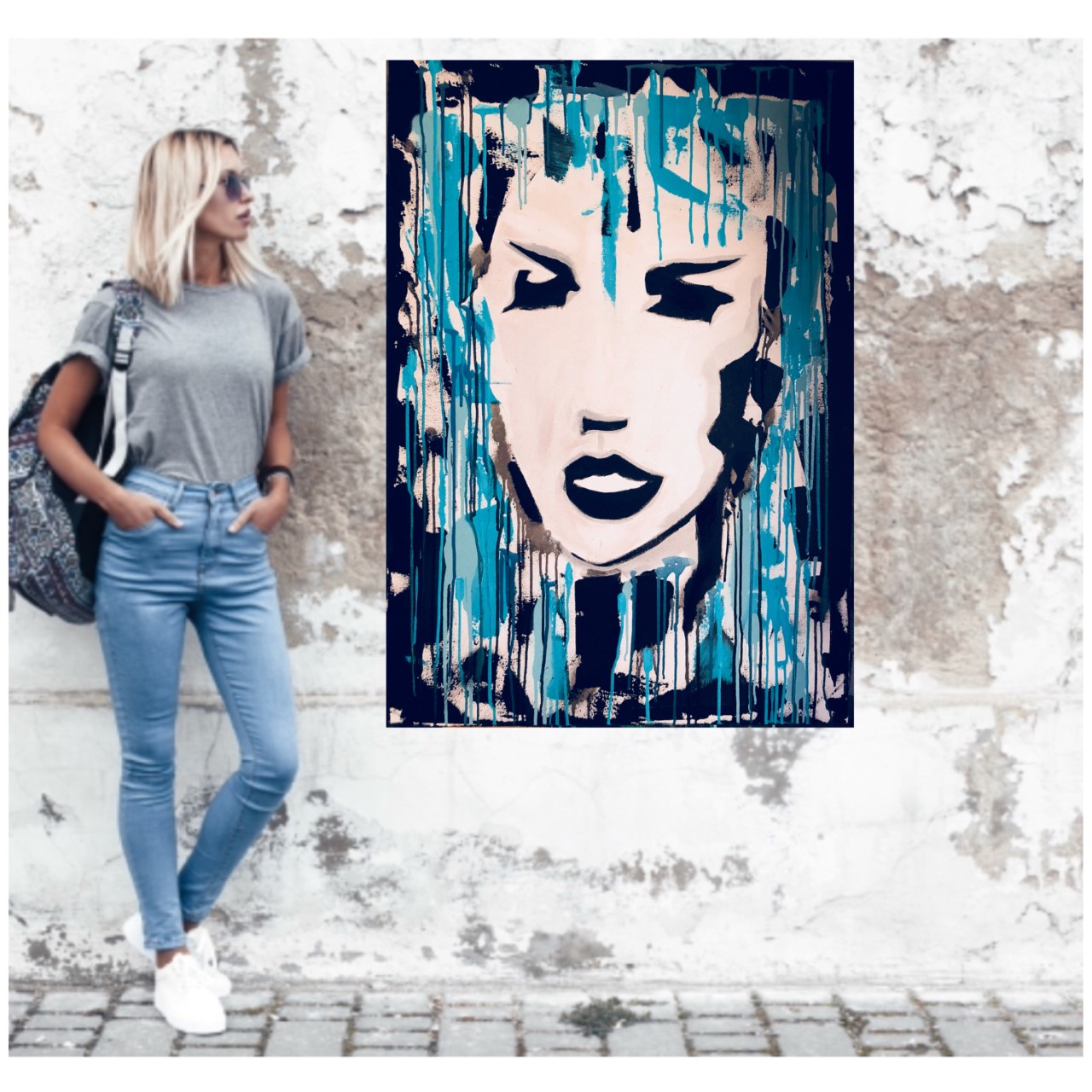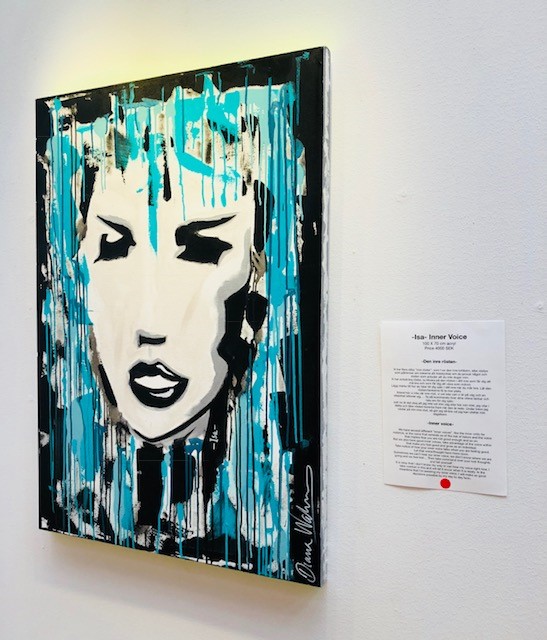 -Isa- Inner voice SOLD!
100 X 70 cm acryl
-Den inre rösten-
Vi har flera olika "inre röster", som t ex den inre kritikern, eller rösten som påminner om riskerna att misslyckas om du provar något och rösten som antyder att du inte duger mm.
Vi har också bra röster, ta tillvara på den rösten i ditt inre som får dig att må bra och som får dig att växa som individ.
Lägg märke till hur du talar till dig själv i ditt inre när du mår bra. Låt den rösten/tankarna få ta mer plats. Ibland hör vi inte vår inre röst, vi vet inte vart vi är på väg och en vilsenhet infinner sig…. Ta då kommando över dina vilsna tankar och tala om för dig själv:
just nu är det okej att jag inte vet min väg eller hör min röst, jag vilar i detta och låter rösten komma fram när den är redo. Under tiden jag väntar på min inre röst, så gör jag så bra val jag kan utefter min dagsform.
-Inner voice-
We have several different "inner voices", like the inner critic for instance, or the voice that reminds us of the risk of failure and the voice that implies that you are not good enough and so on. But we also have good inner voices, take advantage of the voice within that make you feel good and grow as an individual. Take notice of how your inner voice talks when you are feeling good. Let that voice/thought have more room. Sometimes we can't hear our inner voice, we don't know where we are going and we feel lost… Then take command over your lost thoughts and tell yourself: It is okey that I don't know my way or can hear my voice right now, I take comfort in this and will let it occur when it is ready. In the meantime that I'm awaiting my inner voice, I will make as good decisions possible by my day to day form.
---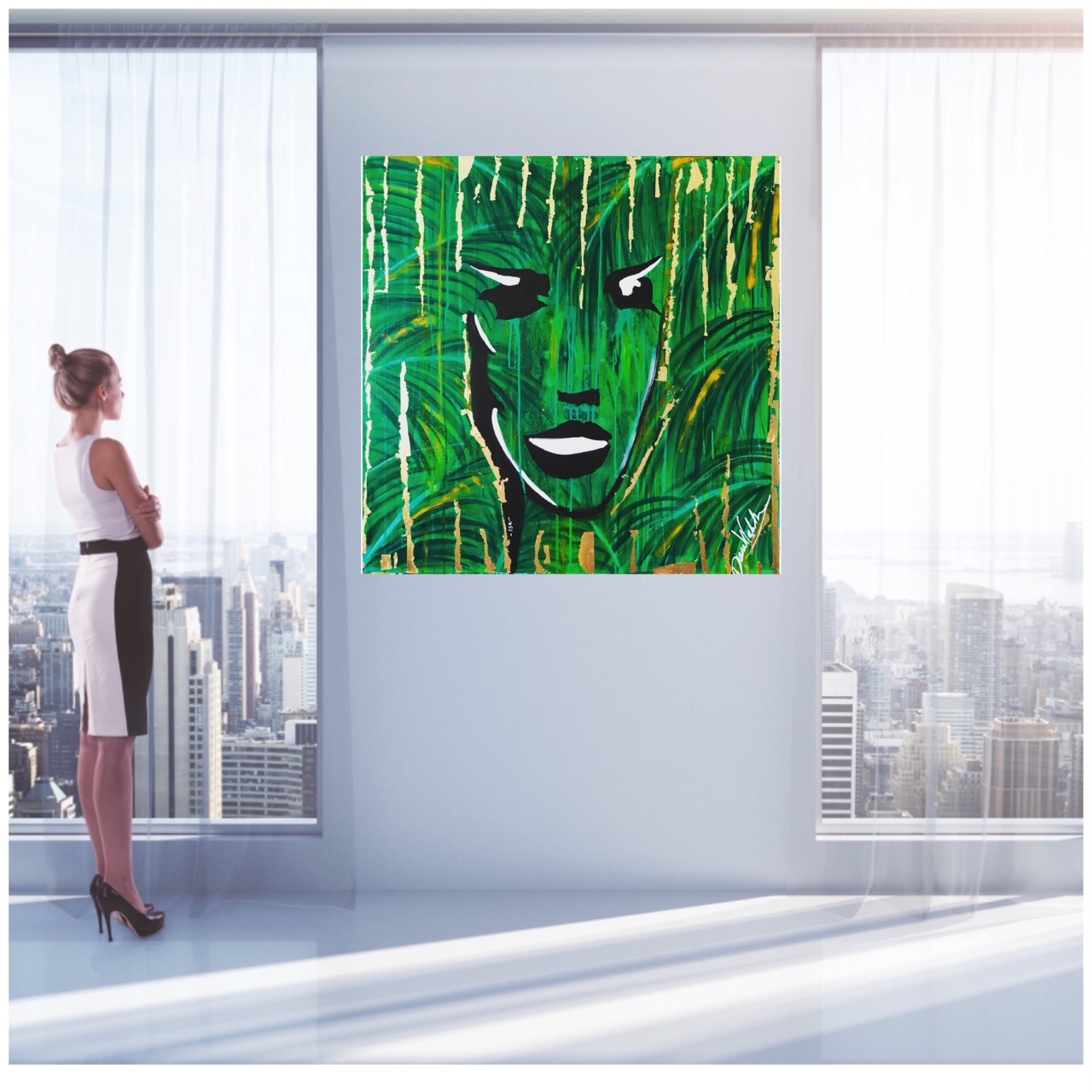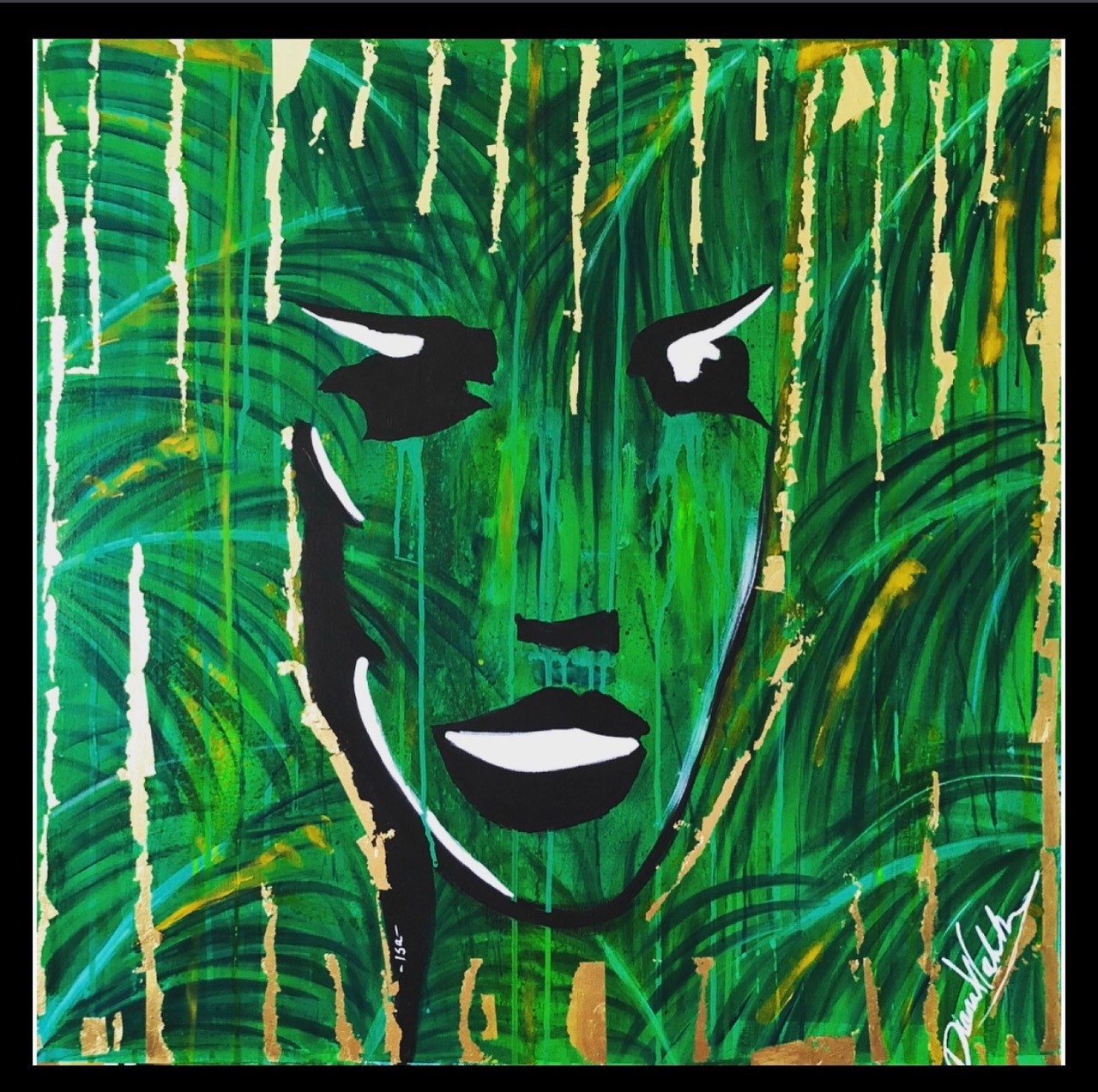 -ISA- -Meditate- SOLD!
Acryl, 22 carat gold leafes 80 X 80 cm.
-Isa Meditera-
Meditera för att stänga av omvärlden eller tysta ditt egna inre tjatter. Meditera för att möta upp dina känslor, begär eller för inre högre möten. Meditera vaken med en promenad i naturen. Naturen är en givare och här kan vi tysta vardagslivets alla tankar & känslor för att vila en stund, fylla på med energi och ha egentid. 
-Isa Meditate-
Meditate to shot out the outer world or your inner chatter. Meditate to get in touch with your feelings, desires or for inner meetings at a higher level. Meditate awake as you take a walk through nature. Nature is a giver and here we can silence all our daily thoughts and feelings to get peace of mind, energize ourselves and get time of our own.
---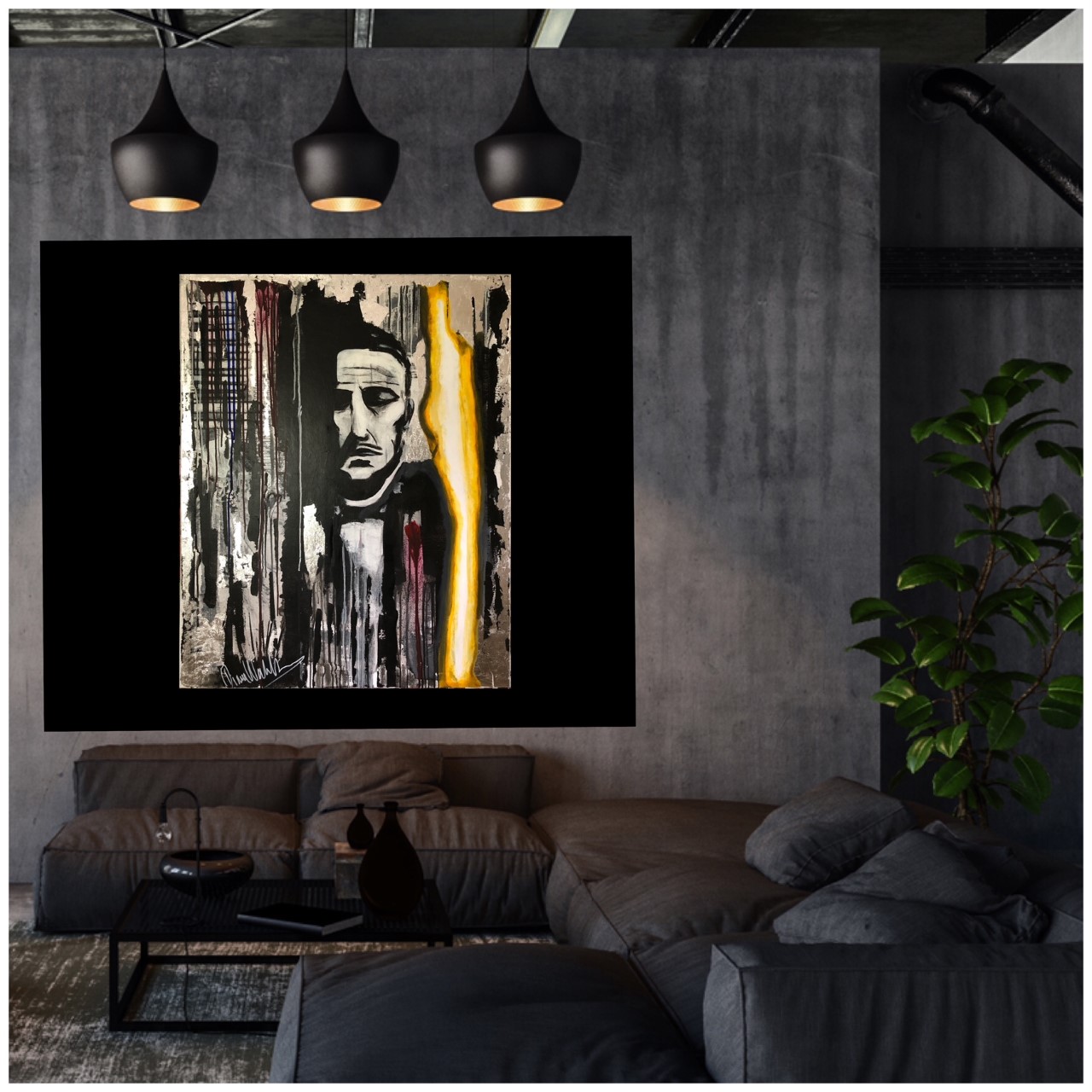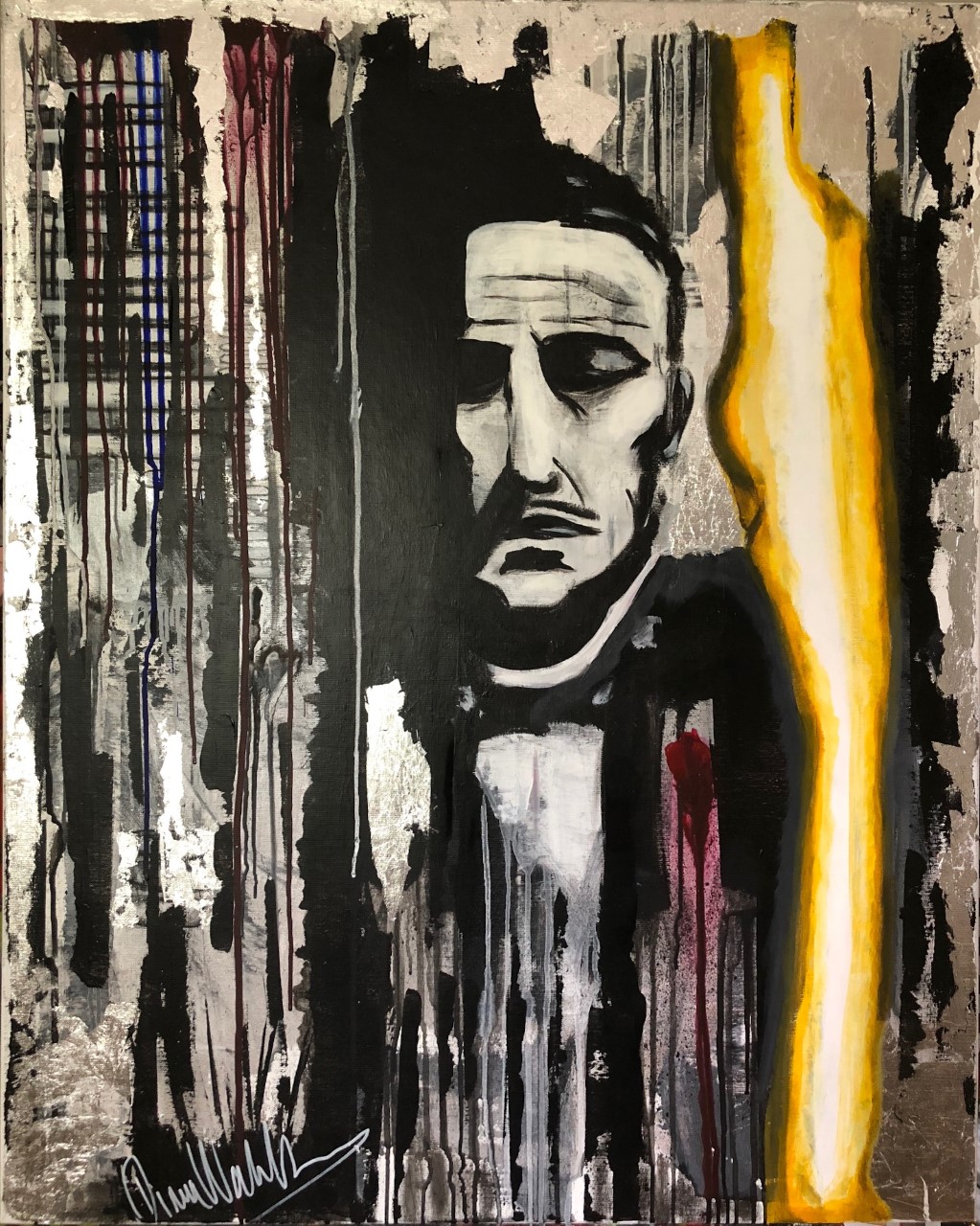 -VITO-  SOLD!
Acryl 100 X 80 cm
– VITO –
En kung i ruter, en företagare med ambitioner. En man med hjärtat för familjen. En öppning av ljus går igenom tavlan som en inre högre röst för råd & hjälp. Tavlan Vito ger företags lycka och beskydd till sin ägare.
The king of diamonds, an entrepreneur with ambitions. A man who's heart is beating for his family. An opening of light flows through the painting as an inner higher voice of wisdom & guidance. Vito, the painting, offers success in business and protection of its owner.
---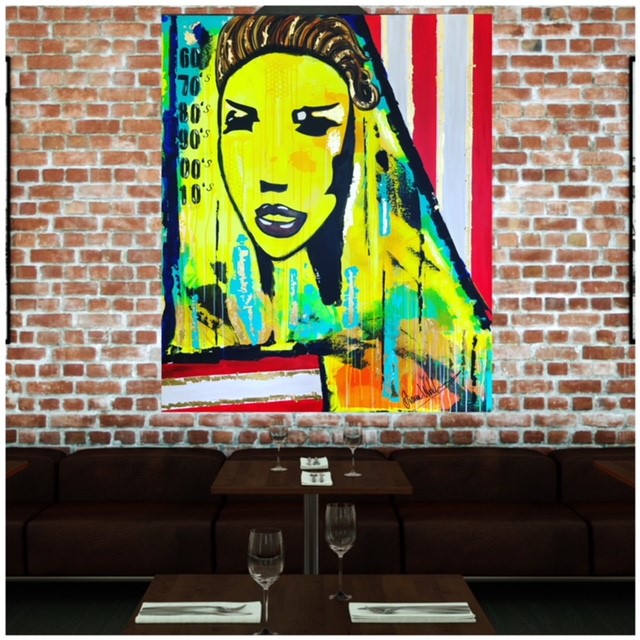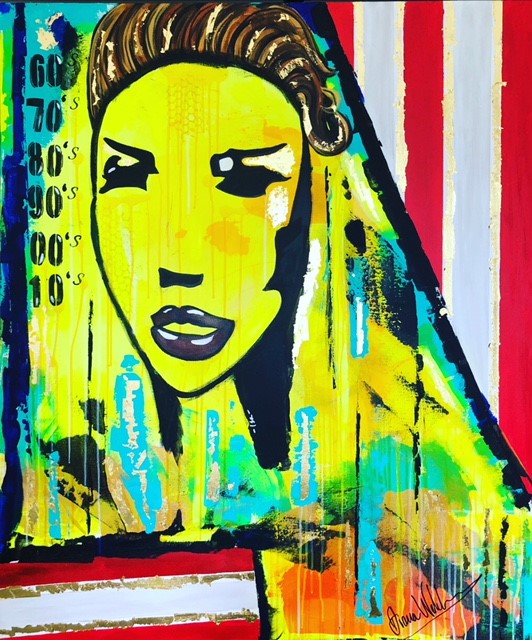 -REBEL-
120 X 100 cm aryl painting with 22 carat gold leafs.
-REBELL-
Att våga gå emot strömmen efter eget tycke. Våga vara annorlunda, det är modernt att vara sin egen hellre än att följa huvudströmmen. Det är så du sätter en trend i din omgivning, när du vågar vara dig själv även om du är ensam om det. 
-REBEL-
To bravely walk against the norm according to your own mind. Dare to be different, it is hip to be in your own right rather than following the mainstream. That is how you set a trend in your environment, when you dare to be yourself even though you are alone.
---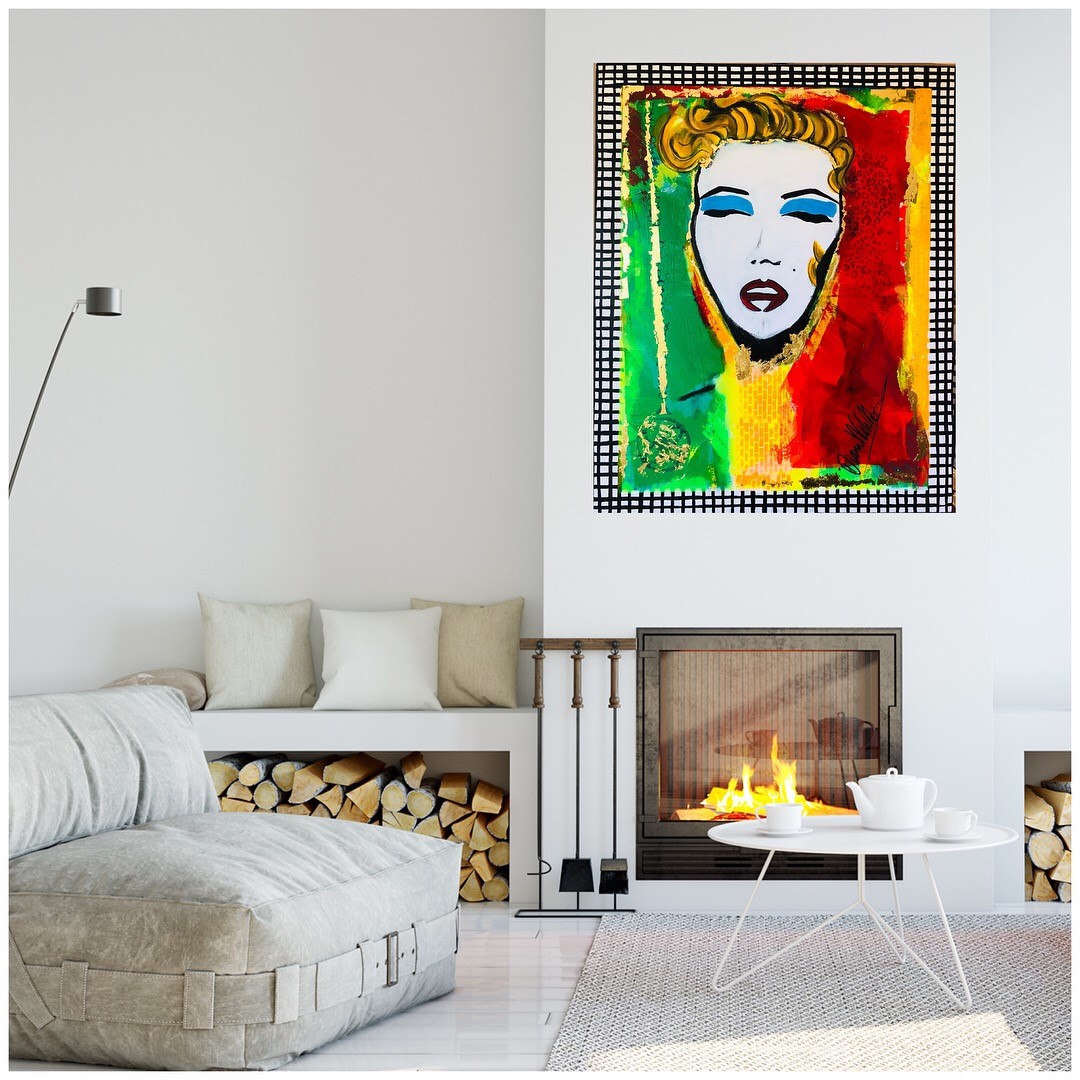 -Found my way- SOLD!
100 X 70 cm Acryl with 22 carat gold leafs.
-Jag ser min väg-
En lång resa har vandrats fram tills nu! En spricka av guld går rakt igenom tavlan och visar att en ny tid är här och jag ser min väg klart. Ingen återvändo, en ny tid är här.
-Found my way-
You have traveled a long way up until now! A golden crack goes straight through the painting, showing the dawn of a new age and that I see my path clearly. No return, the new age is hear.
---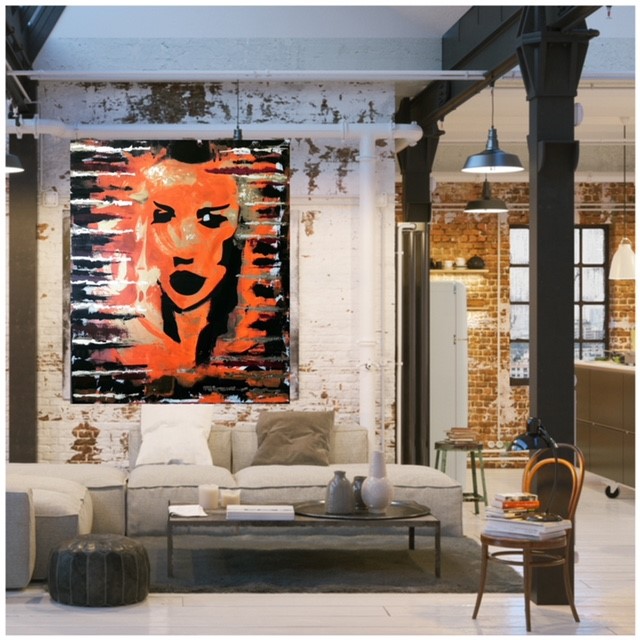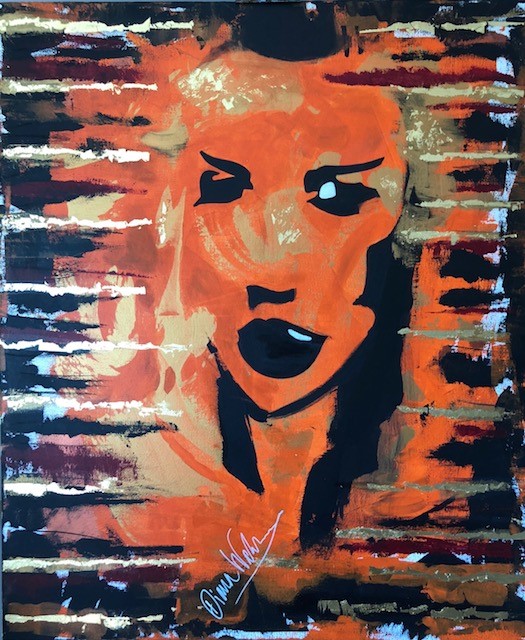 -Isa- SelfWorth   SOLD!
120 X 100 cm aryl with 22 carat gold leafs.
-Självvärde-
Att känna att du är värd är ibland svårt att uppnå i de sammanhang som vi vill. Det vi önskar mest av allt, som vi inte har uppnått, handlar oftast om att vi inte har tillräckligt med självvärde för att komma dit just nu. Vi vet oftast att vi är värda det ena och det andra, men det är inte samma sak som vad vi faktiskt känner om oss själva. Det du gör mot/till dig själv varje dag visar vad du ger dig själv för värde. Det är värdet vi ger oss själva inifrån som är den absoluta viktigaste kärleken vi kan uppnå. Du är det finaste du har! I vissa ämnen i våra liv är vi bättre på vårt självvärde och i andra delar sämre. I vilken arena i ditt liv behöver du höja ditt självvärde just nu?
-SelfWorth-
To feel worthy is sometimes hard to achieve in the context you want. Our lack of achievement is often due to the fact that we don't have enough self esteem. We know that we are worthy, but that is not the same thing as feeling worthy. What you do for/towards yourself every day, tells you how you value yourself. It is the value we give ourselves from within that is the most precious love we can achieve. You are the most precious thing you got! In some aspects of our lives we are better in our self worth and in others we are poor. On what stage of your life do you need to boost your self worth at the moment?
---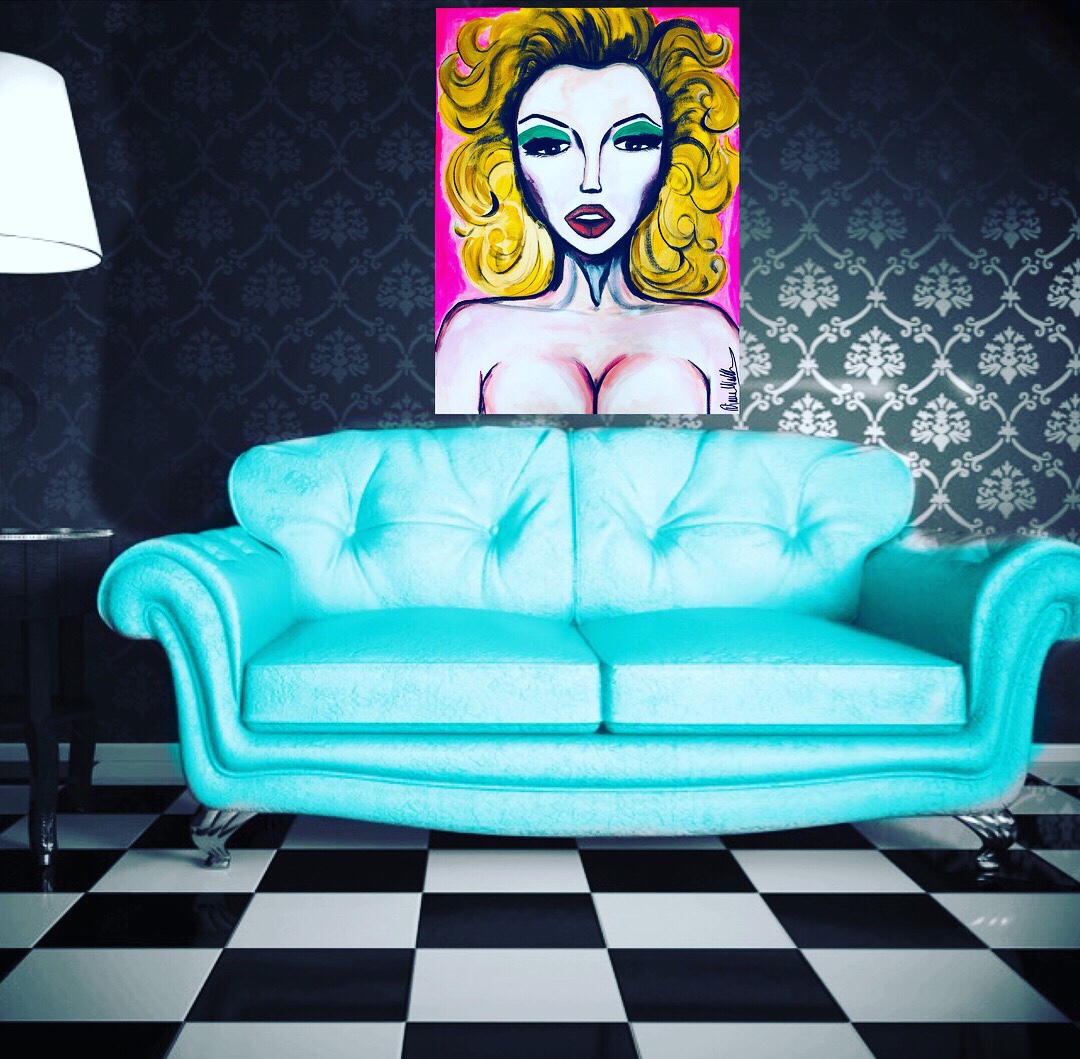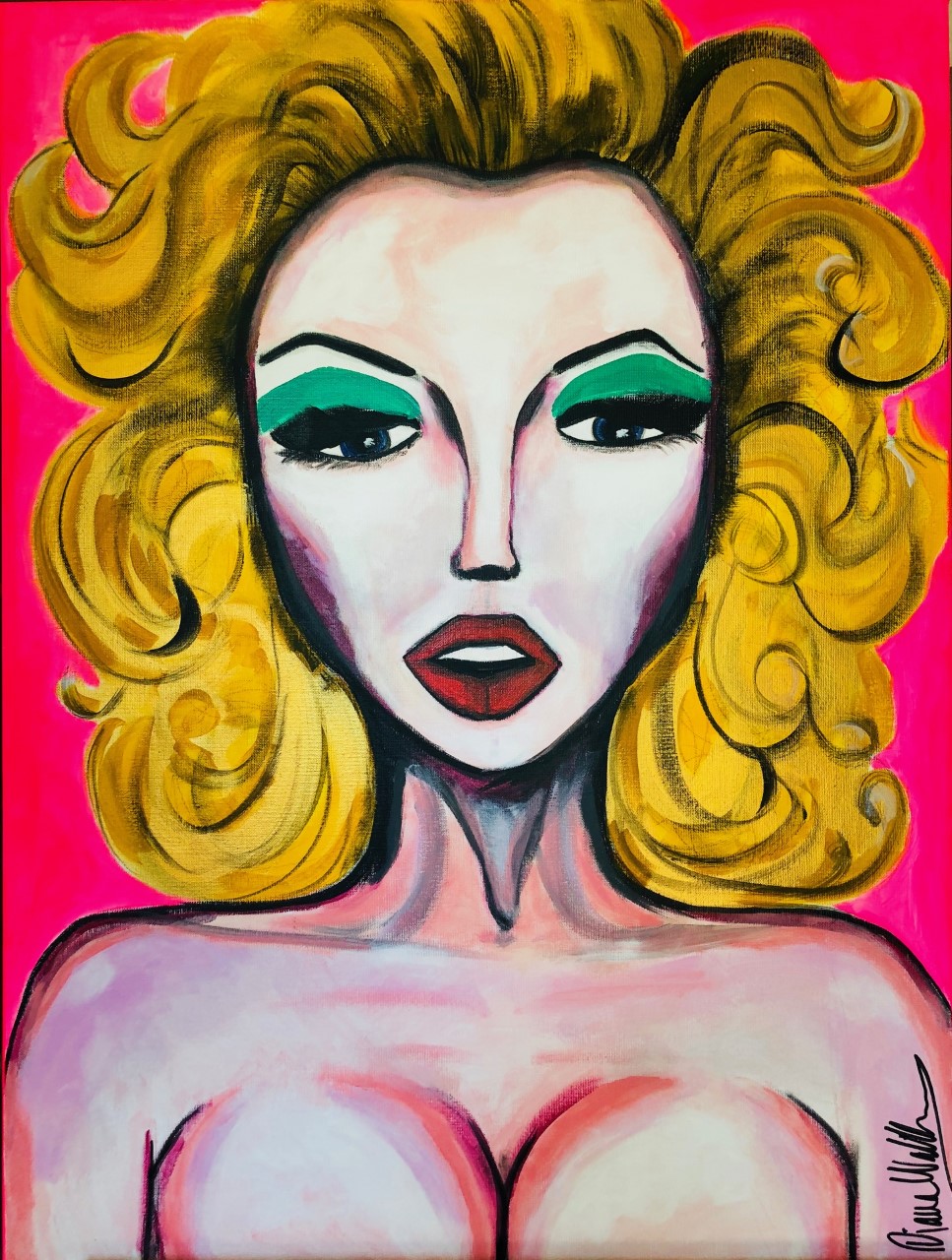 -I choose me-  SOLD!
Acrylic painting on linnen 80 X 60 cm.
-Väljer mig själv-
Att välja sig själv är lättare sagt än gjort! Det krävs självinsikt till dina egna behov och en inarbetad gränssättare som kan ta ton och säga ifrån till sin omgivning. Ofta vet vi att vi borde tänka mer på oss själva men det är svårt att bryta ett sådant mönster. Du är inte "negativt ego" för att du väljer dig själv. Det krävs mod att välja sig själv inför andra. Oavsett vad du vill göra eller inte göra så bör du alltid komma först i ditt liv. Välj inte yttre omständigheter före dig själv. Vad längtar du efter?
-I choose me-
To let yourself come first is easier said than done! It takes self awareness of your own needs and to incorporate boundaries and be able to speak up towards your environment. We often know that we should be thinking more about ourselves but it is hard to break such a pattern. You are not "negatively ego" because you choose yourself. It takes courage to choose yourself before others. No matter what you want to do or don't want to do, you should always come first in your life. Don't let circumstances come in your way. What are you longing for?
---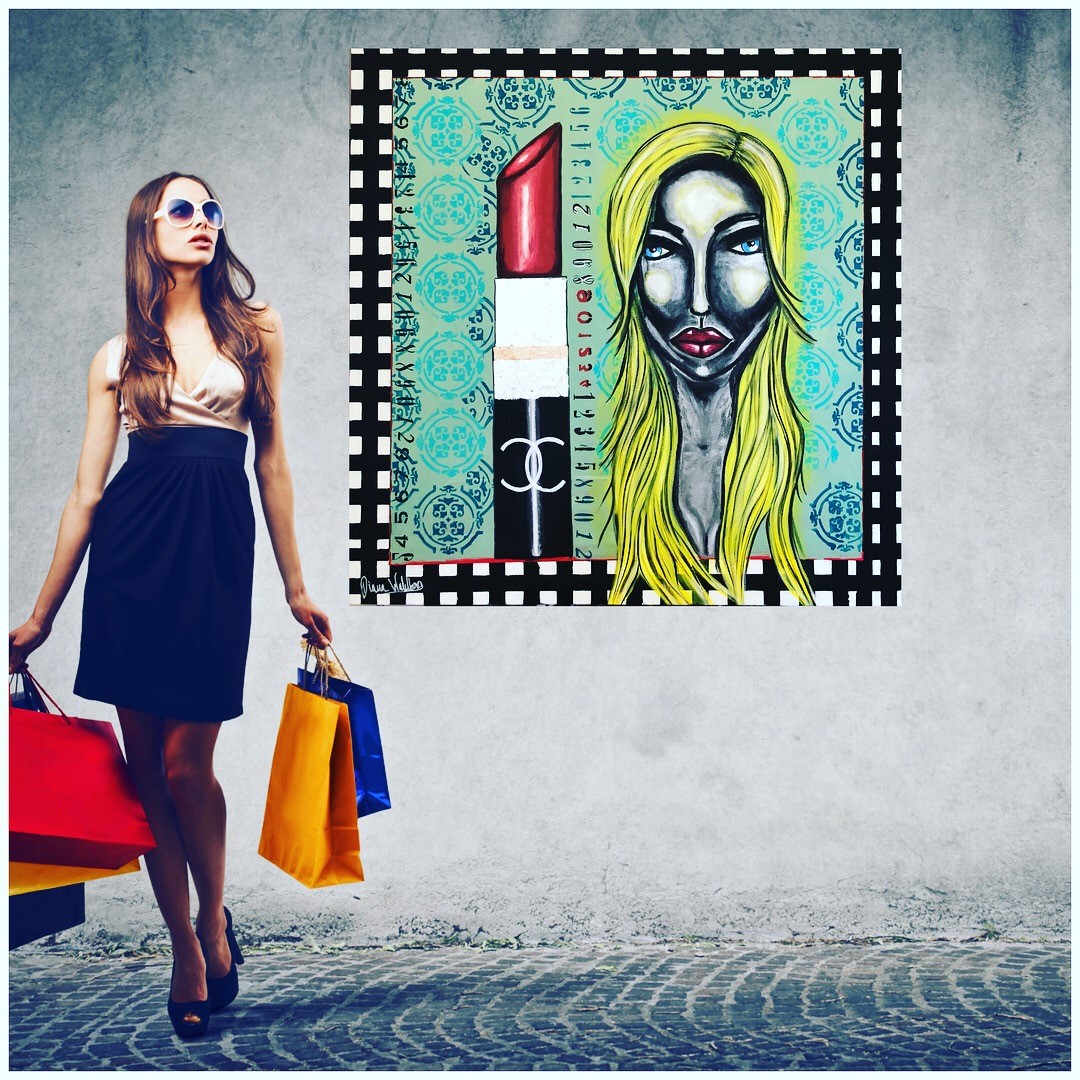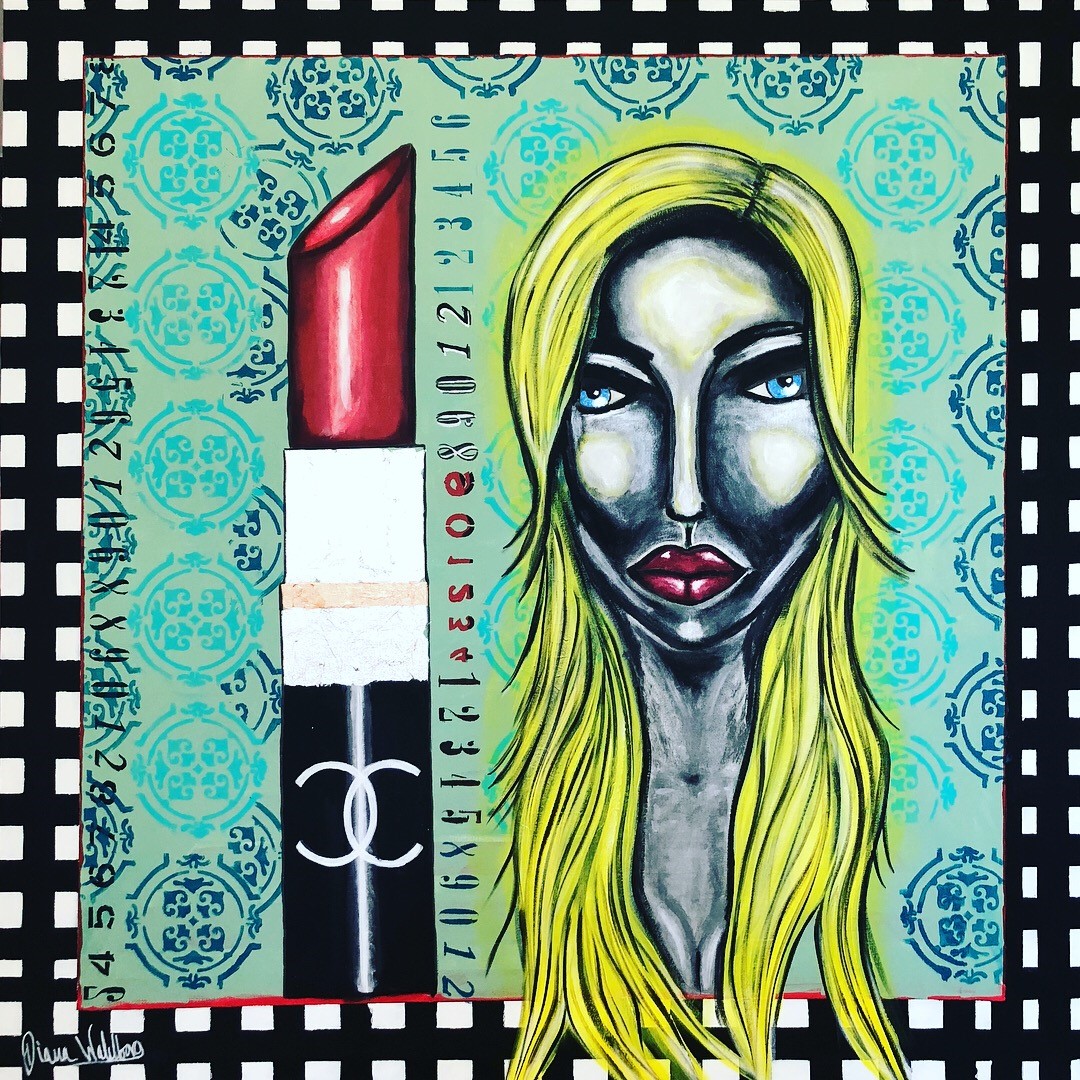 ~ Inner Attitude ~
Acrylic painting 100 X 100 cm.

~ Inre Attityd ~
Den inre attityden kan vara ganska tuff ibland! Du är ofta glad utåt men tuff inåt. Eller för vissa tvärtom du har en tuffare attityd utåt, men inåt en ganska låg självkänsla. Attityd behöver vi för att krydda våra liv och gå in i olika känslor som vi vill spela ut i vår vardag. Vilken attityd skulle du vilja uttrycka mer i ditt liv? Om du fick spela en roll i en film och du fick välja vilken karaktär du vill, vem skulle det vara? Vilken typ av karaktär längtar att få komma ut från ditt inre?
~ Inner Attitude ~
The inner attitude can be quite tough at times! You are often happy on the outside but tough on the inside. Or for some it is the opposite, you are hard-nosed on the outside and suffer on the inside from low self esteem. We need attitude to spice up our lives and to enter various emotions that we play out in our everyday. What attitude would like to express more in your life? If you got to play any role in any movie, which one would it be? What kind of character from the depths of you is longing to break out? 
---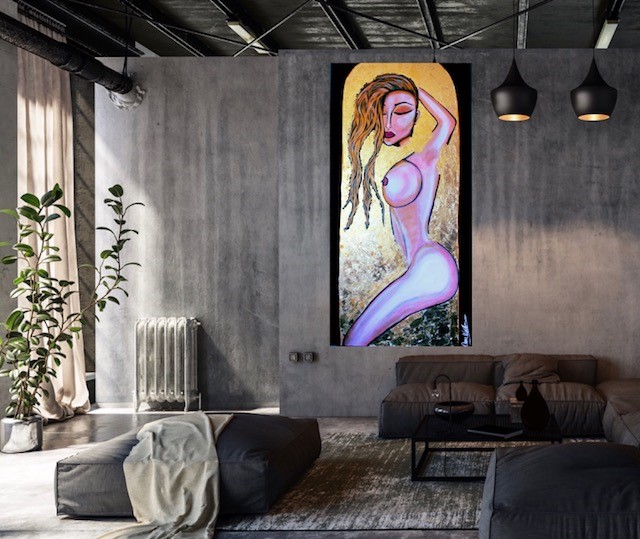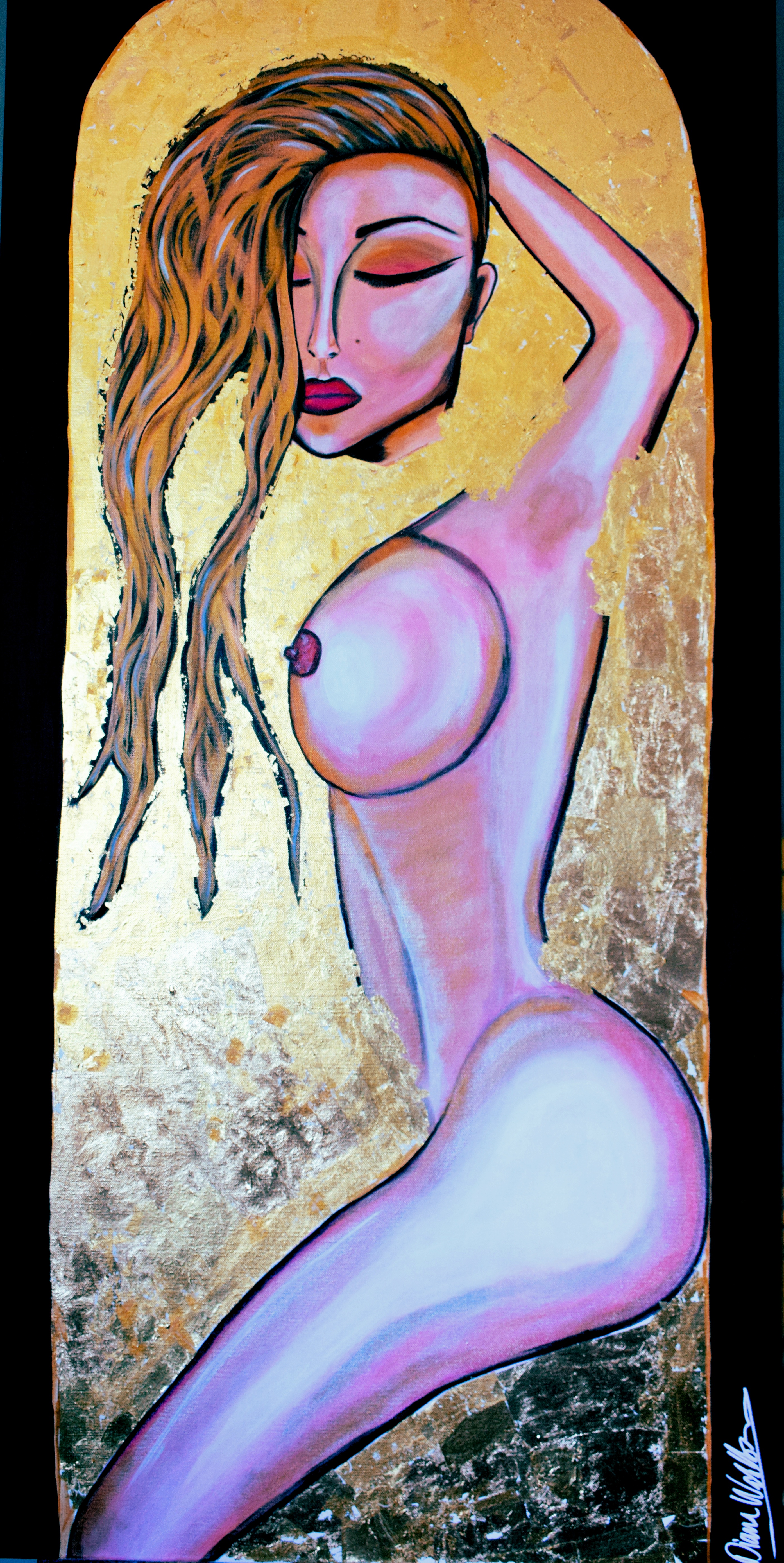 -BodyLove- Time spent in gold. SOLD!!
70 X 140 cm Acrylic painting, Woman bathing in 22 carat golden leafes.

-KroppsKärlek-
Berör din kropp helhjärtat inifrån djupet av din själ. Att känna din hud och ge den kärlek, uppskattning och kramar! Detta kan vara svårt ibland när vi först "ser" eller känner våra fysiska skavanker innan vi ser det som vi tycker om. Vad gillar din kropp? Vad längtar din kropp efter? Om du inte vet det just nu, ta reda på det. Denna tavla påminner oss om att "bada" i guld för att vi är värda det!
-BodyLove-
Touch your body wholeheartedly from the depths of your soul. The sensation of your skin, giving it love, appreciation and caressing it! This can be hard at times when what we first experience is our flaws prior to what we like about ourselves. What does your body like? What is it longing for? If you don't know, try and find out. This painting is a reminder to us that we should be "bathing" in gold, because we are worth it!
---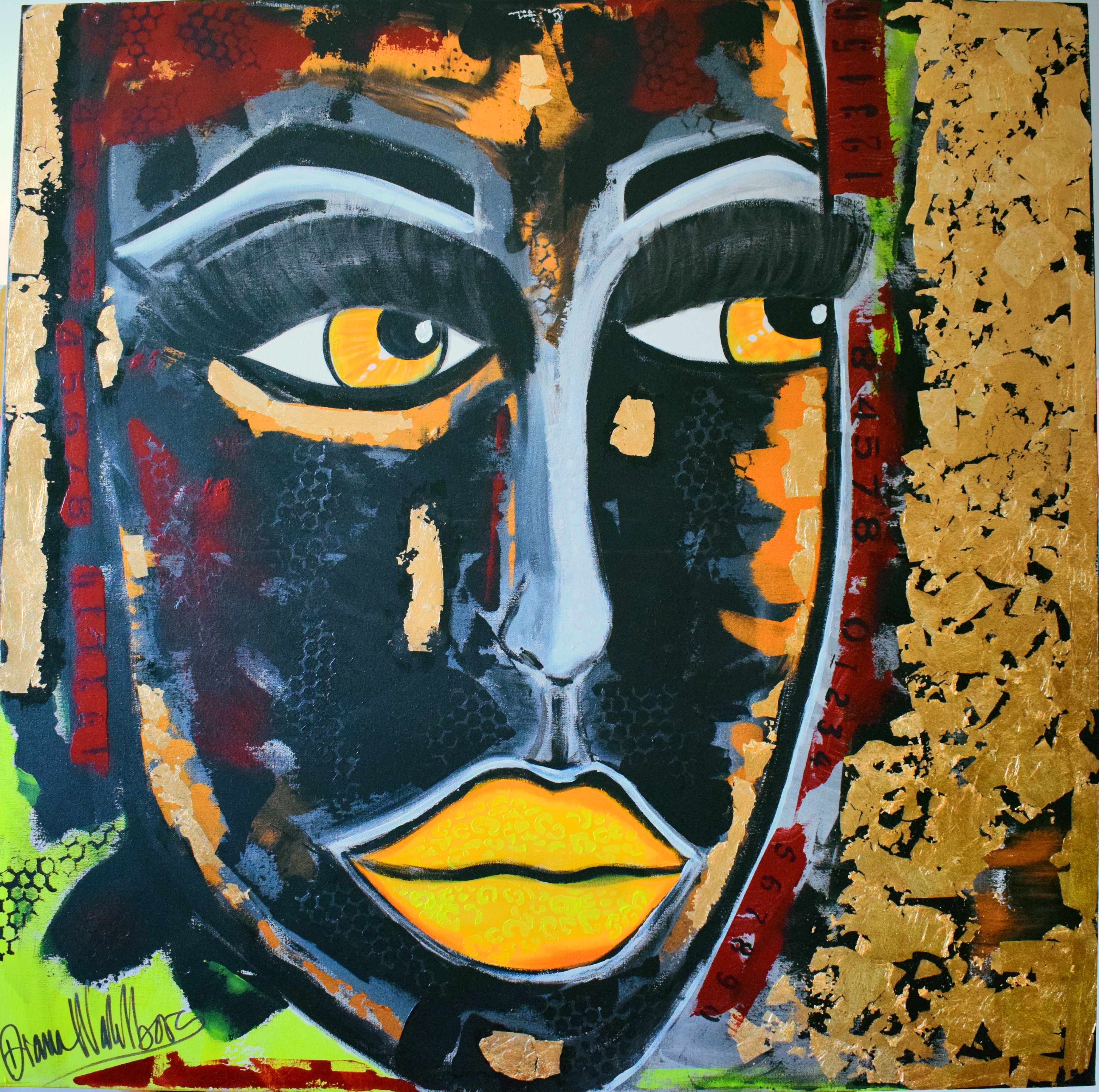 ~ URBAN GIRL ~   SOLD!
100 X 100 cm Acryl.
-Stadstjejen-
I det grå föds kreativitet, i det grå föds blodsband, i det grå är vi bästa vänner, i det grå ligger vi på den varma sommar asfalten och drömmer om framtiden….I det grå finns inga begränsningar… I det grå finns allt! Våga drömma stort, våga gå din egen väg, våga vara unik, våga sticka ut, framtiden bär på lycka..
~ URBAN GIRL ~
In the grey creativity is born, in the grey we are bonded by blood, in the grey we are the best of friends, in the grey we lay on the hot summer asfalt dreaming of the future….In the grey there are no limitations… In the grey everything exists! Dare to dream big, dare to take your own path, dare to be unique, dare to stand out, the future holds happiness..
---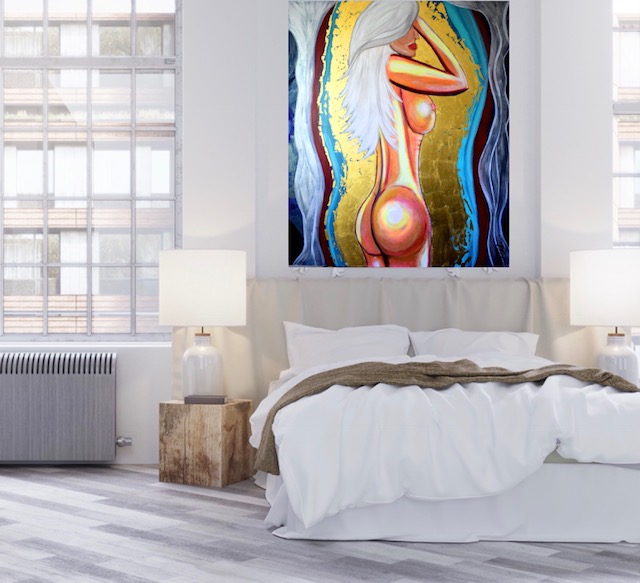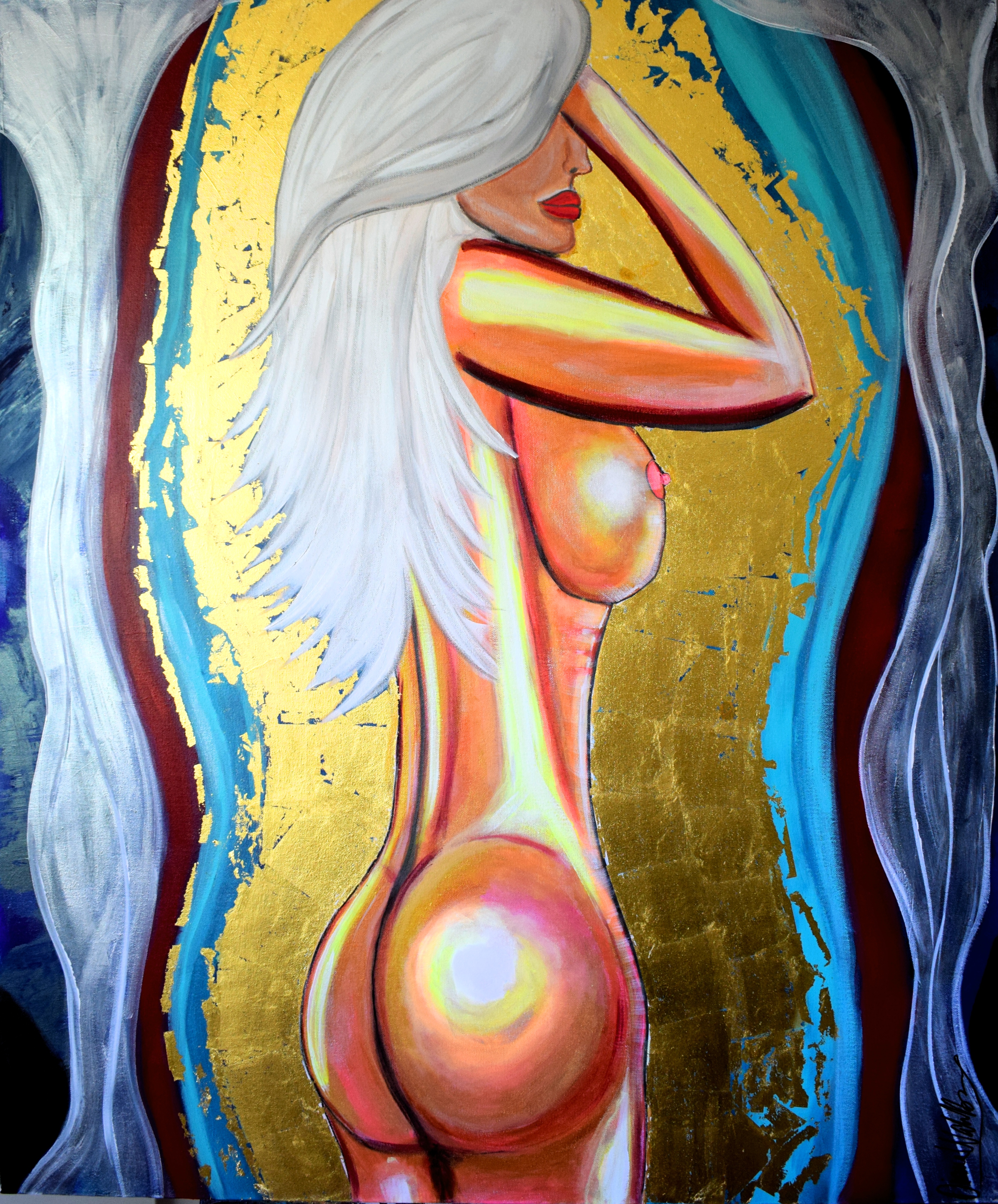 ~I am good enough ~
120×100 cm Acryl with 22 carat golden leafs.
~ I am good enough ~
You are perfekt regardless if you perform or not, you are always enough. It is often within ourselves that we feel inadequacy that keeps us at a lower energy or holds us back from reaching our dreams & visions. Remember that the feeling and belief of being insufficient is not the truth. It only becomes a reality at times when you choose to believe it and act upon it. You are good enough!
---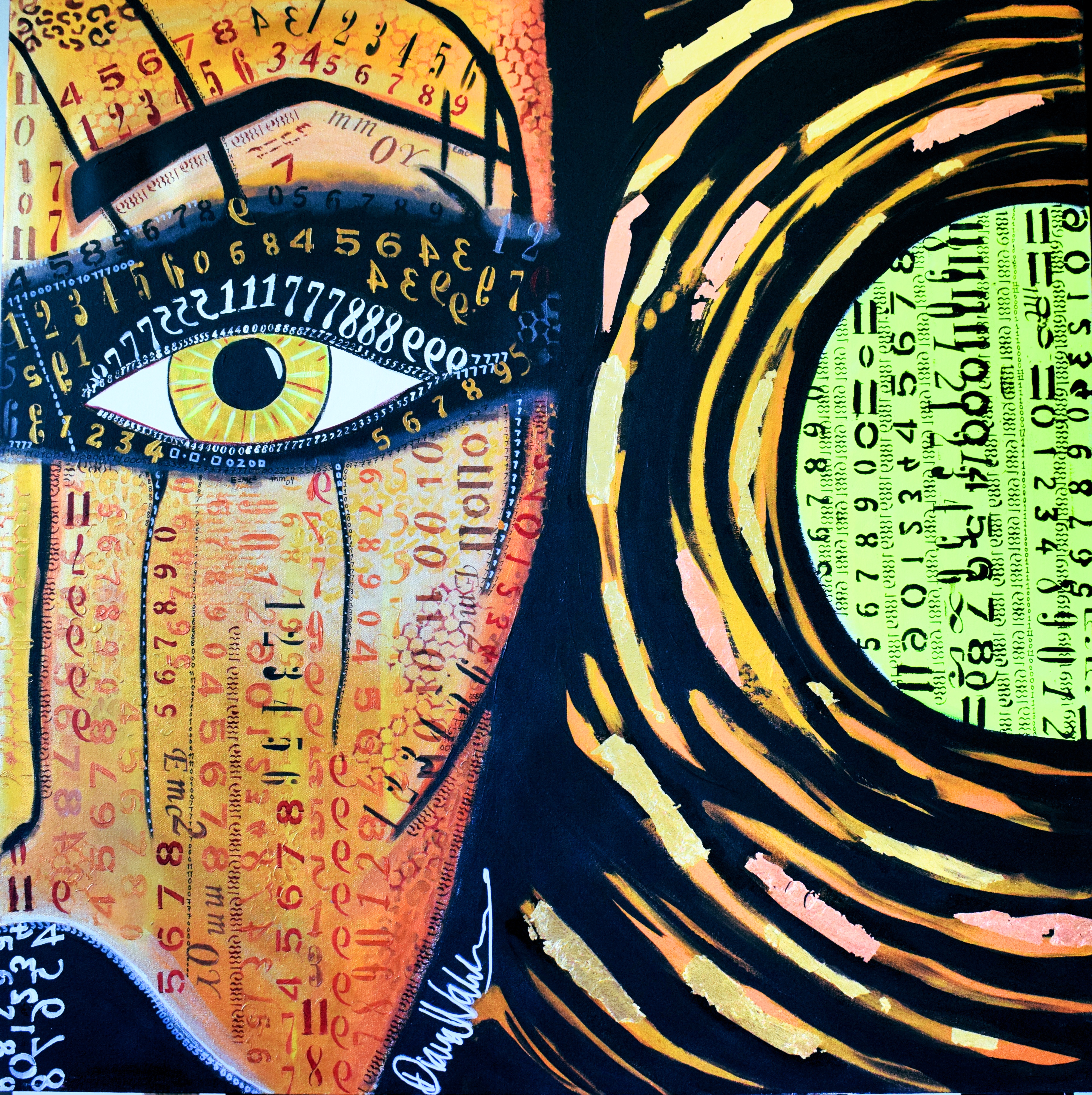 -SelfConfidence Matrix-   SOLD!
100 X 100 cm
Självförtroende-
Att tro på dig själv från visionens start och hela vägen fram till målet utan att tappa tron/hoppet på dig själv kan vara svårt. Det finns en egen matrix-kod att knäcka i sig själv för att på riktigt förstå att den viktigaste människan som behöver tro på dig och dina mål är du själv. Ett bra självförtroende ger dig bra bränsle i form av inre röst, bra tankar & känslor. Du kan visst!!
SelfConfidence-
To believe in yourself from start to finish within your own vision without loosing faith/hope in yourself can be hard. We all have a matrix code to break to truly understand that the most important person to believe in yourself and your goals is you. A good confidence will fire up an inner voice, good thoughts and feelings. You can for sure!!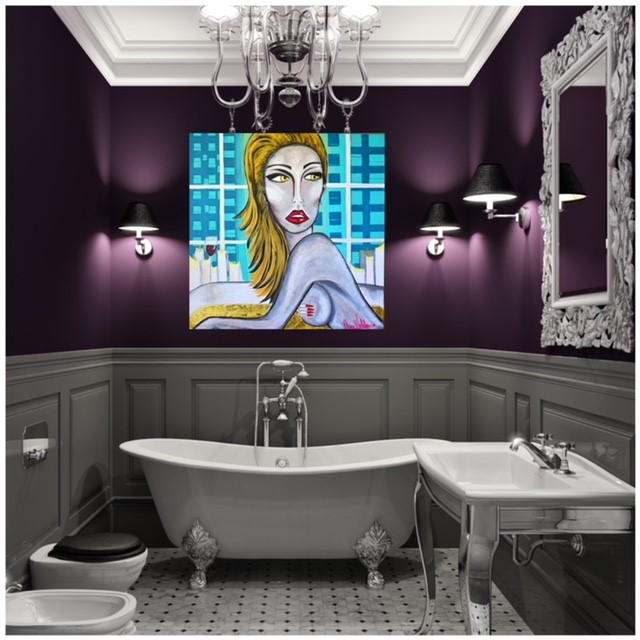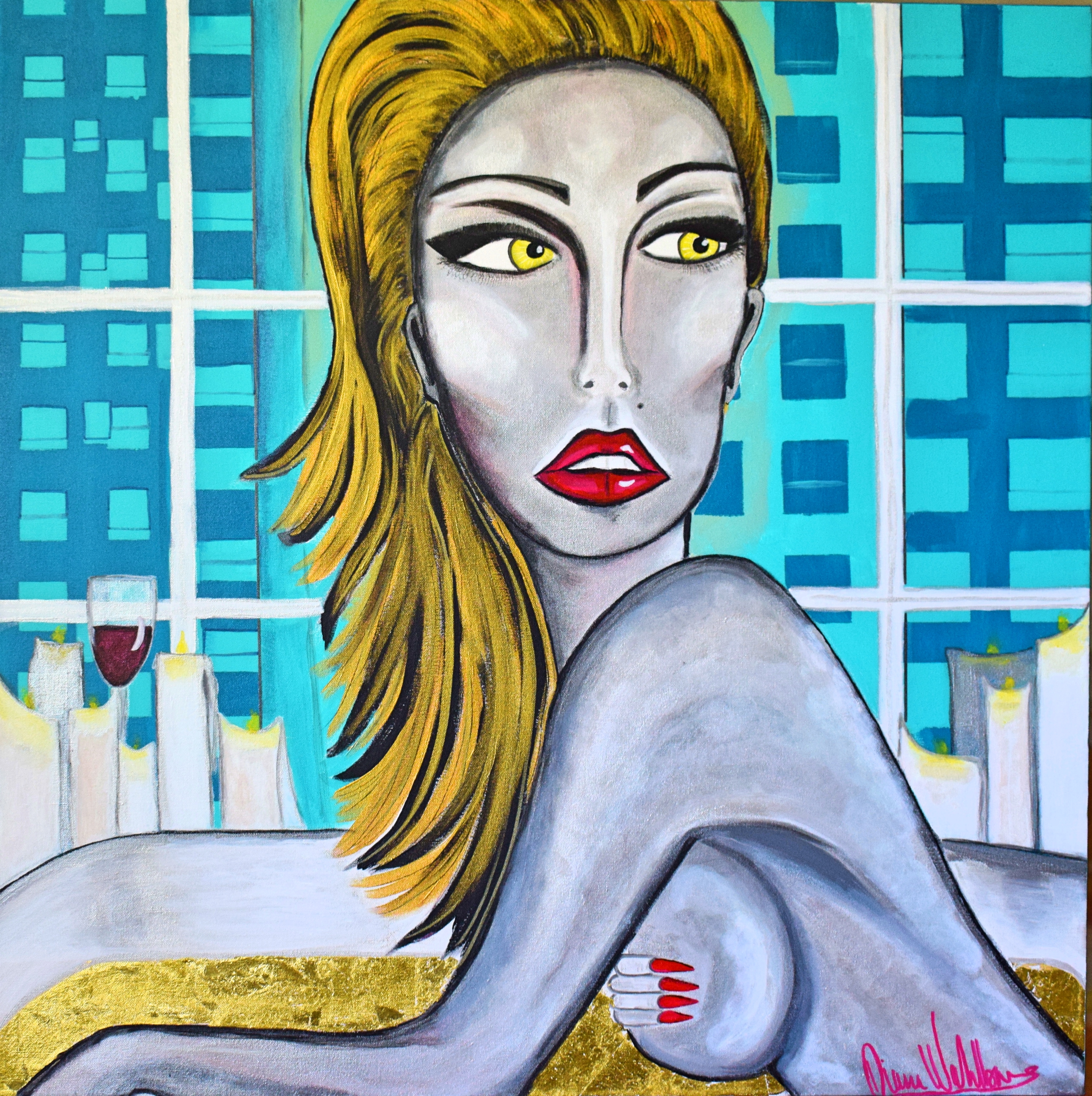 ~Recharging & Interrupted~
80 X 80 cm acryl with 22 carat golden leafs.
~Recharge yourself~
Blir du ofta avbruten när du ska ha egentid?
Att fylla på med dyrbar egentid & energi är ett måste varje dag för att må bra och leva balanserat. Vad ger dig energi? Vad kan ge dig energi av att du bara tänker på det? Ge dig själv den kärlek du behöver så att du på rutin hittar ditt sätt att ladda om dina batterier för att fortsätta att klättra på din väg.
~Recharge yourself~
Do you often get interrupted on your quality time?To fill your day with precious quality time and energy for yourself is a necessity feel good and to lead a balanced life. What energizes you? What truly gives you energy by just thinking about it? Give yourself the love you need to routinely recharge your batteries to continue climbing on your path.
---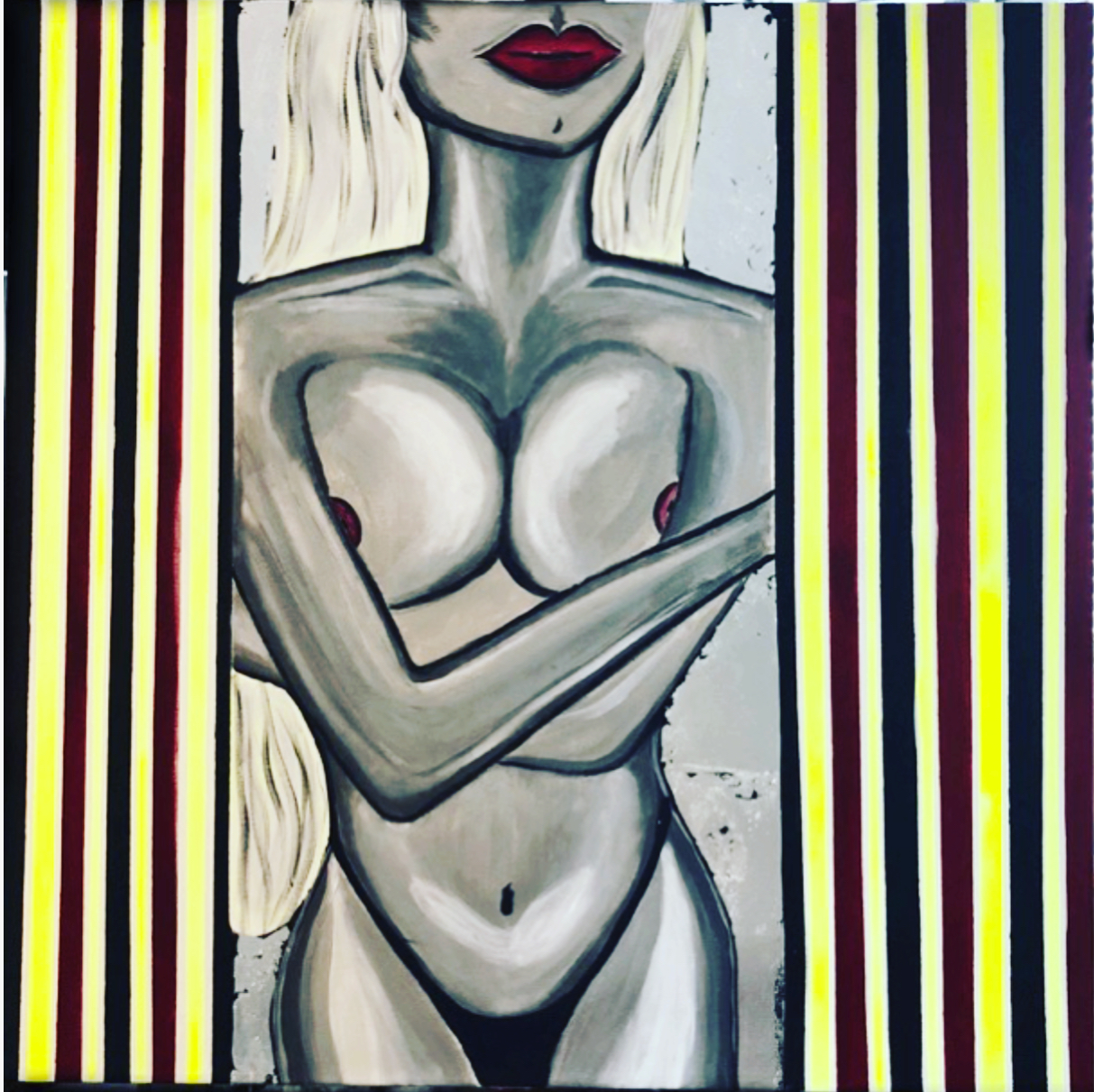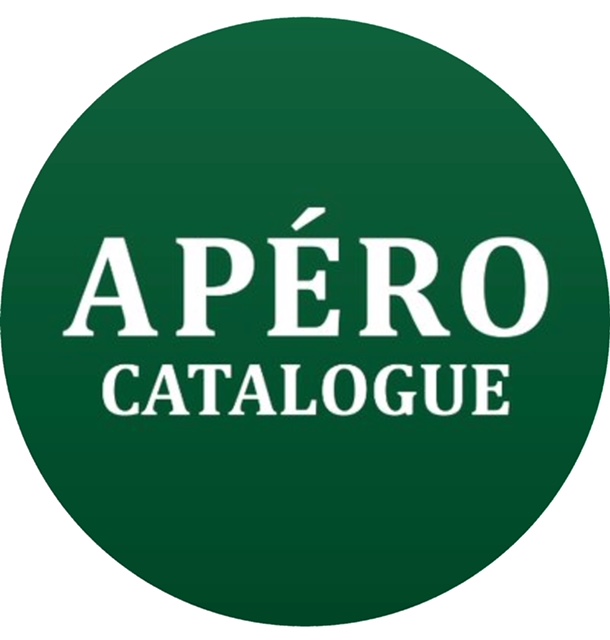 This painting is selected in Apero art Catalogue month June (USA).
– SELFLOVE –
Acryl 100 X 100 cm
-SJÄLVKÄRLEK –
att hitta en vacker kärleksfylld känsla till dig själv fylld av glädje, lust & kroppskärlek kan vara svårt. Men att träna på självkärlek och att vara din inre bästa vän ger dig framgång på din väg. Börja se dig själv mer och ge dig själv uppskattning varje dag. Fråga dig själv: varför uppskattar jag mig själv? 
-SELFLOVE-
to find a beautiful loving feeling for yourself filled with joy, lust & bodily love can be hard. But to practice self love and to be your inner best friend will give you success on your path. Begin to focus more on you and appreciate yourself everyday.  Ask yourself: why do I appreciate my self?
---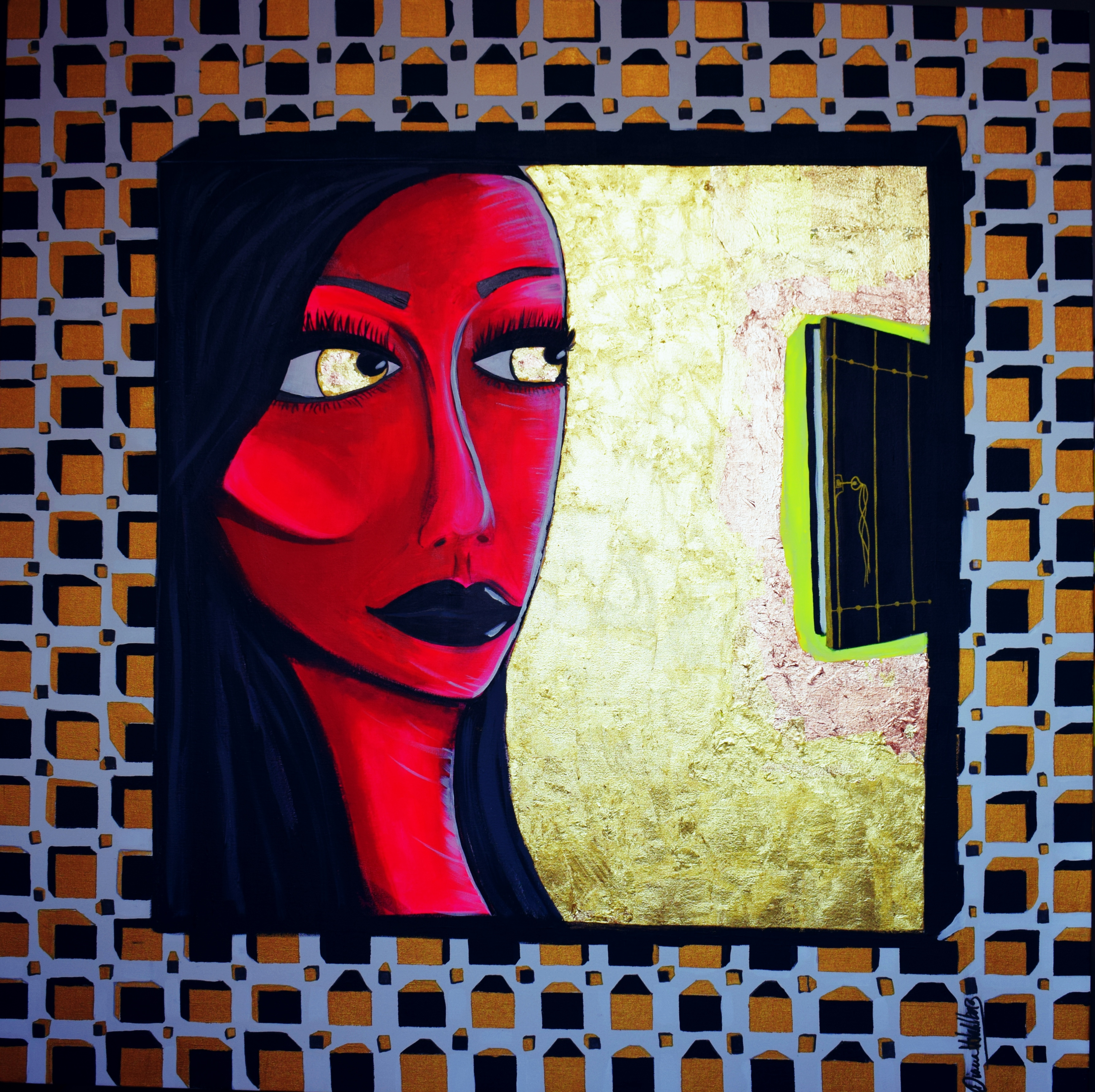 SOLD!
Doorway to…
100 X 100 cm Acryl och 22 karat guld
---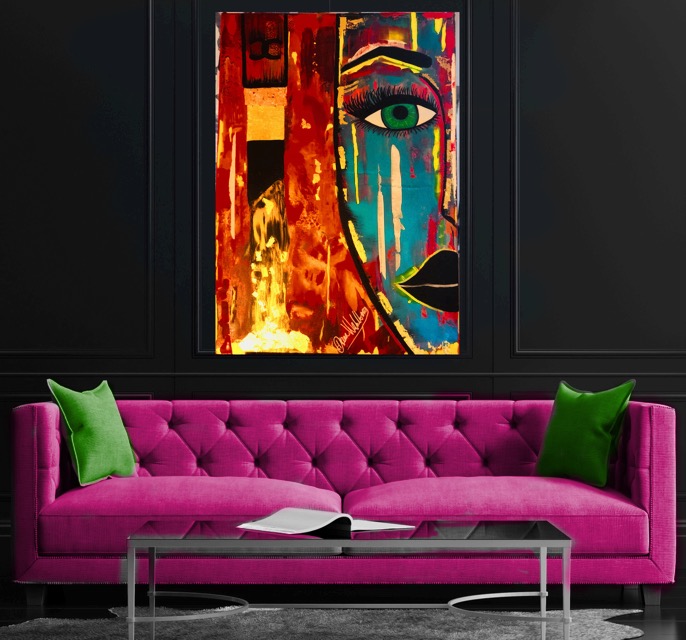 SOLD!
Passion 110 X 80 cm Acryl
---
SOLD!
Awake (finns att köpa från 27/4)
Acryl & silverleaf
Size 100 X 100
---
SOLD!
– estelle djungel soul – (finns att köpa från 27/4)
Acryl 120 X 100
---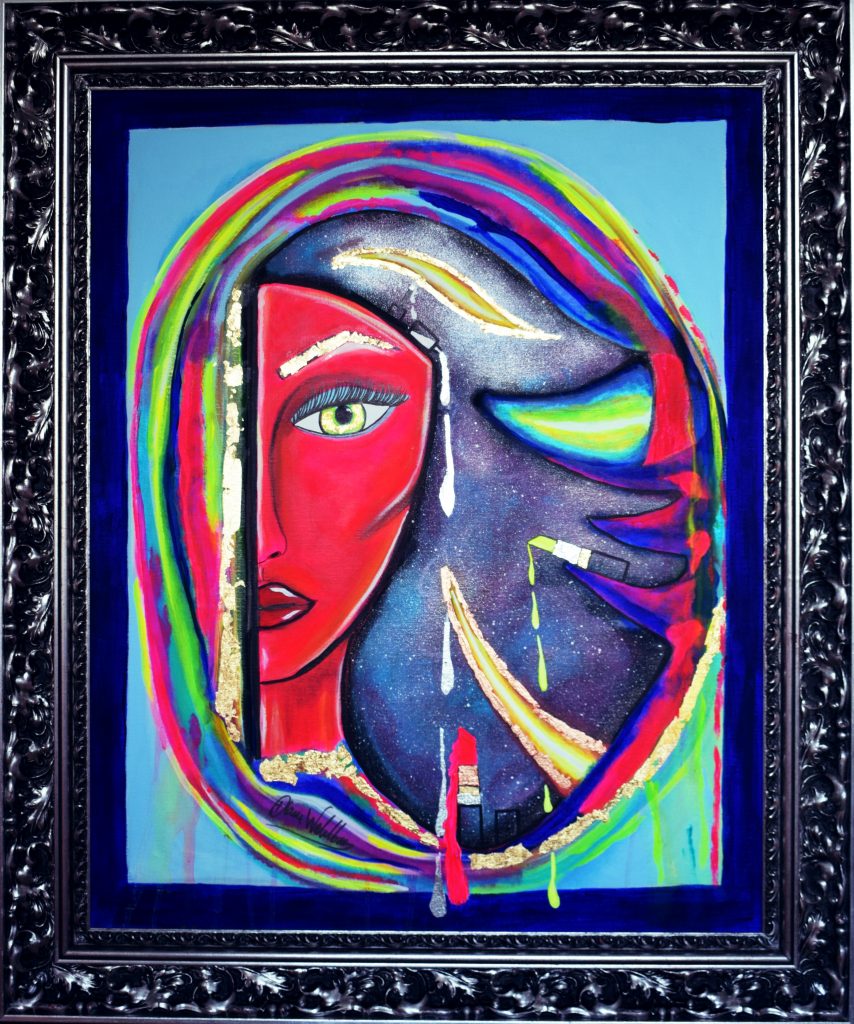 Awareness
---
SOLD!
Awareness
90 X 73 cm med ram. Acryl
En medveten energi som går sin egen väg och mixar universell kunskap, skönhet och jordlig attityd. Min religion är min egna.
A conscious energy that goes its own way and blends universalknowledge, beauty and earthly attitude. My religion is my own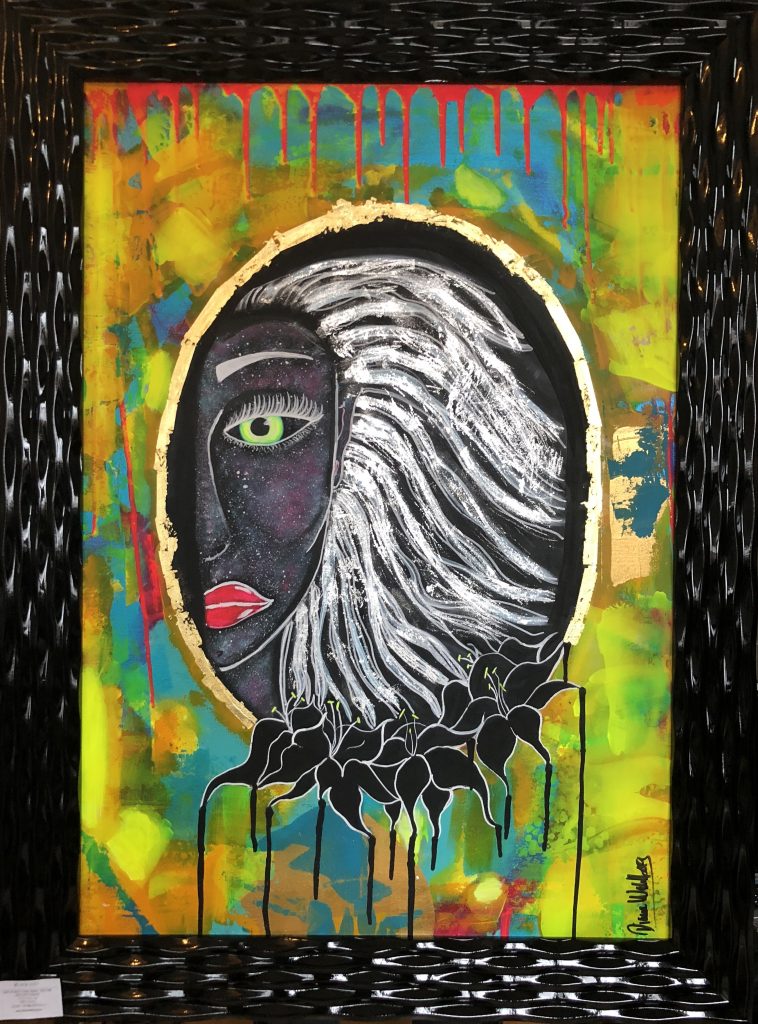 SOLD!
Black Lilli Akryl 110 X 80 cm med ram.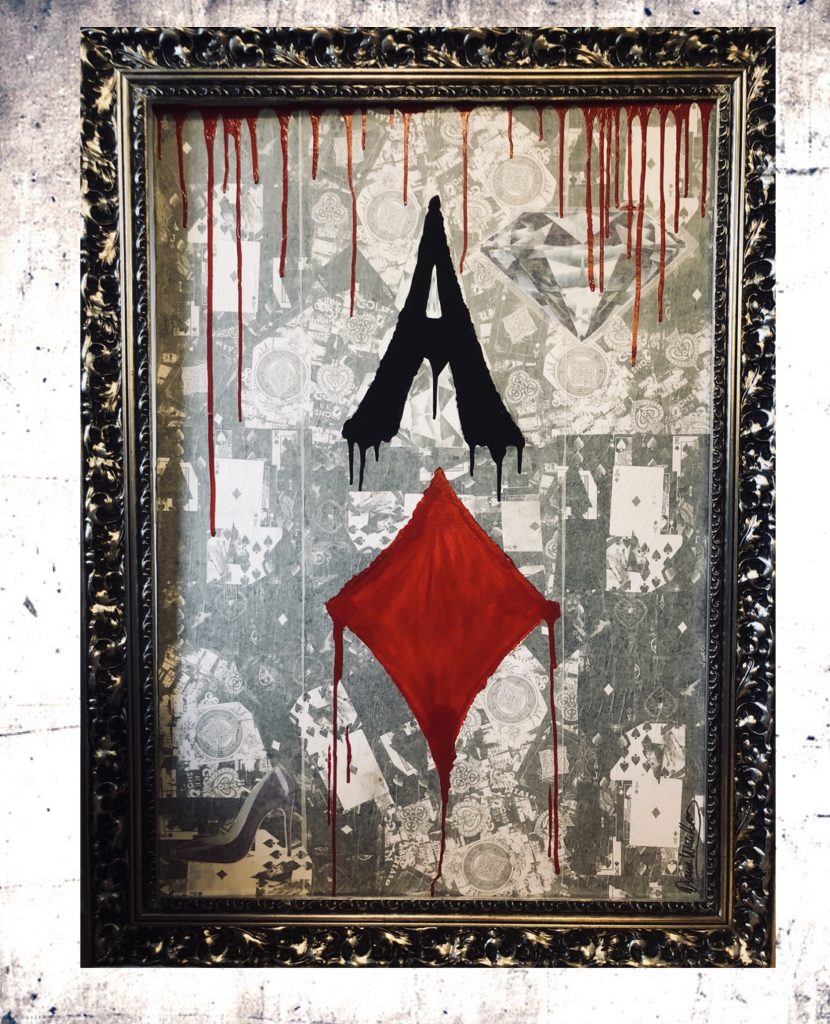 SOLD!
Ace with diamonds 110 X 80 med ram.
Det finns alltid nya sätt att tjäna en hacka, det finns överflöd till dig som önskar.
Ett ess ger sig aldrig och kommer alltid att nå sina mål.
There are always new ways to earn a living, there is plenty for you  who wishes and have dreams and visions.




An ace never fails and will always achieve its goals.
---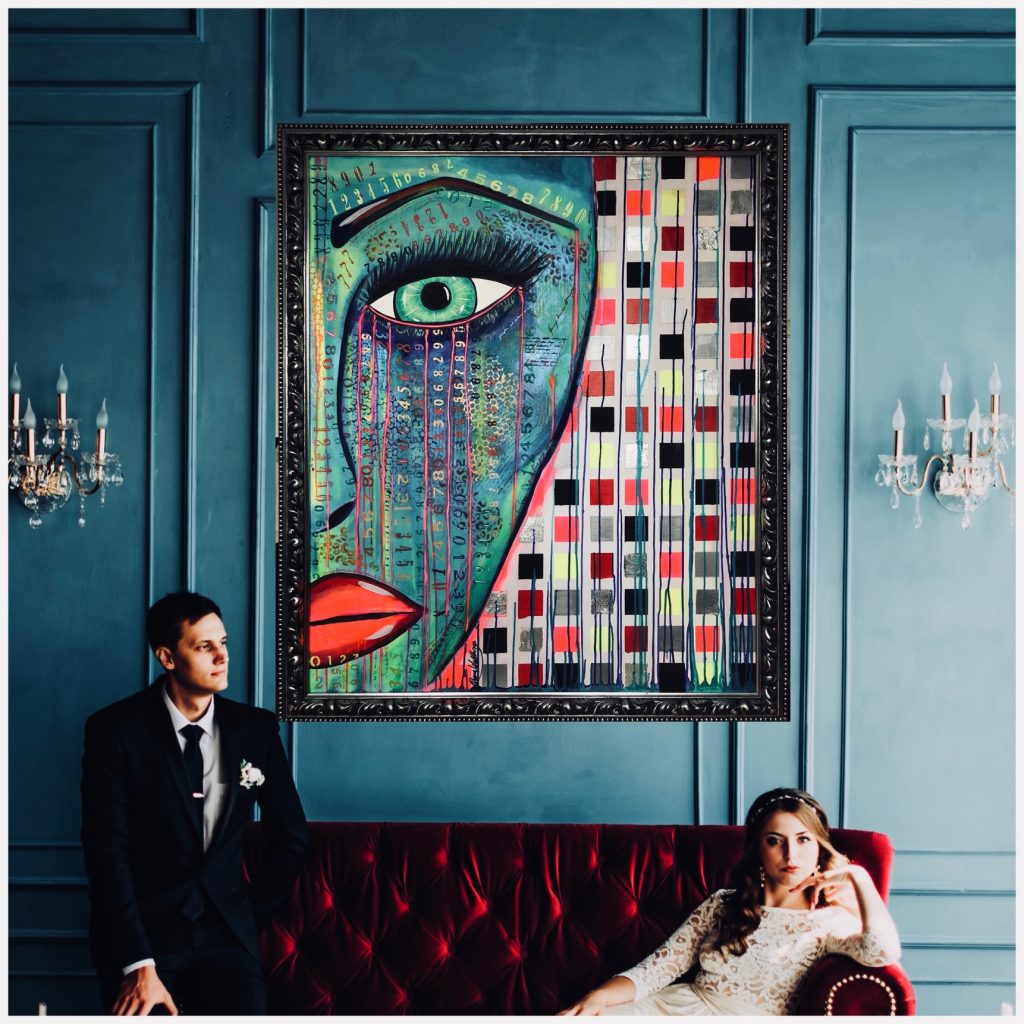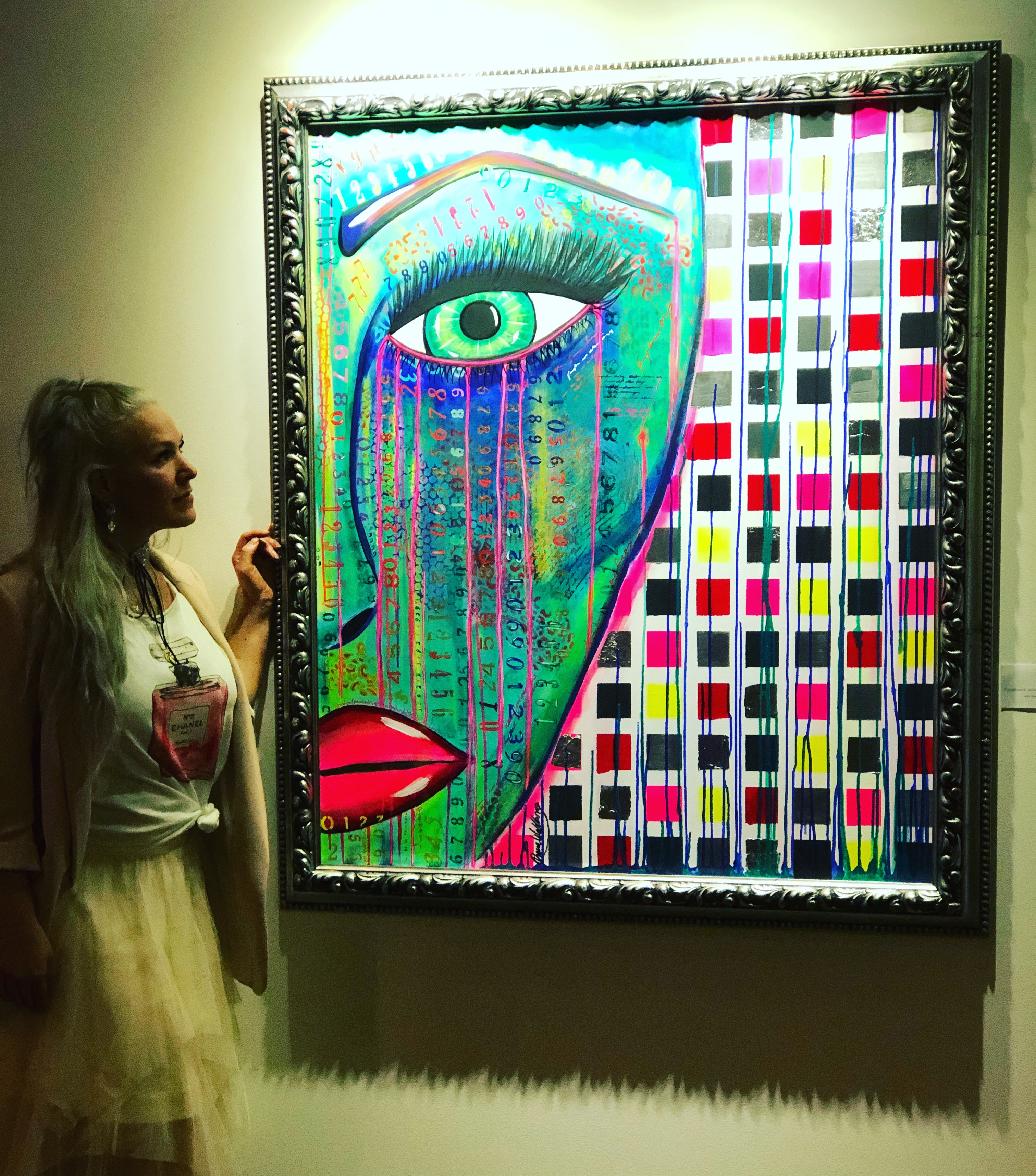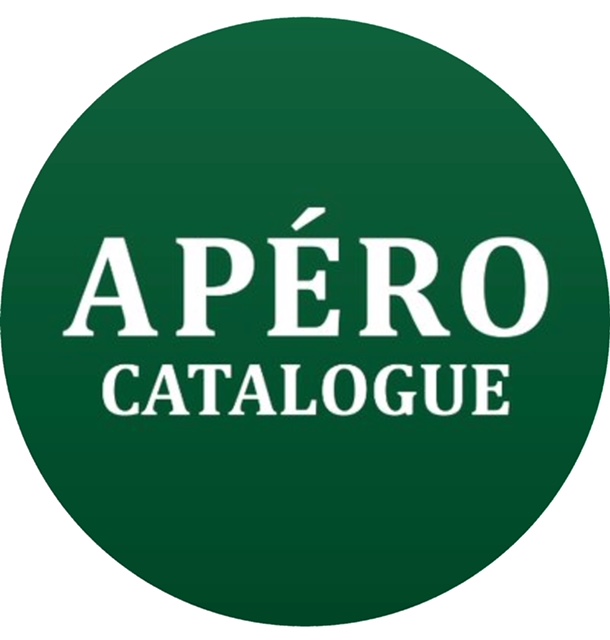 Avataress is selected in Apero art catalogue month May (USA)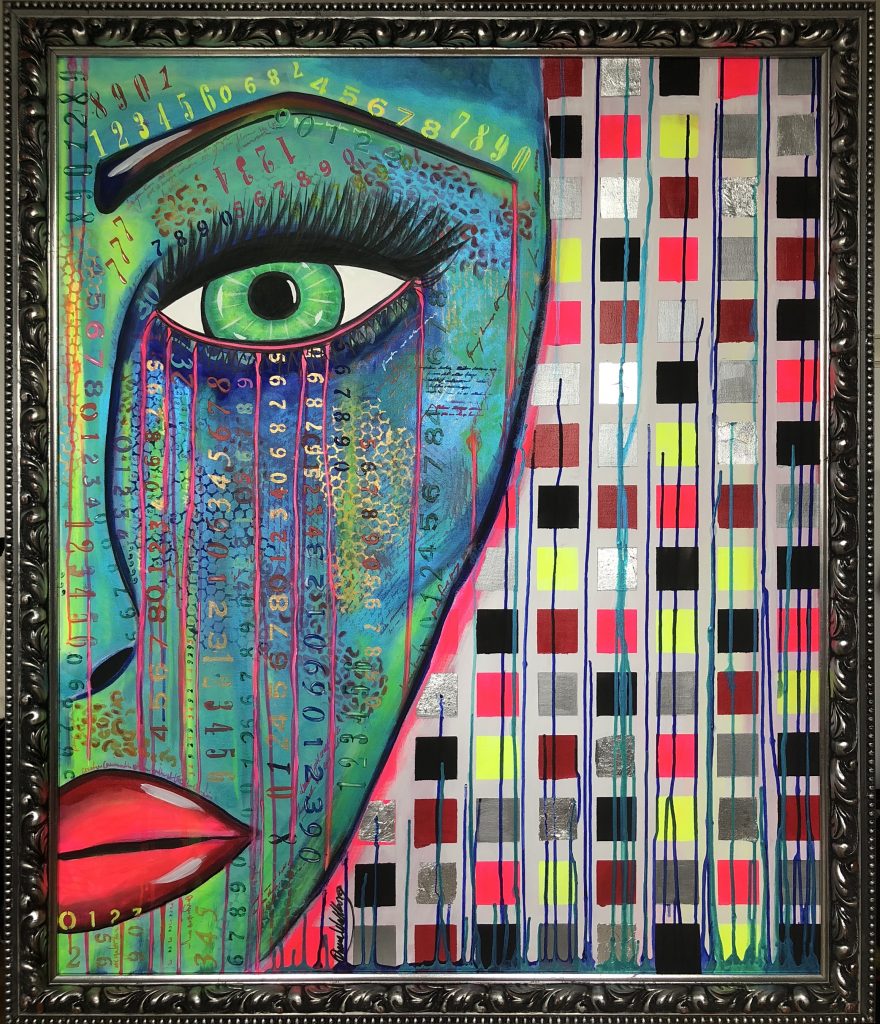 SOLD!
Avataress 100 X 120 Akryl.
AVATARESS – Uppvaknande, här kliver vi ut ur "boxen" och skapar efter eget livs recept, kan "koden" till att medvetet ta sig fram i livet till man vill skapa.
AVATARESS - Awakening,here we step out of the box and create life of our own life recipe,

the   "code" in the box can now consciously be used to create a life out of the box and use the code 
to your advantage.
---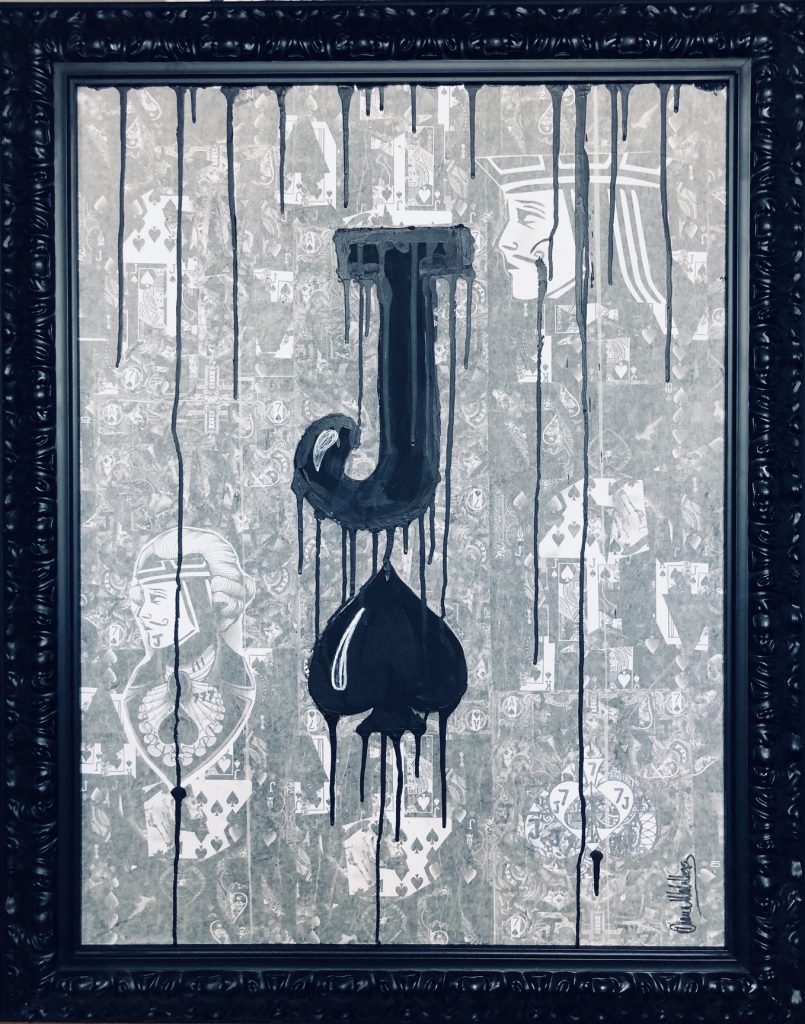 BlackJacks story 90 X 70.
En man med stora drömmar, en spelares historia med vinster och förluster genom livet.
Du kan inte vinna om du inte satsar. Du kan vinna allt, men också förlora det som är viktigast…
Visdomen från en spelares liv:
pengar kan inte köpa inre frihet…
---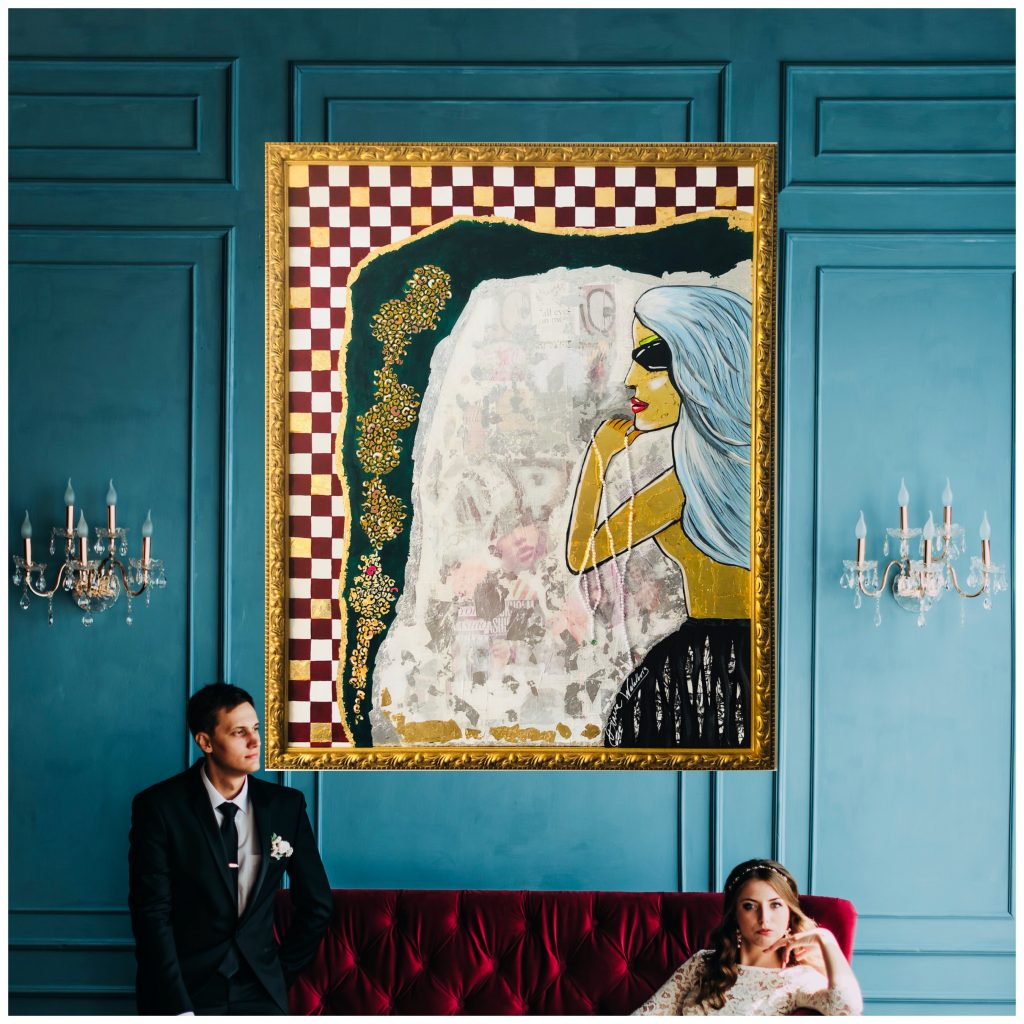 FASHIONISTA
120 X 150 Akryl och kvinnan är i 22 karat guld, inramad i trä/guldram.
---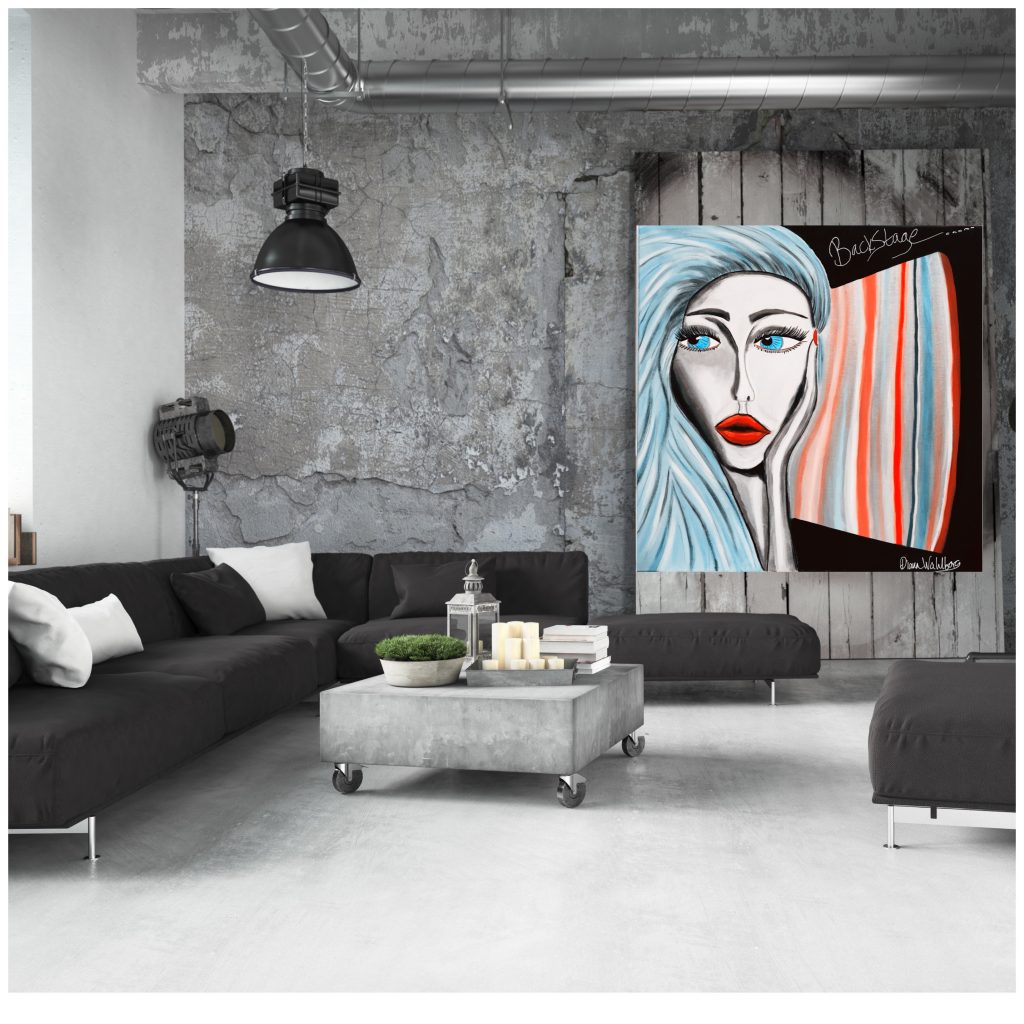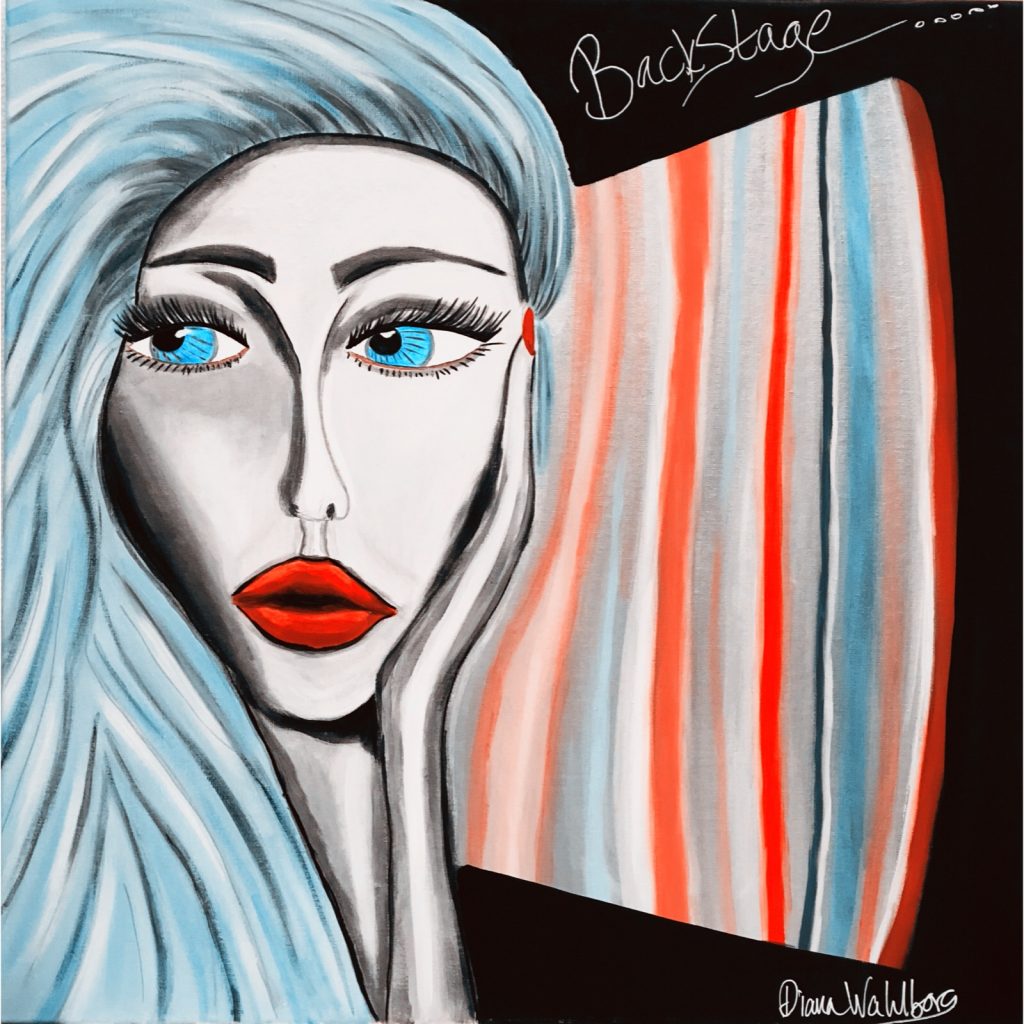 SOLD!
Lucy 100 X 100 Akryl.
Lyssna inte på det som sker bakom scenen hos andra personer, skapa ditt liv på din scen så som du vill att det skall vara, lyssna till det som tar dig dit du vill.
Do not listen to what happens behind the scene of other people,      create your life on your stage as you want it to be, listen to that  what takes you wherever you want to go.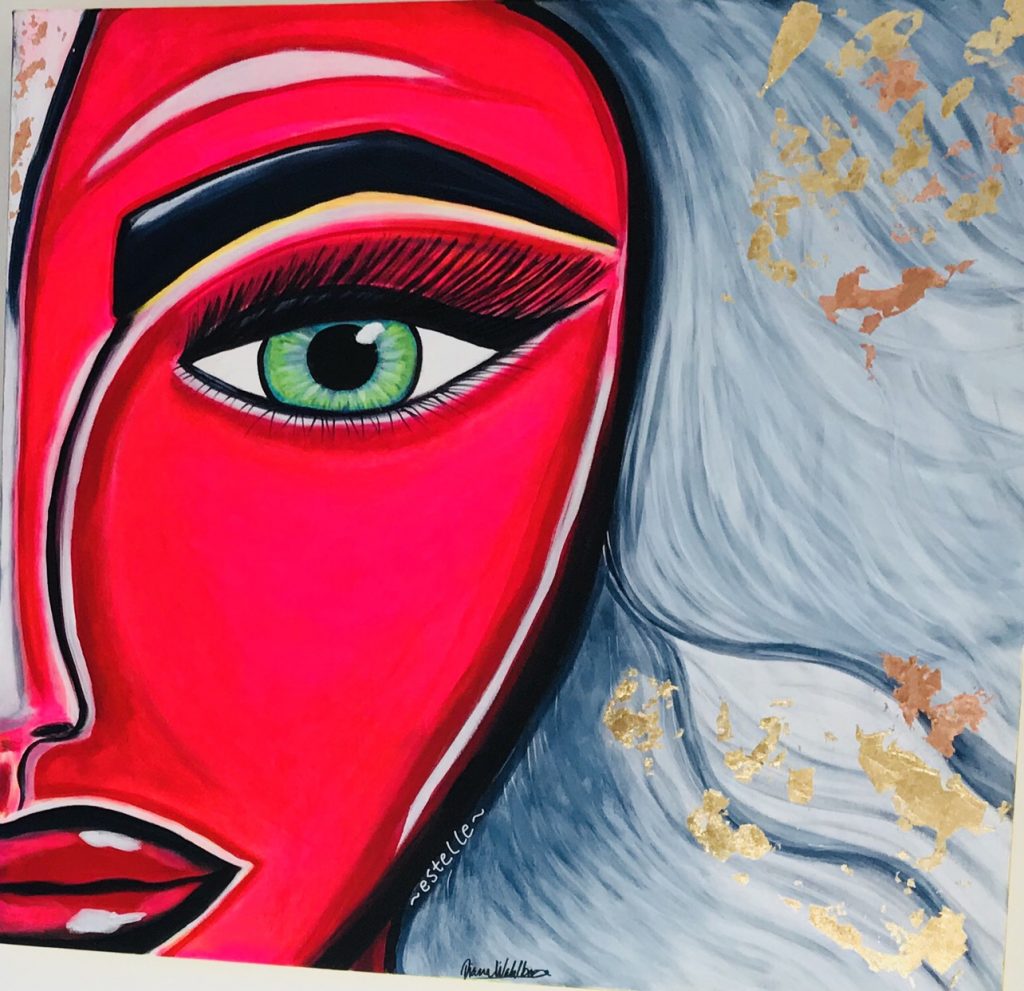 SOLD!
estelle 100 X 100 Akryl.
---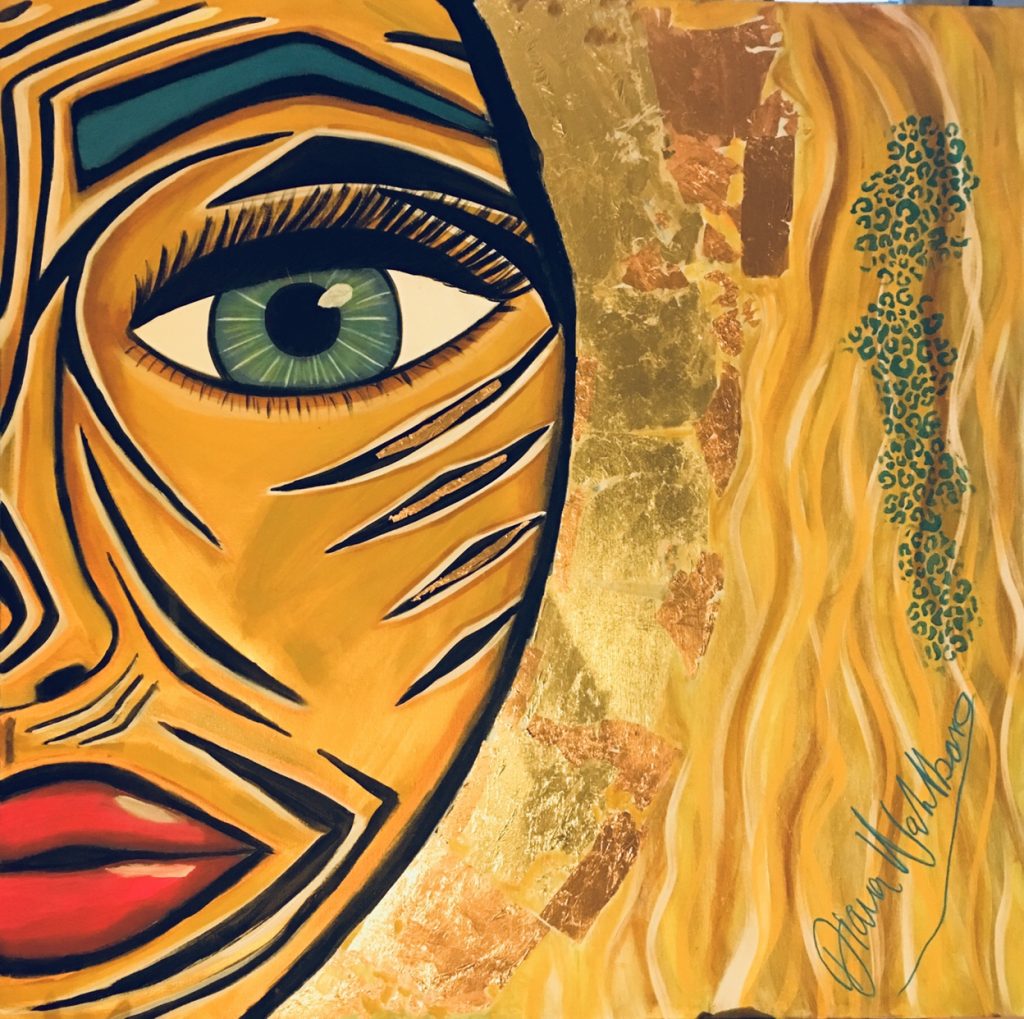 SOLD!
Tigerness 100 X 100 Akryl
---