ART 2021 – 2023
ART 2019 – 2020
ART 2017 – 2018
ART COLLECTION 2021 – 2023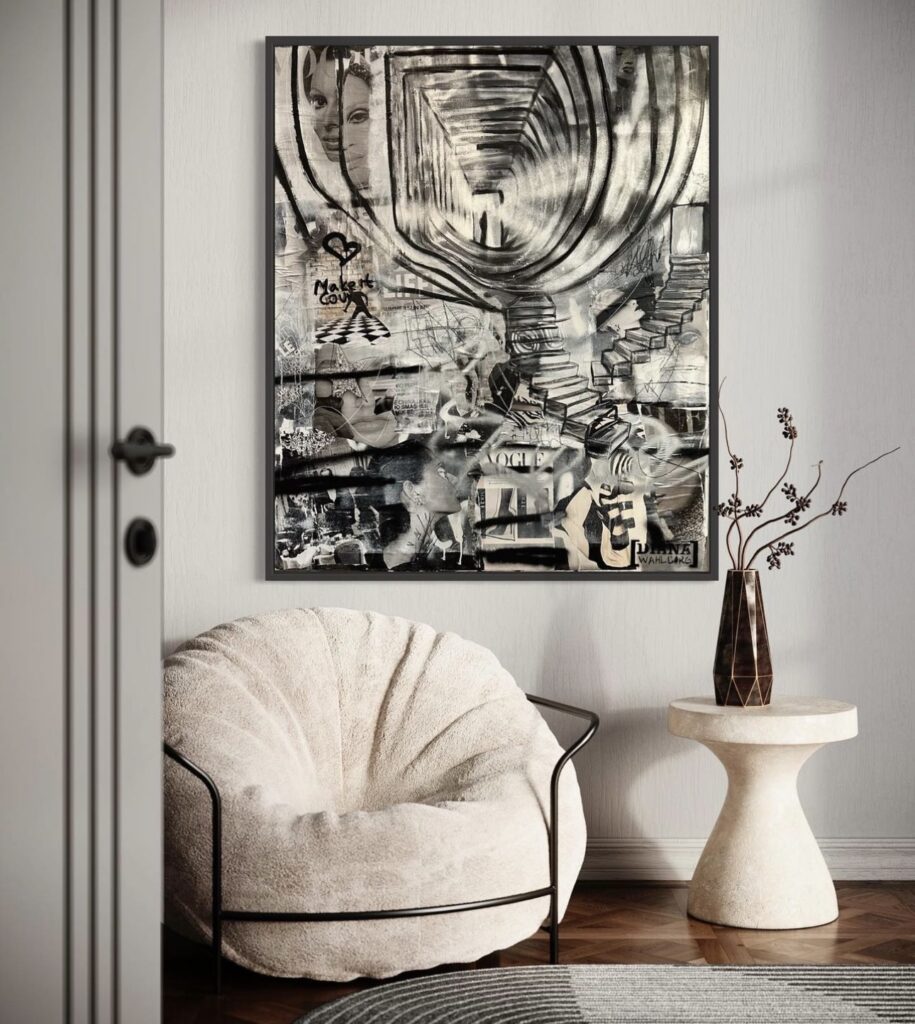 -TIME TRAVELING- SOLD!
An intriguing thought to jump timelines/dimensions and go back and fourth through time. Visiting your future self or going back.
120 X 100 cm collage and acrylic paint on canvas.
Price 22.000 SEK
---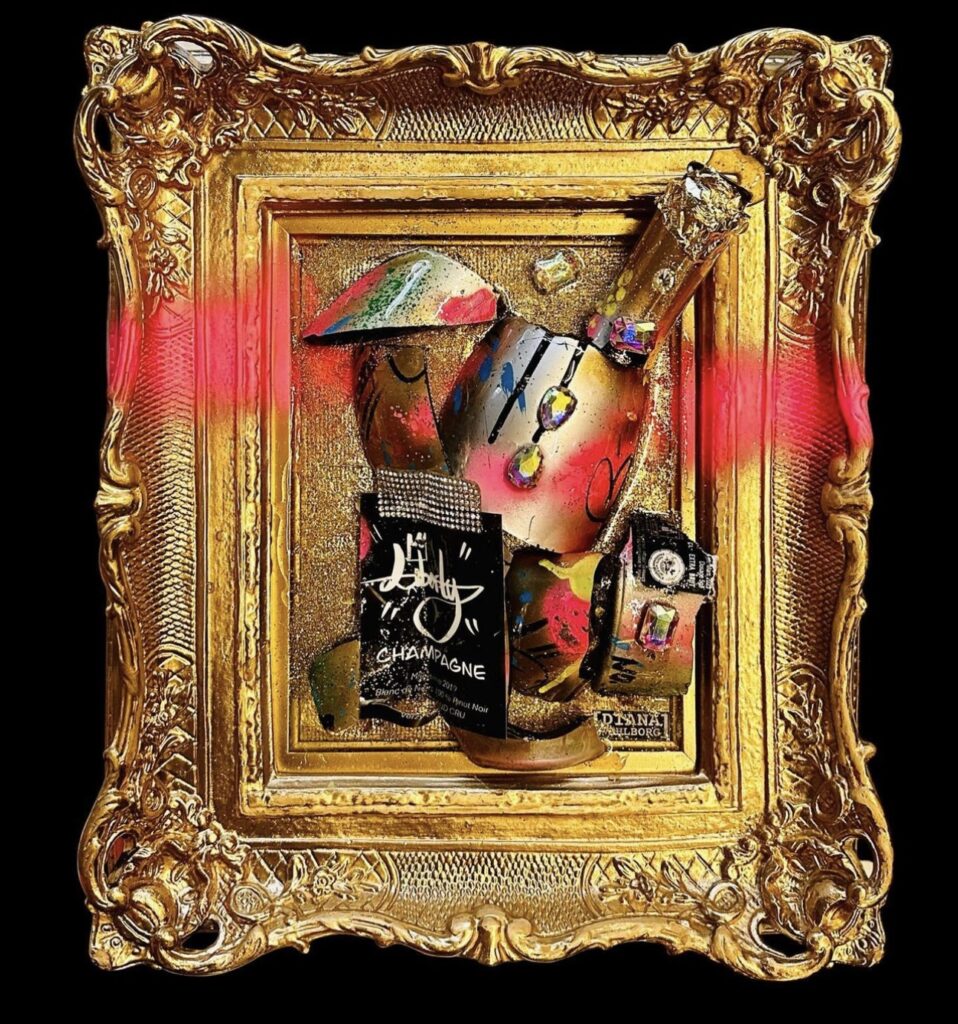 -GOLDFEVER- (SOLD)
35 X 32 cm Champagne bottle NO. 55, thick heavy golden frame.
Price 6.000 sek
---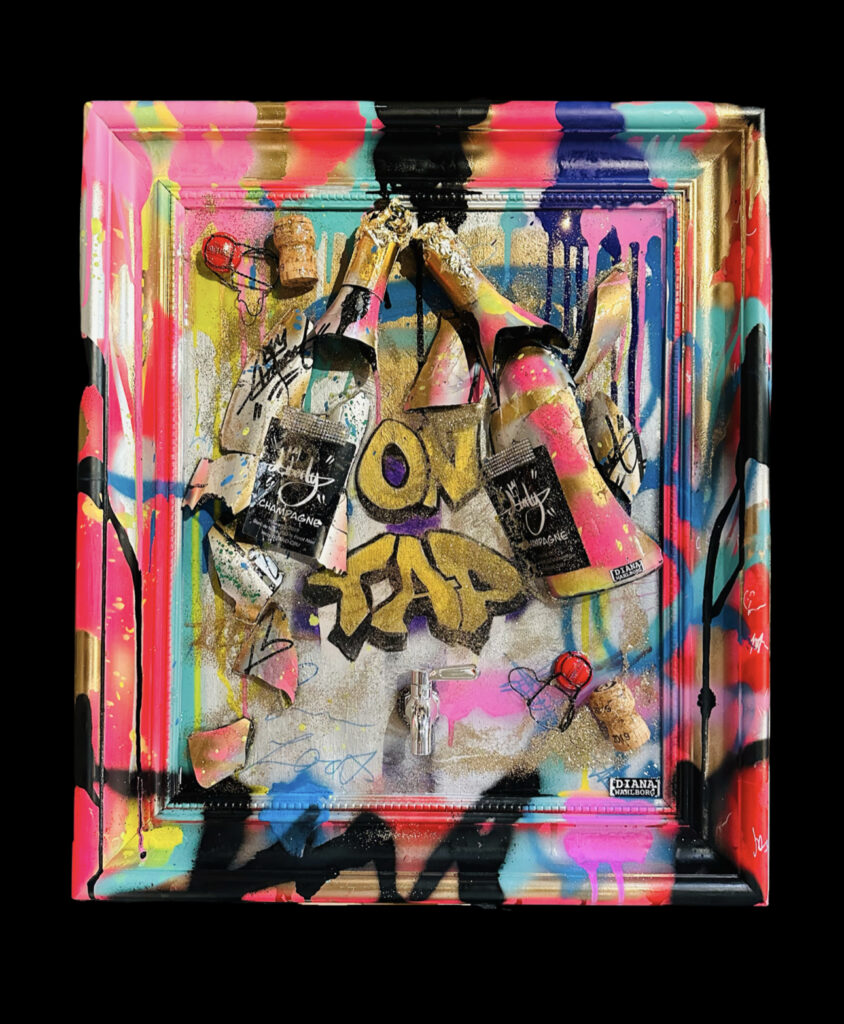 -Champagne on tap- (SOLD)
60 X 50 cm mixed media and champagne bottles.
Price 8.000 sek
---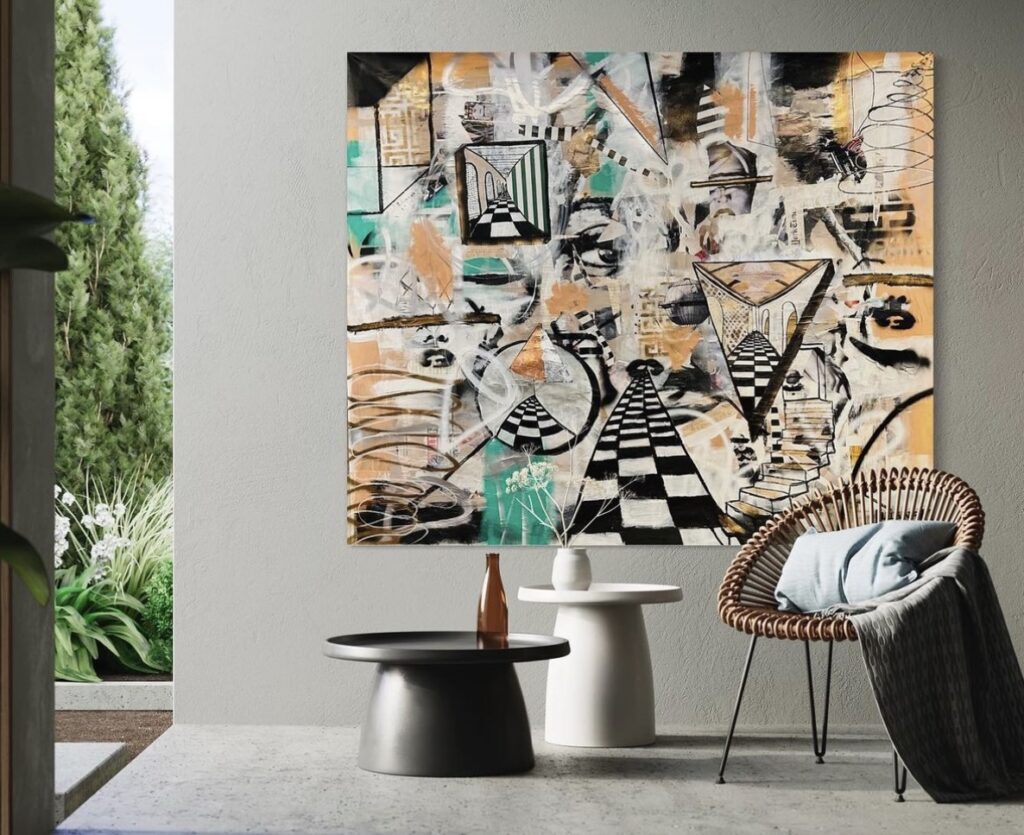 -Timelines- SOLD!
This painting is representing time and different dimensions, quantum leaping. Everything exist now.
Mixed media , acrylic paint. 160 X 190 cm
Price 49.000 sek
---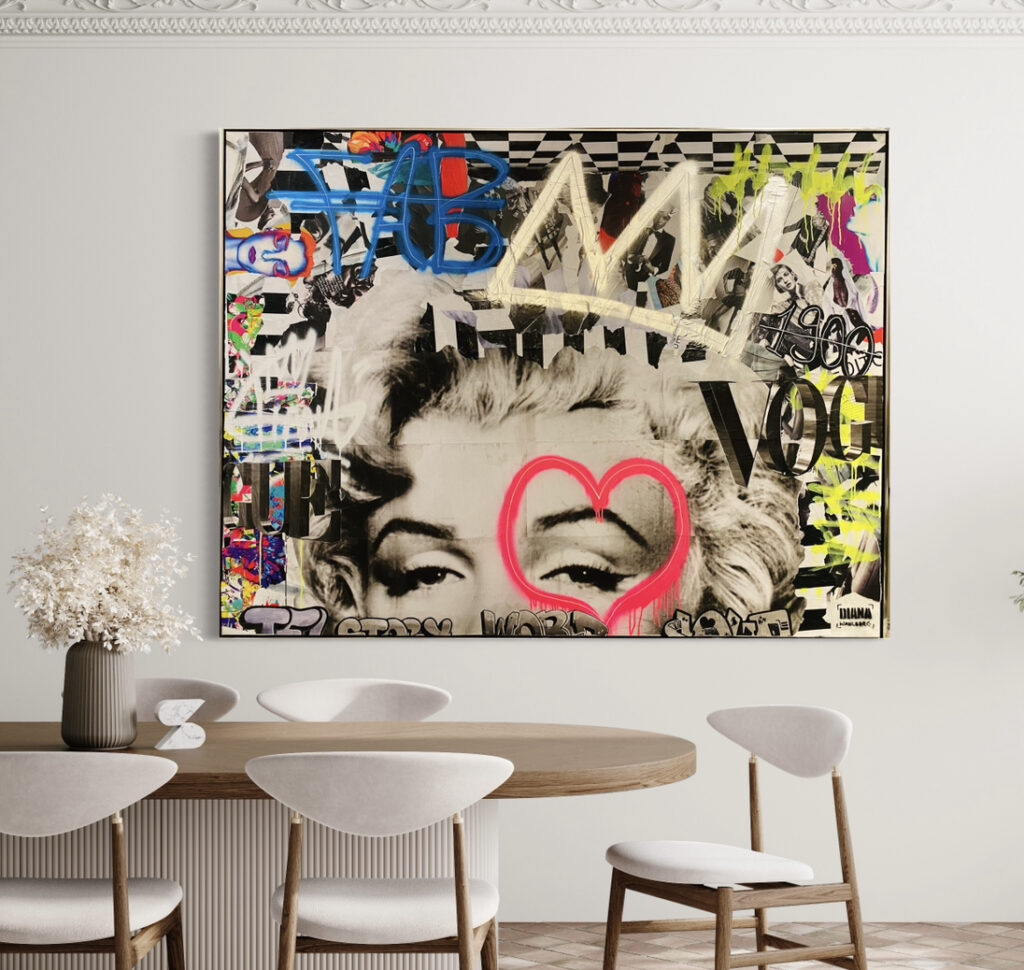 -A lost dimension –
A time in modern history that will never come back…
195 X 150 cm with silver frame. Mixed media, Acryl.
Price 50.000 sek
---
-The matrix 3-5 dimensions-
205 X 150 cm with frame. Acrylic, and mixed media.
Price 50.000 sek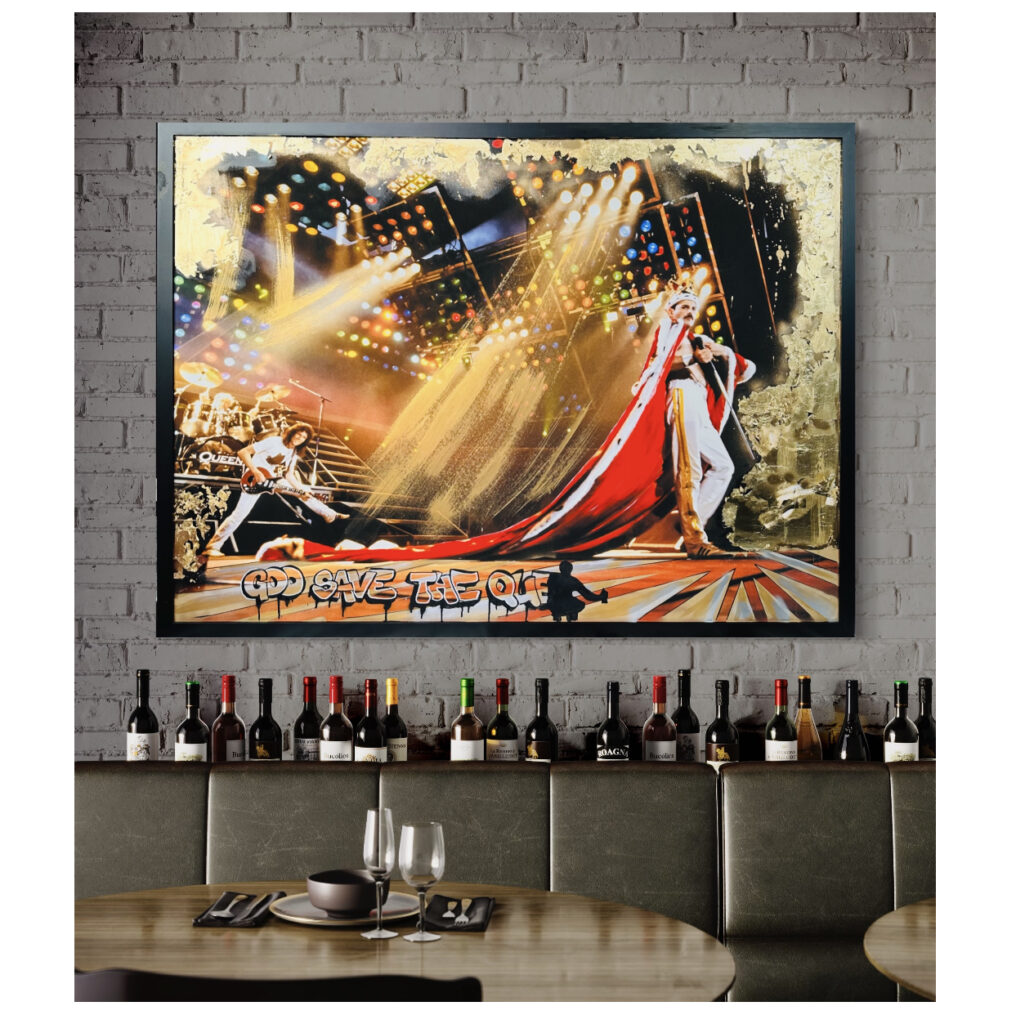 In collaboration with Photoagrapher Torleif Svensson and his photo exhibition of QUEEN "The last tour" With original photos from Queens last tour. Im honored to do art on several of these photos.
Size 155 X 110 cm with frame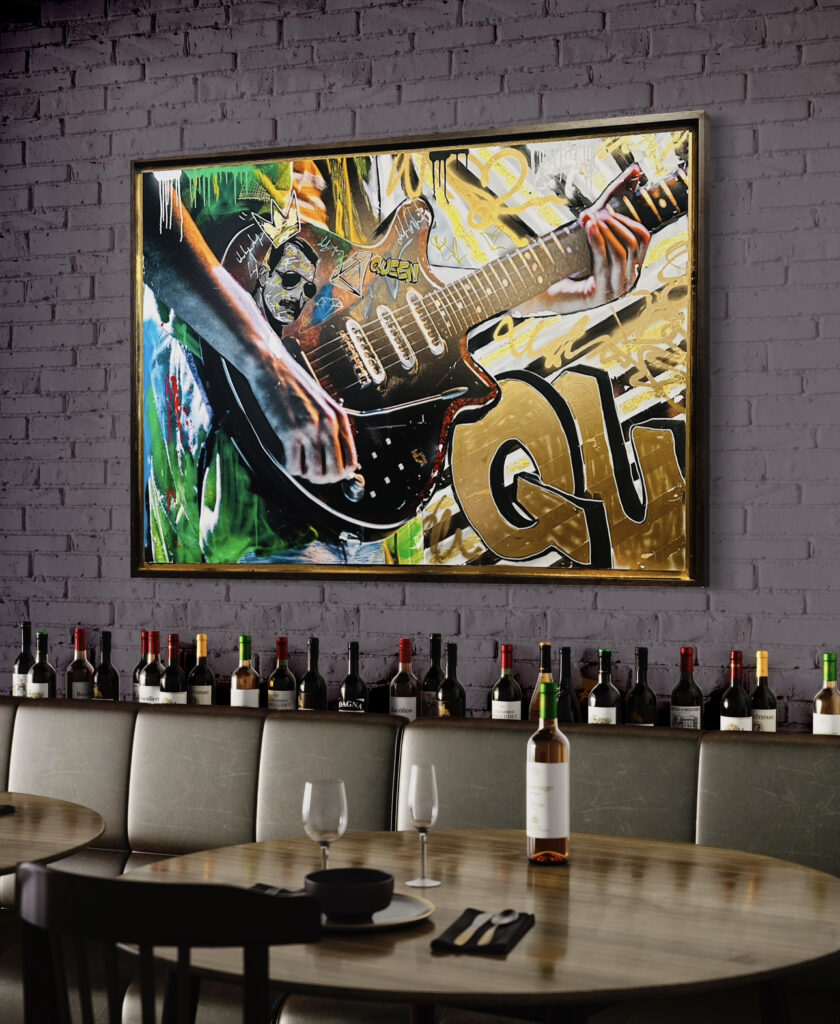 In collaboration with Photoagrapher Torleif Svensson and his photo exhibition of QUEEN "The last tour" With original photos from Queens last tour. Im honored to do art on several of these photos.
Size 155 X 110 cm with frame
---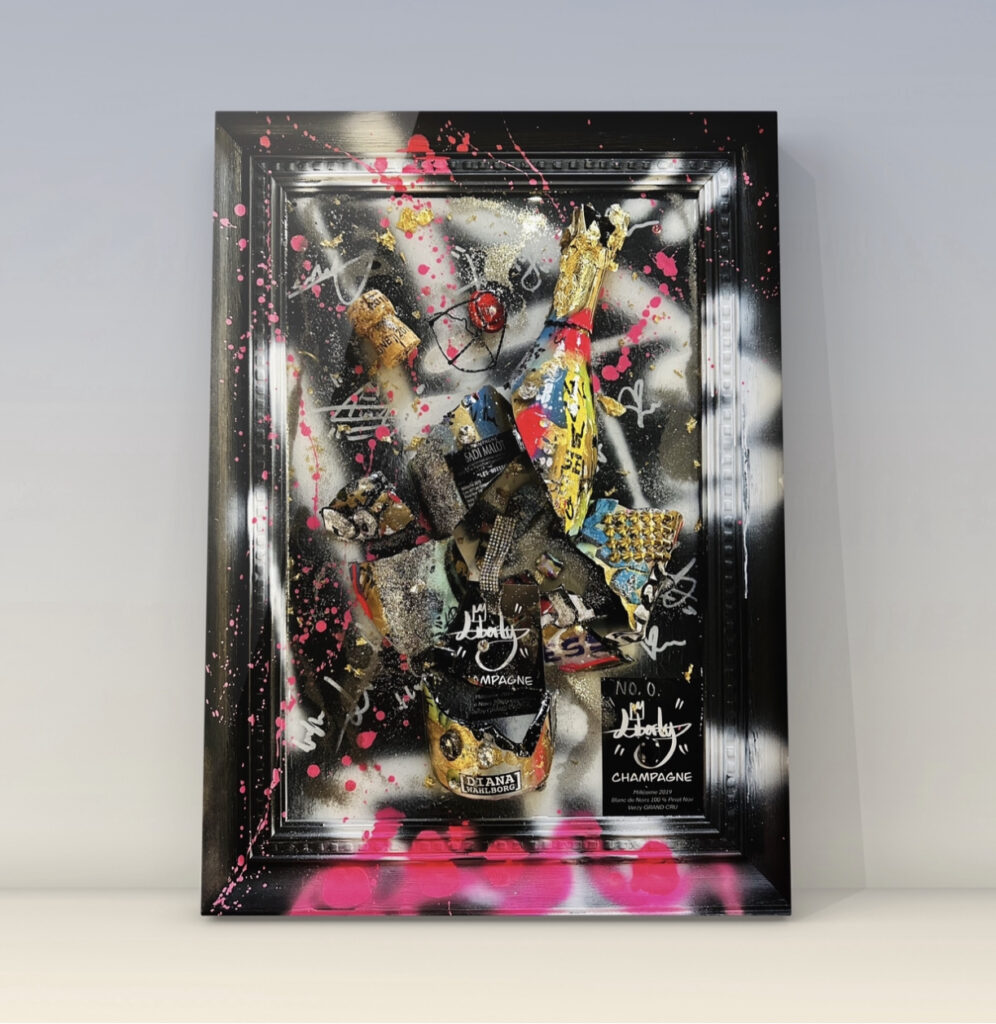 Champagne ART (SOLD)
This Champagne is my own art on the bottle and the lable. Signed and numbered.
Price 8.000 Sek
---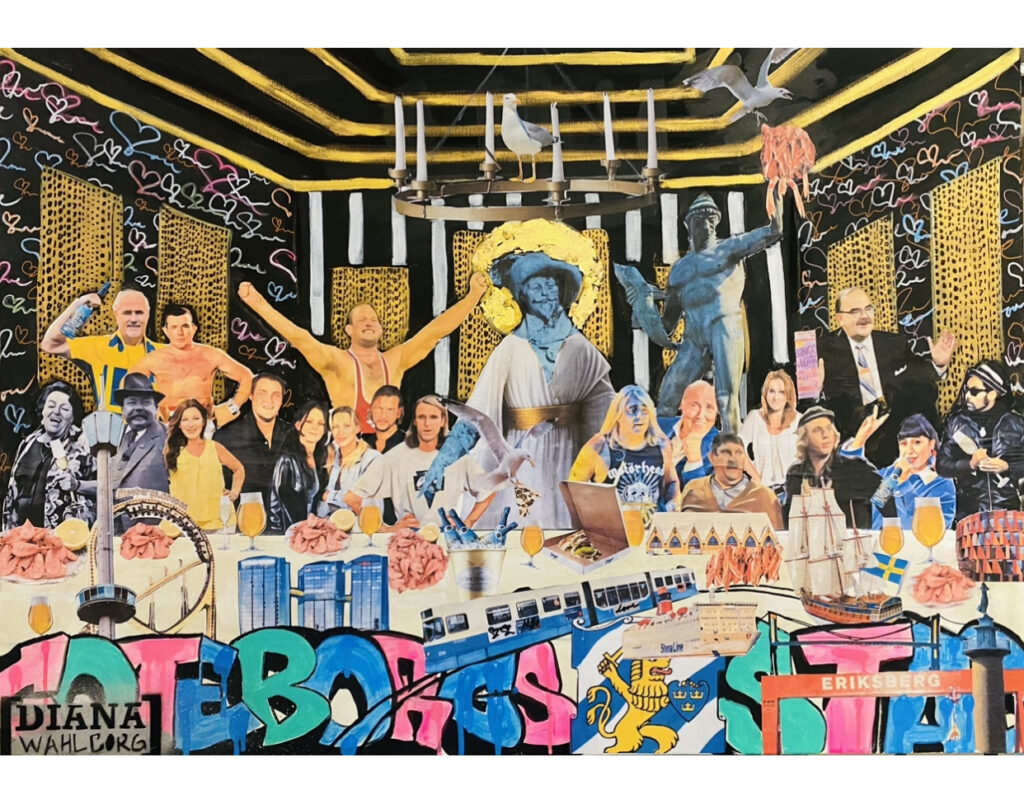 ---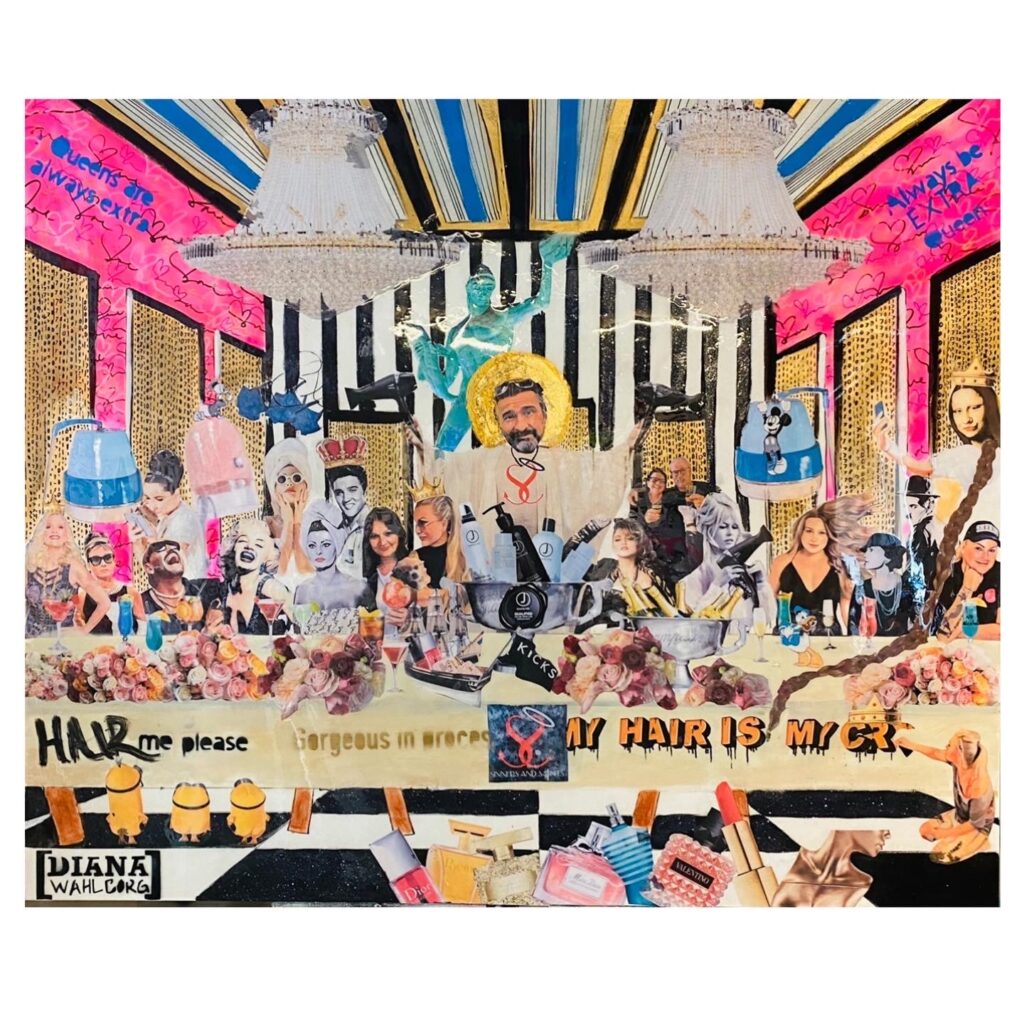 A custom made "last supper painting" to the colaboration and opening between Sinners and Saints hair salon and Kicks flagship store in Gothenburg femman huset.
---
A collaboration with the designer Peter Englund
This leather jacket is Peters from 1986, he has styled it and used it for many occasions, and now 40 years later it turned into an art installation. This art piece is signed and numbered with the story. NO. 1
Price 40.000 SEK.
This art is at display at Peters studio in Stockholm.
---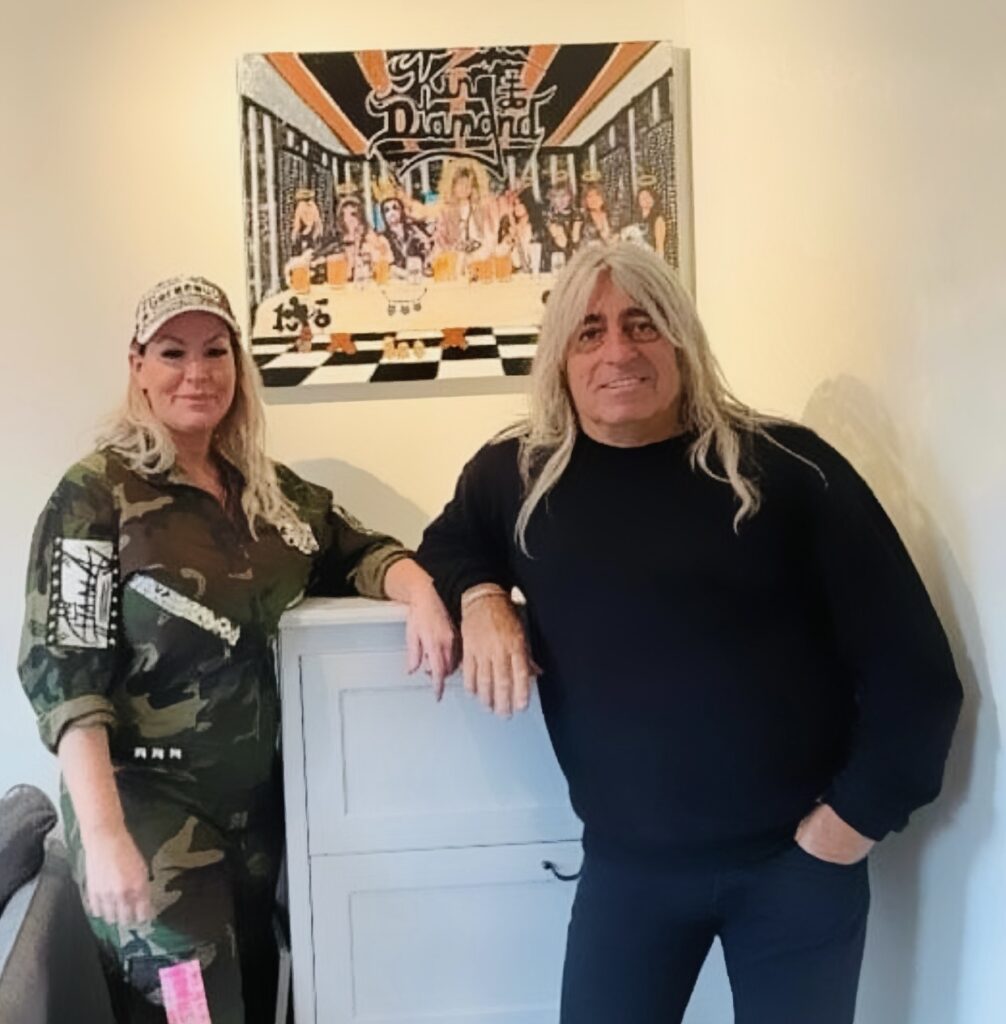 ---
Champagne ART
This art you can custom made order with your choice of champagne and colors.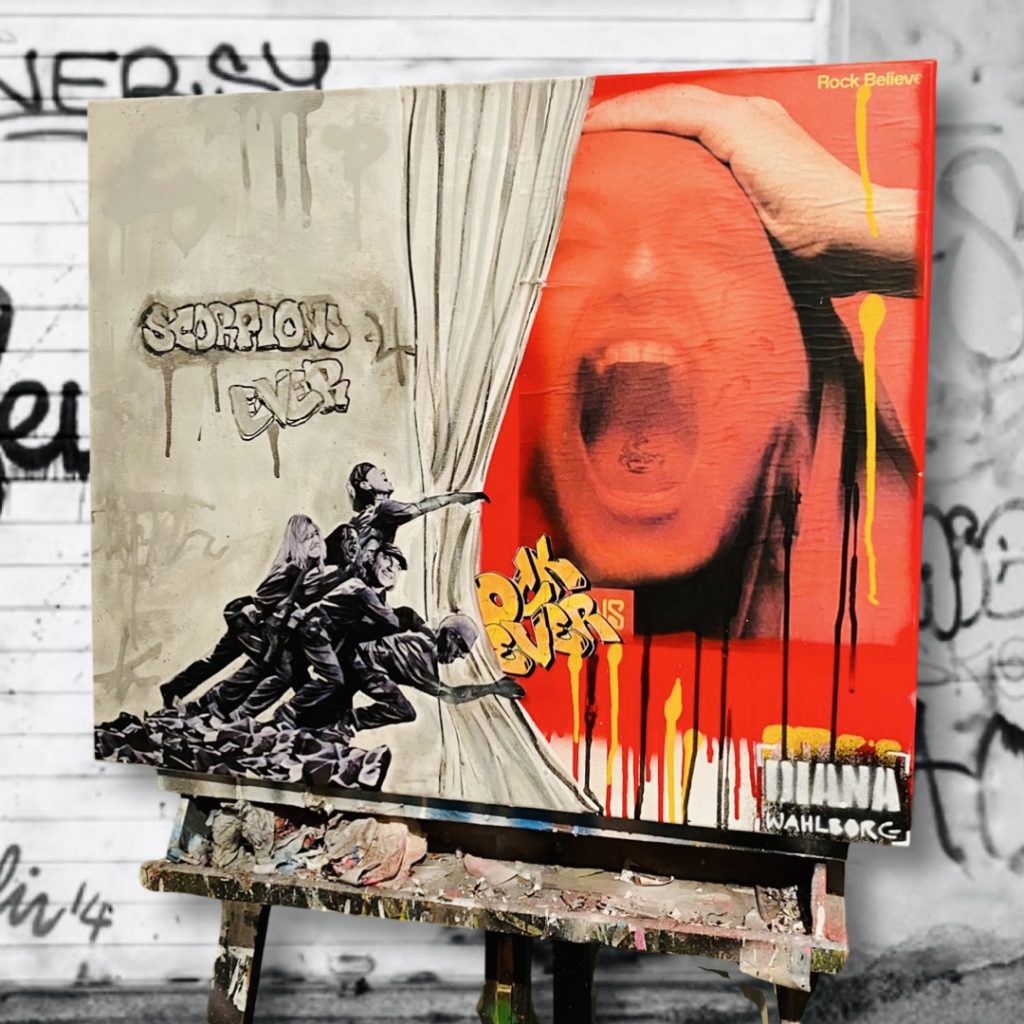 Sophia Loren acrylic painting, custom made order to Spain Malaga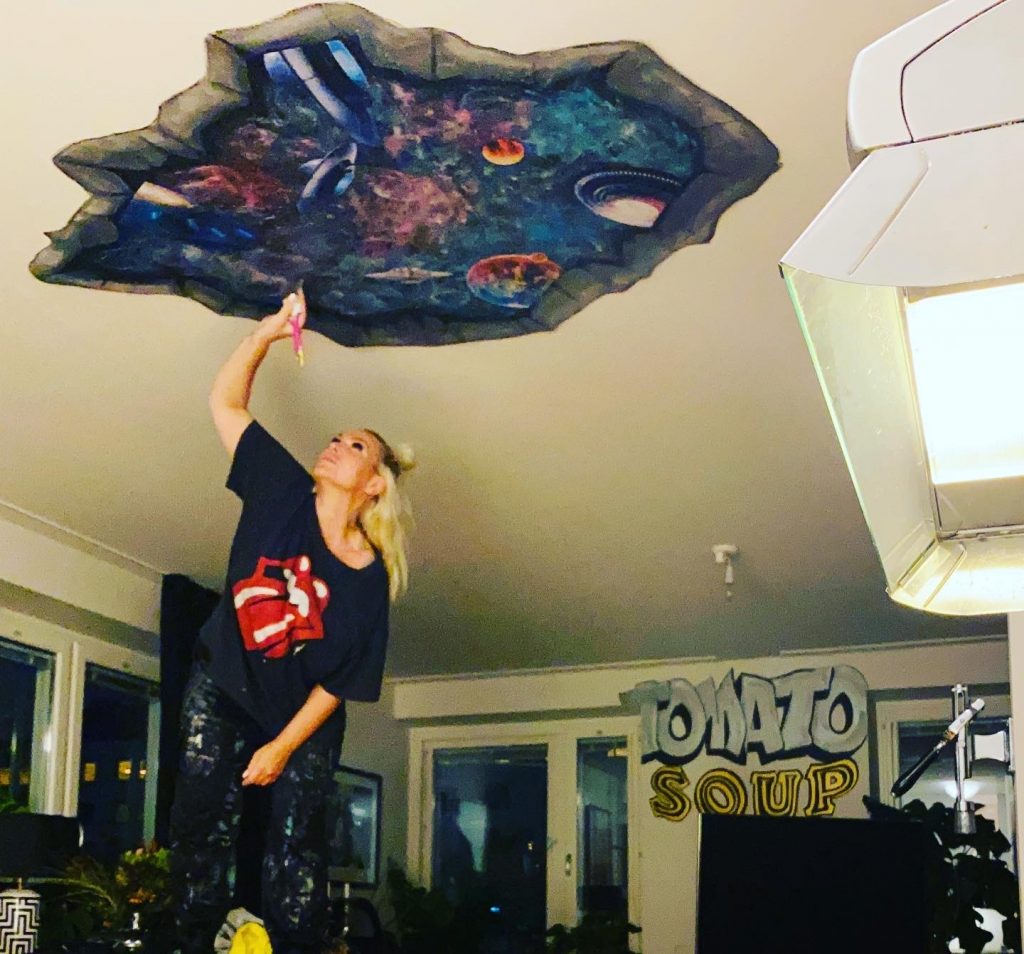 -City wall-
80 x 60cm mixed media
Price 10.000 sek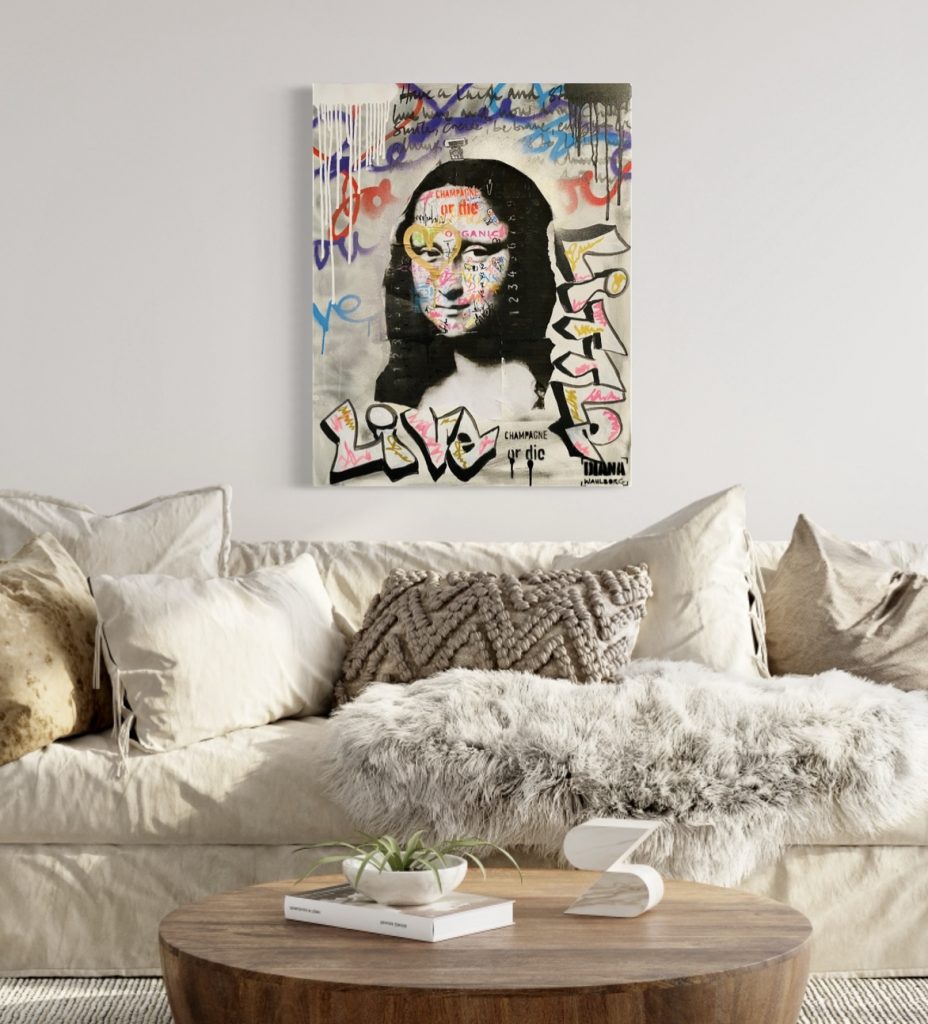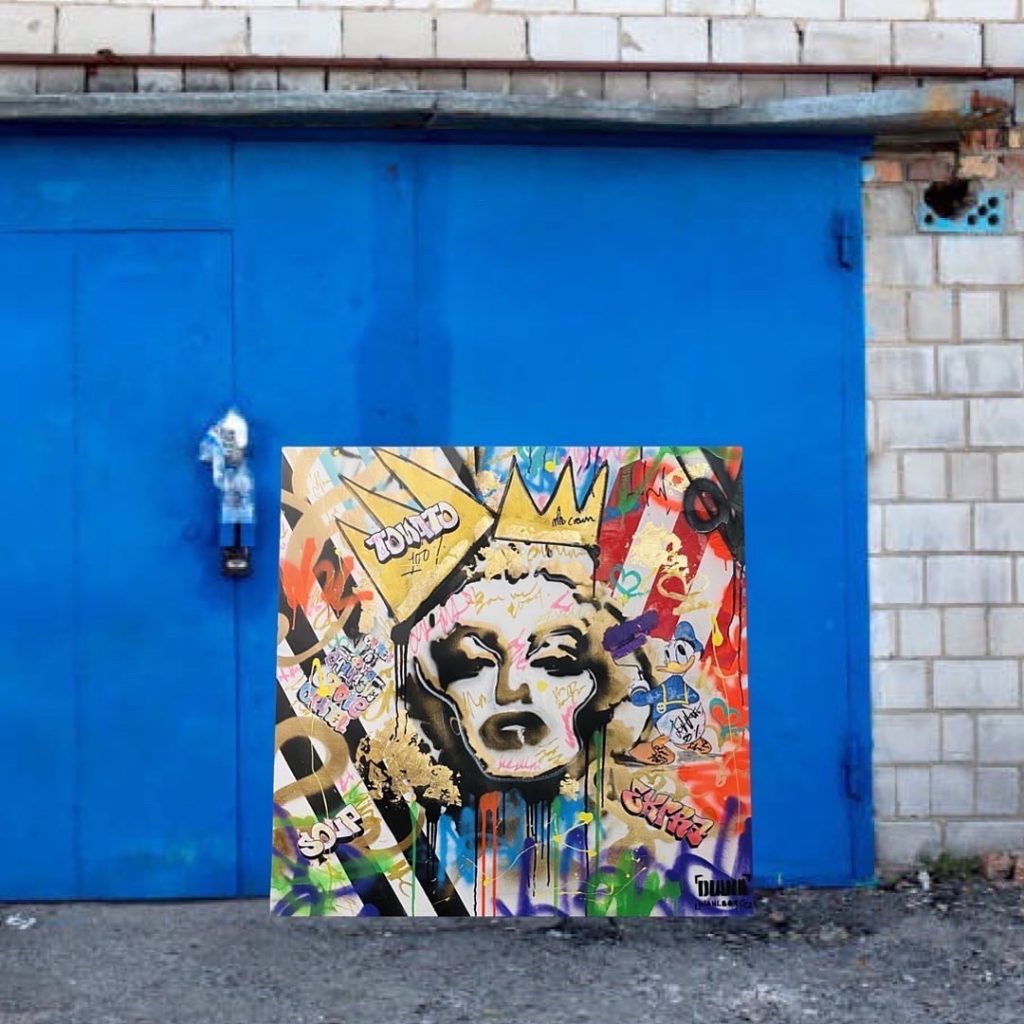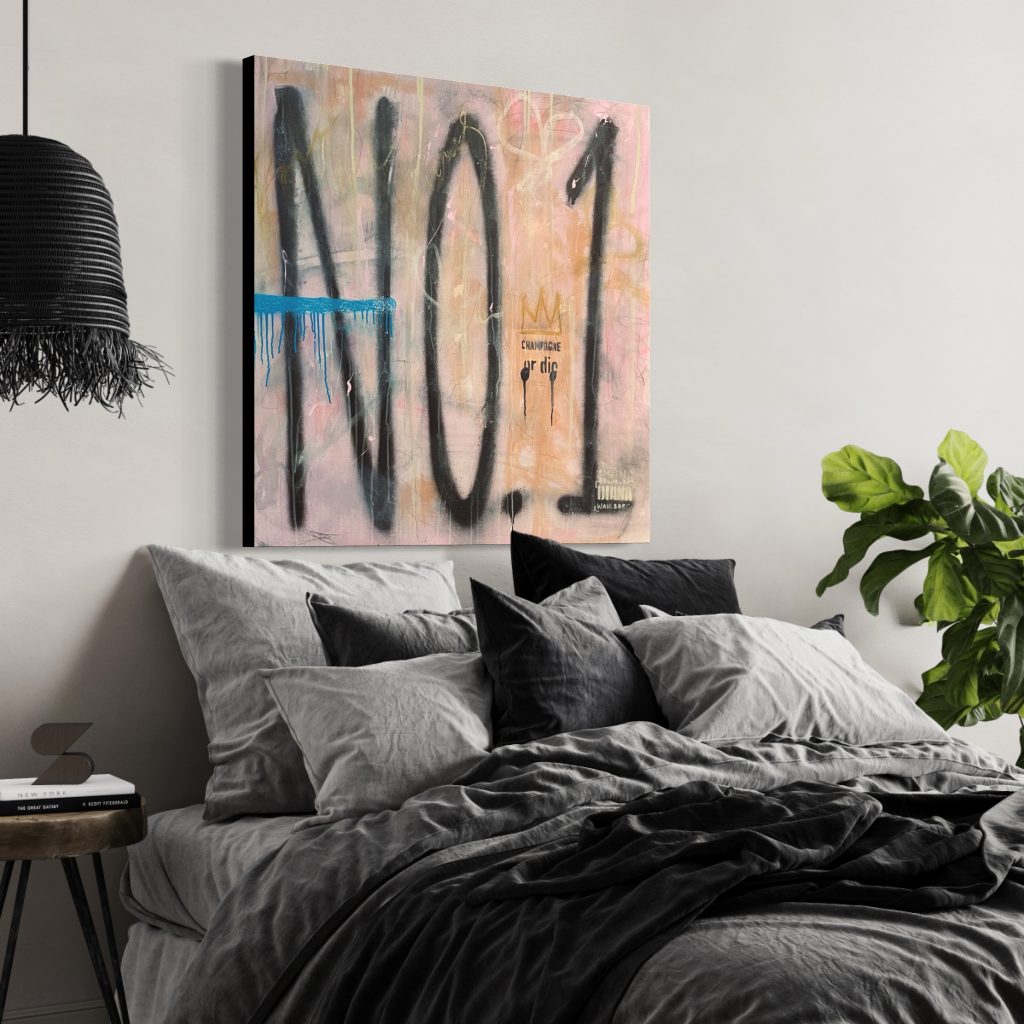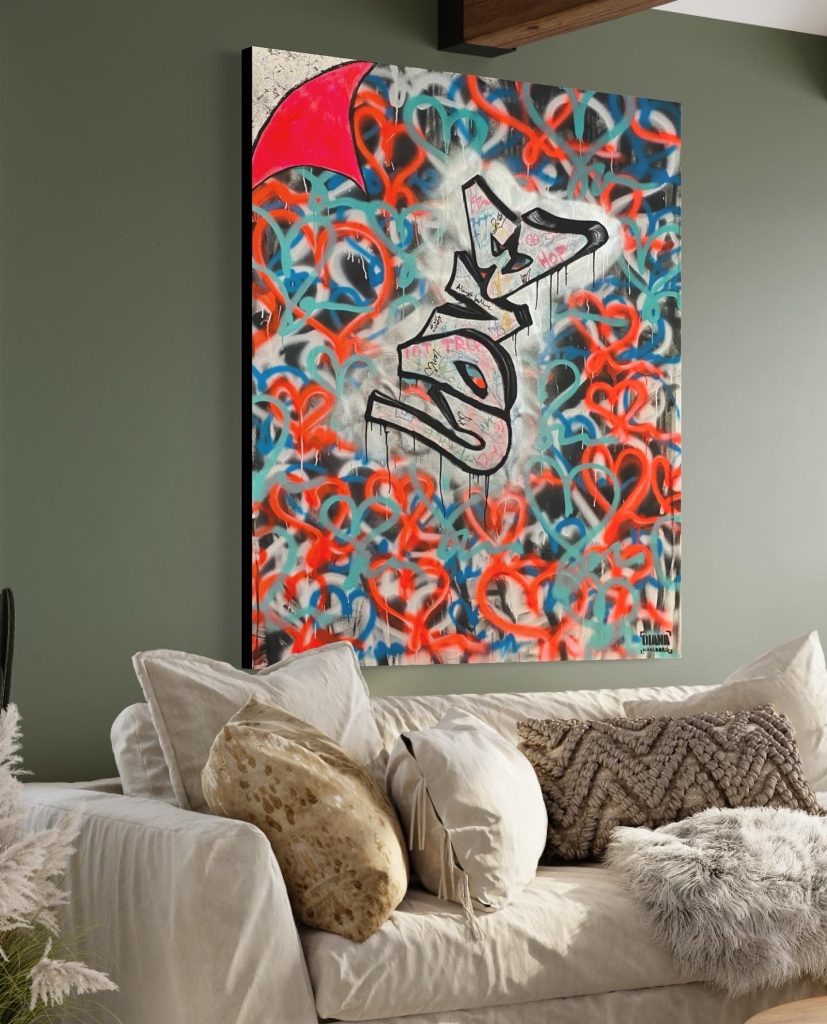 -You can do anything, its all a matrix-
175 X 141 cm acrylic paint on canvas.
Price 20.000 sek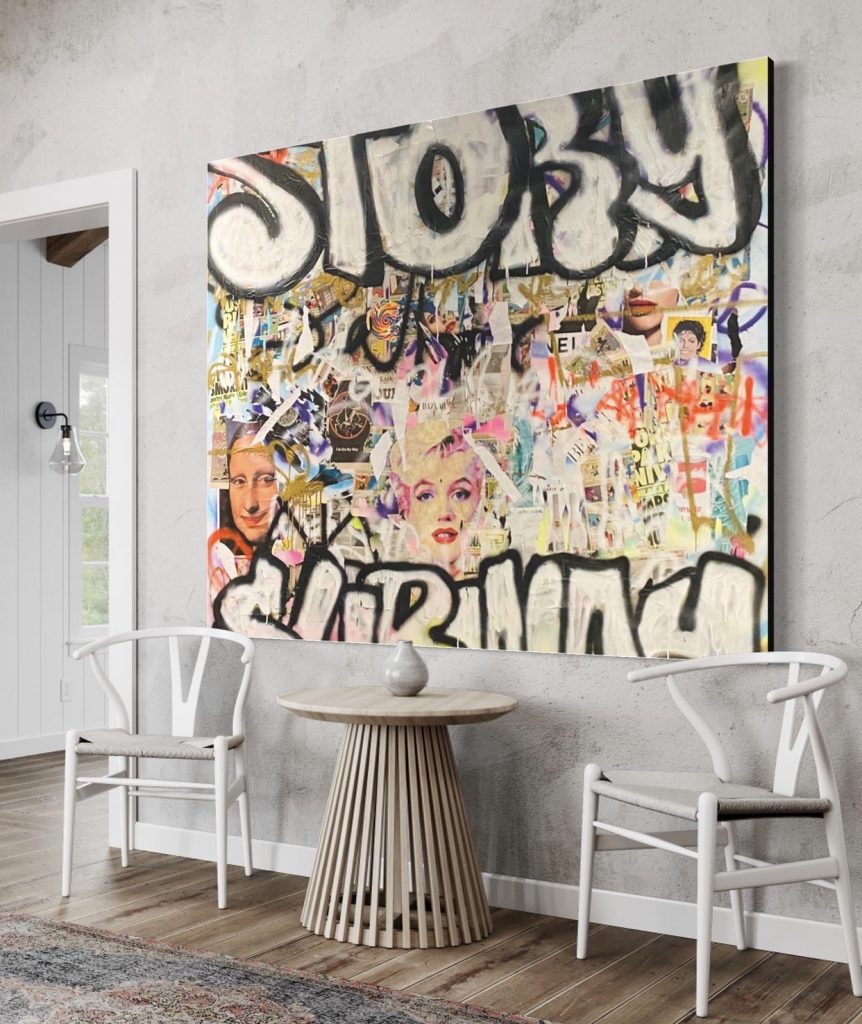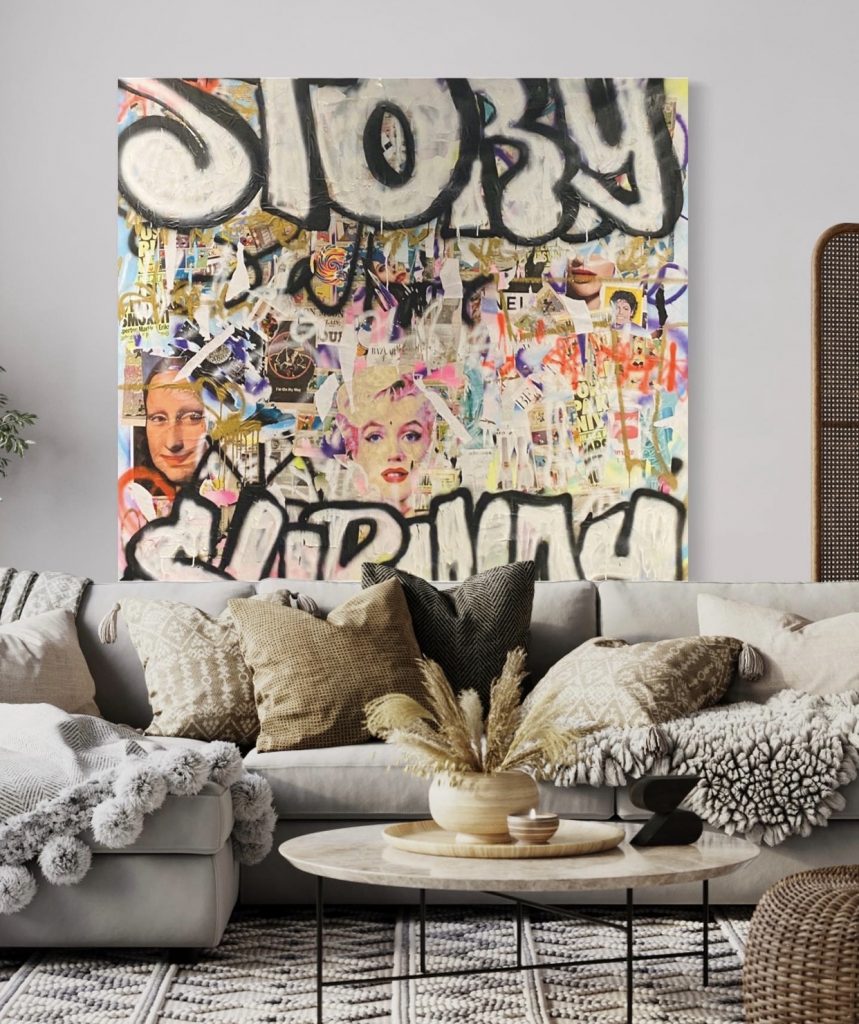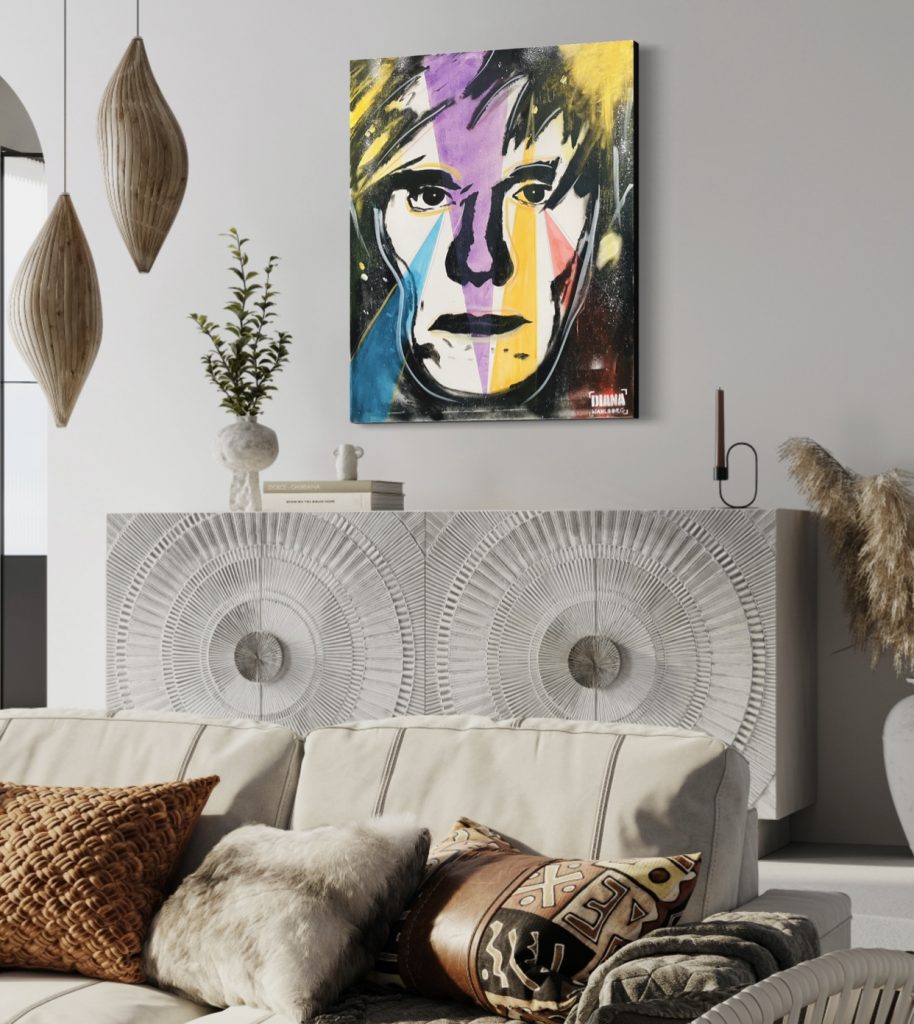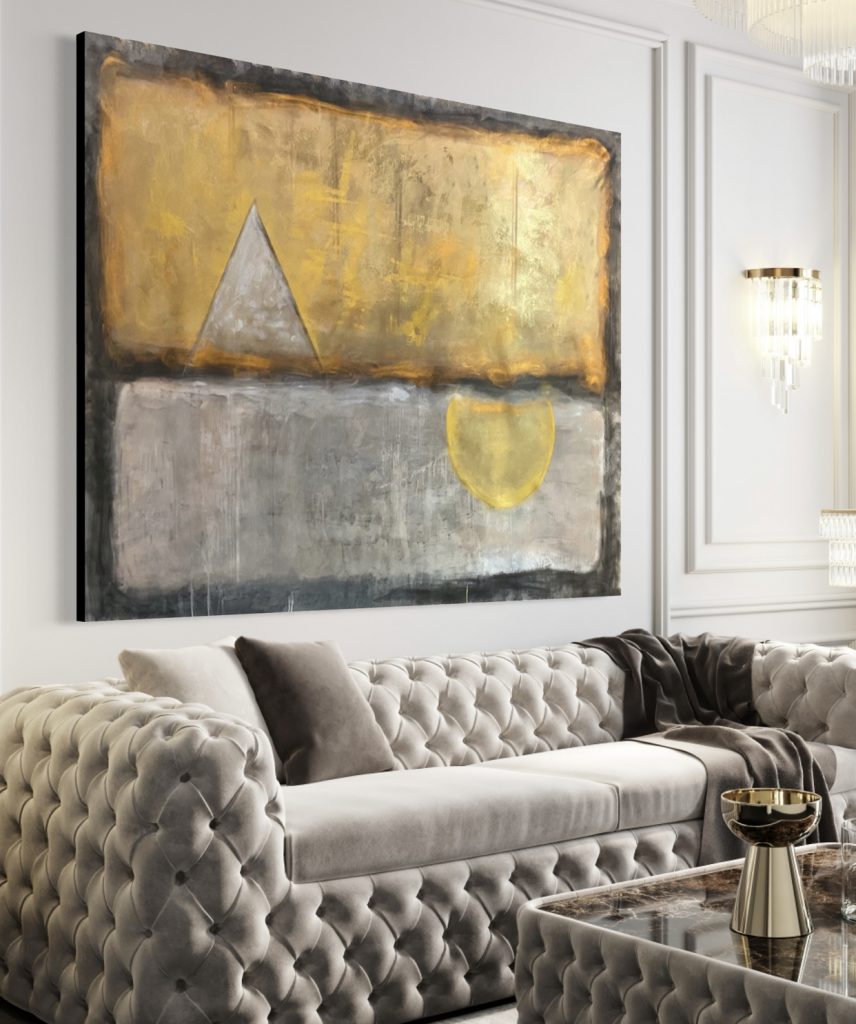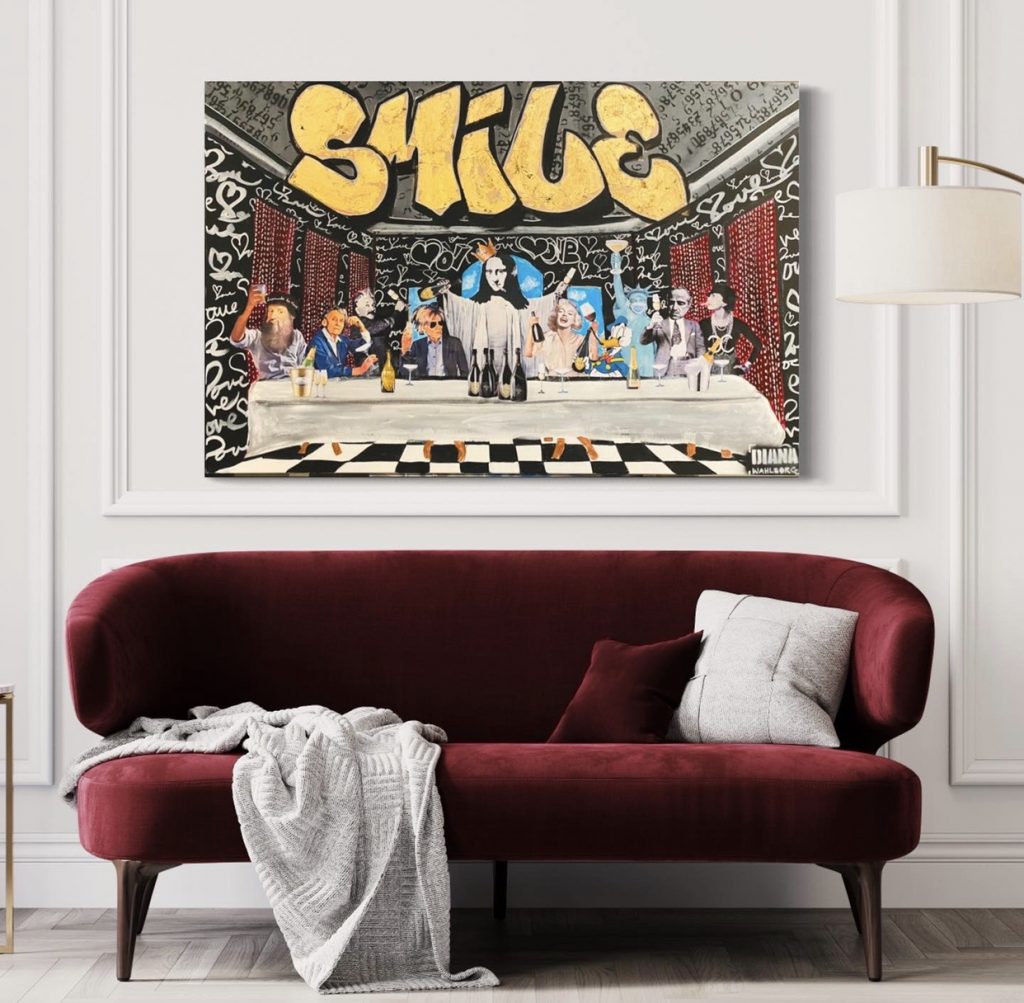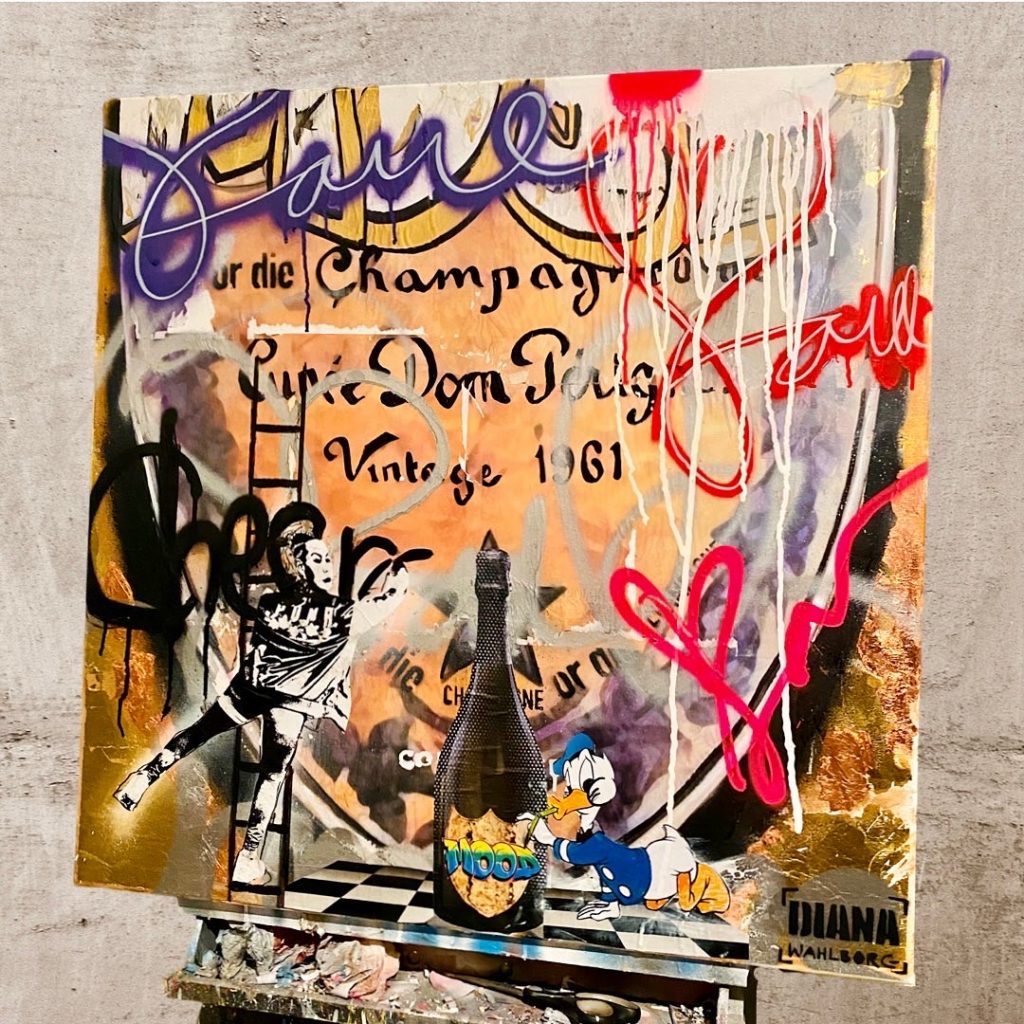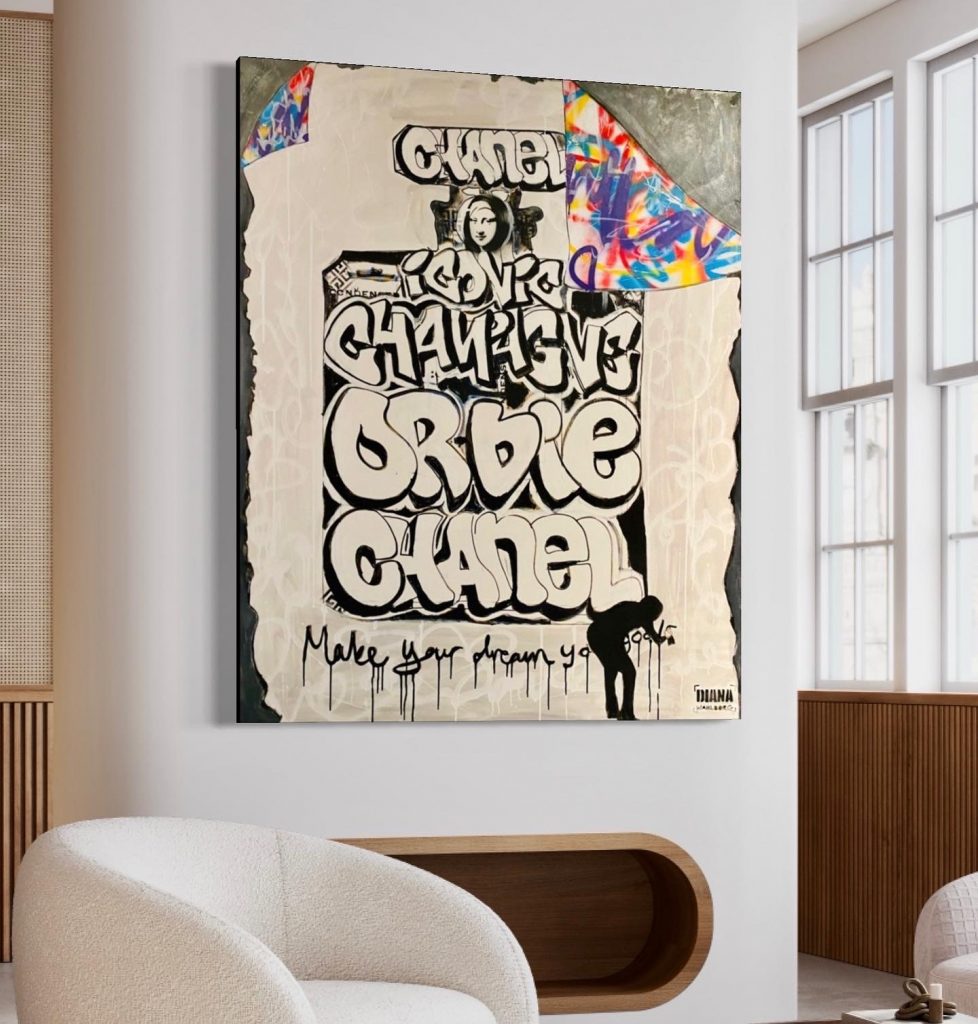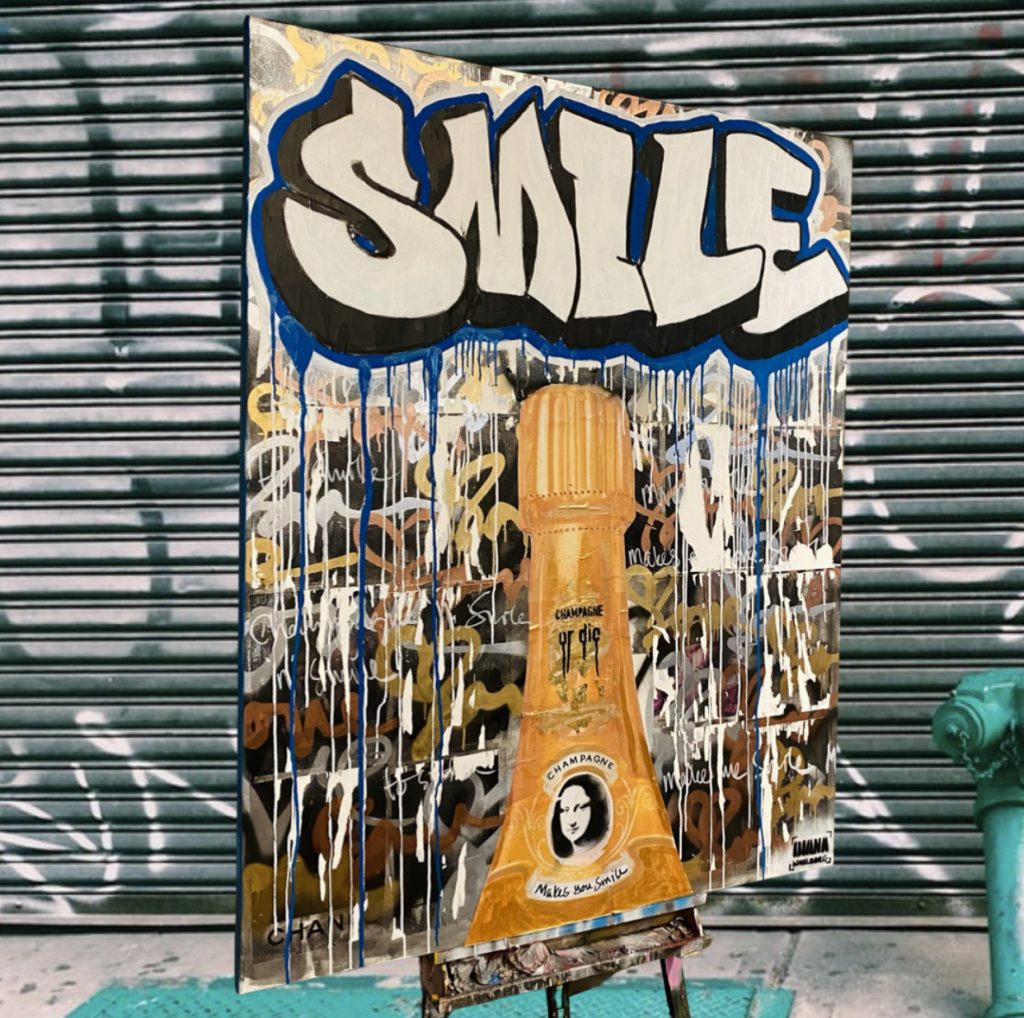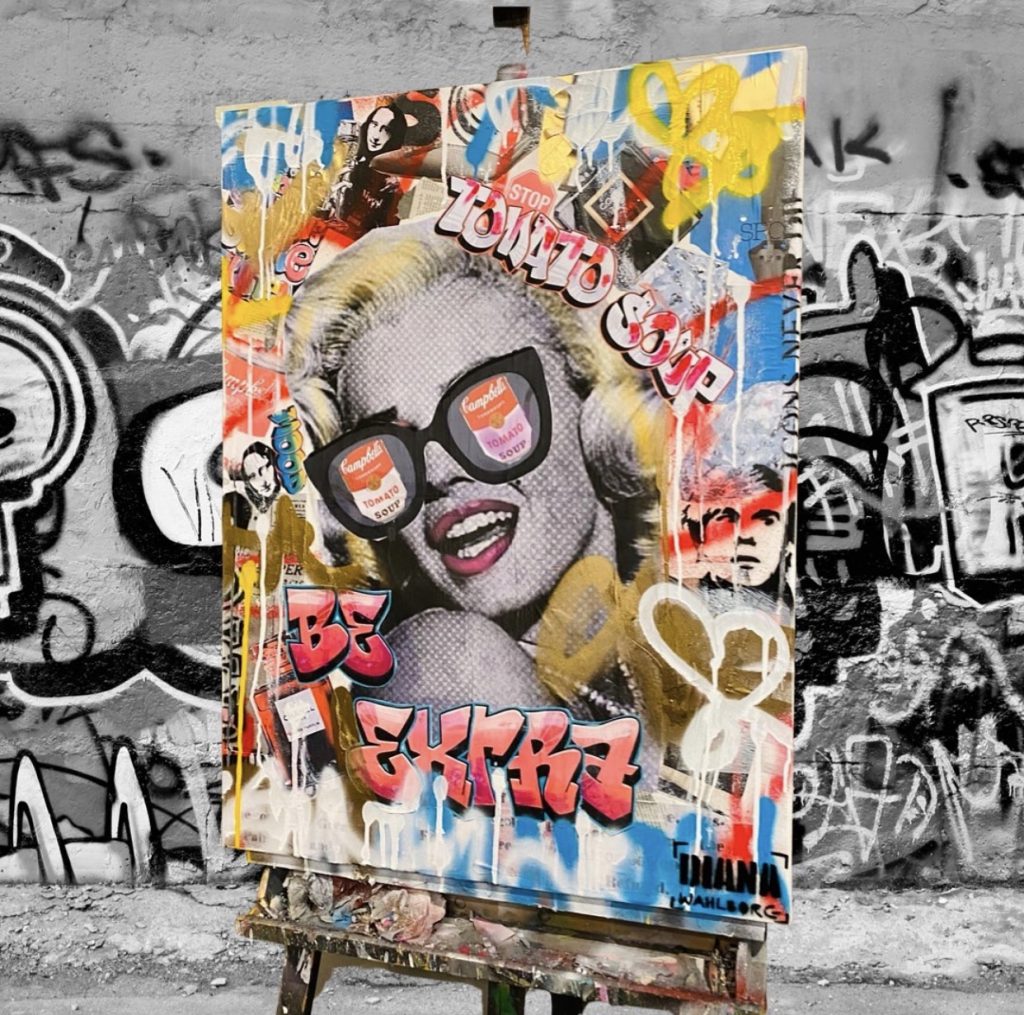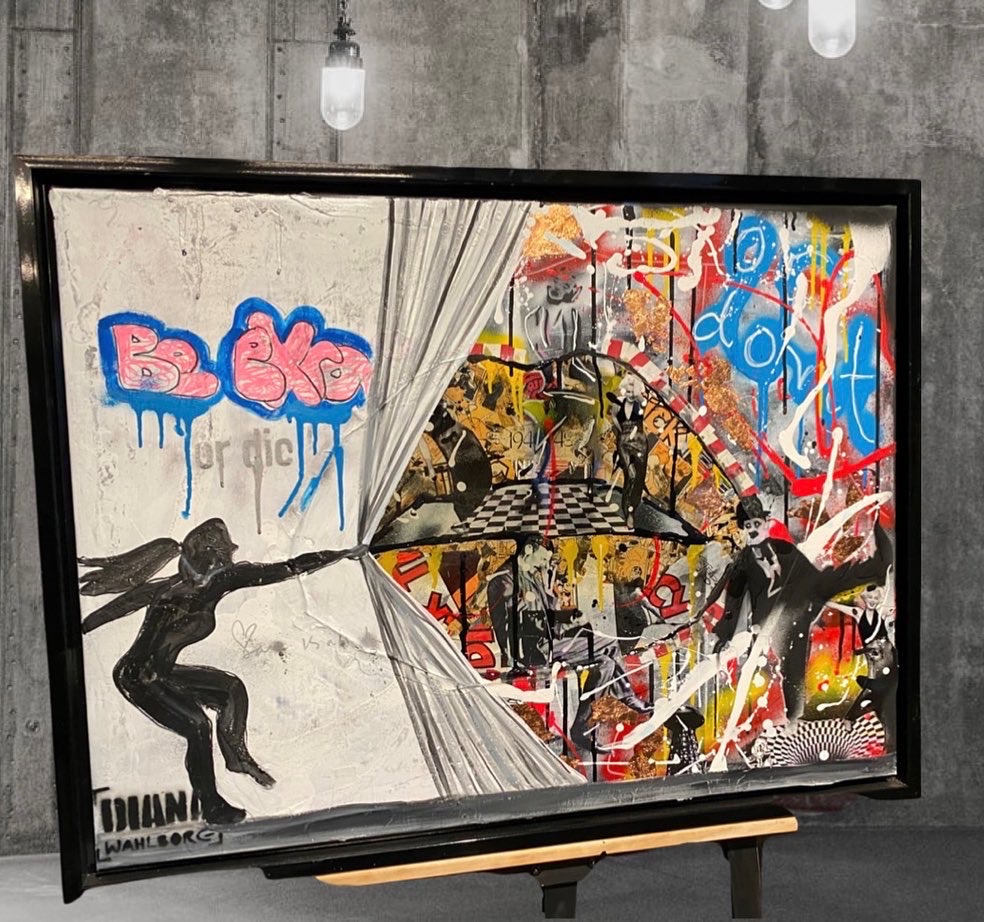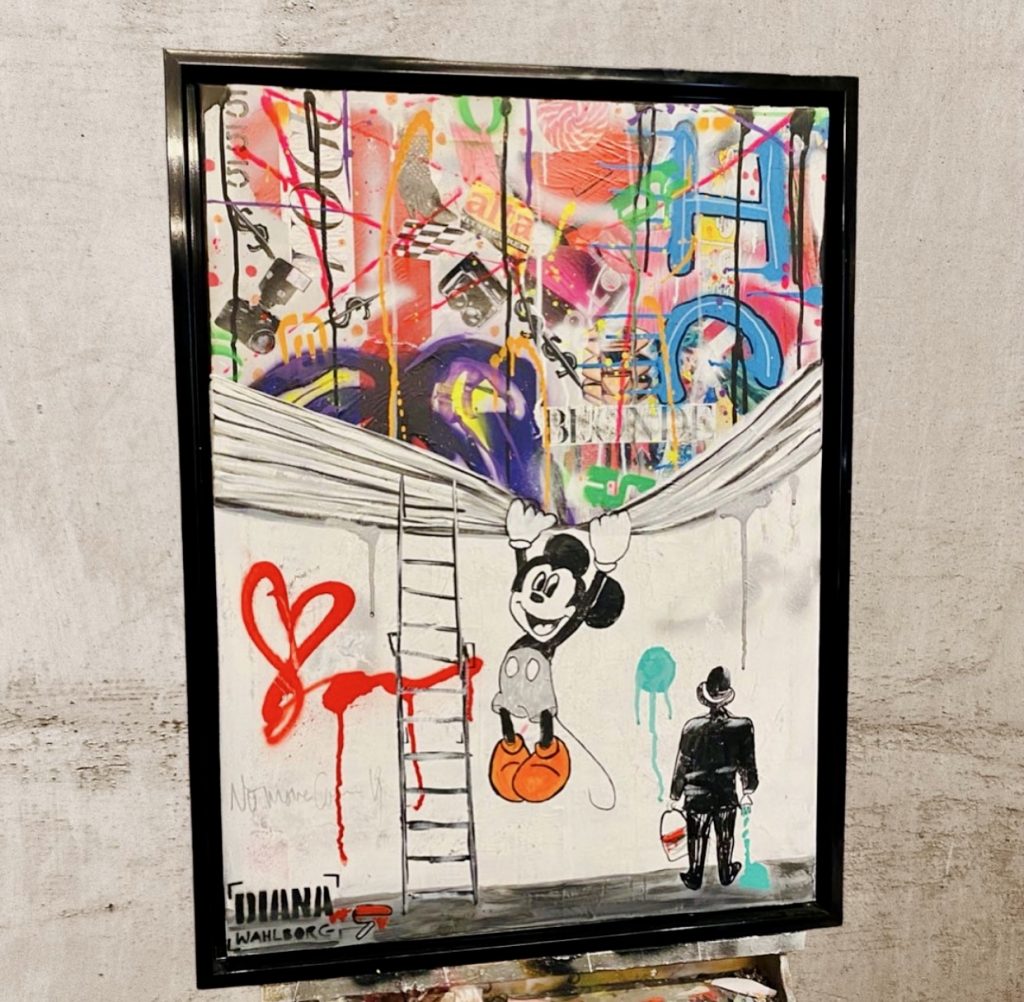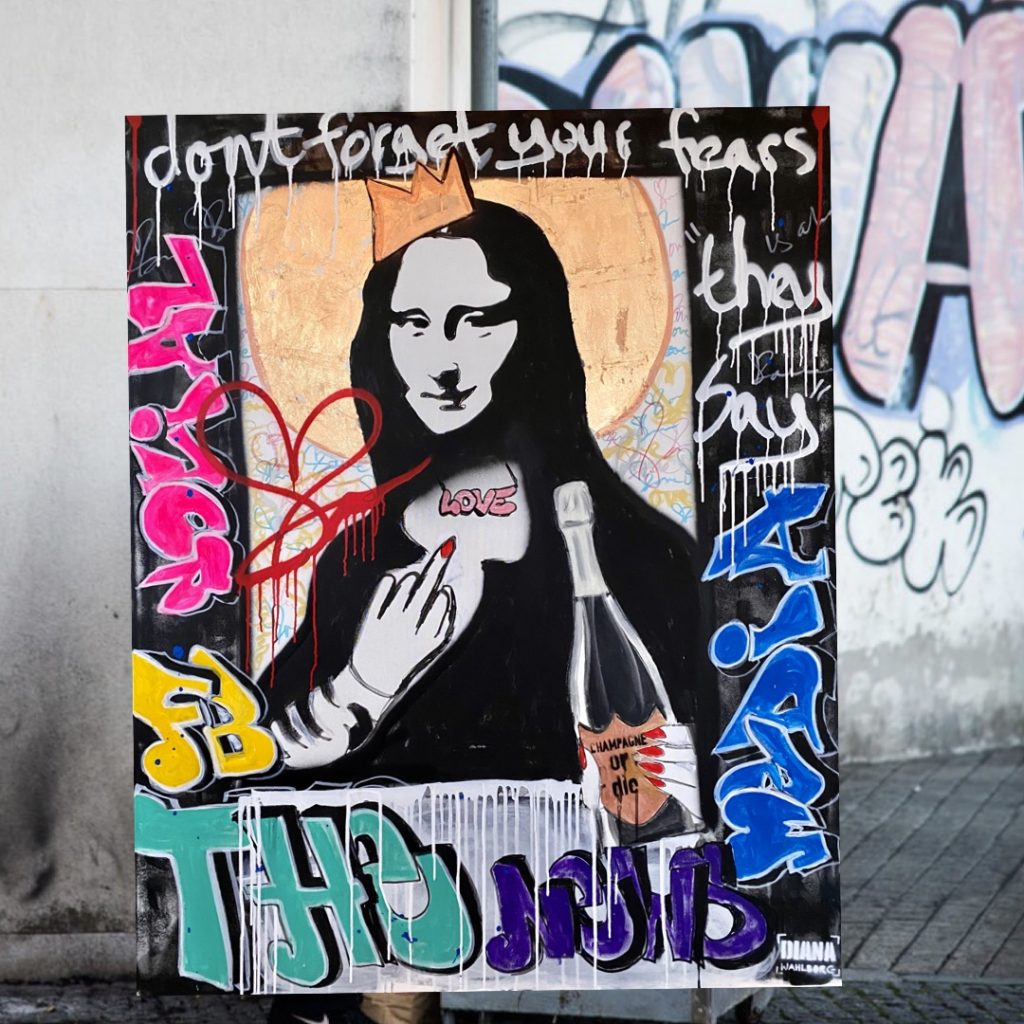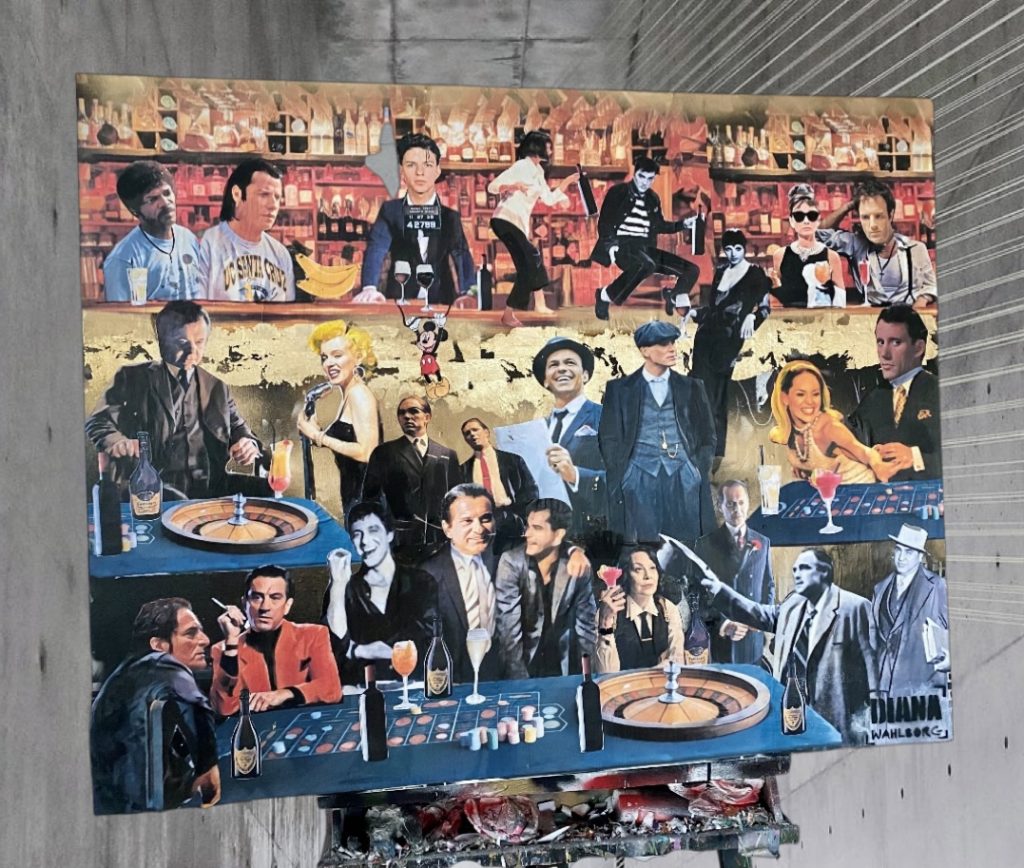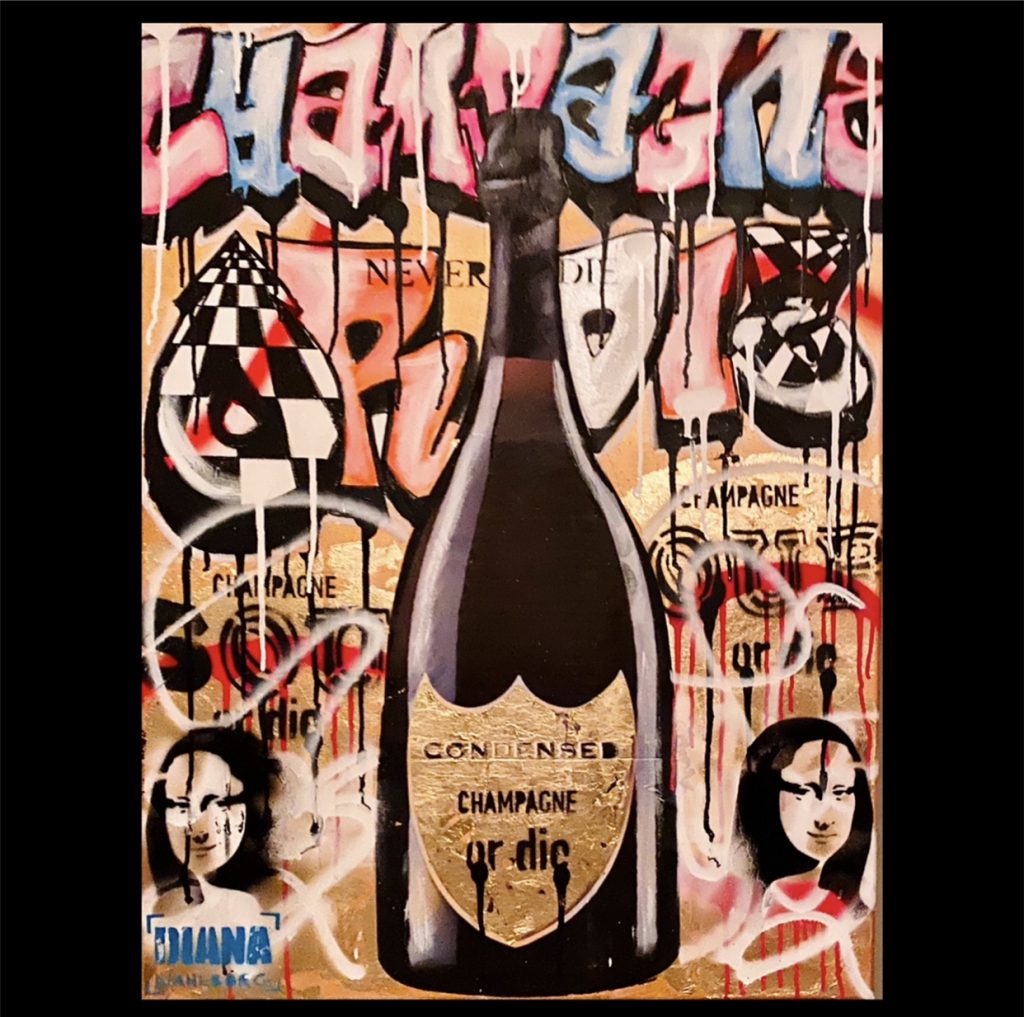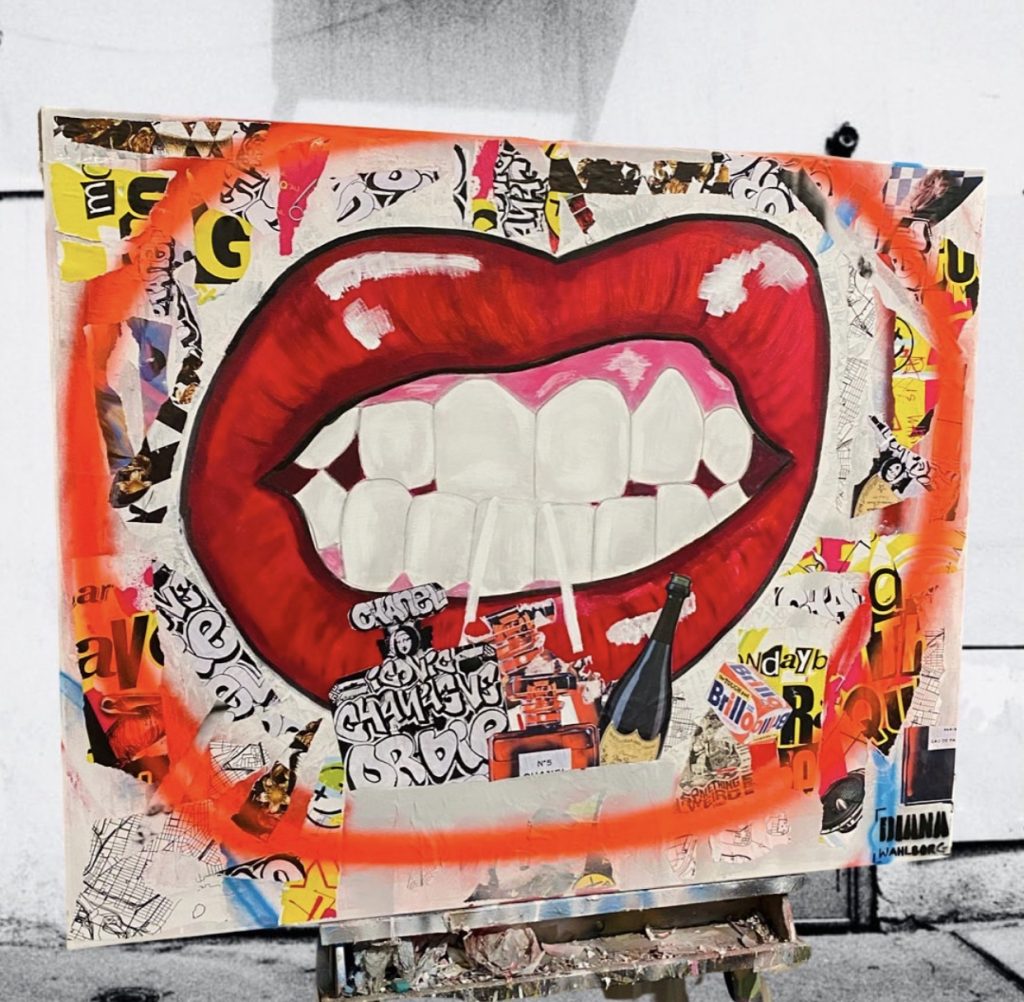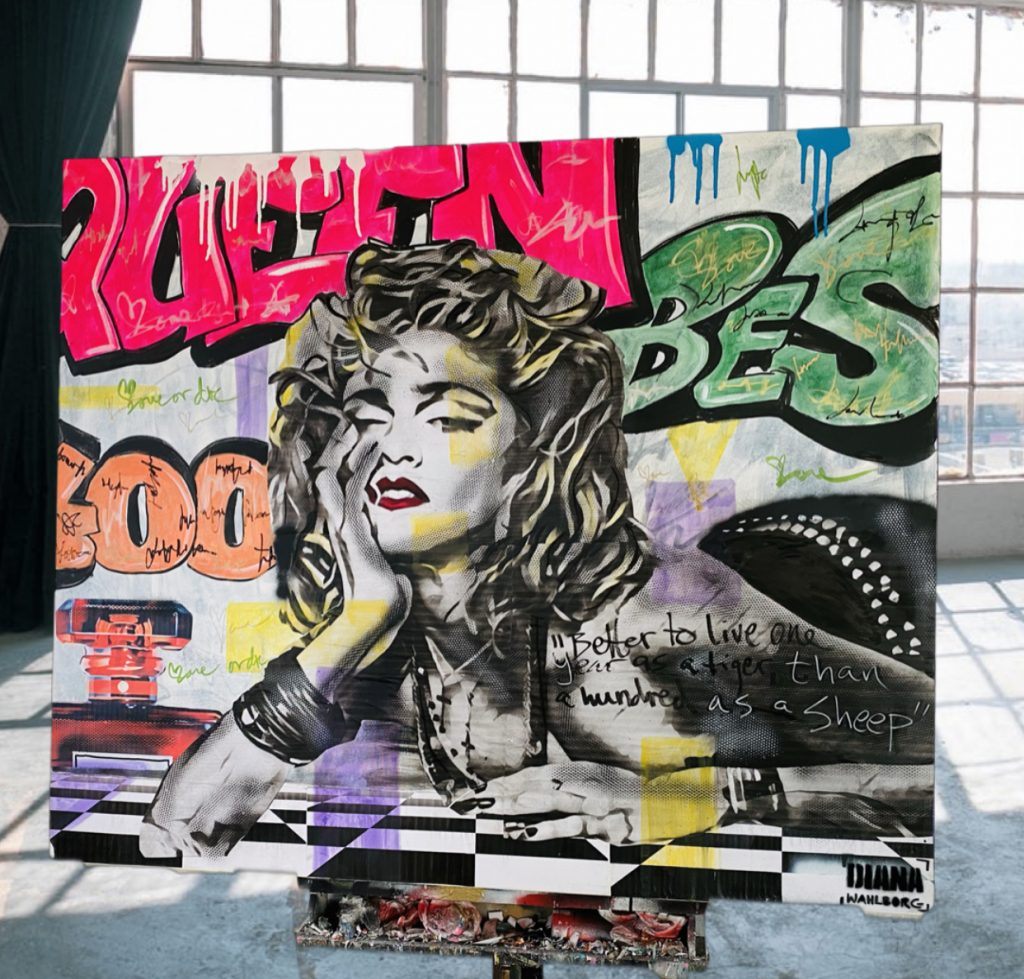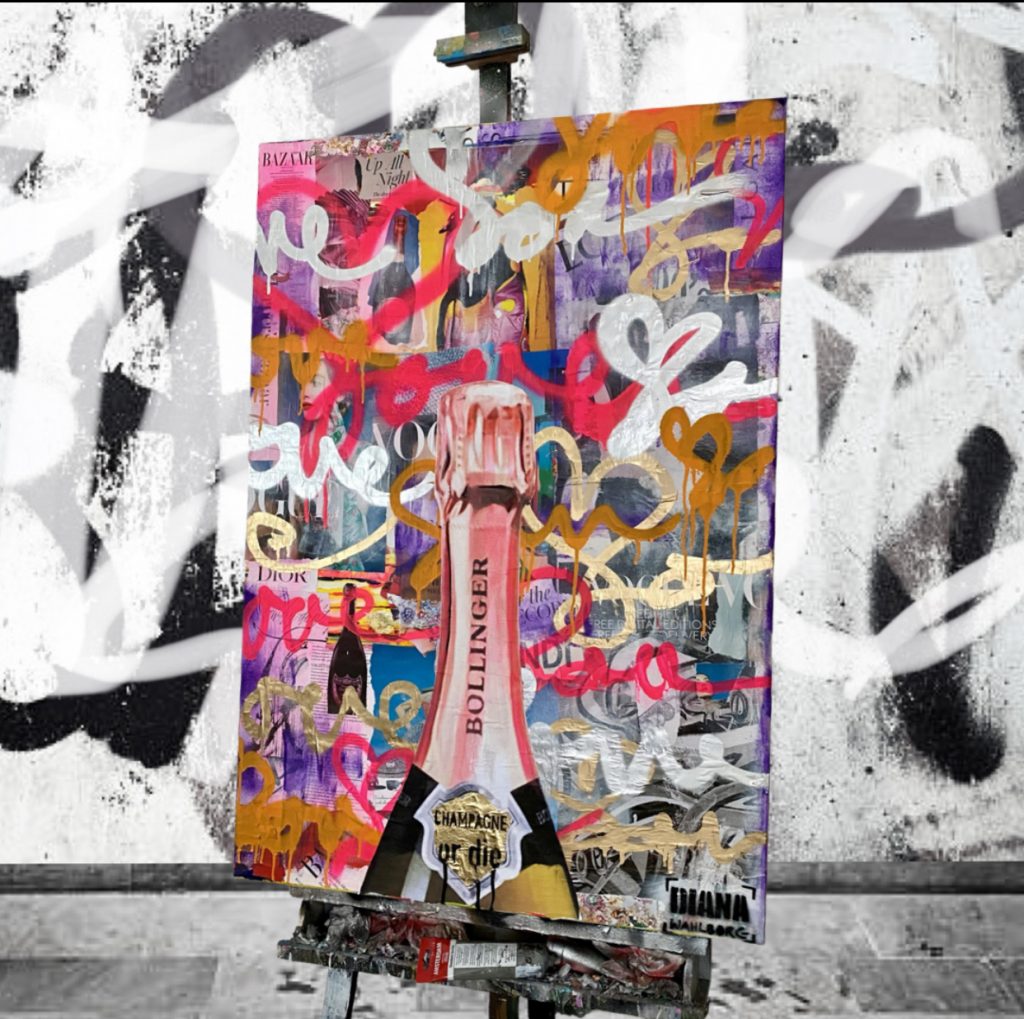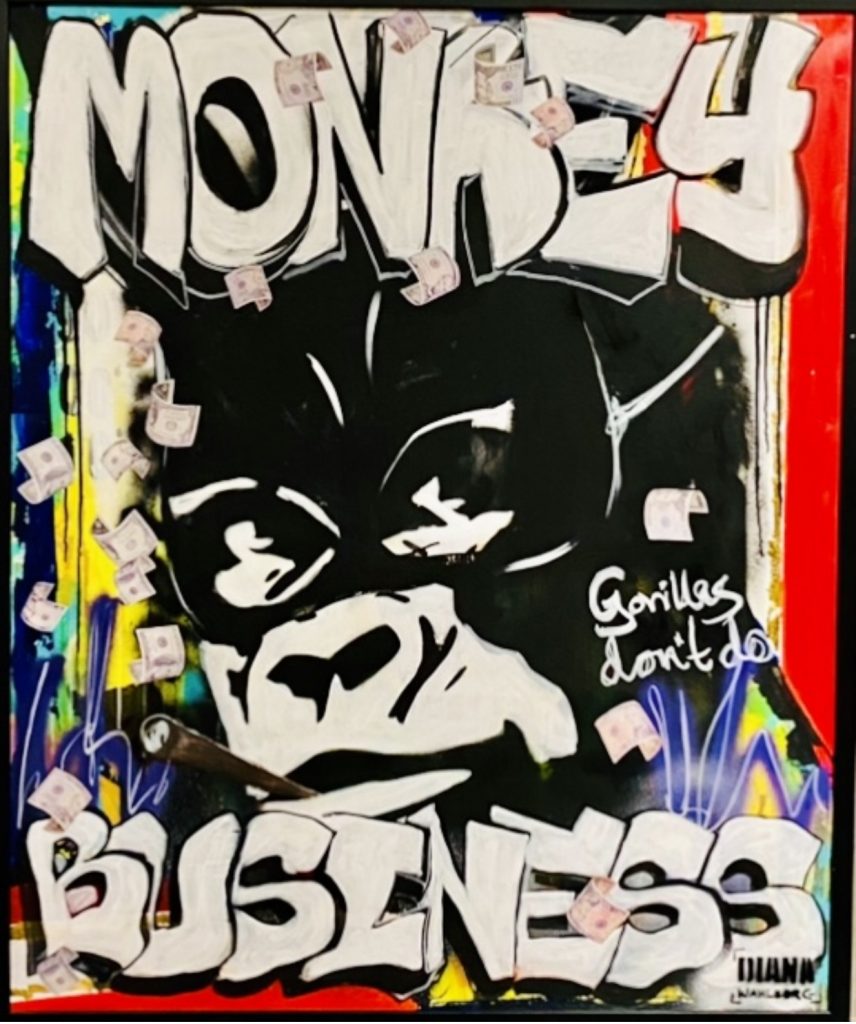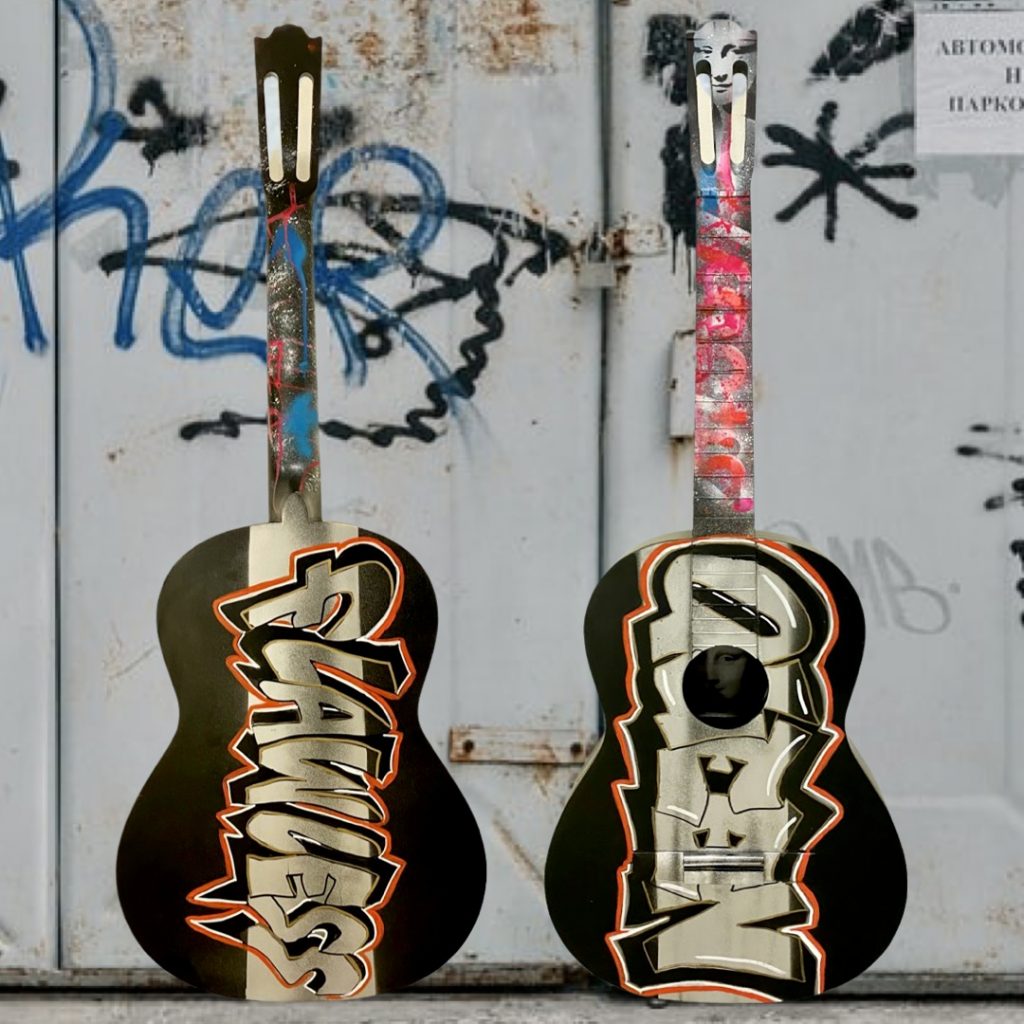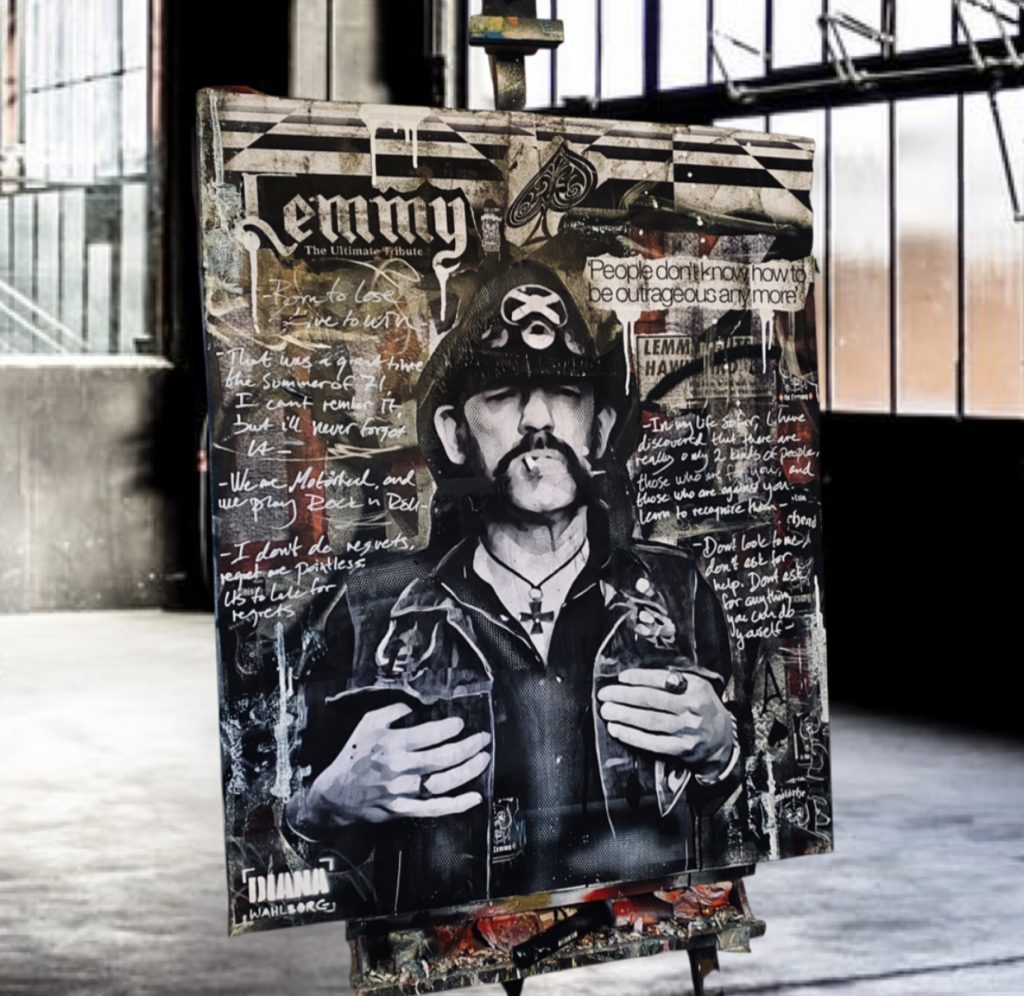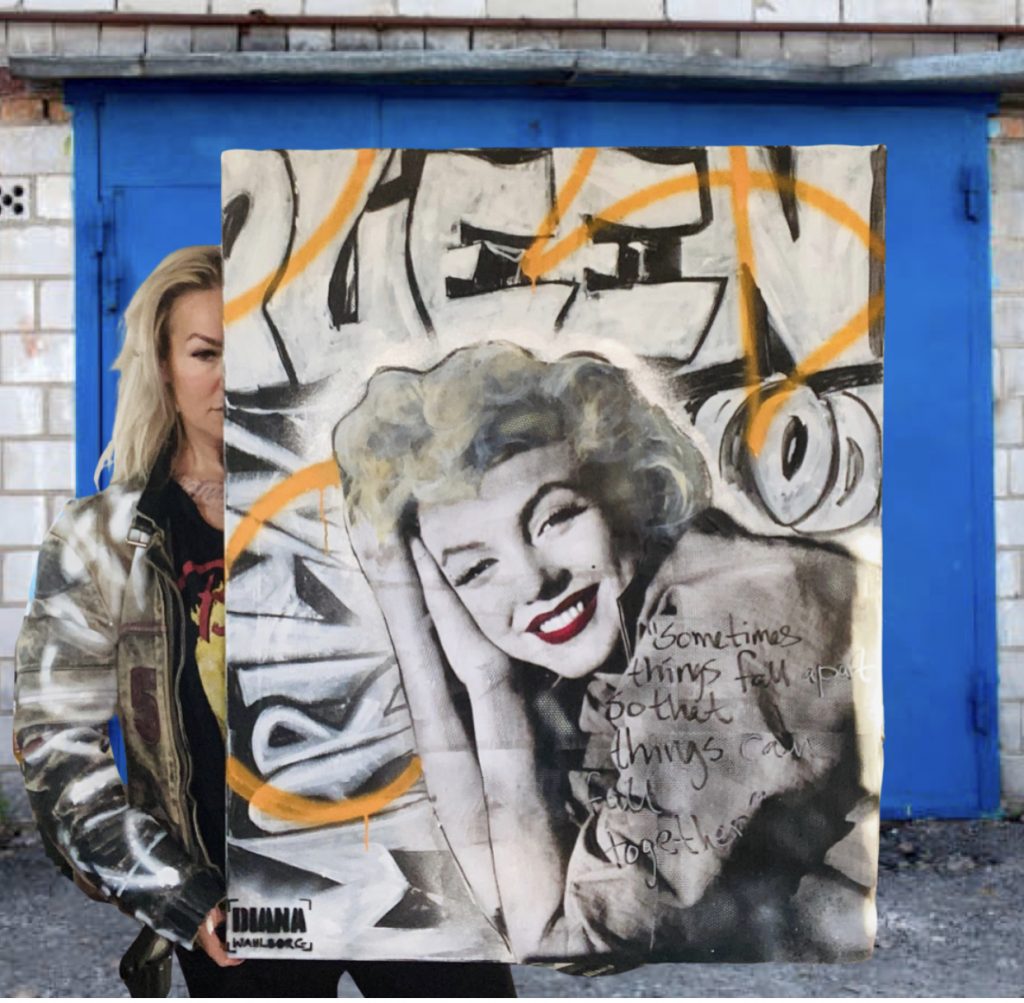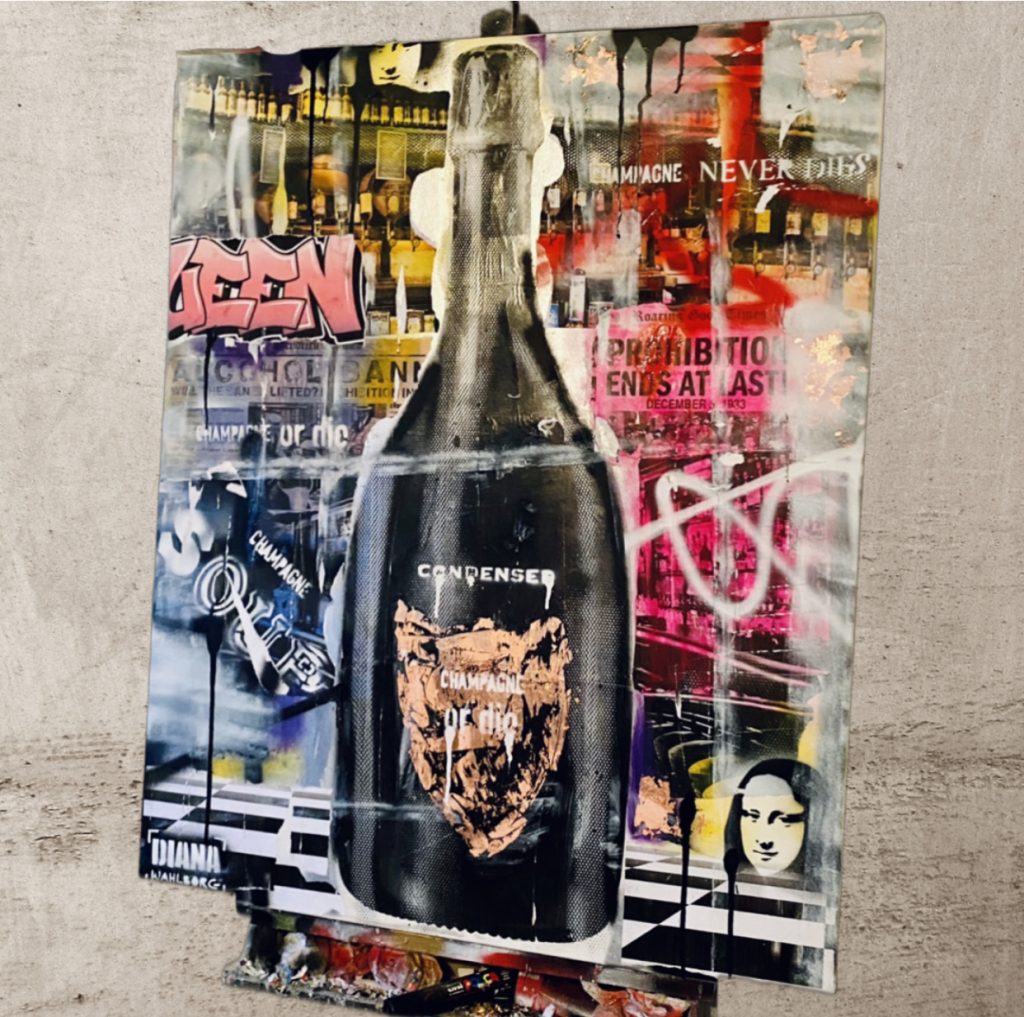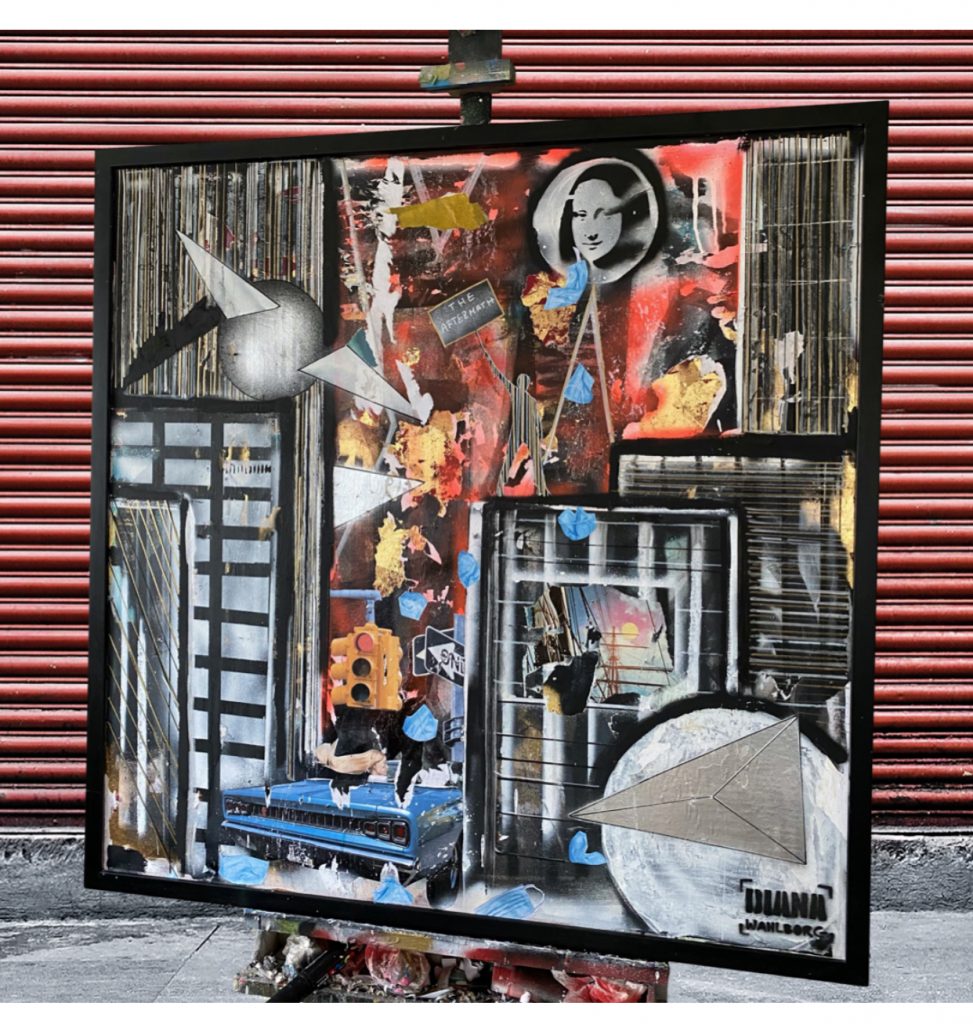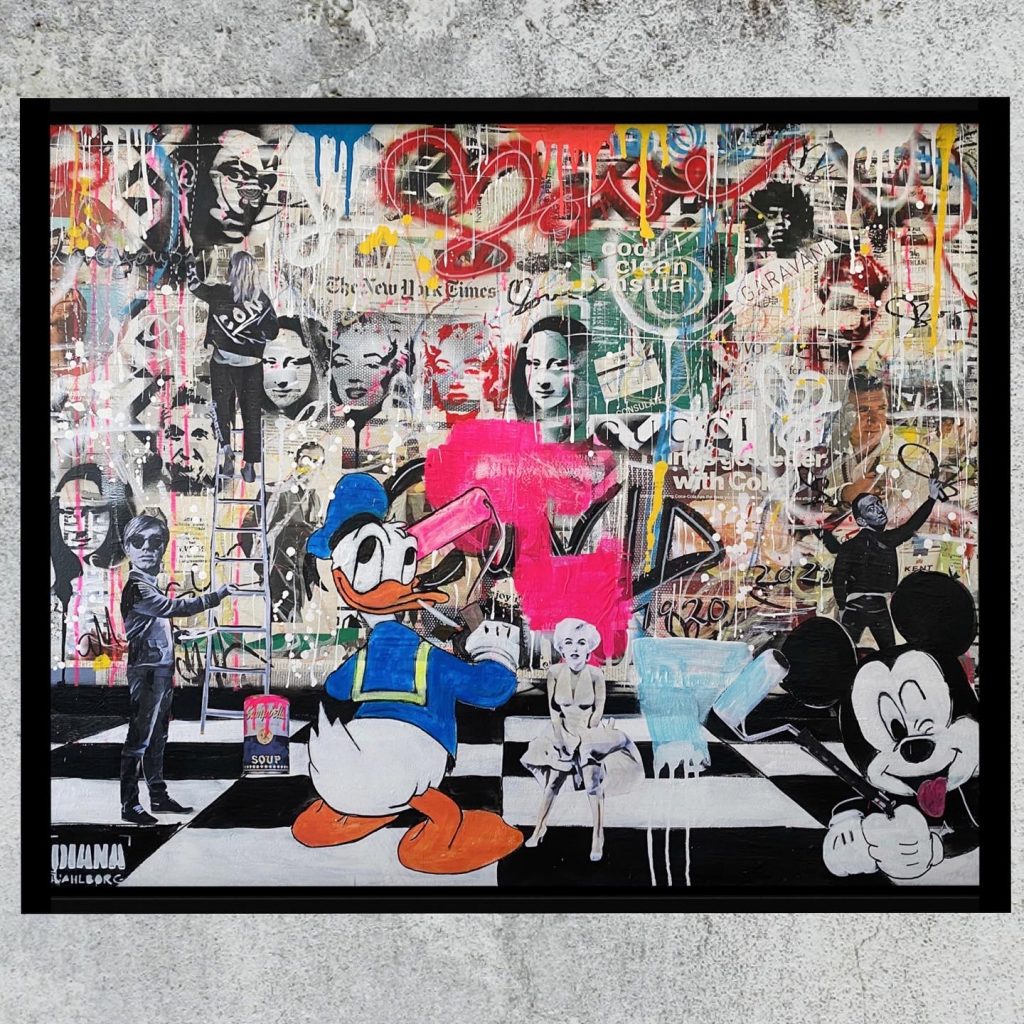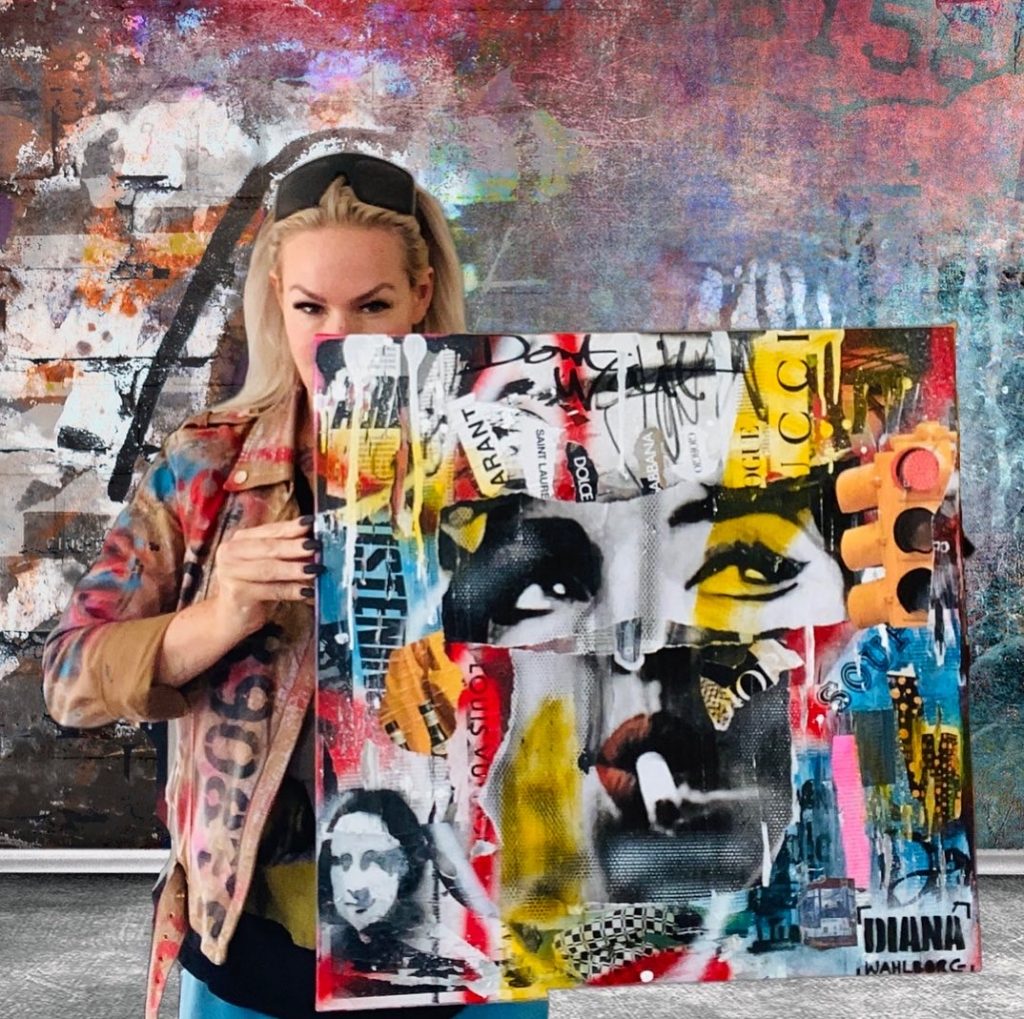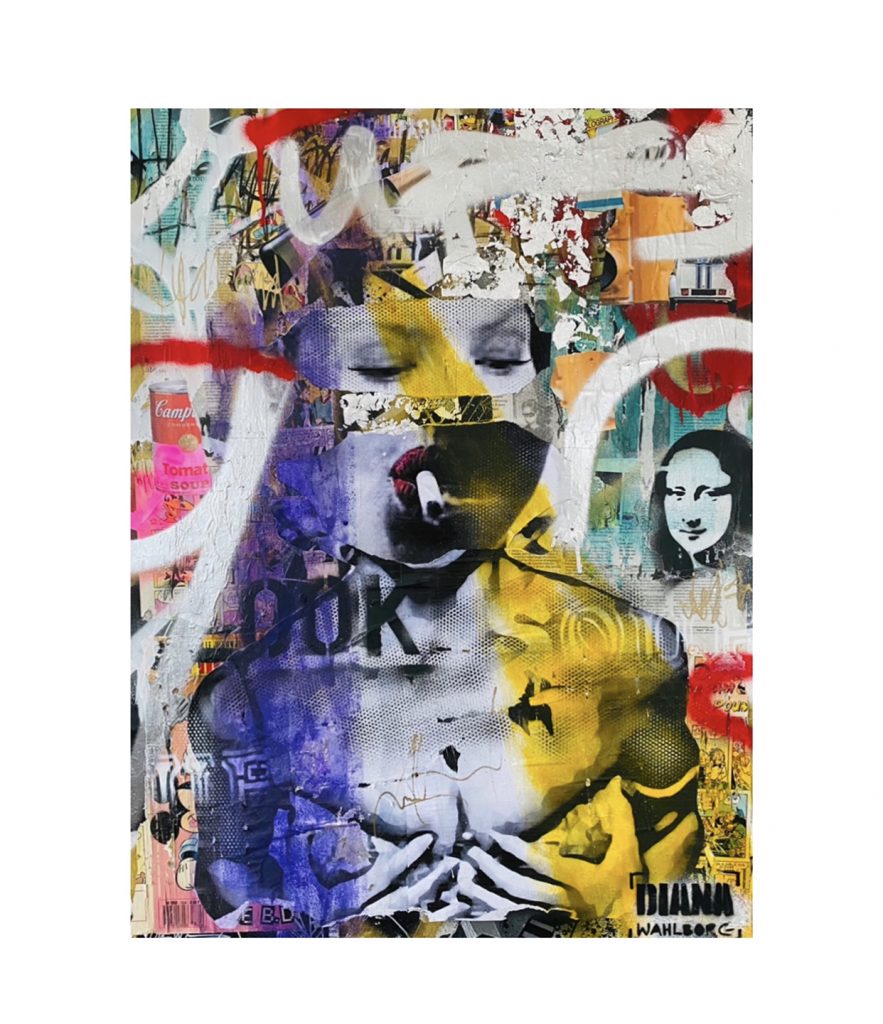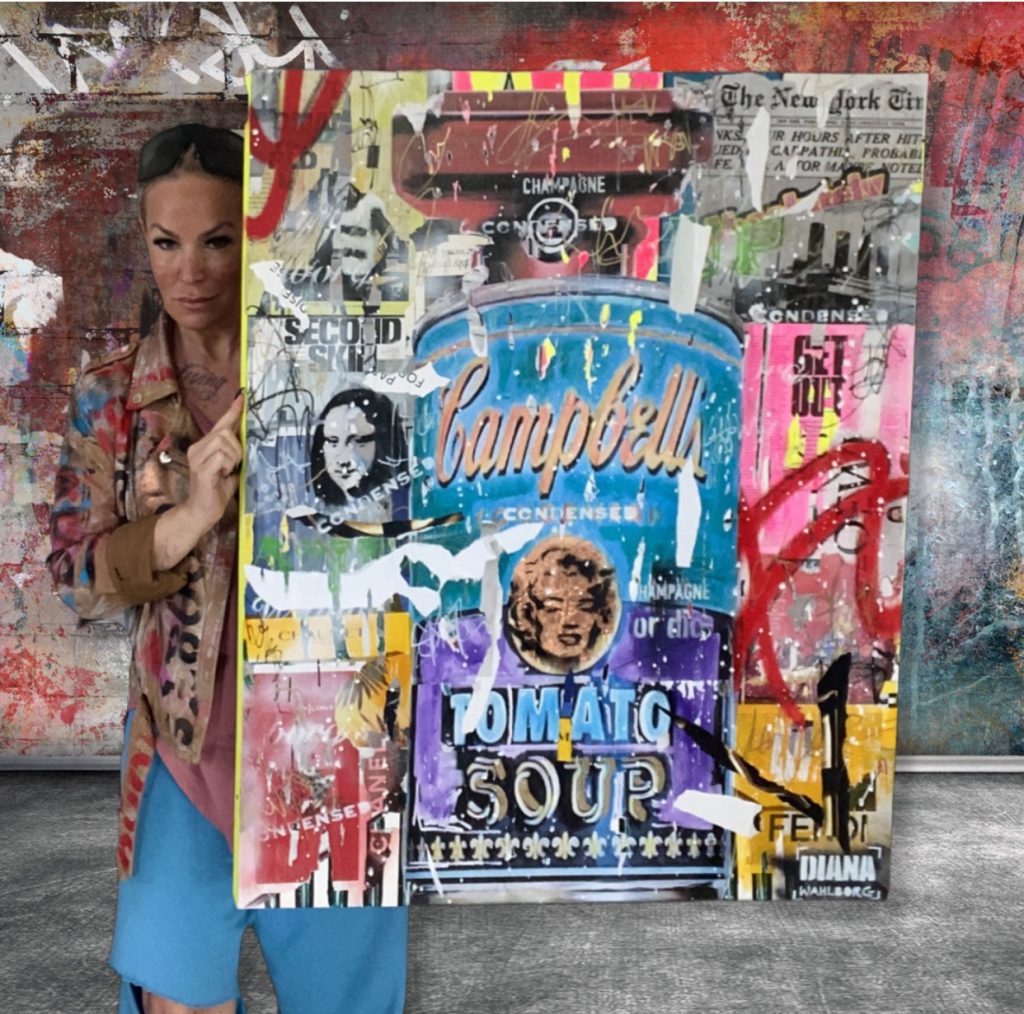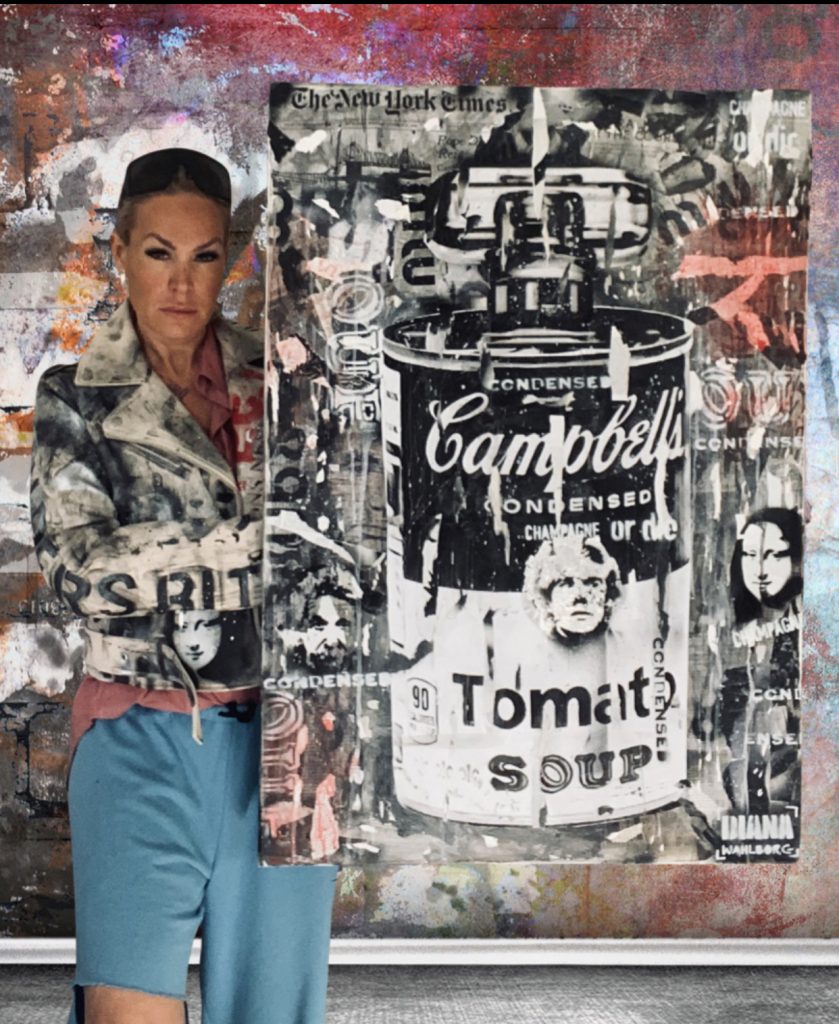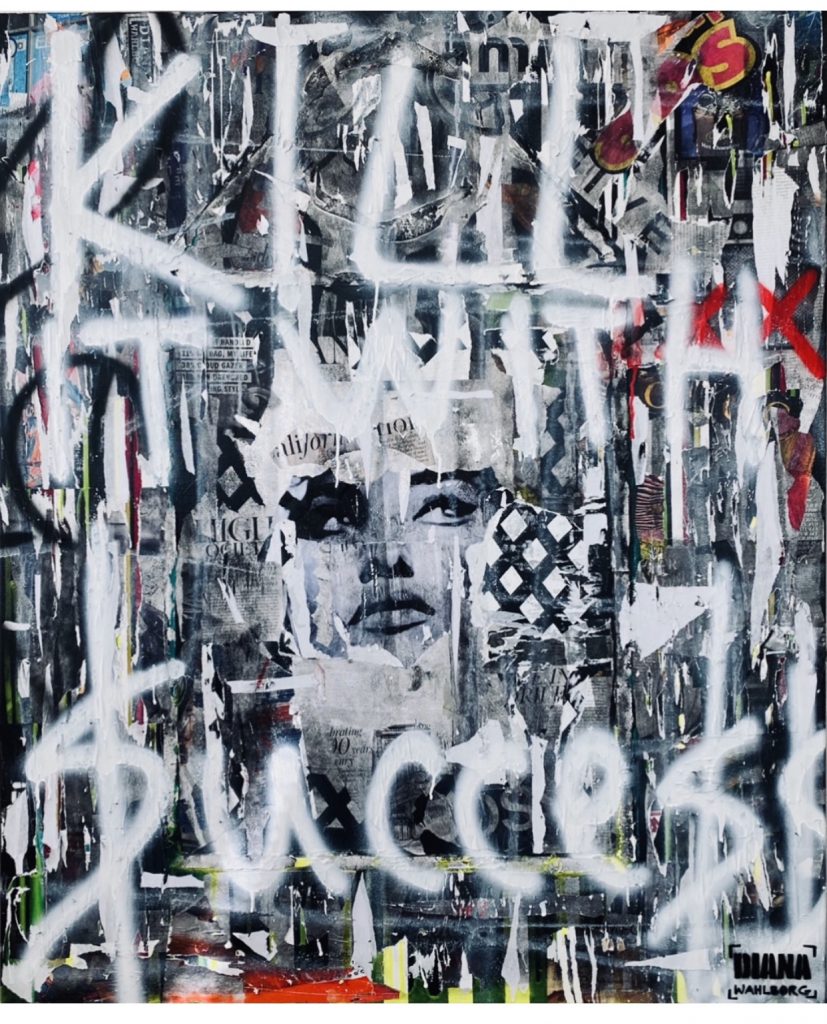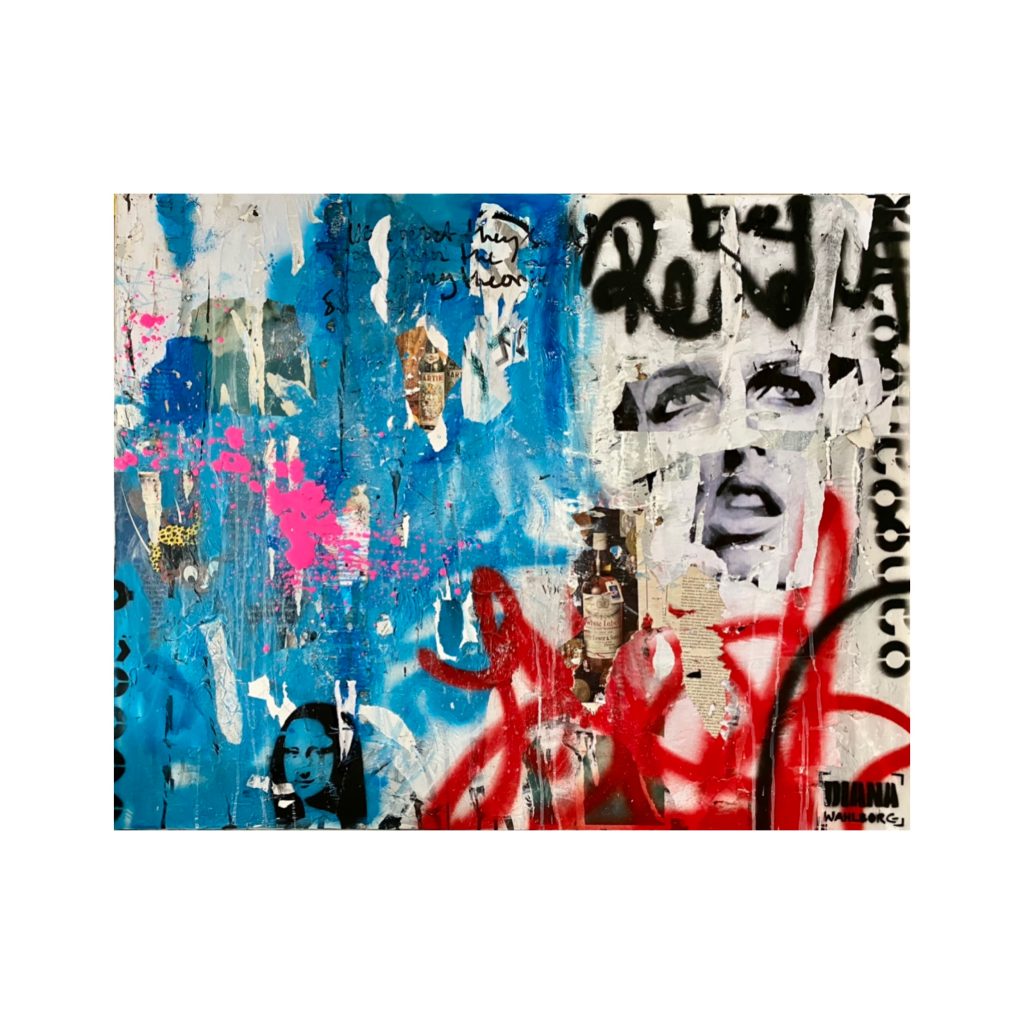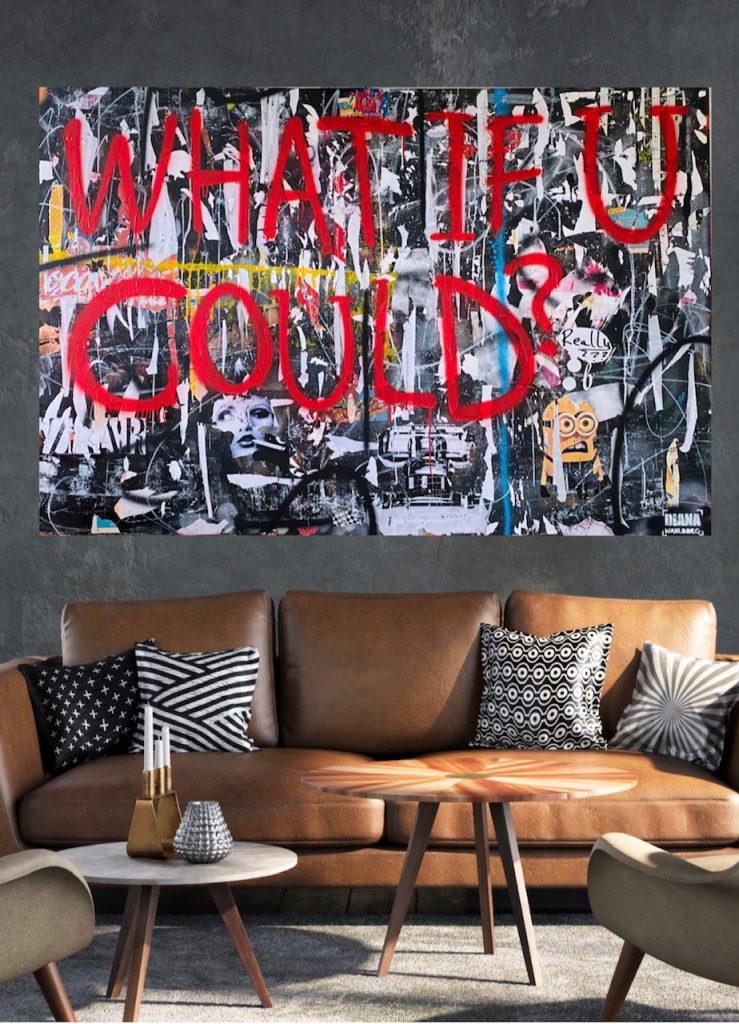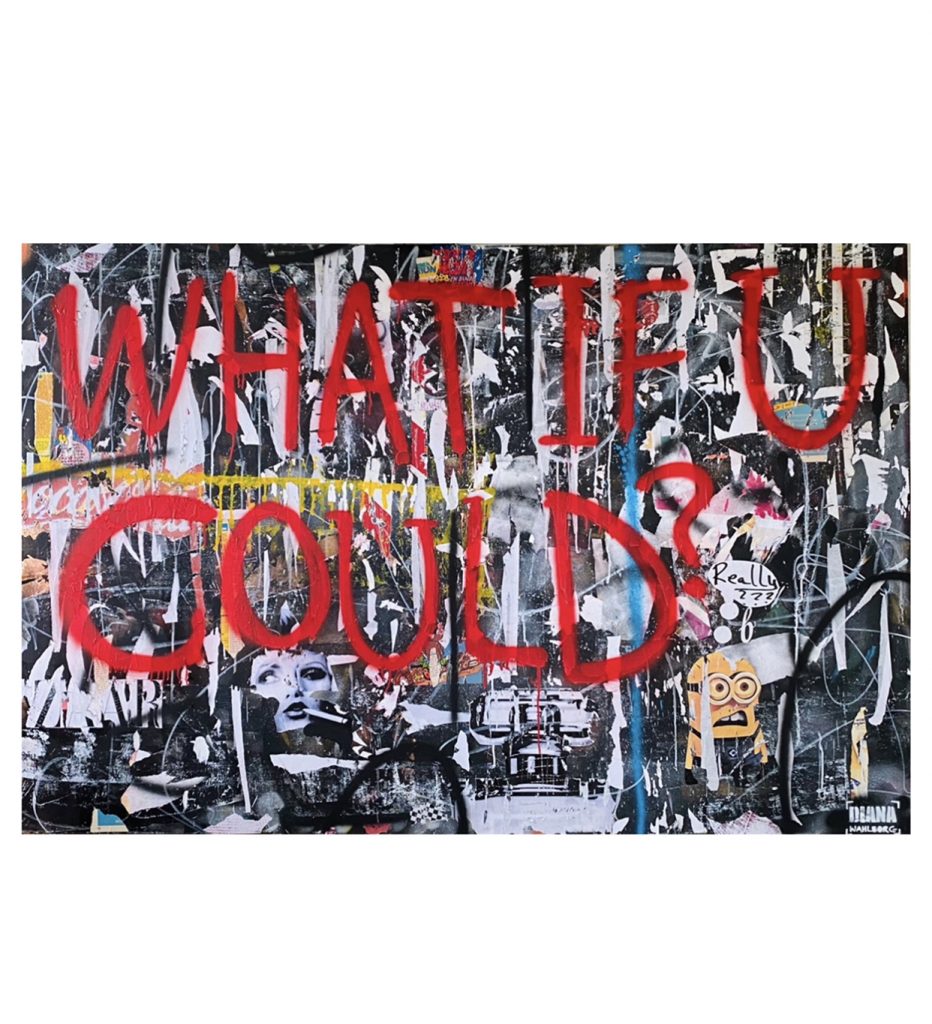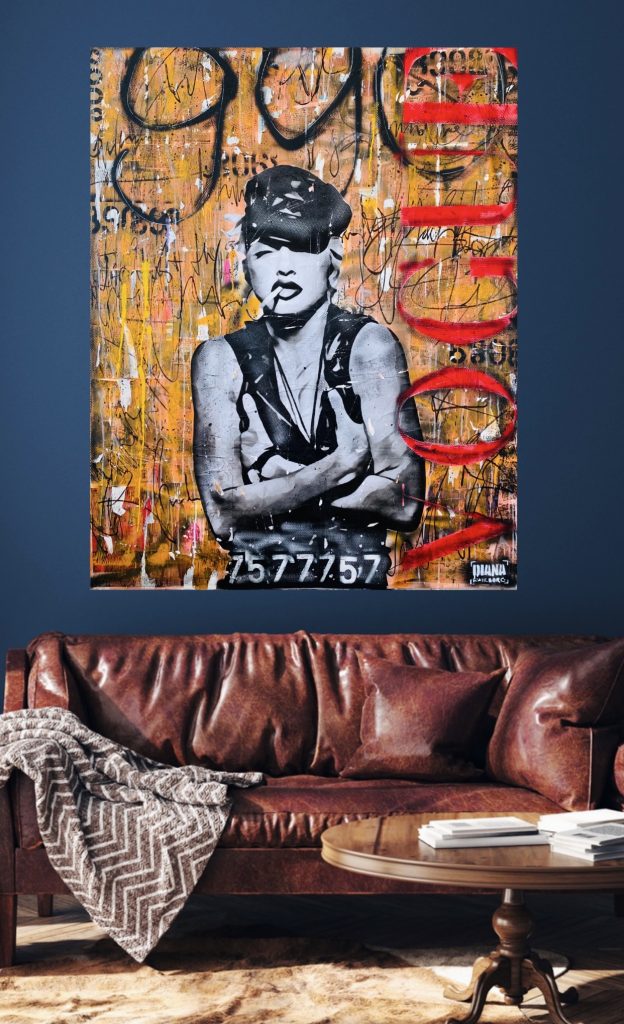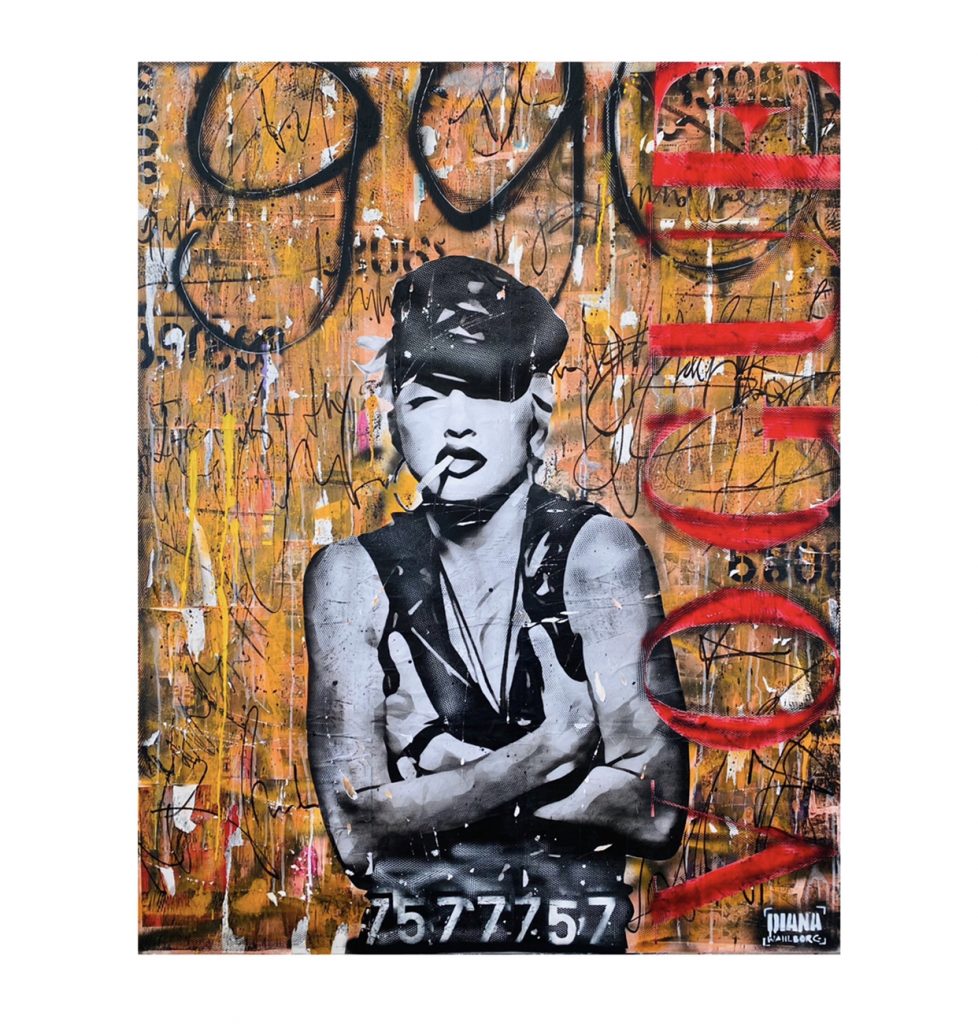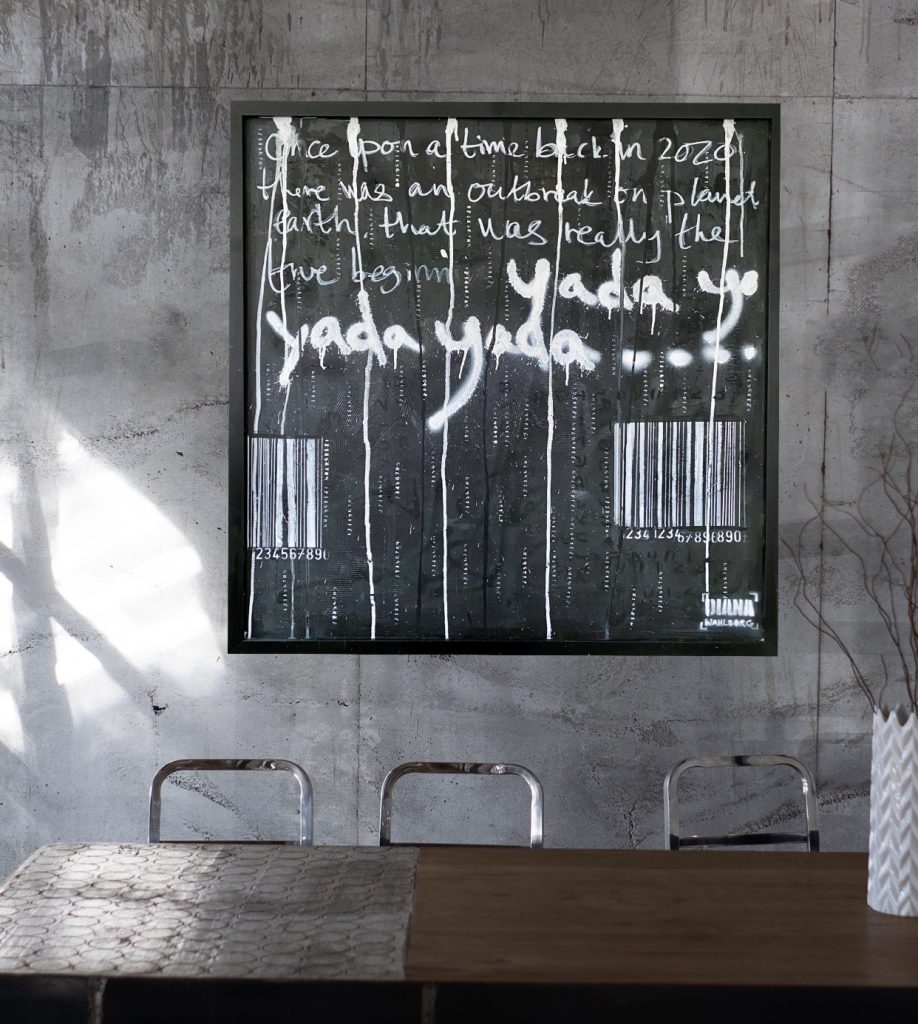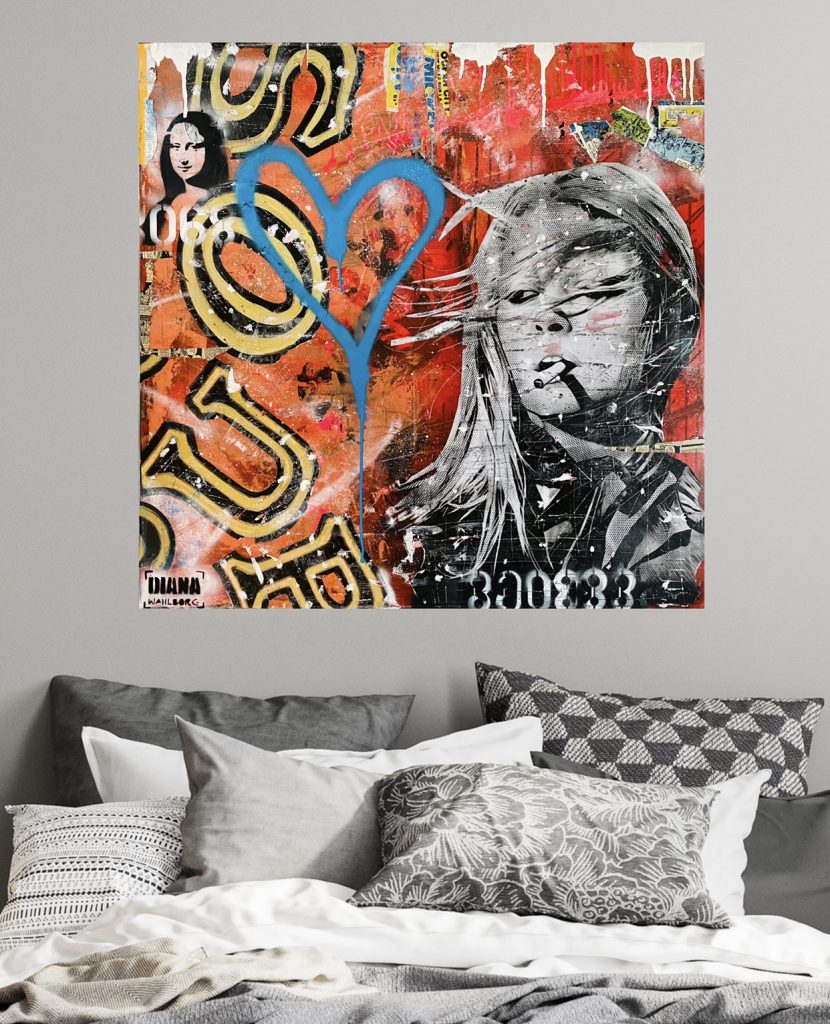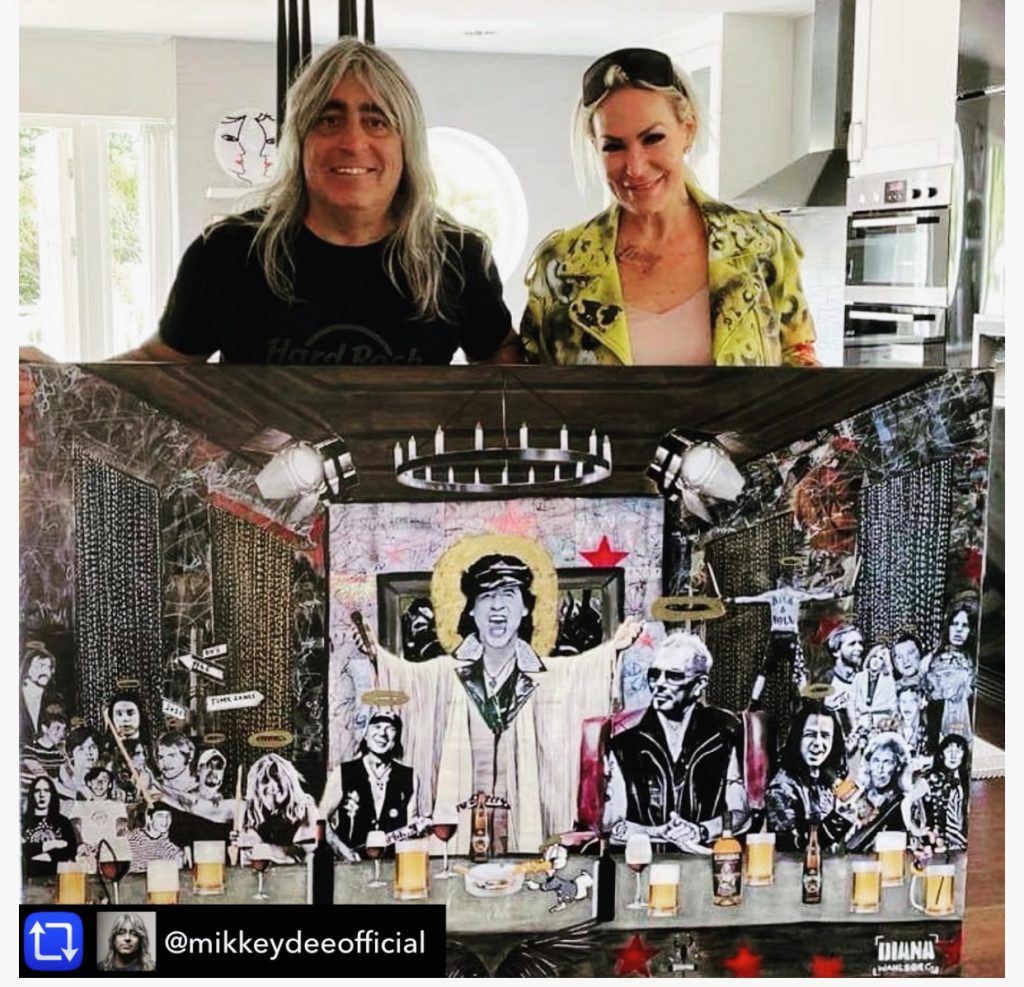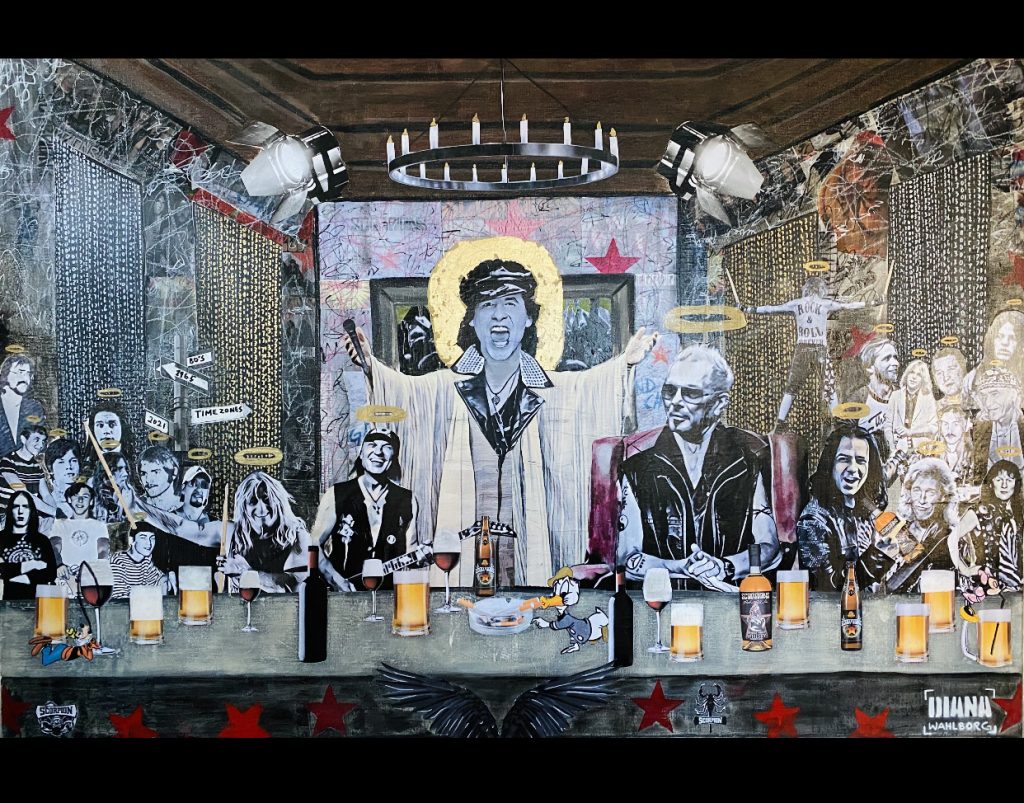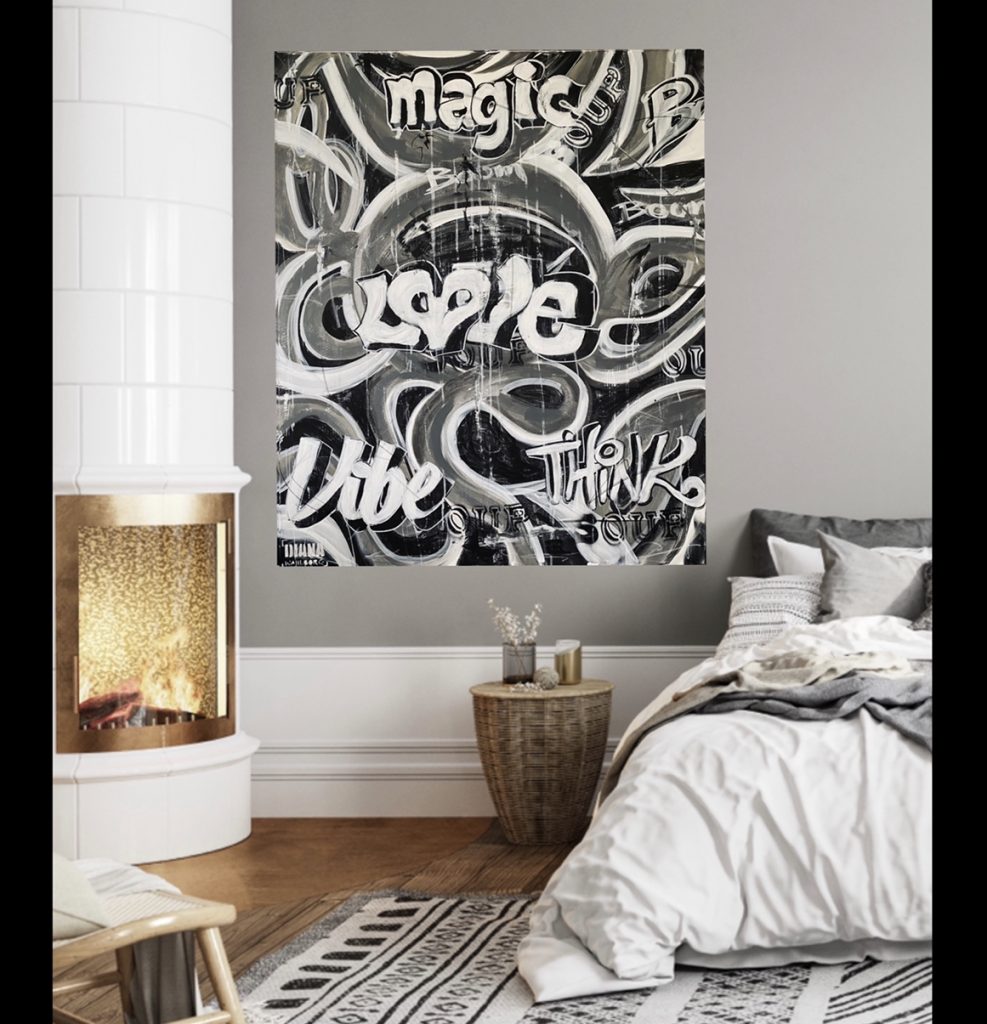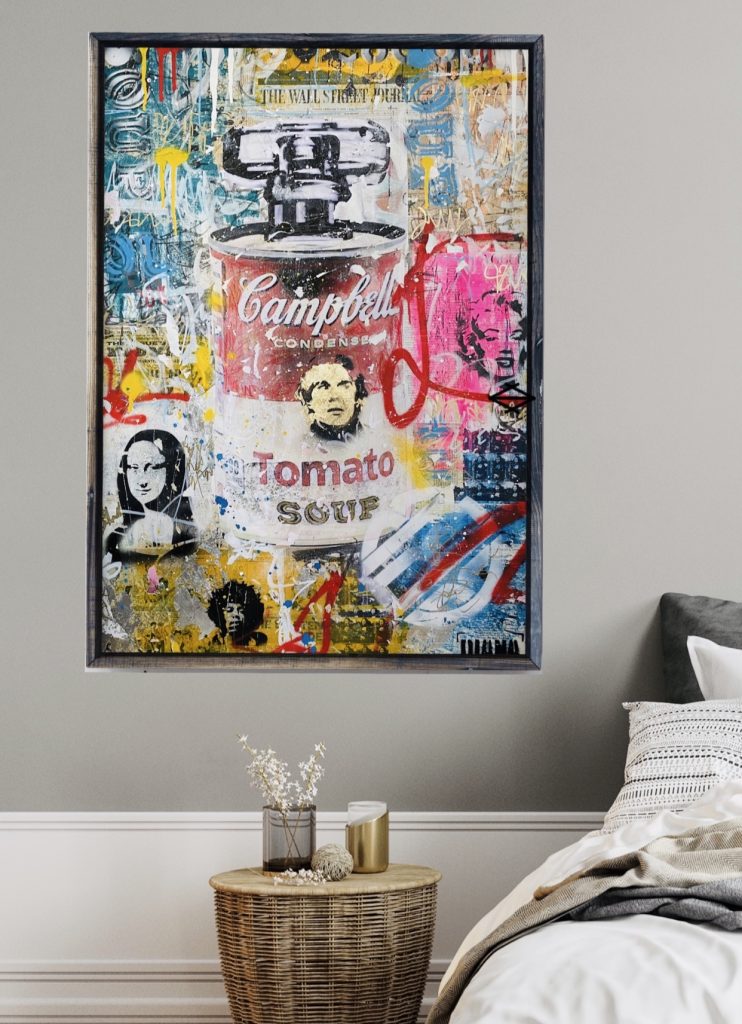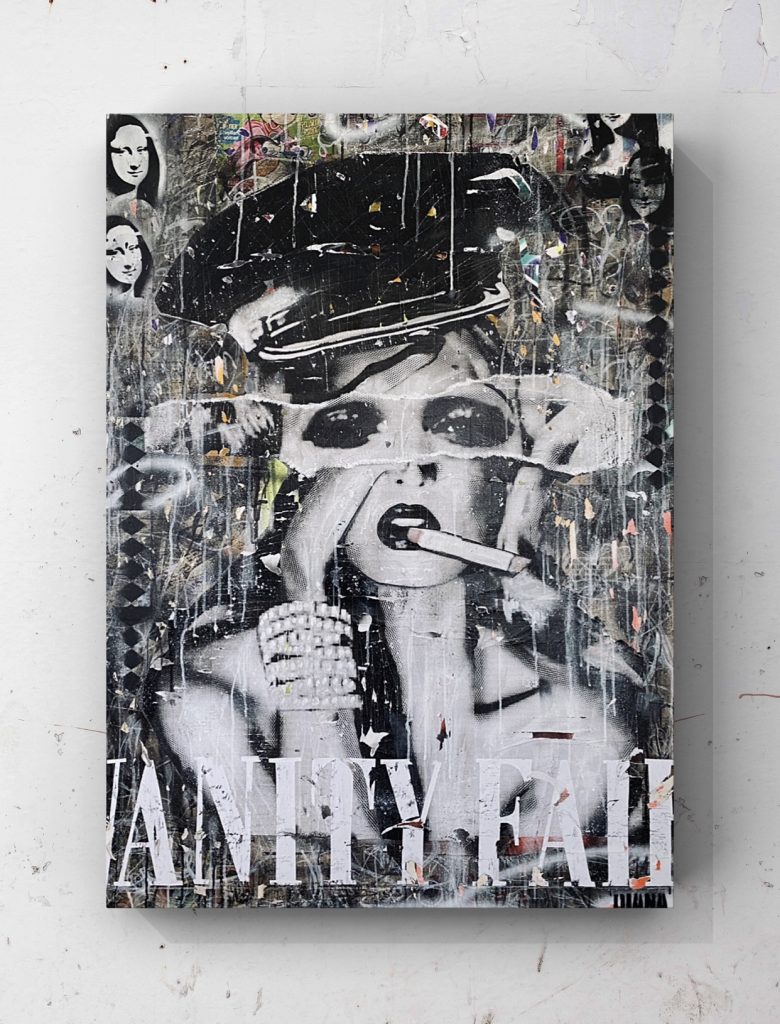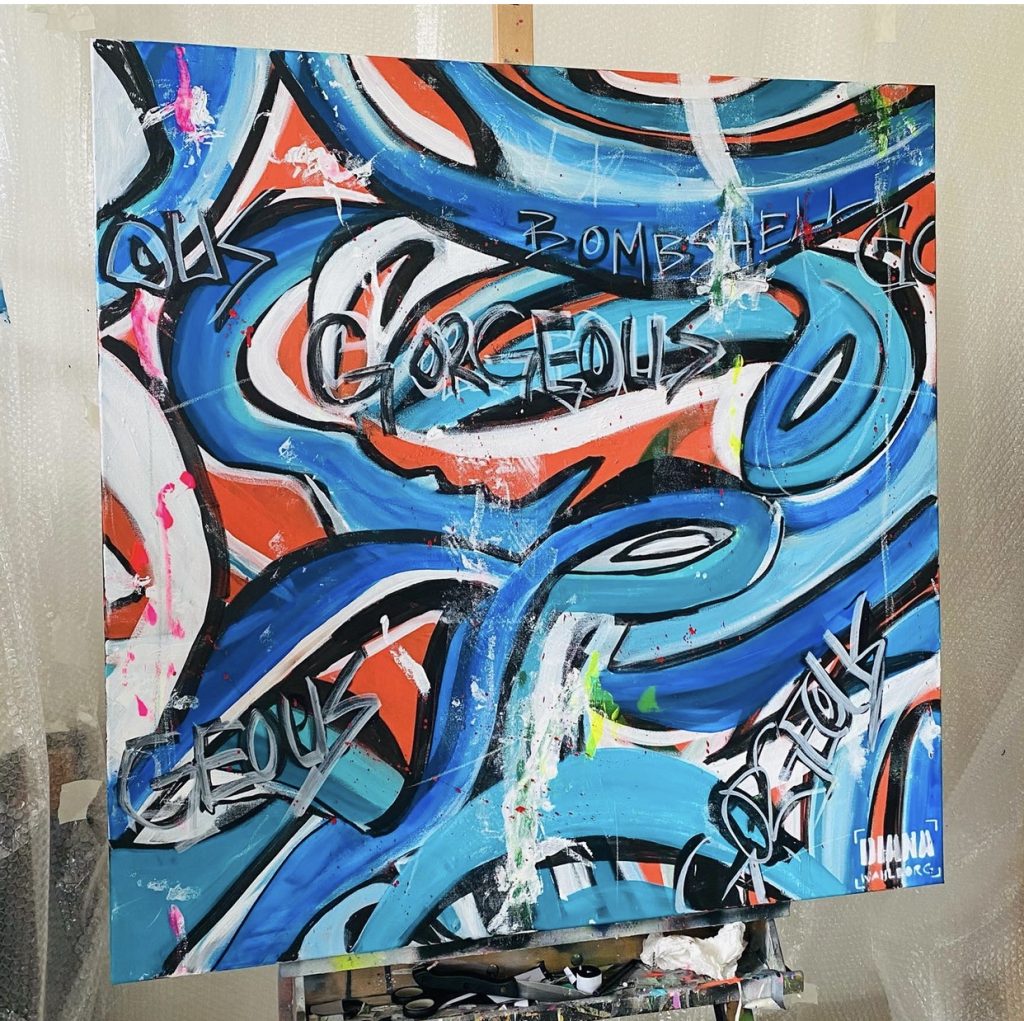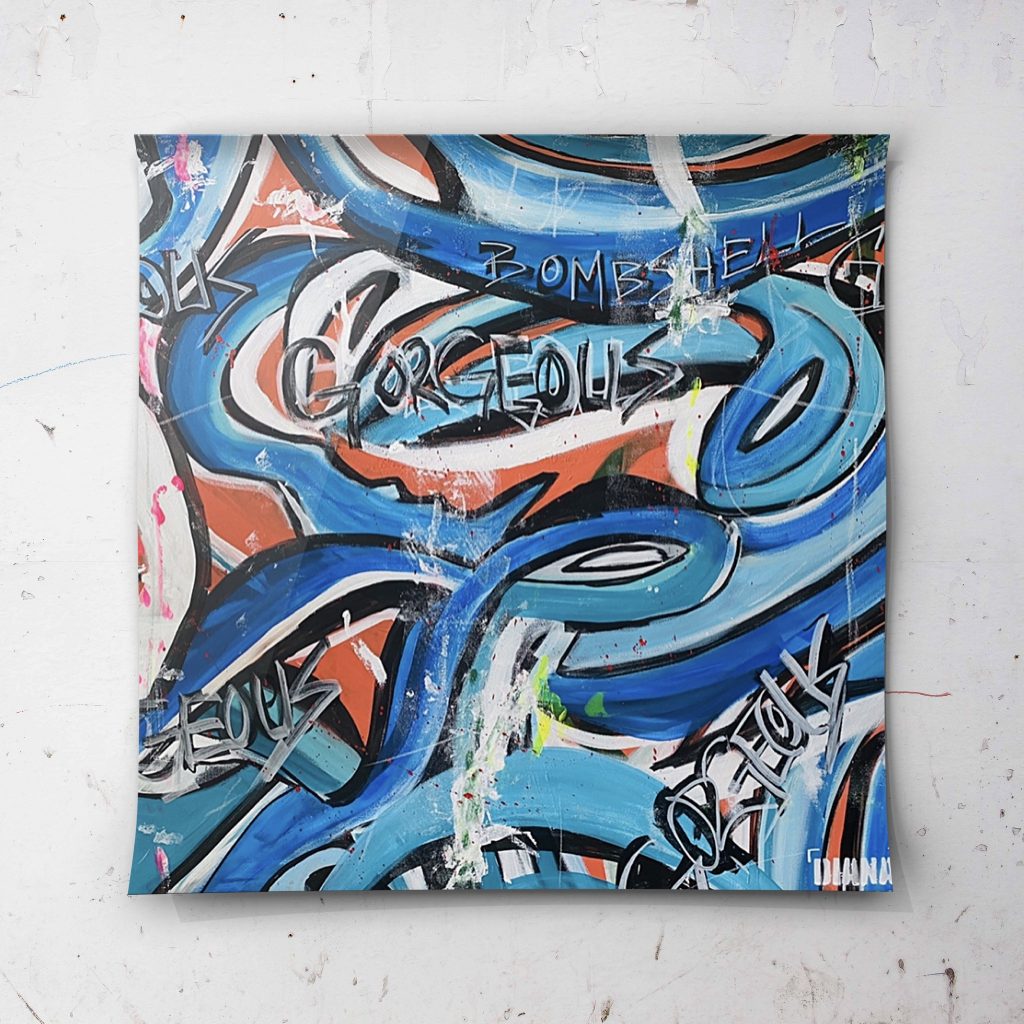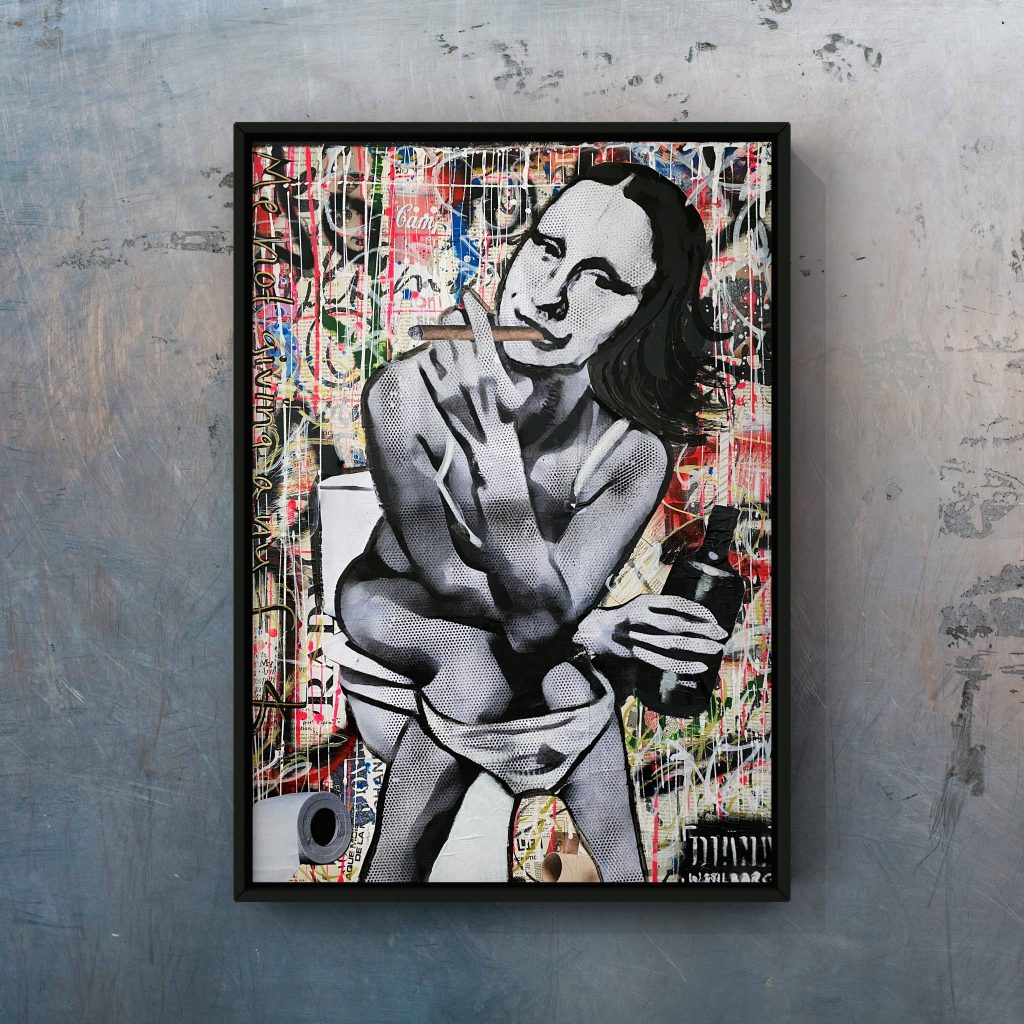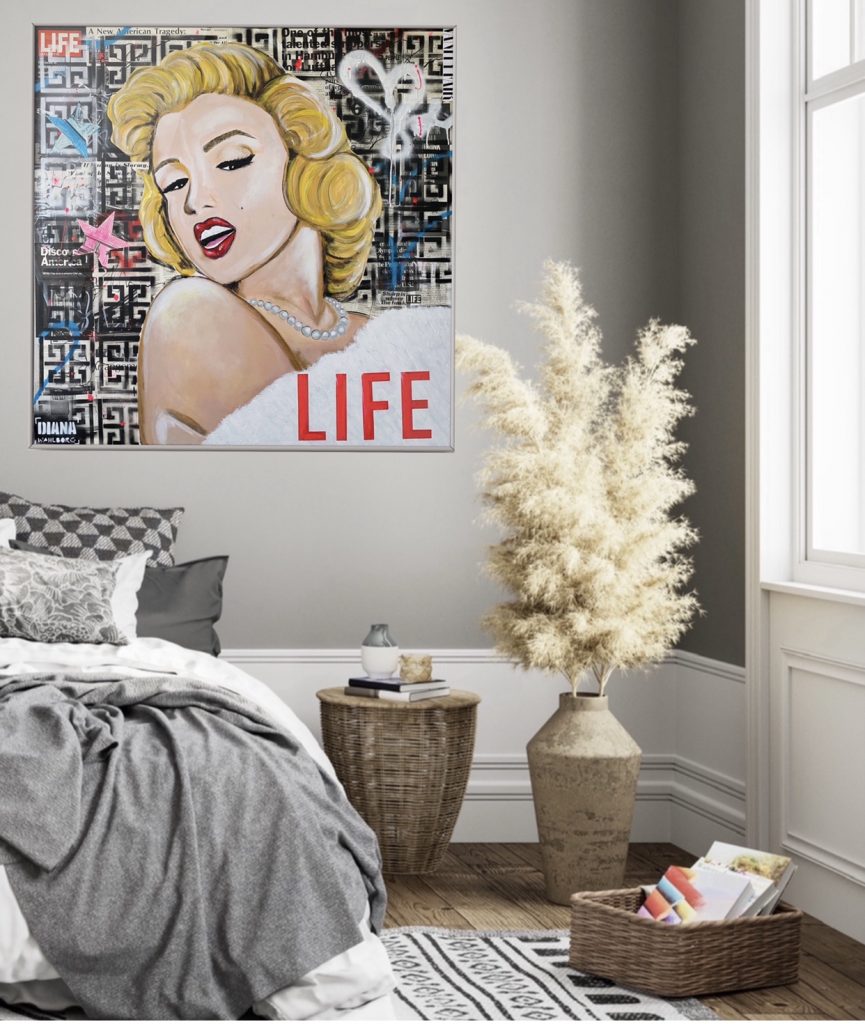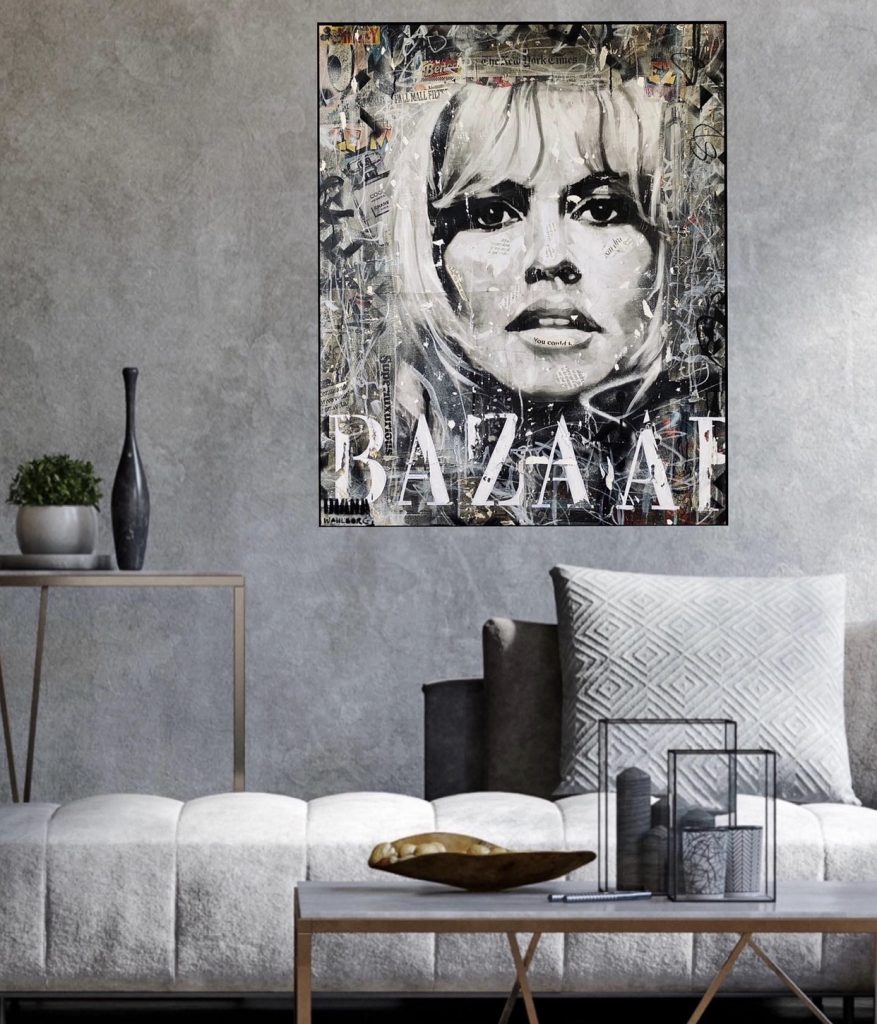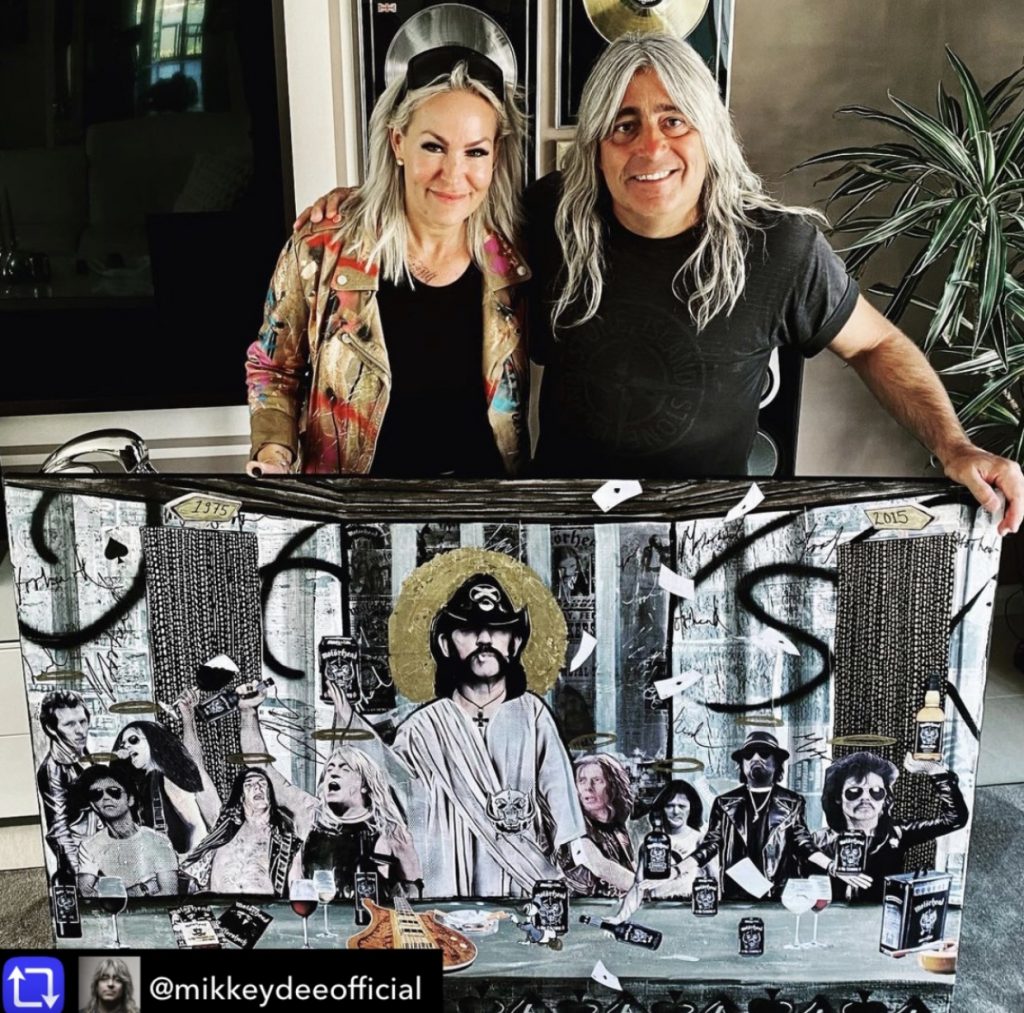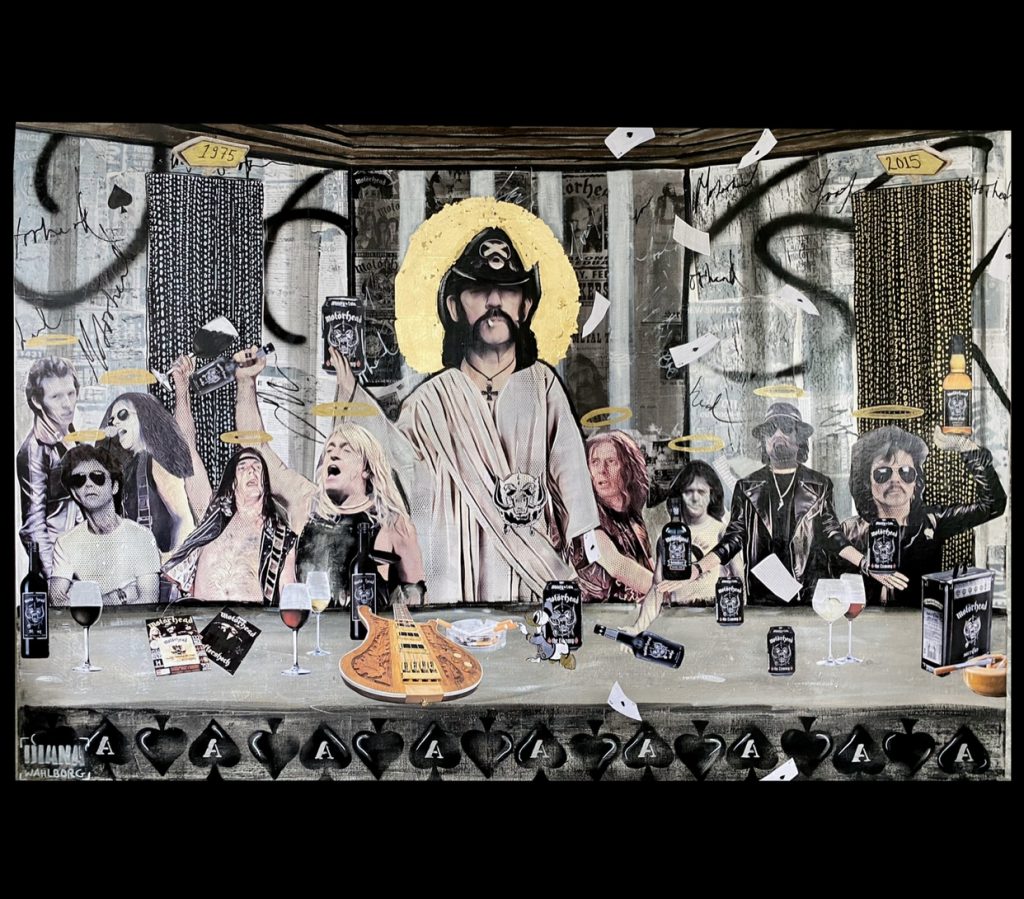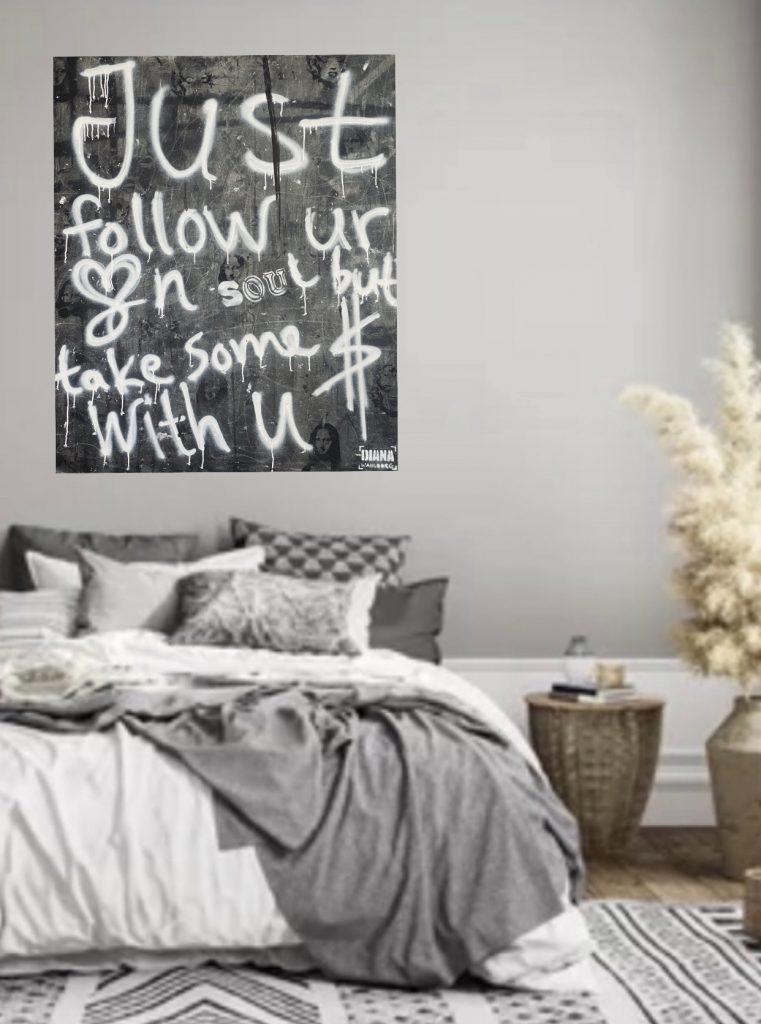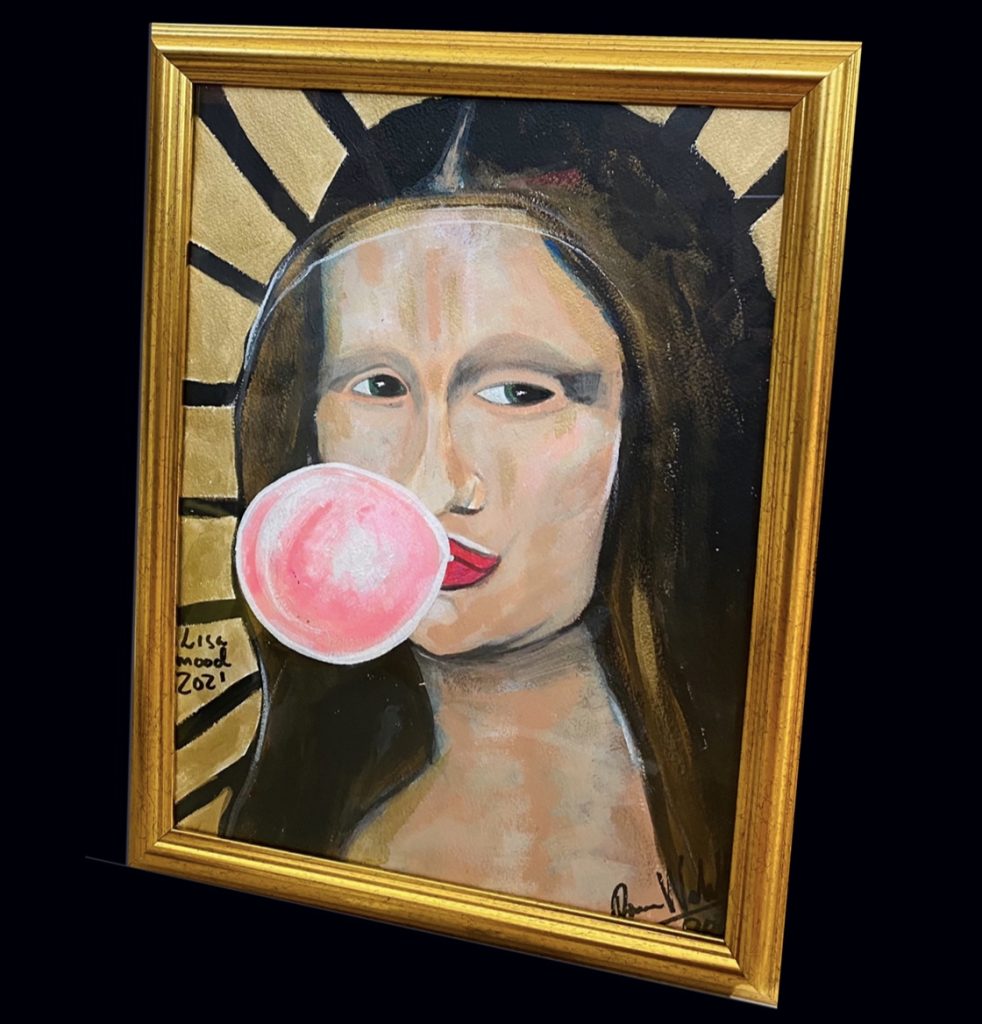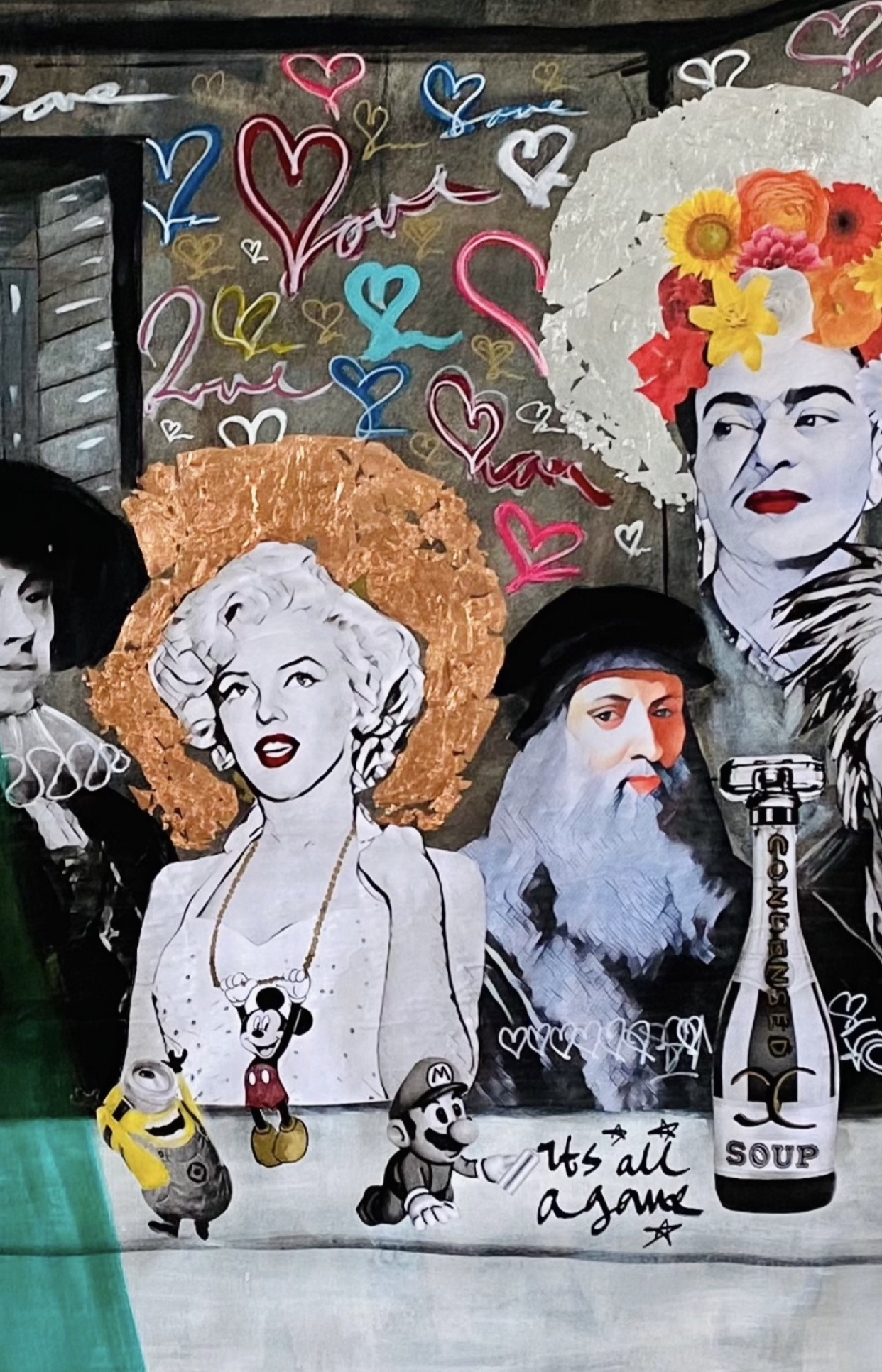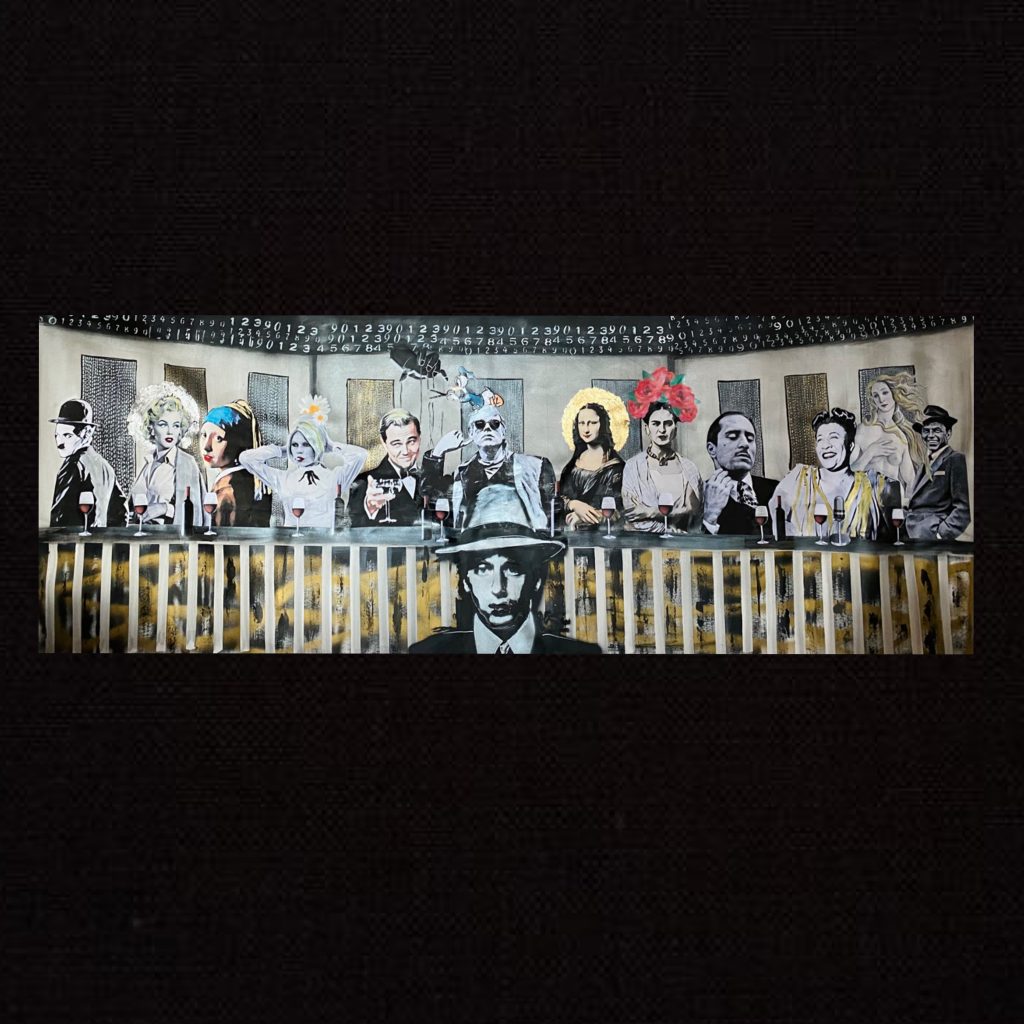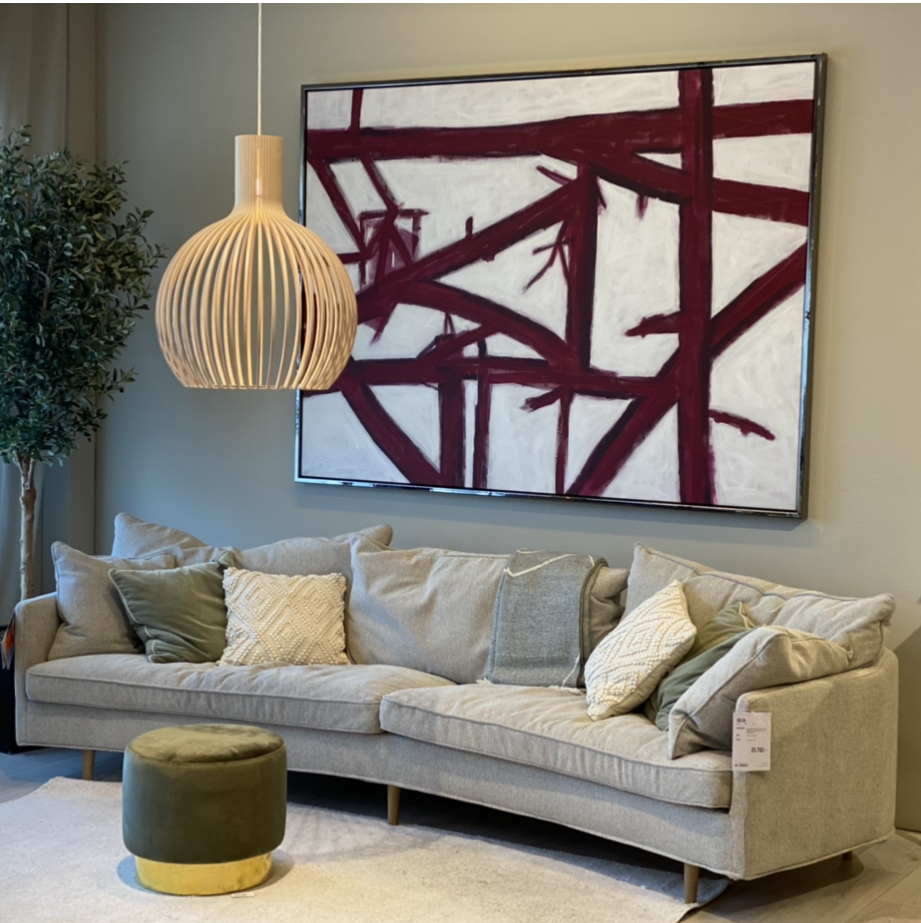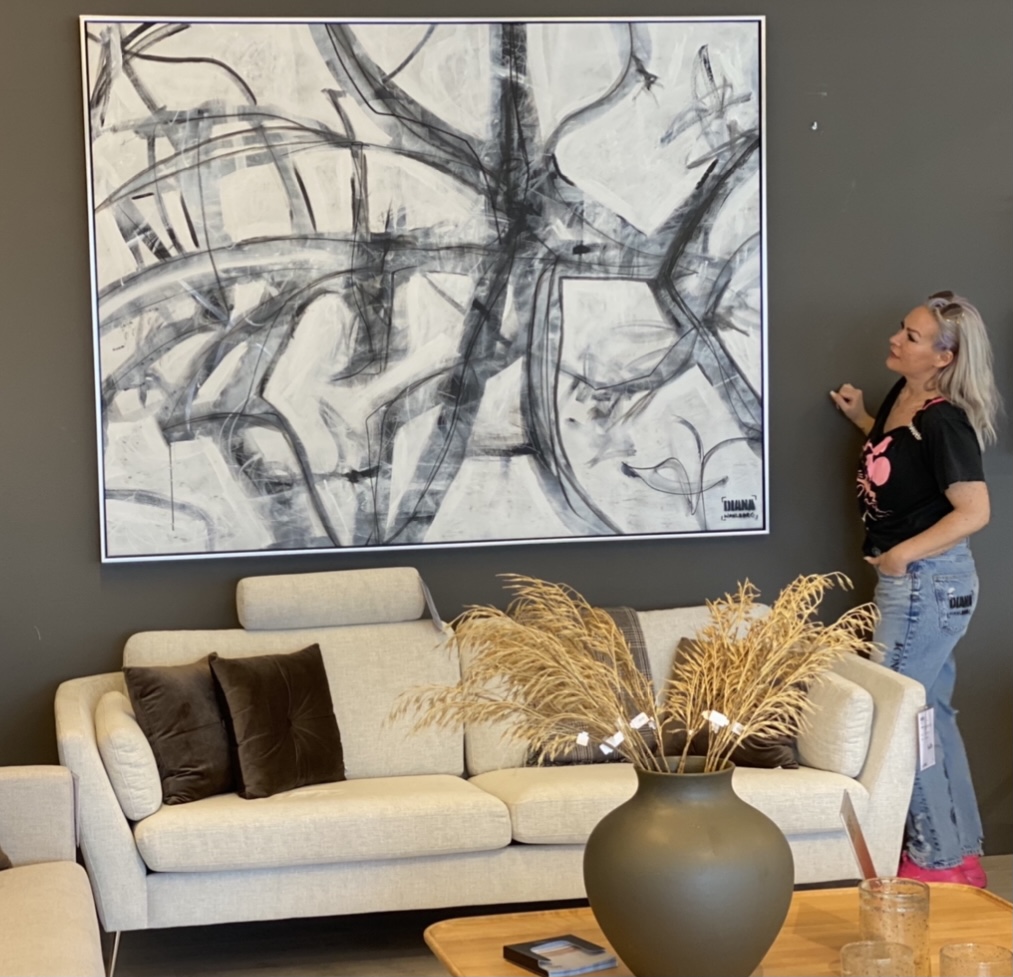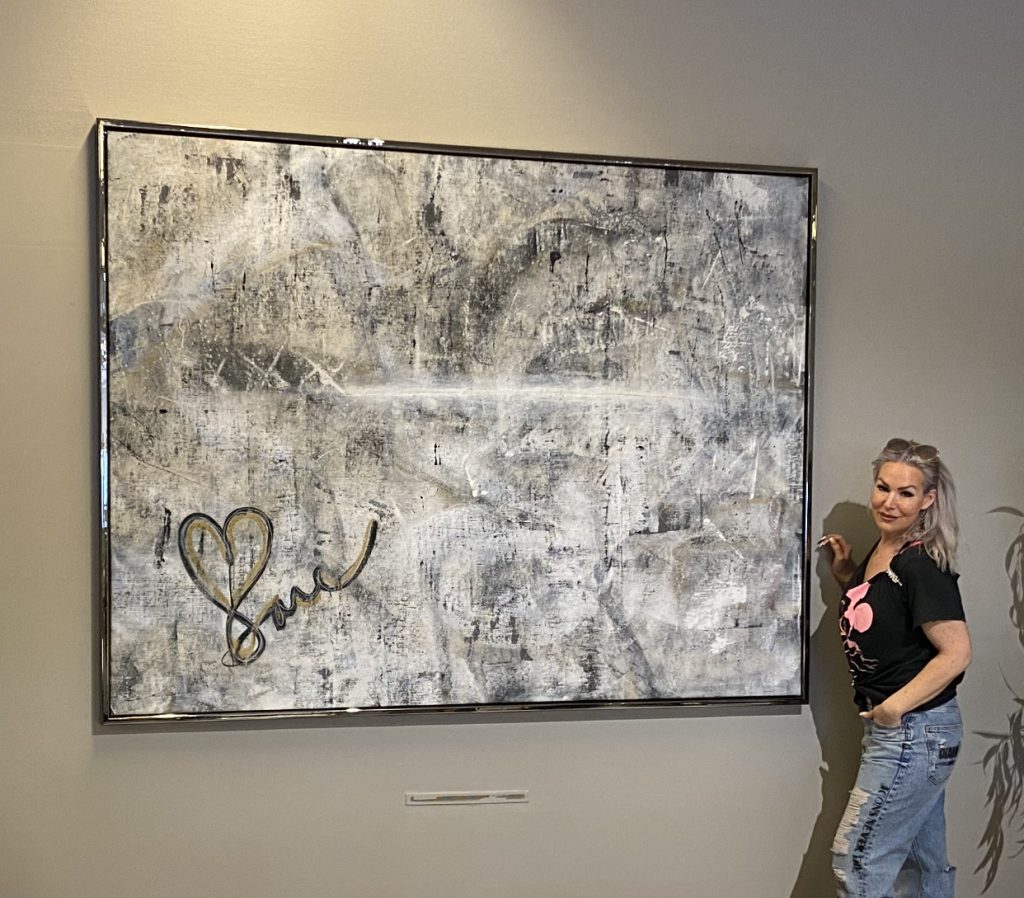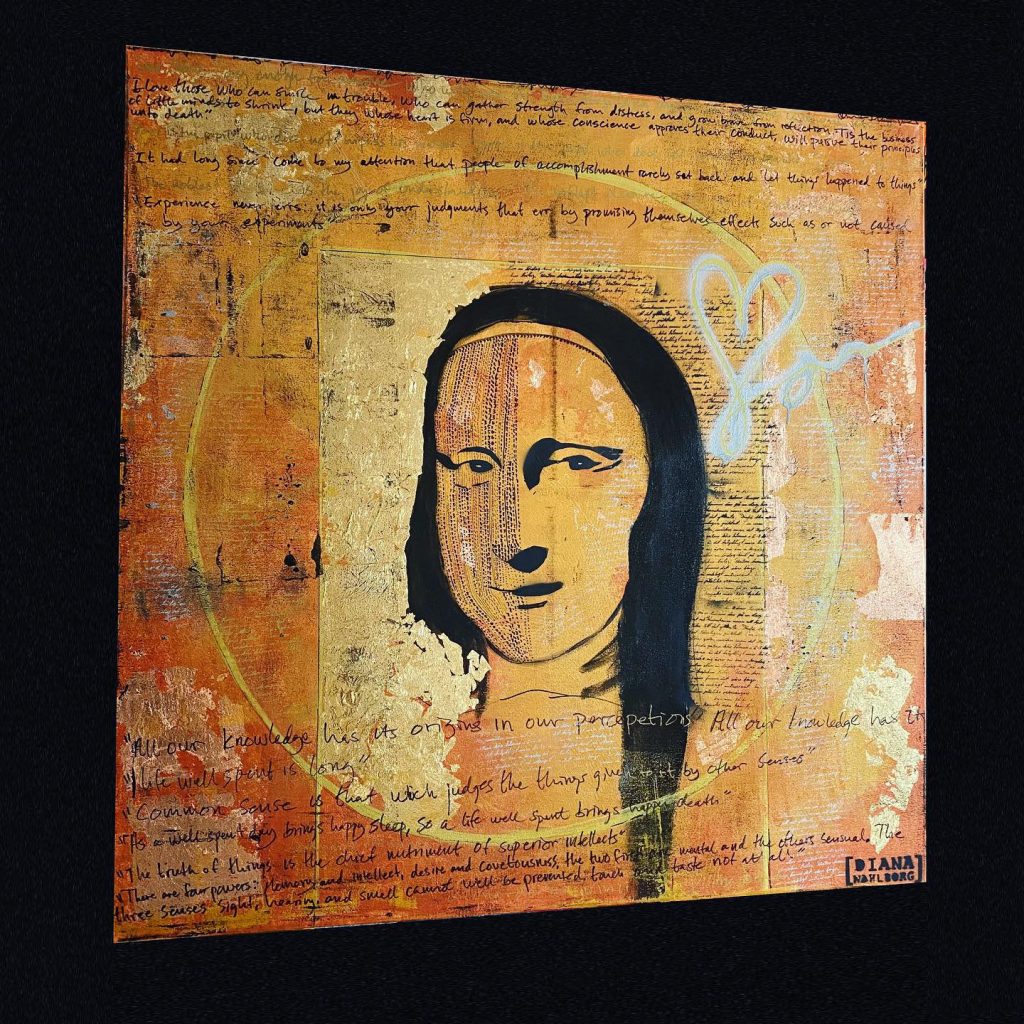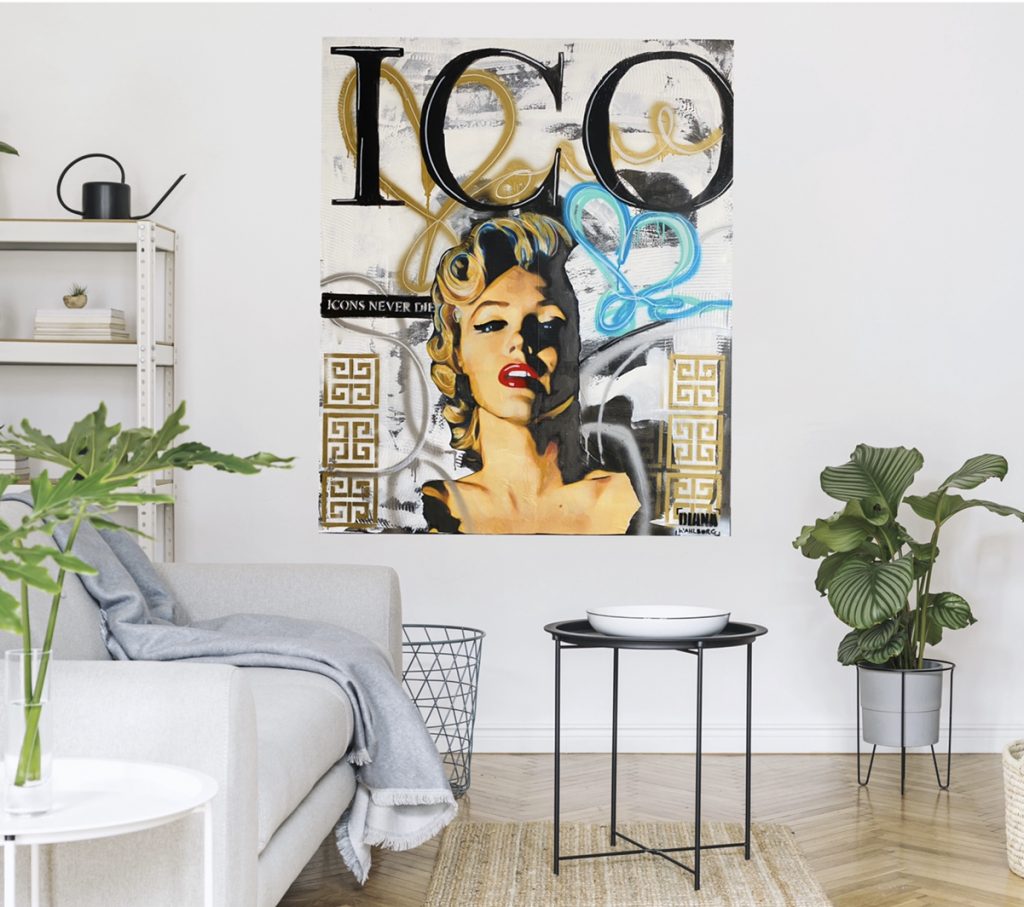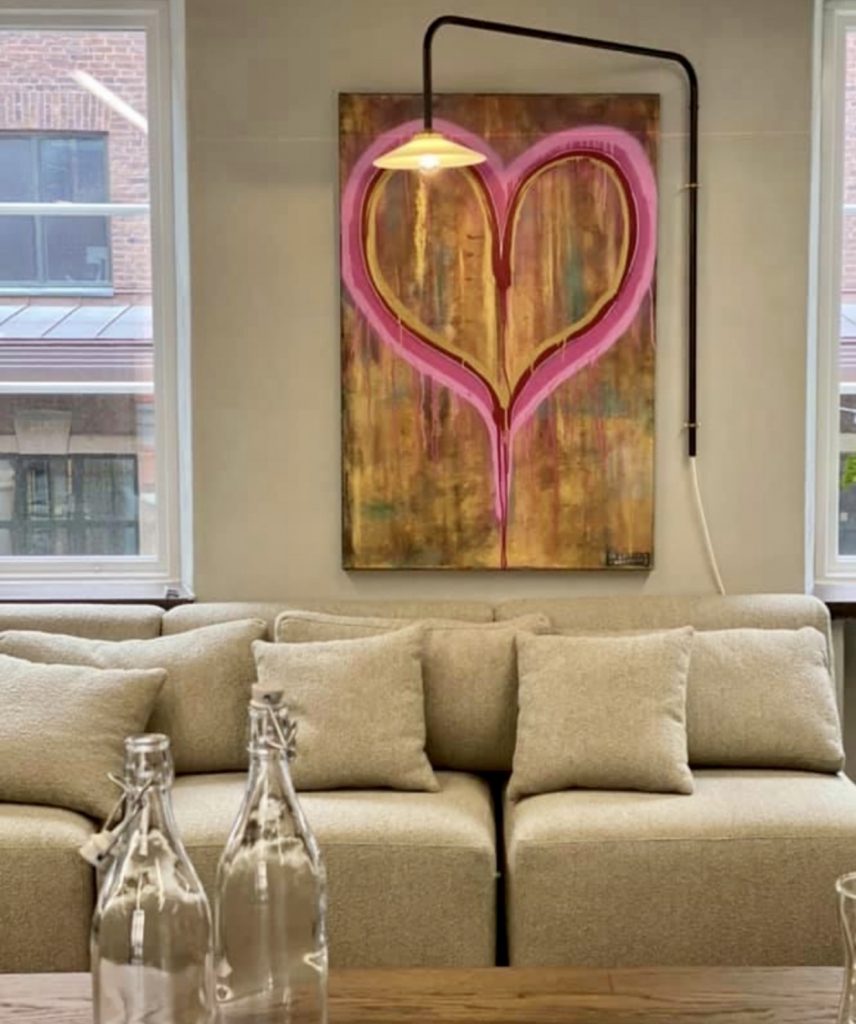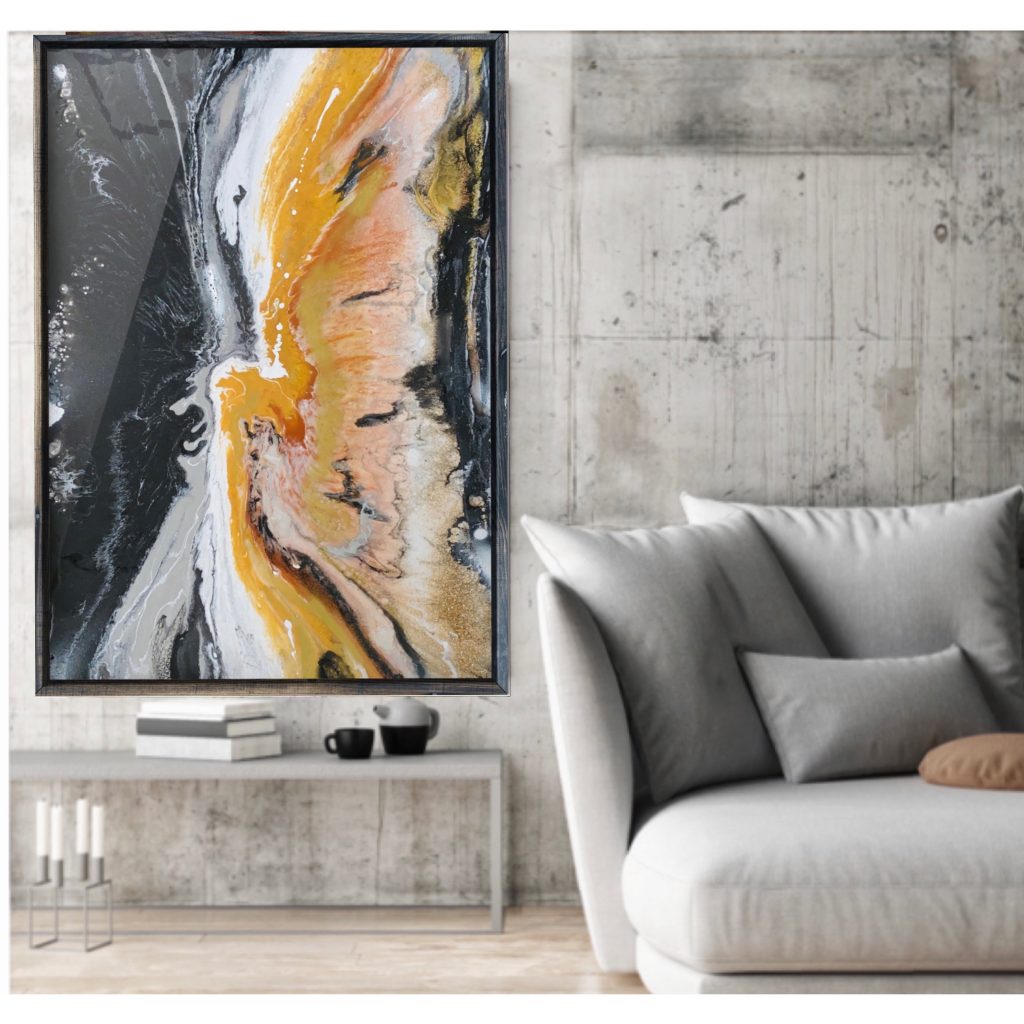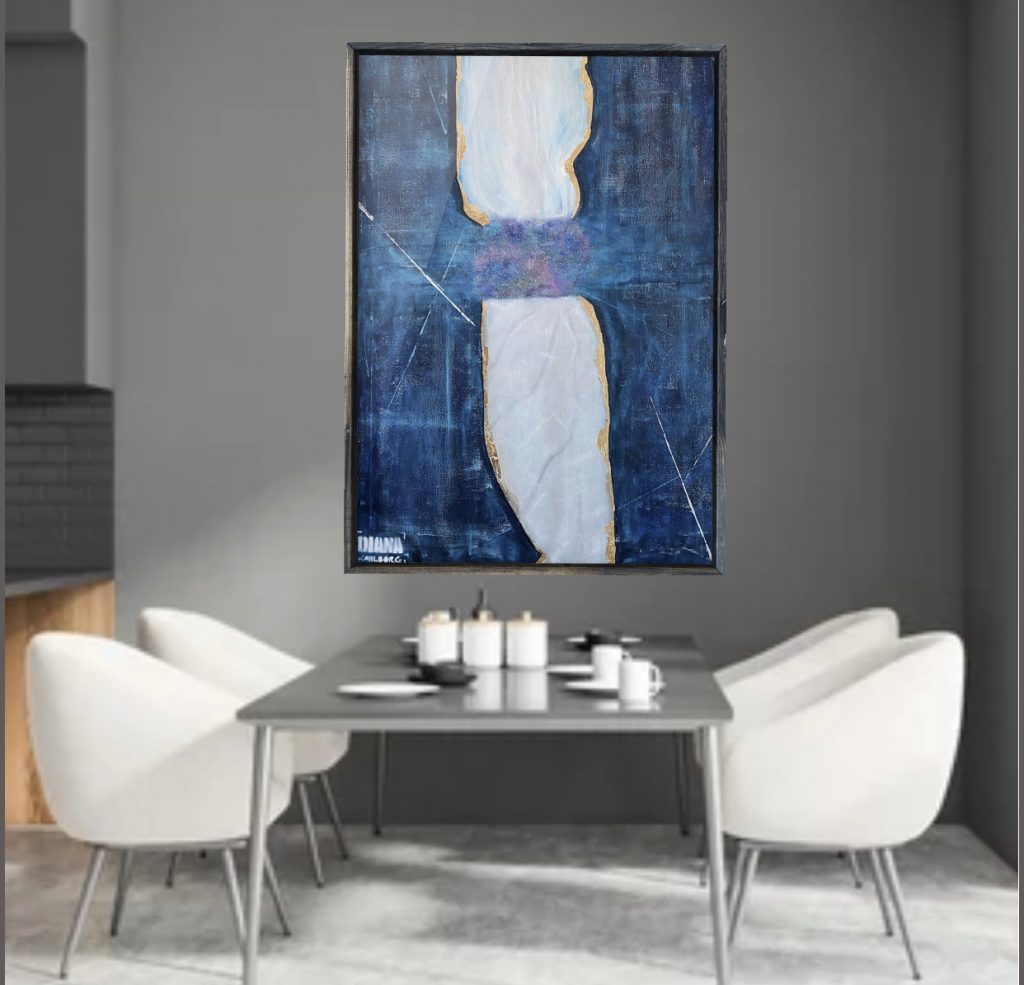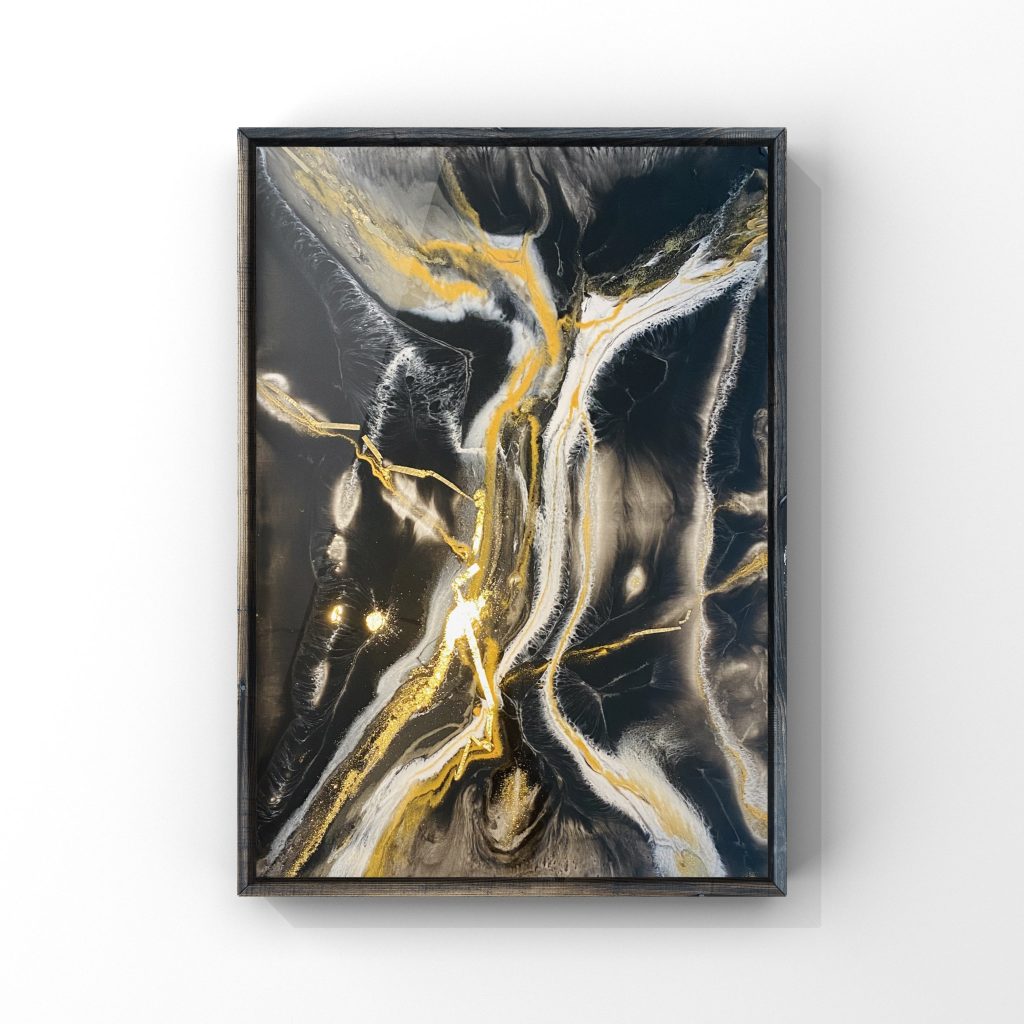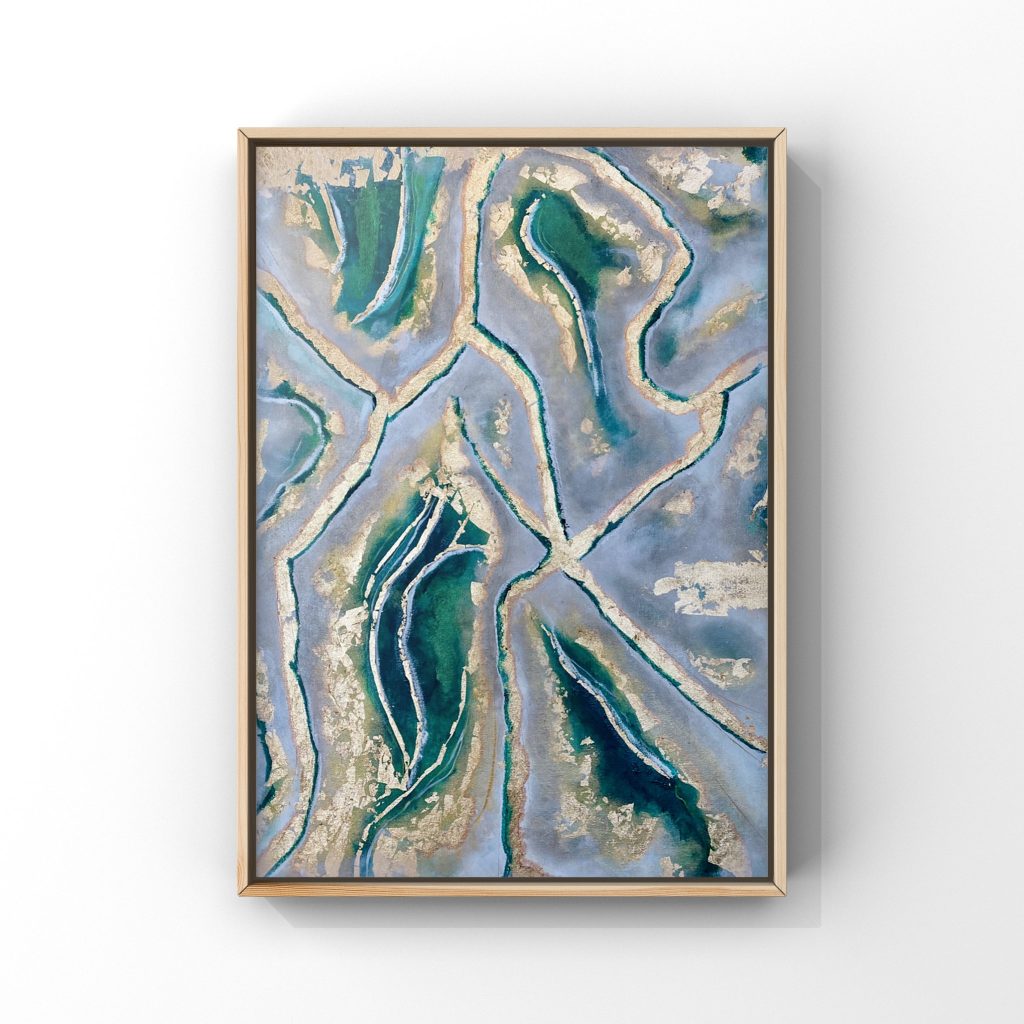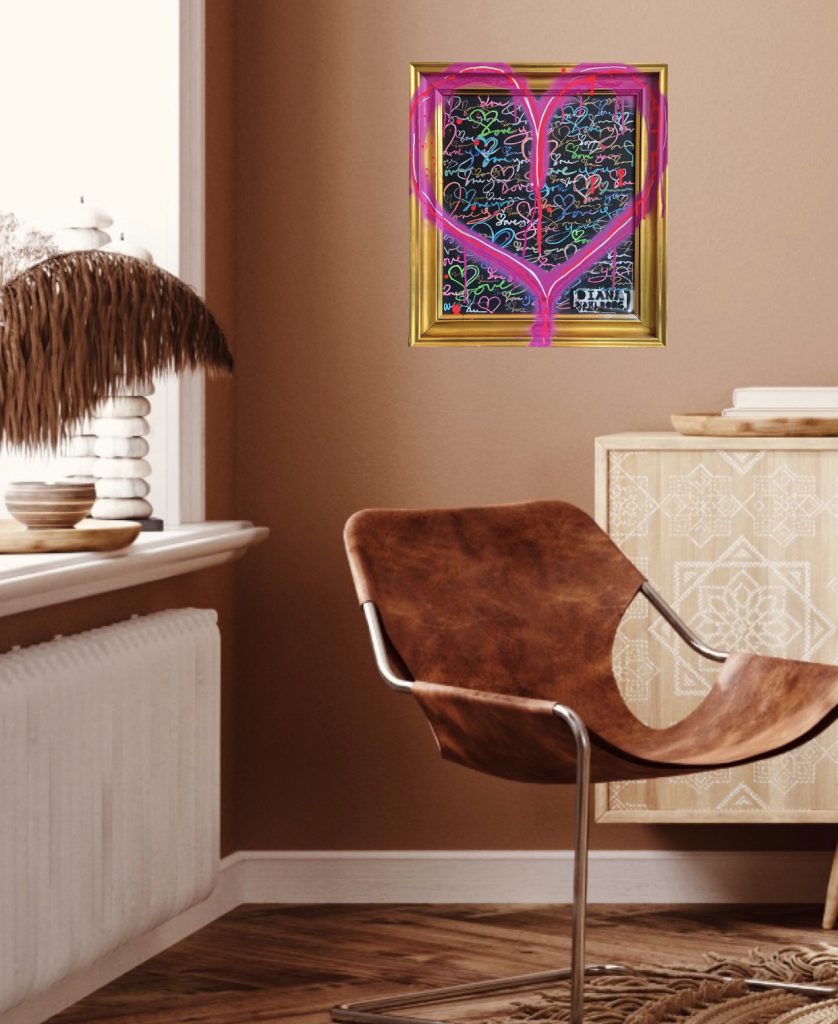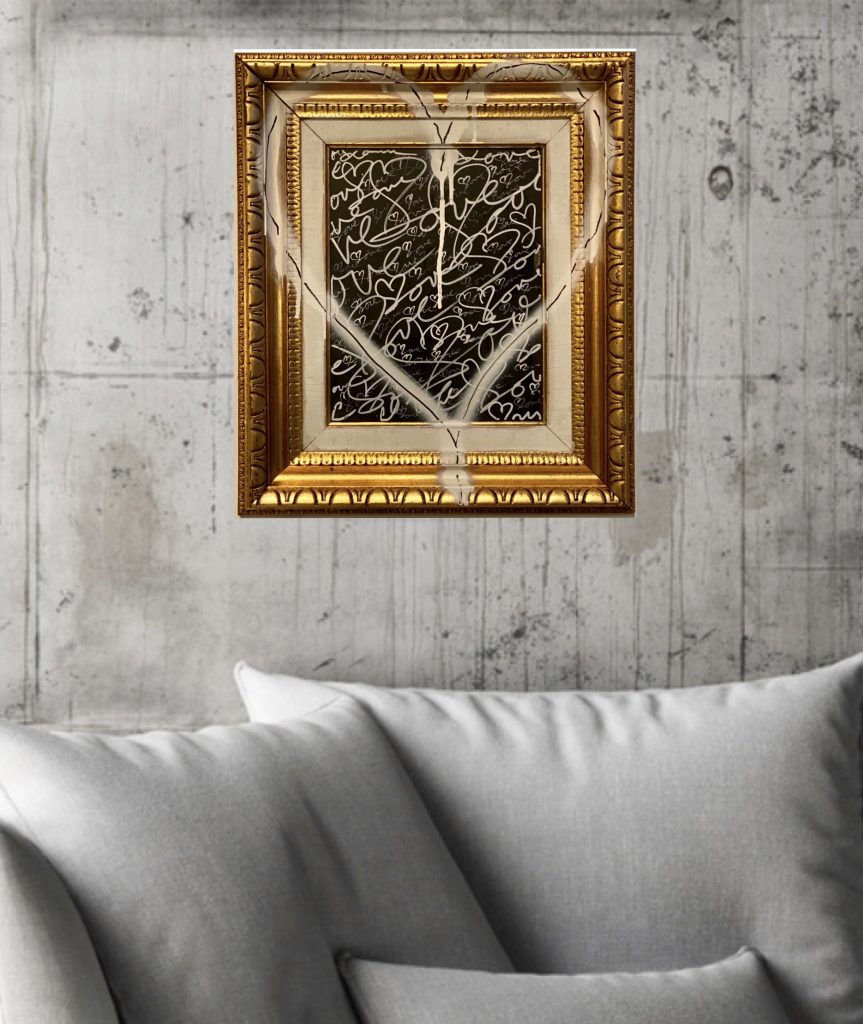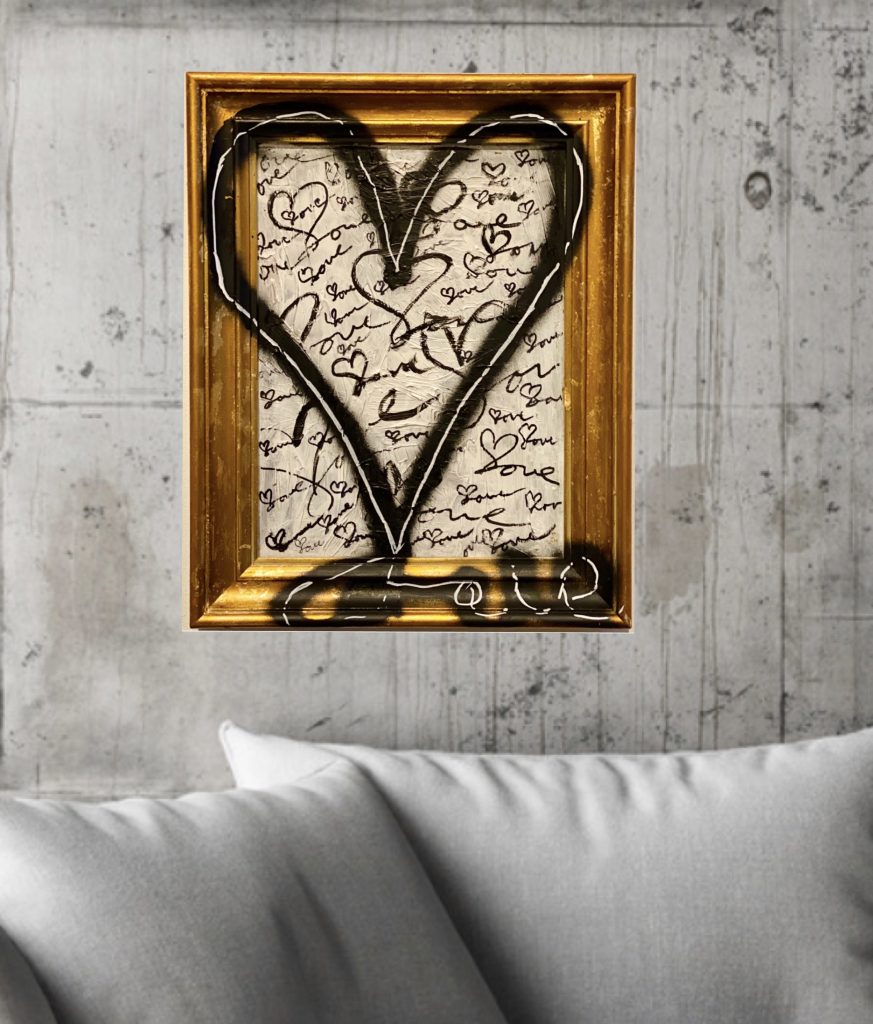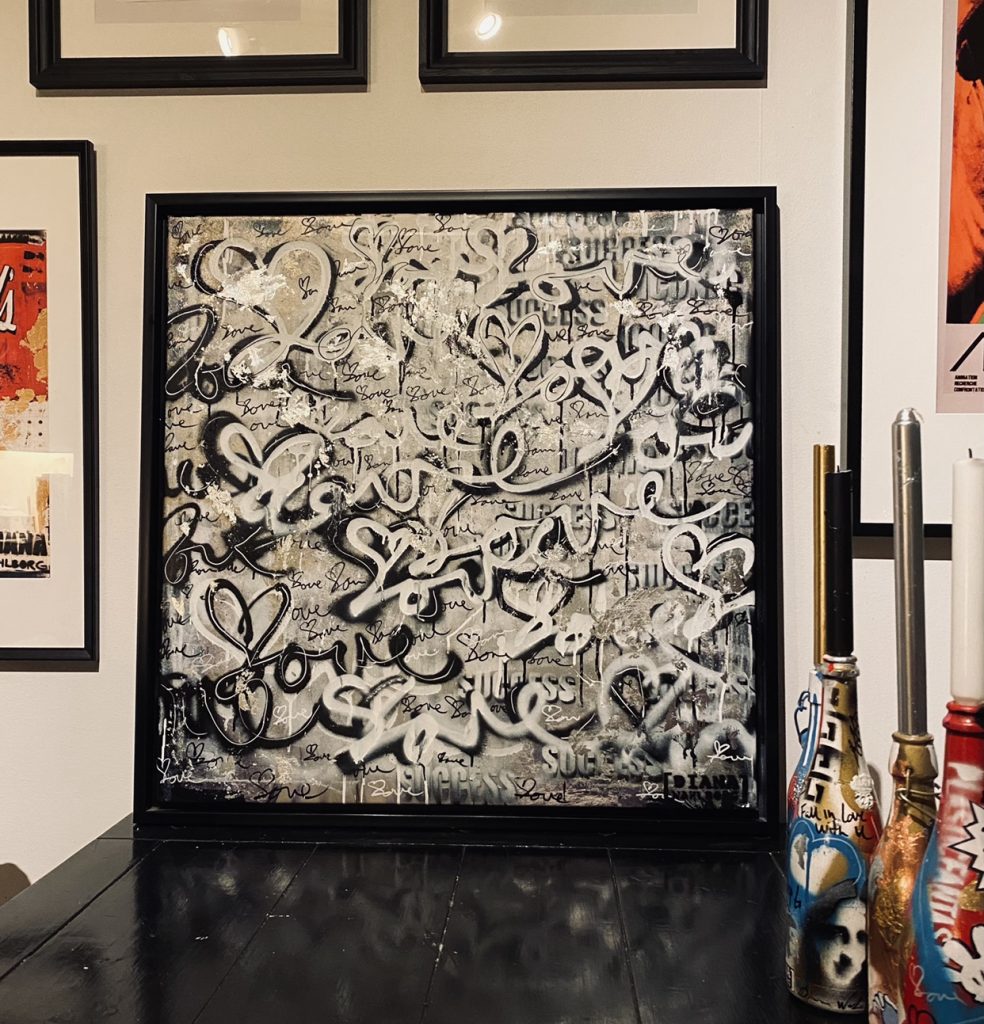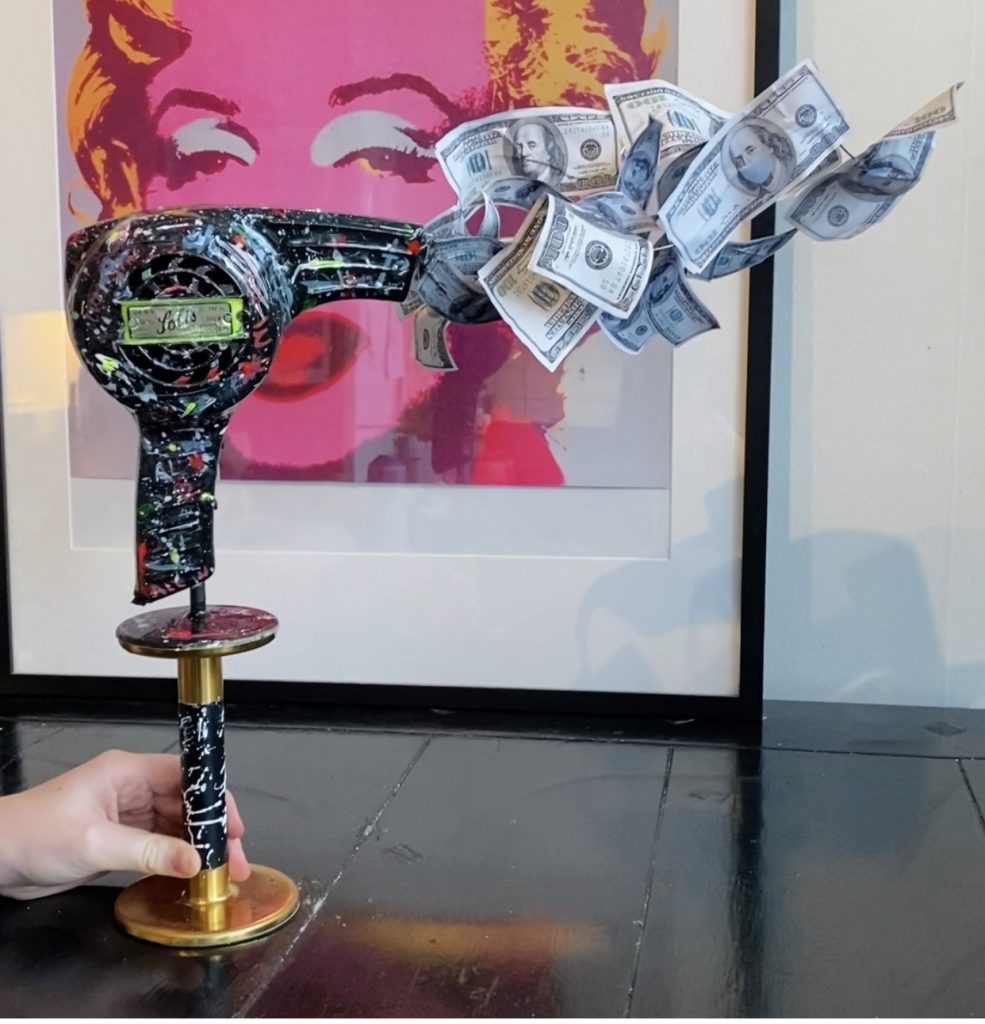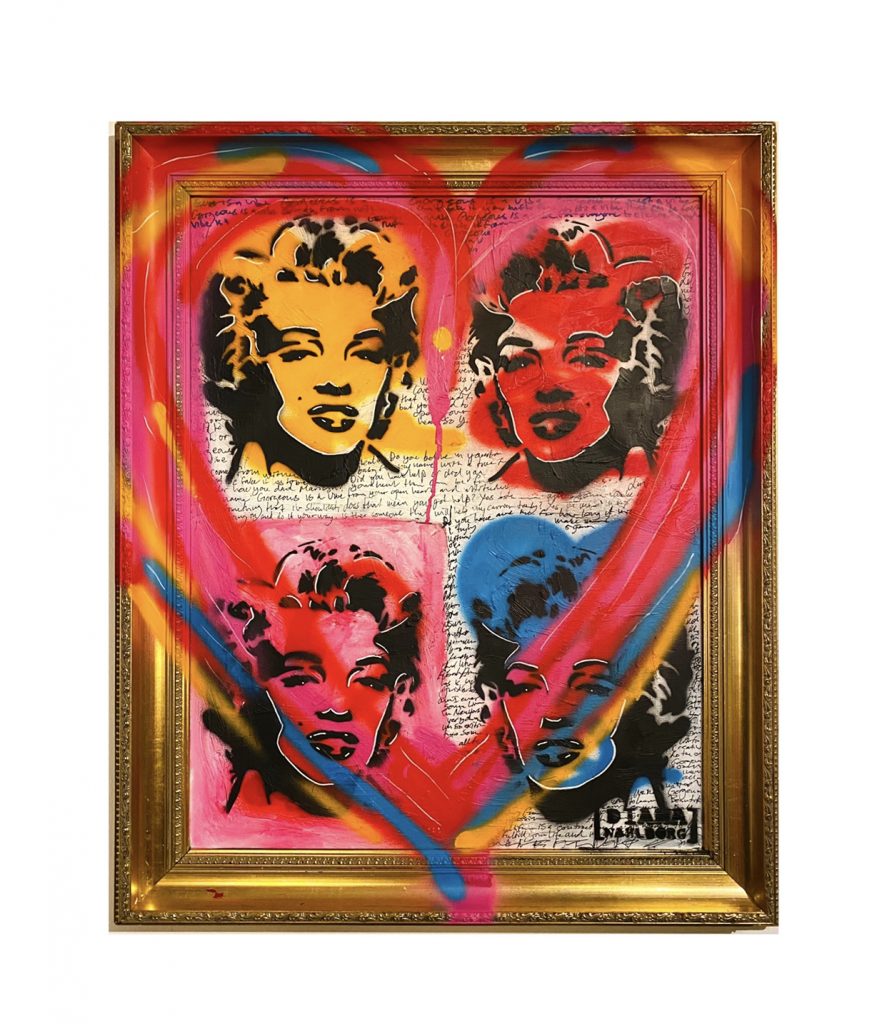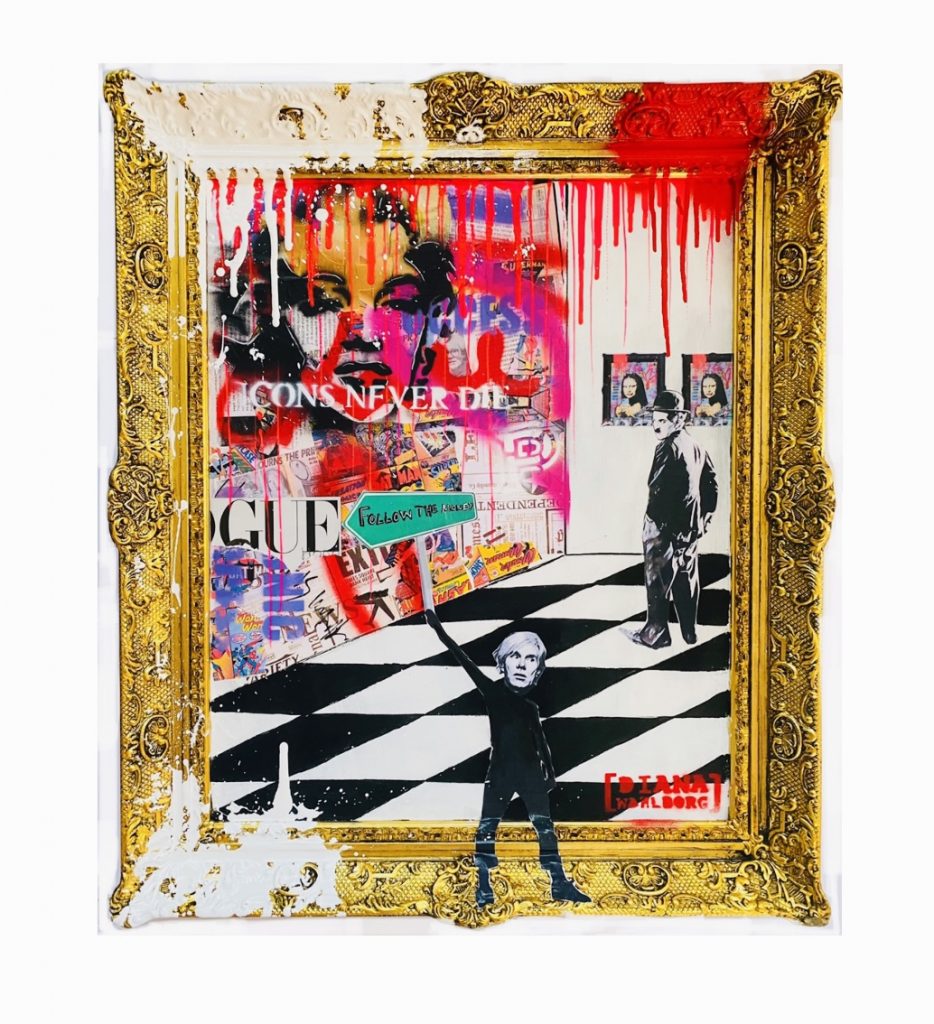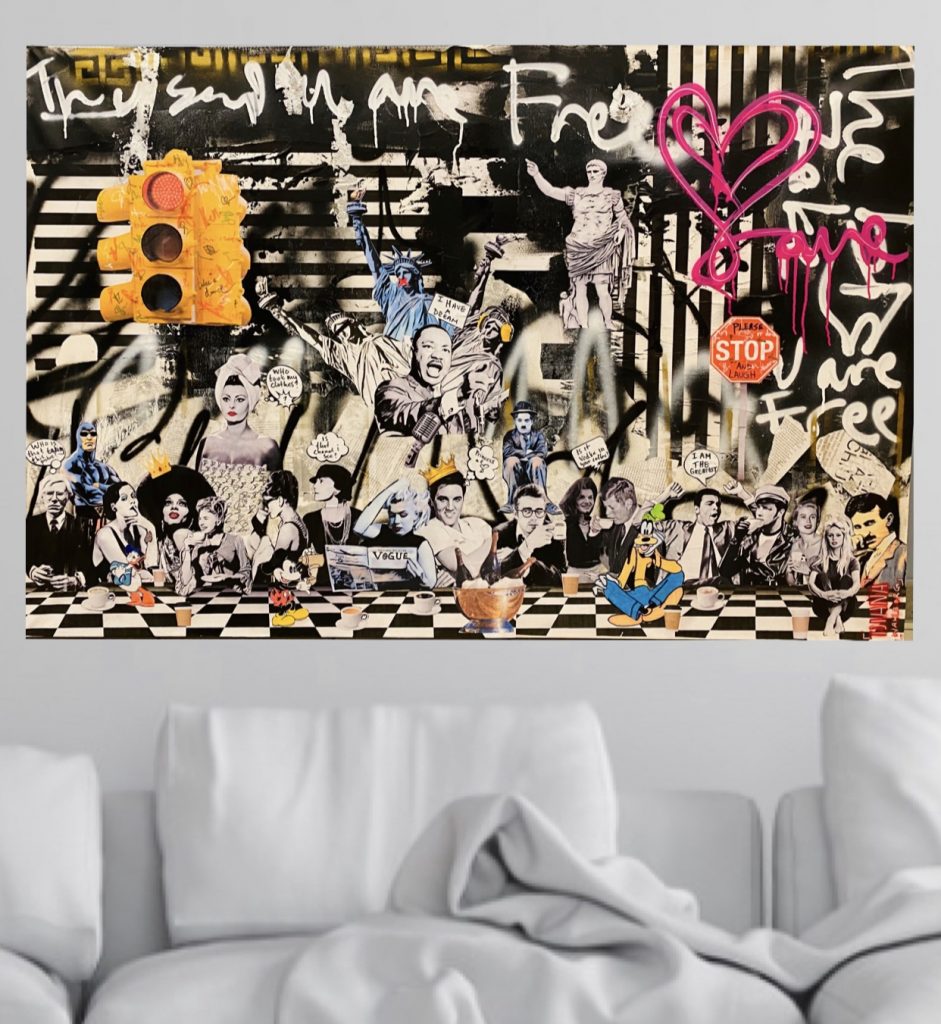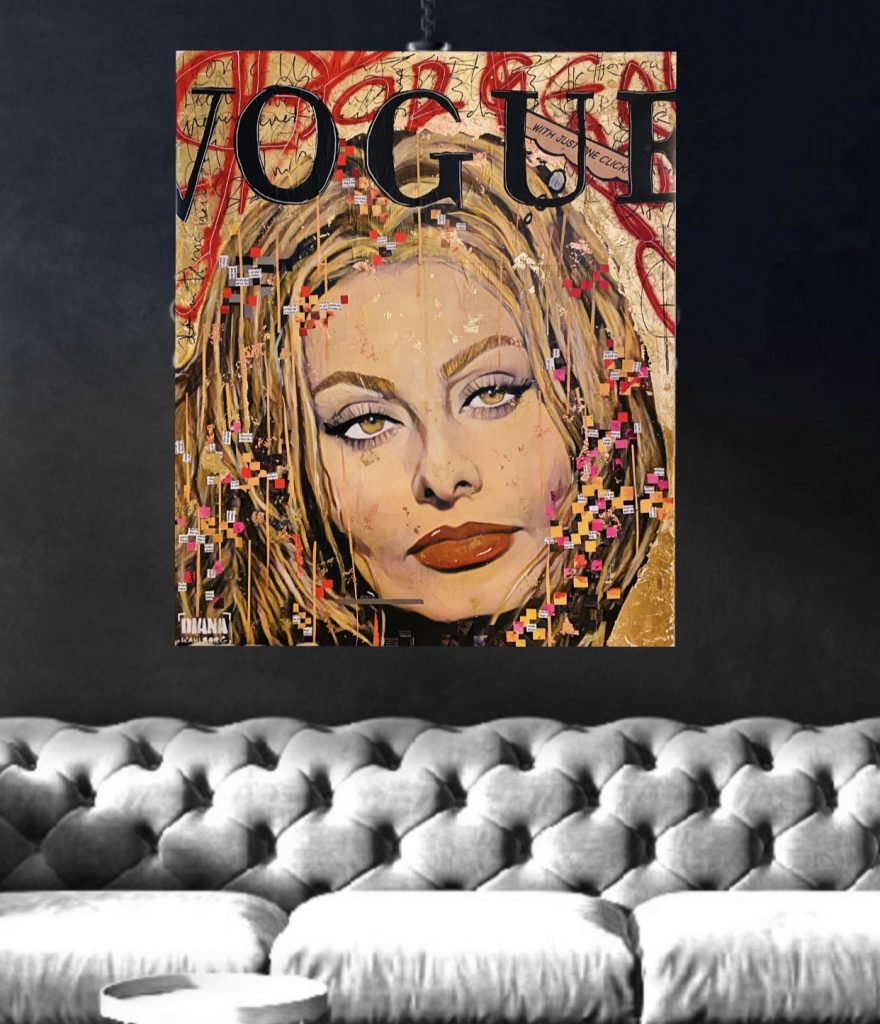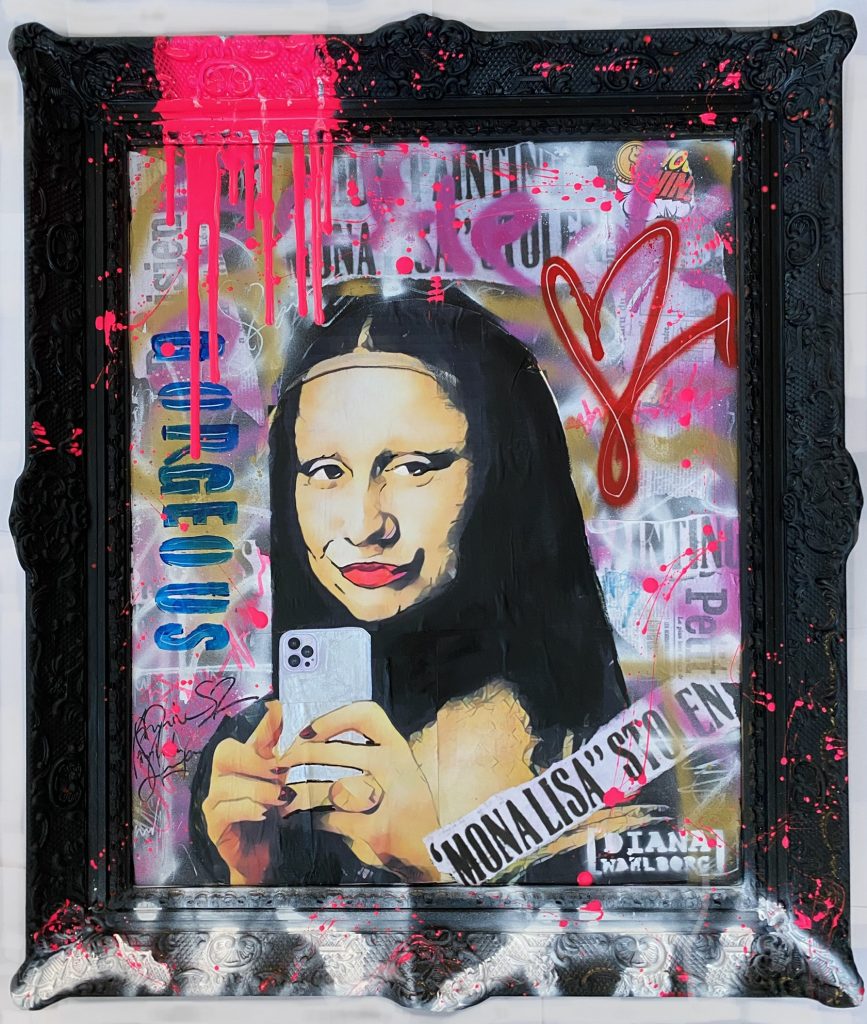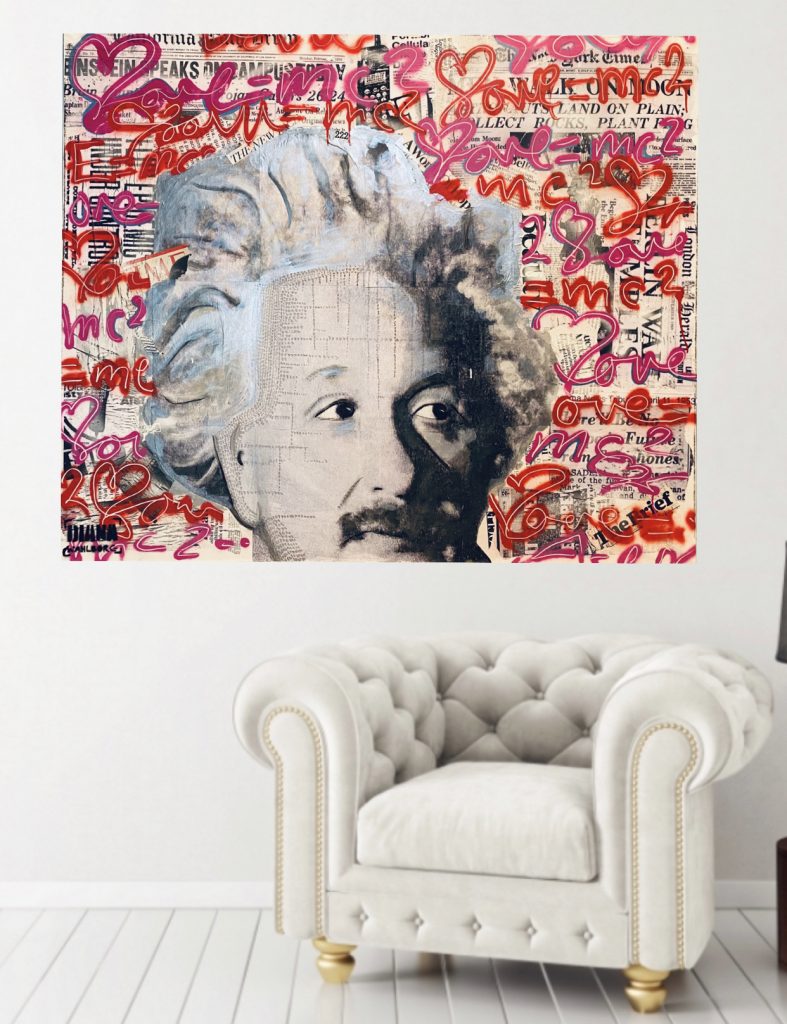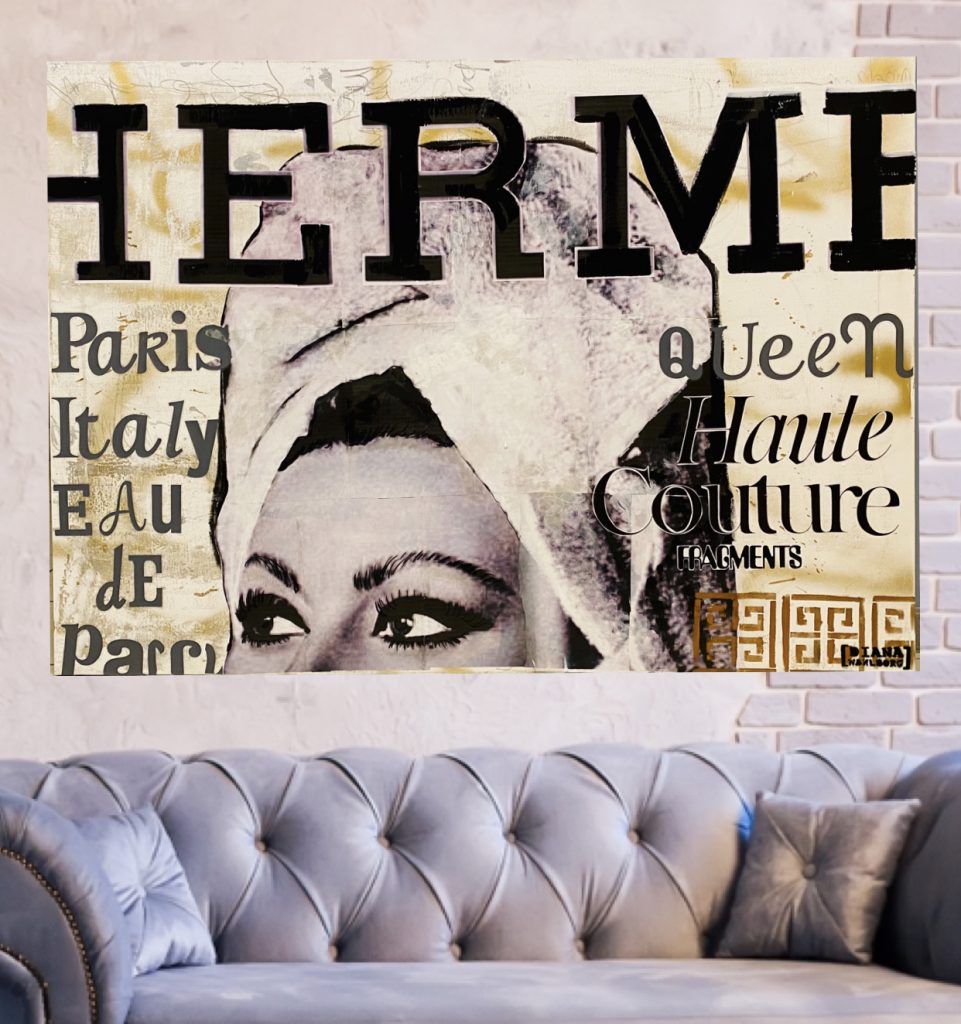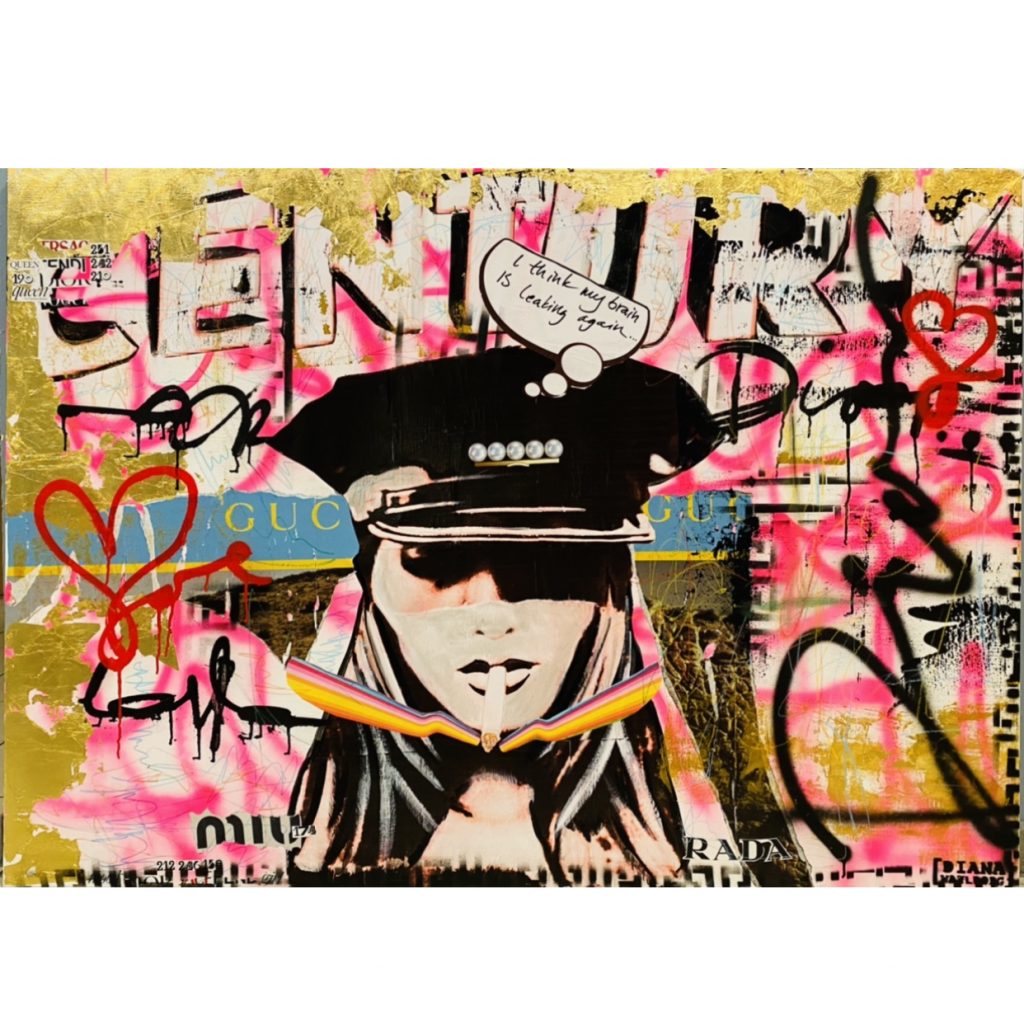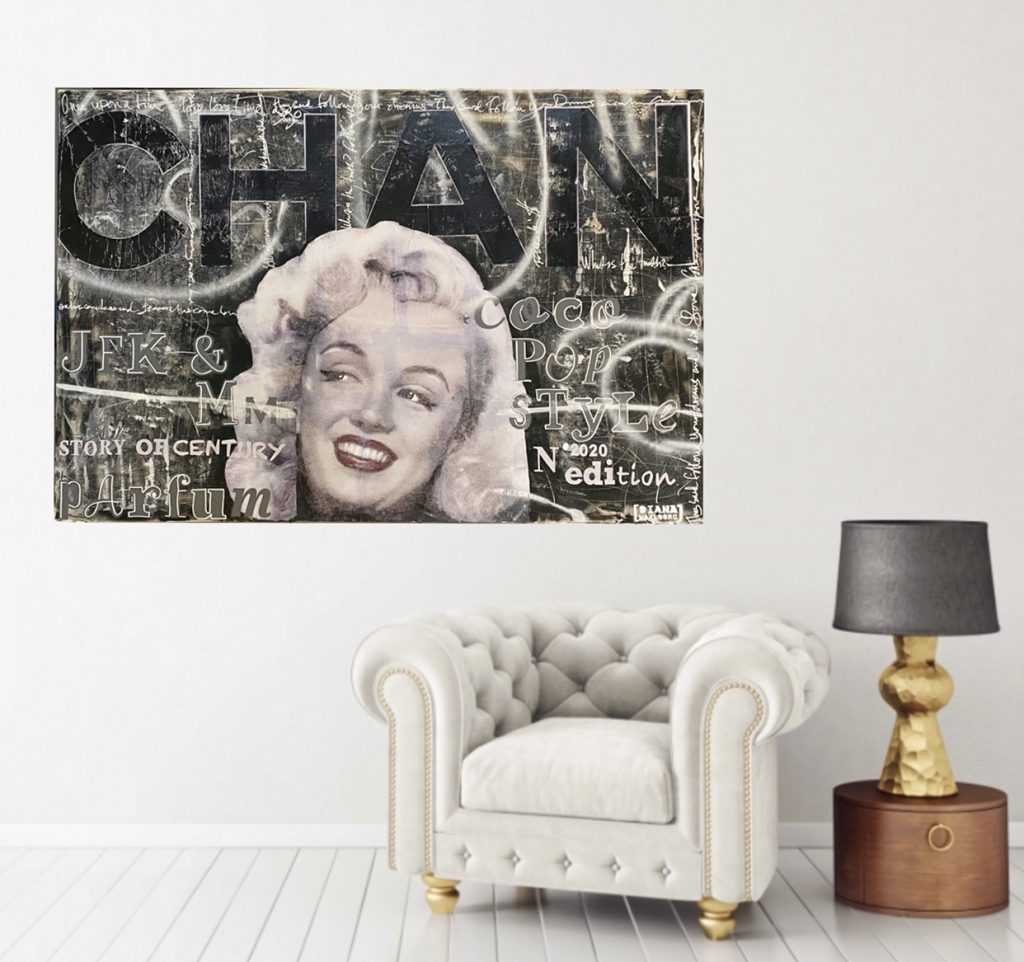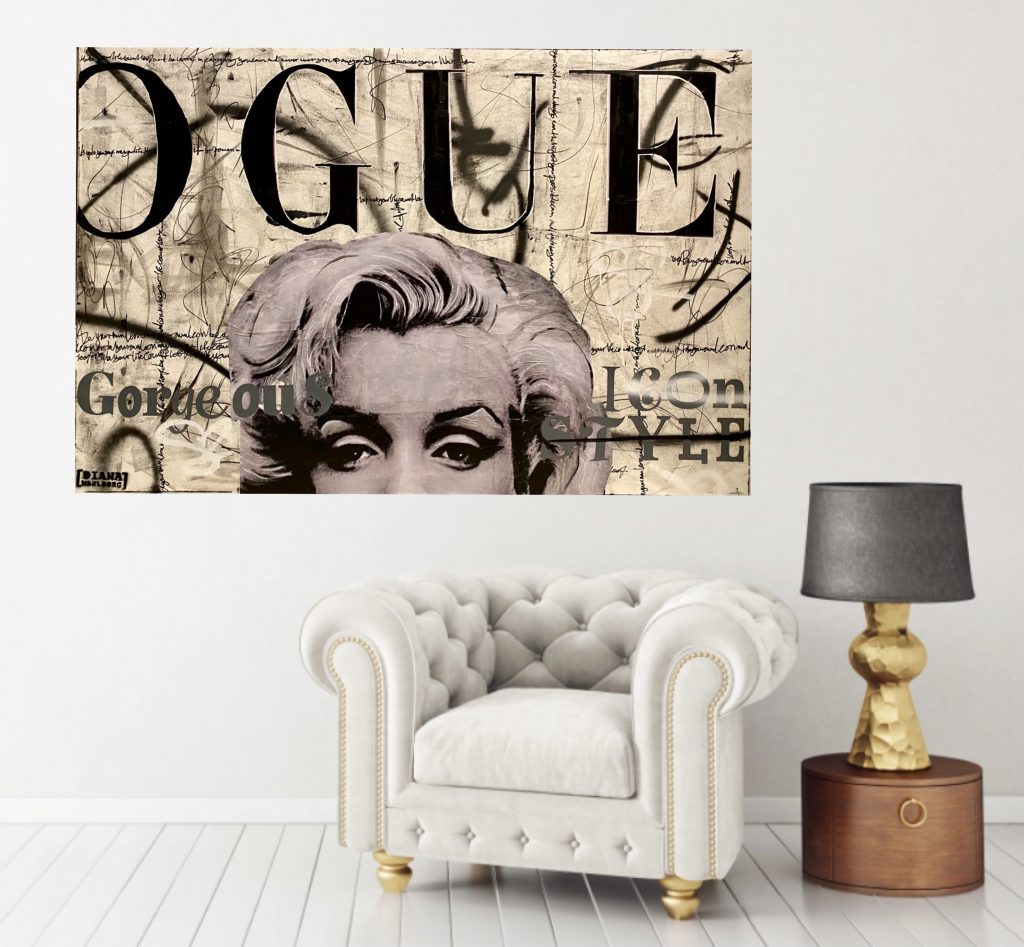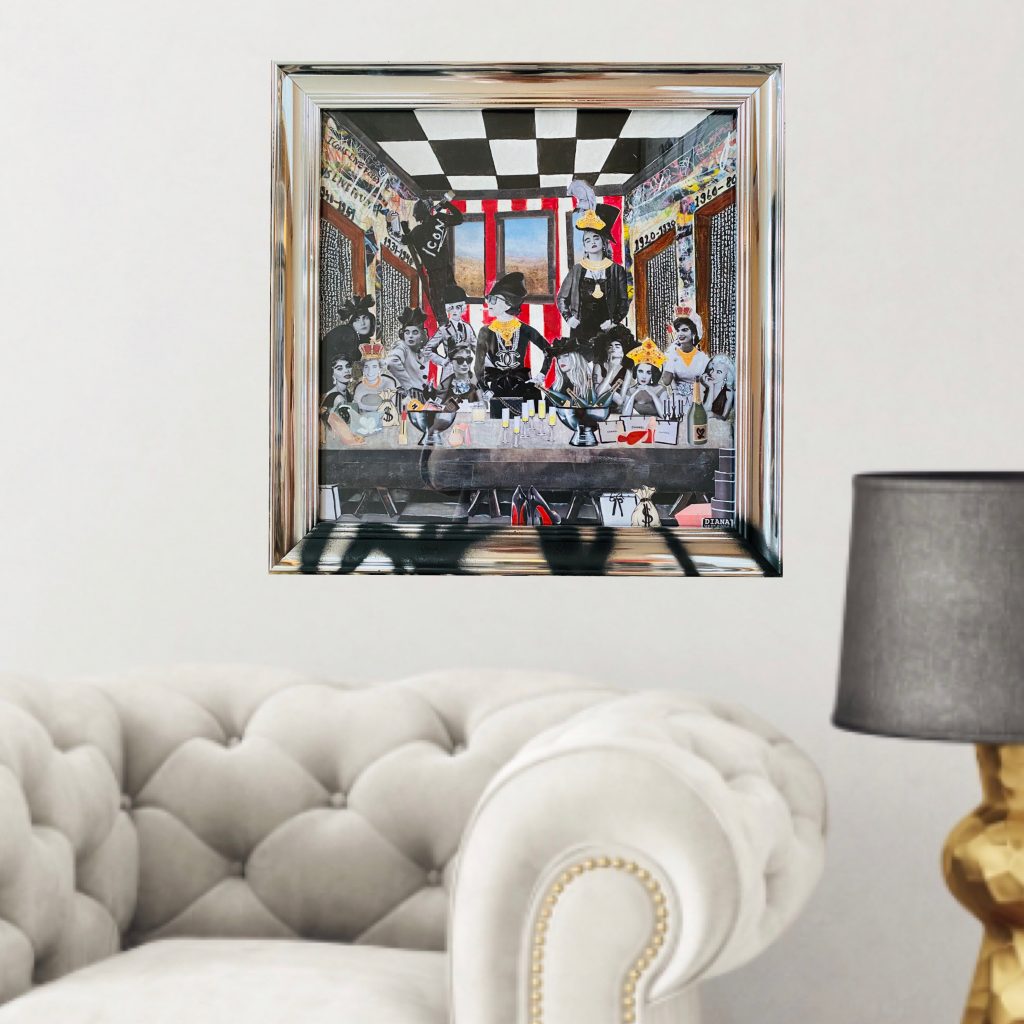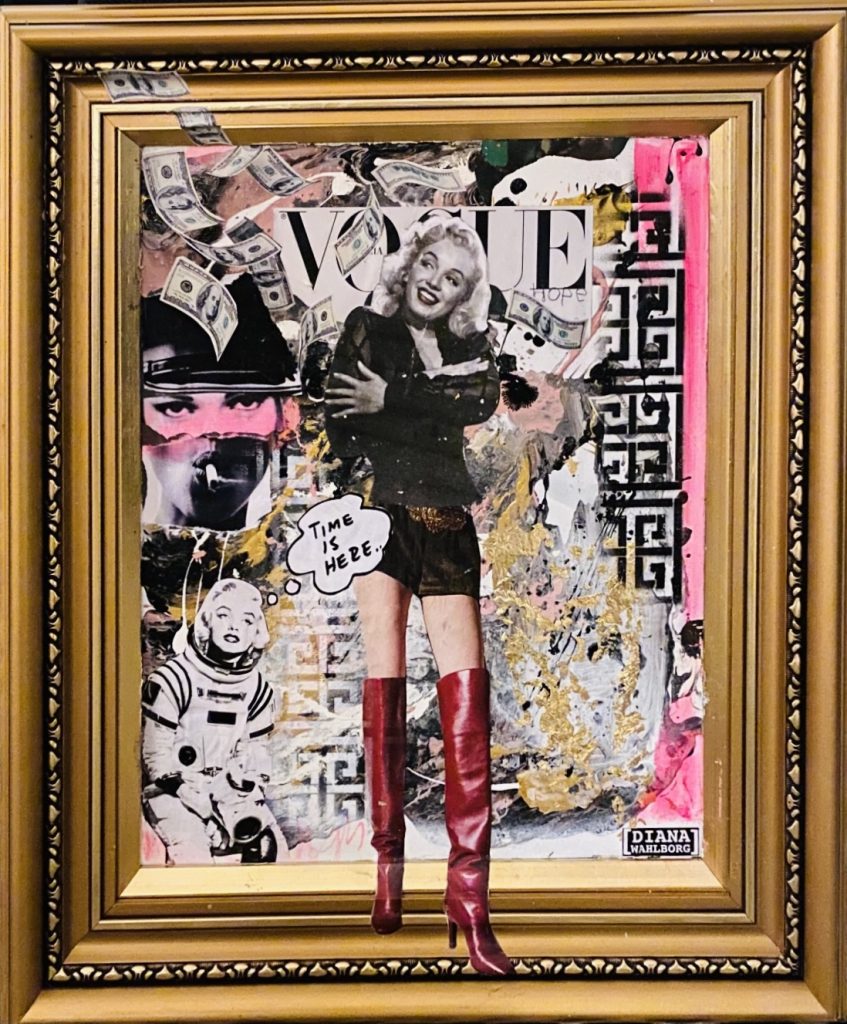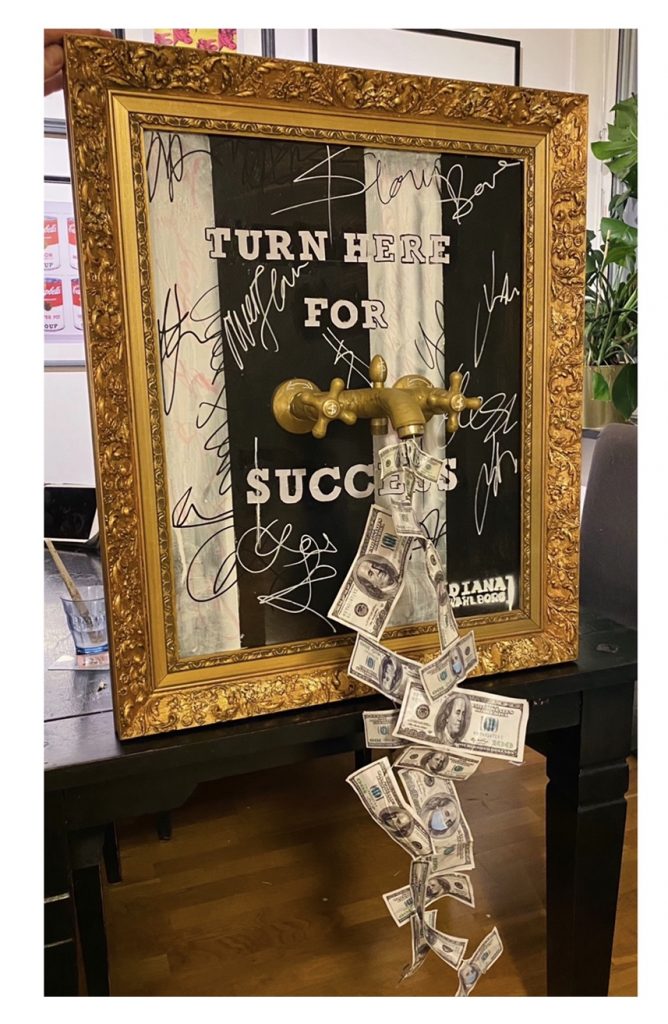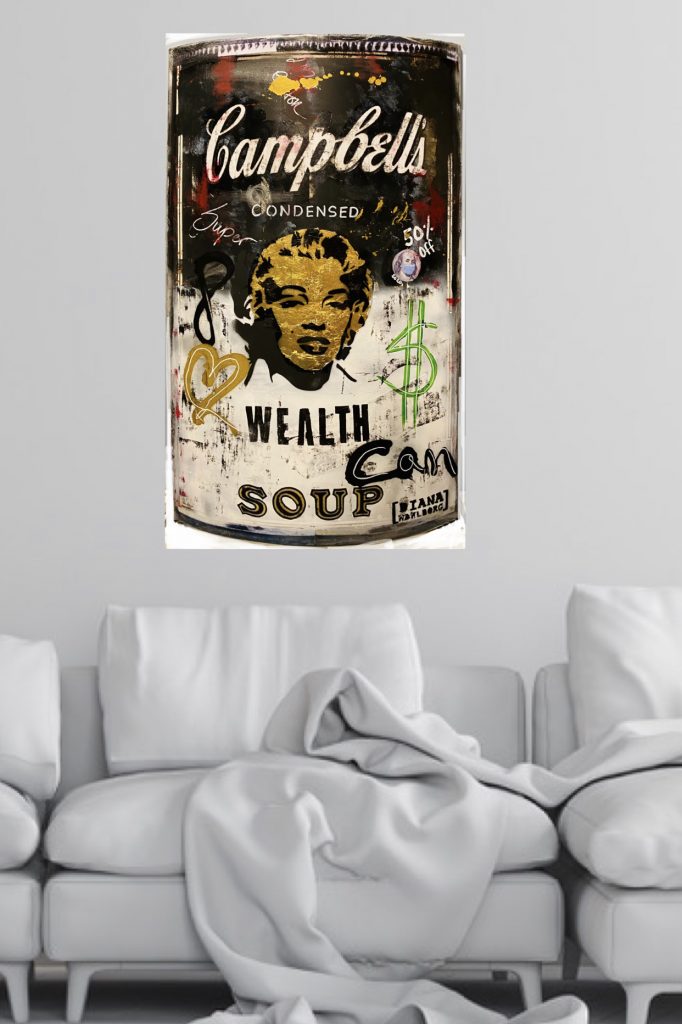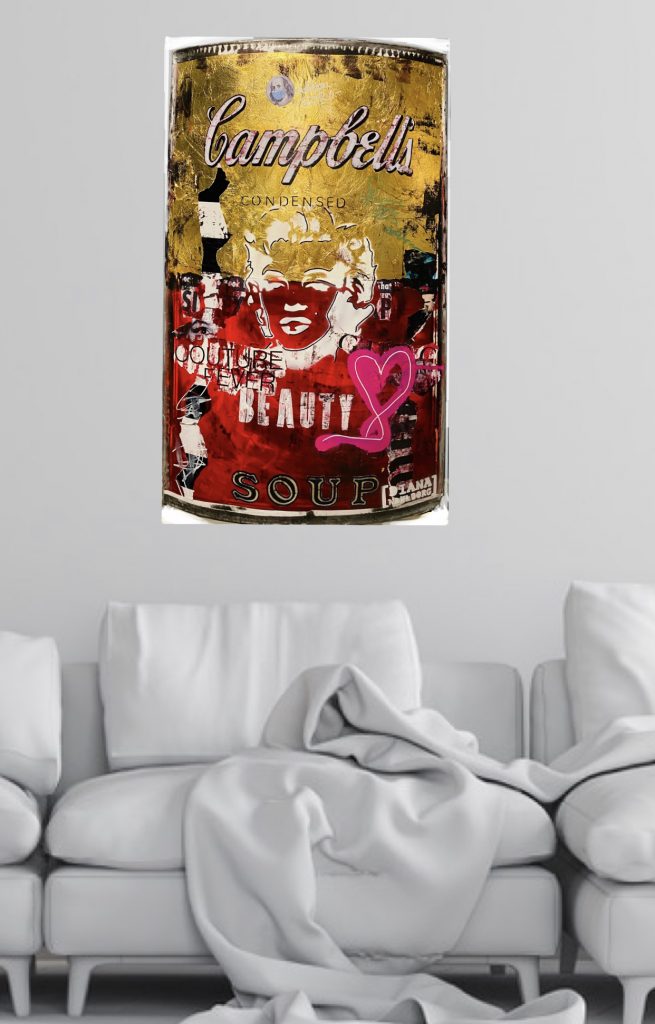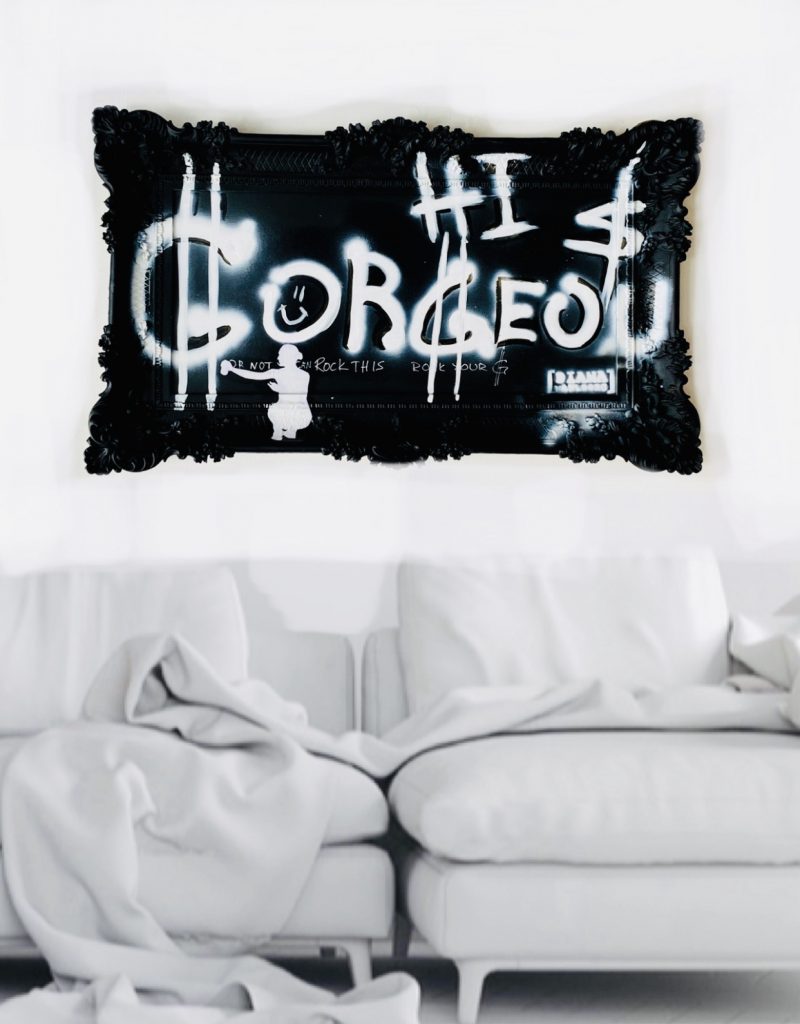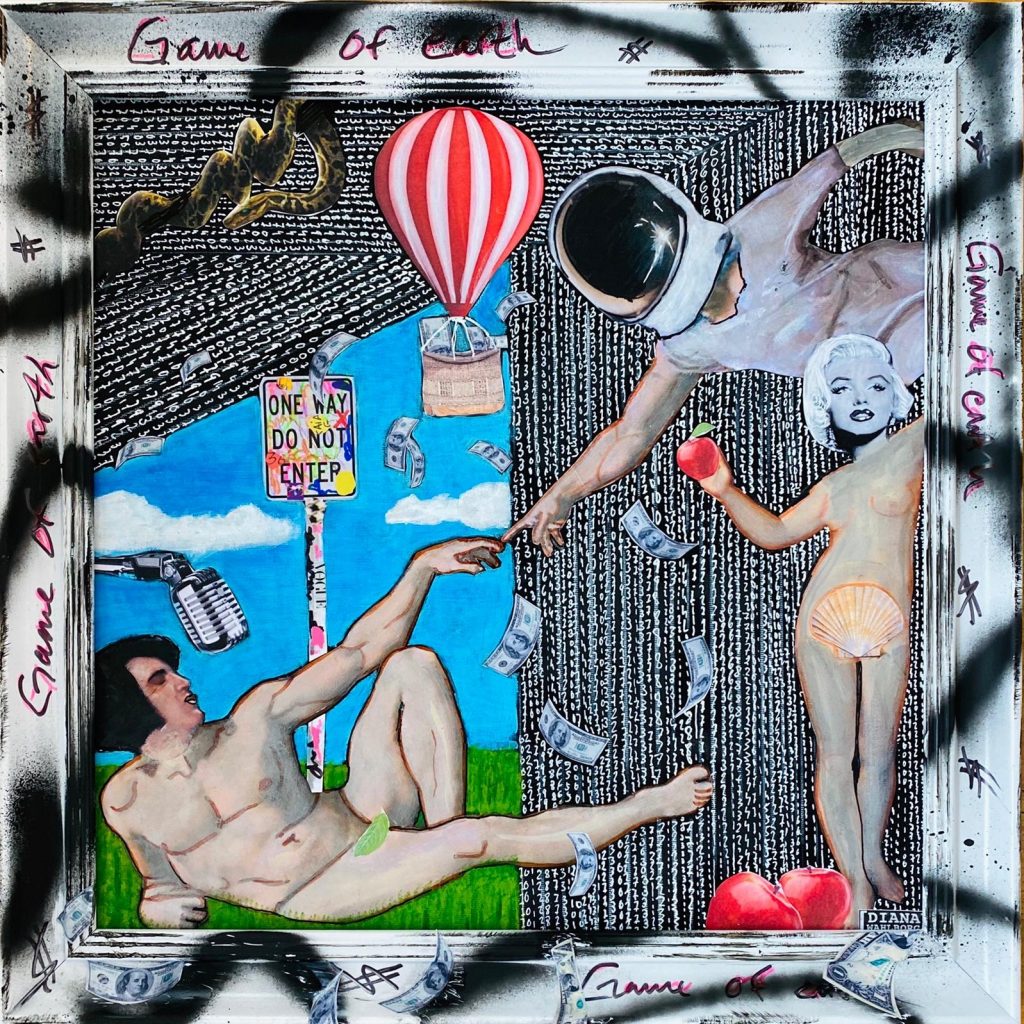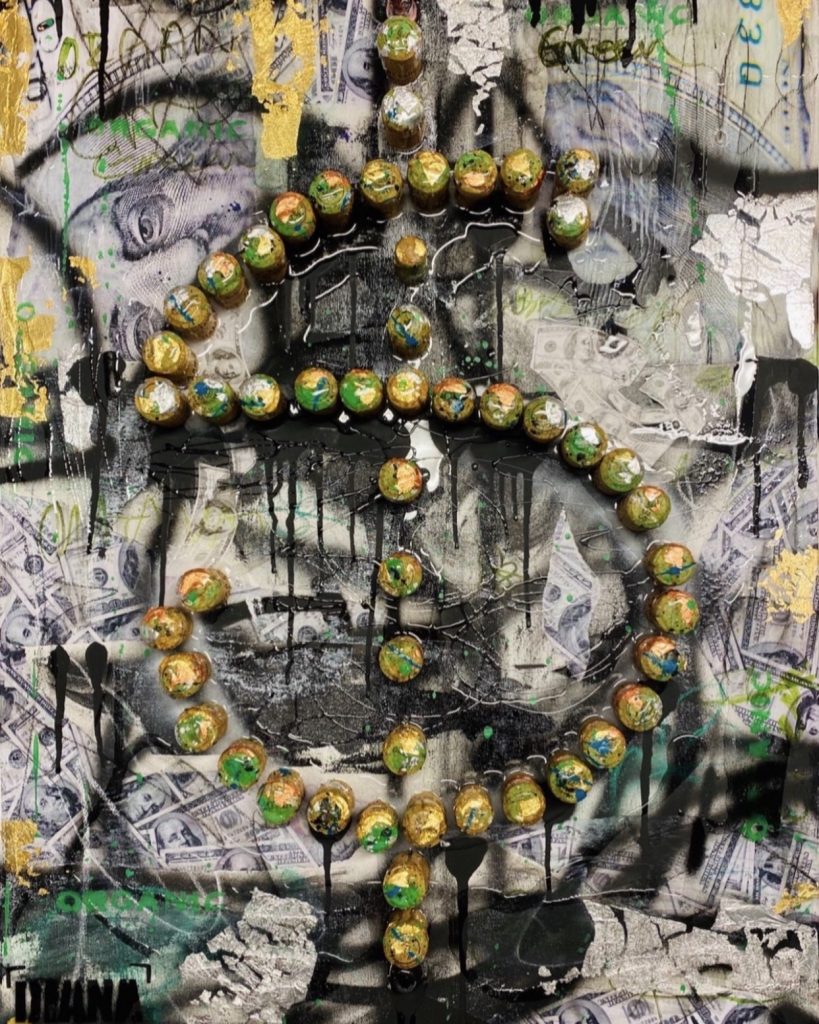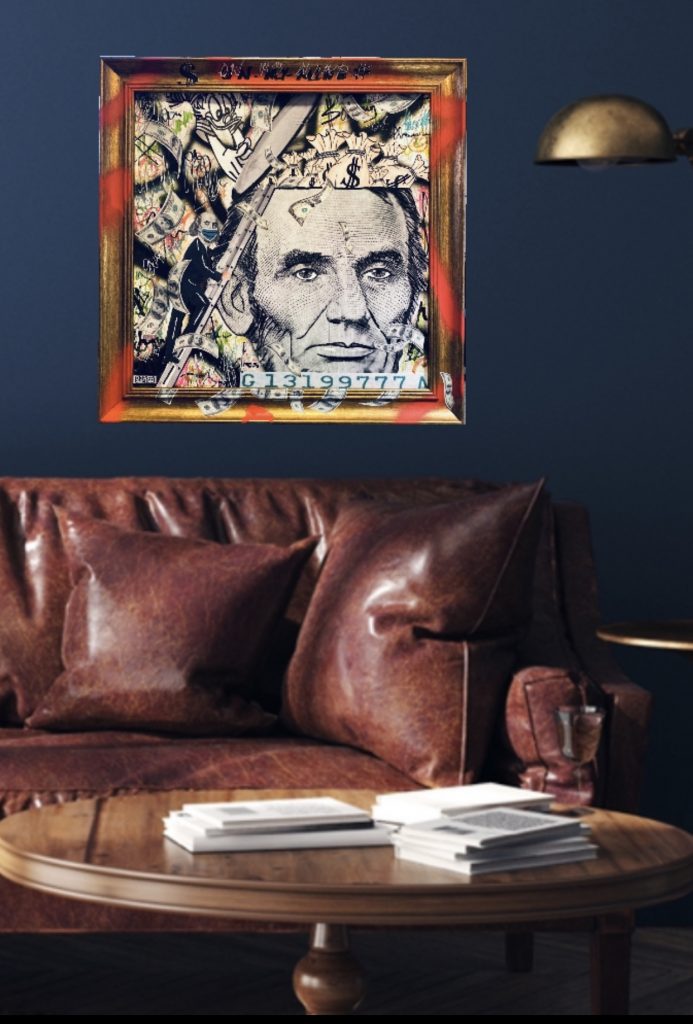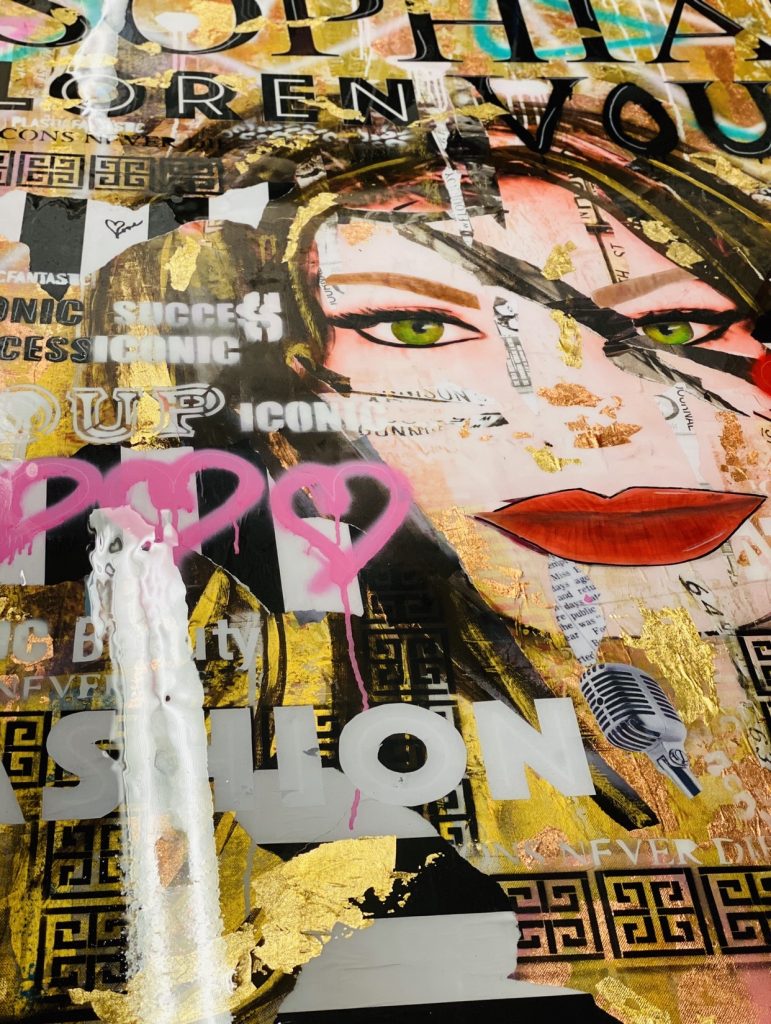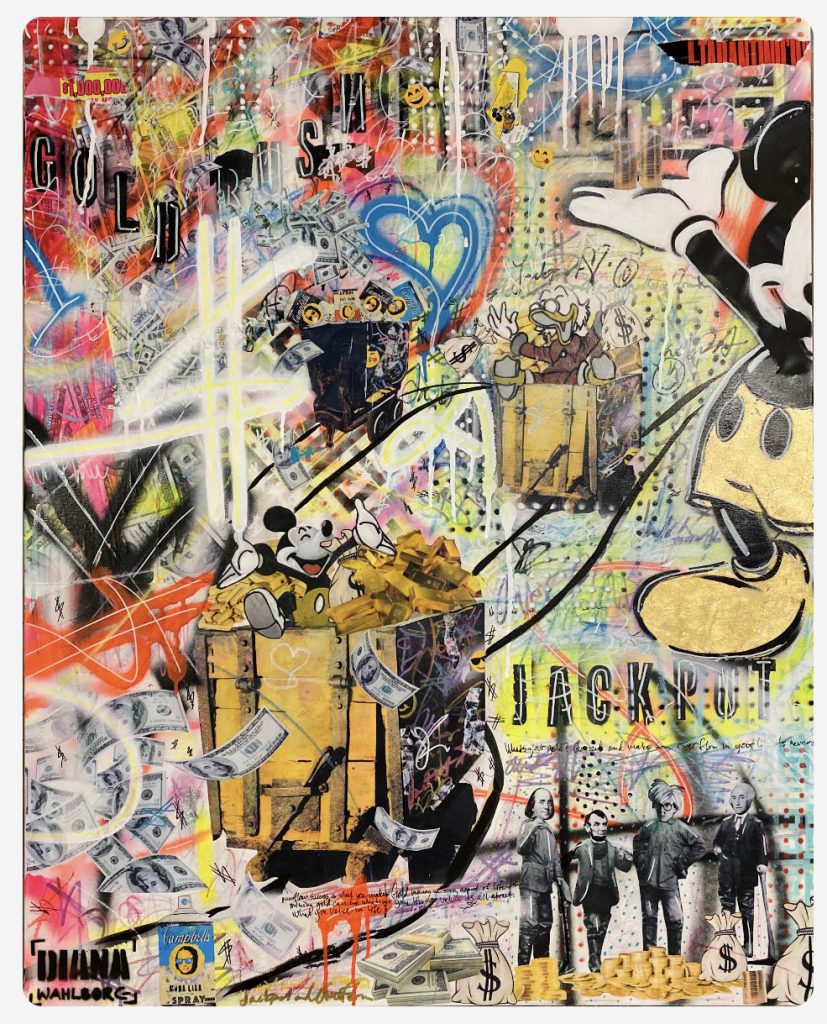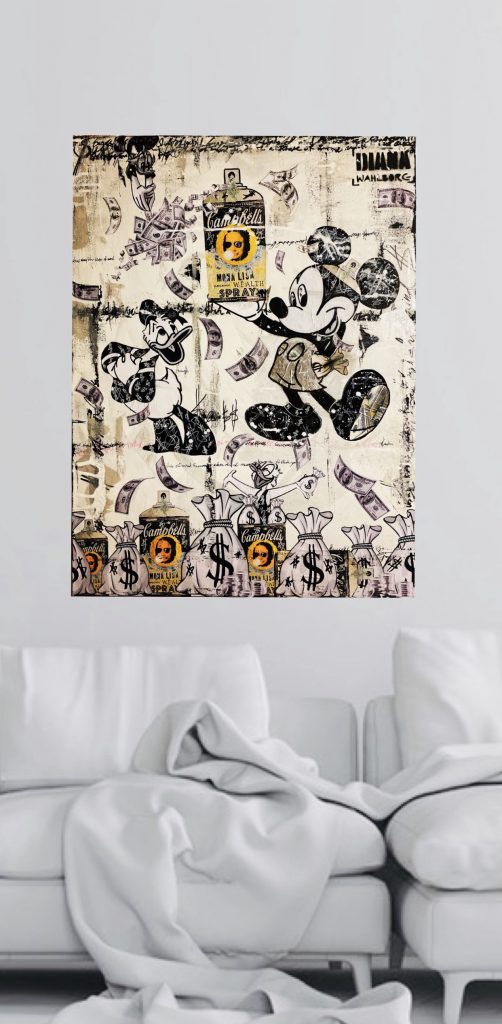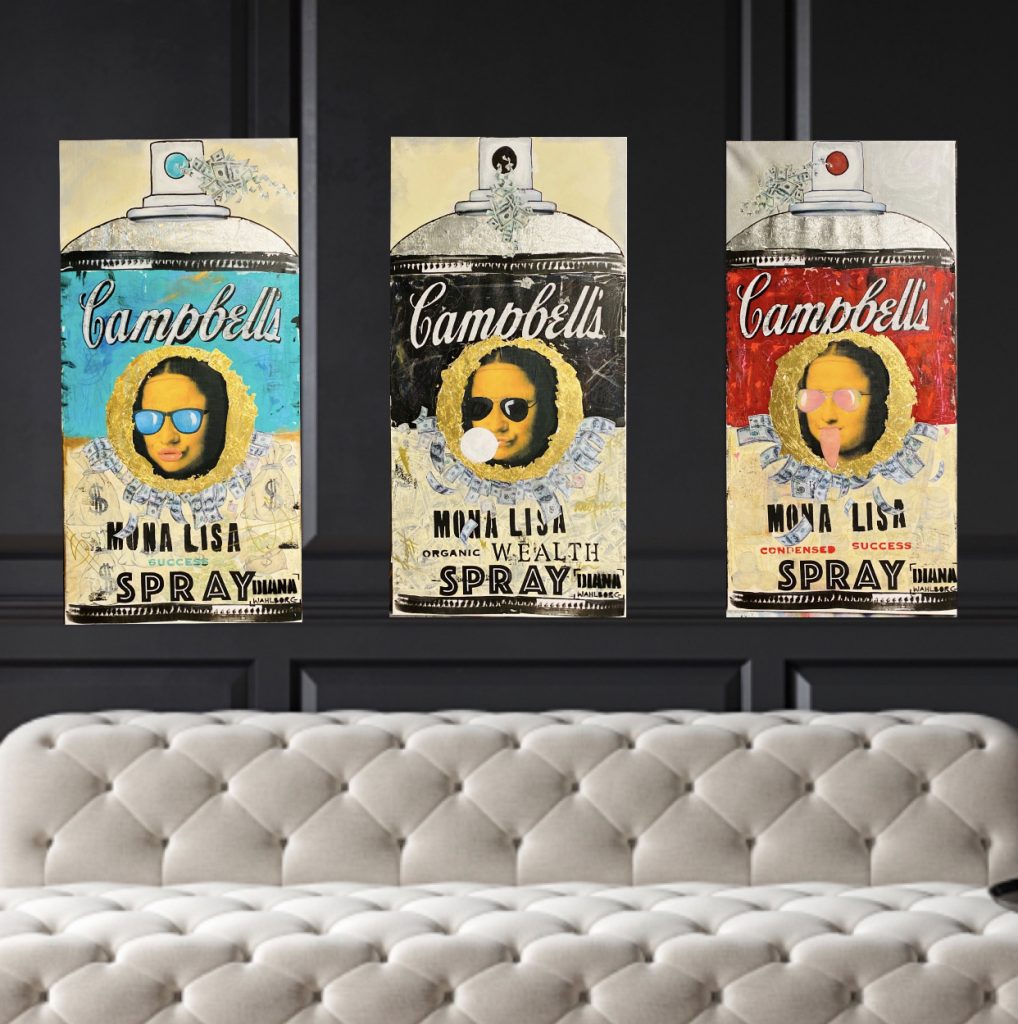 SOLD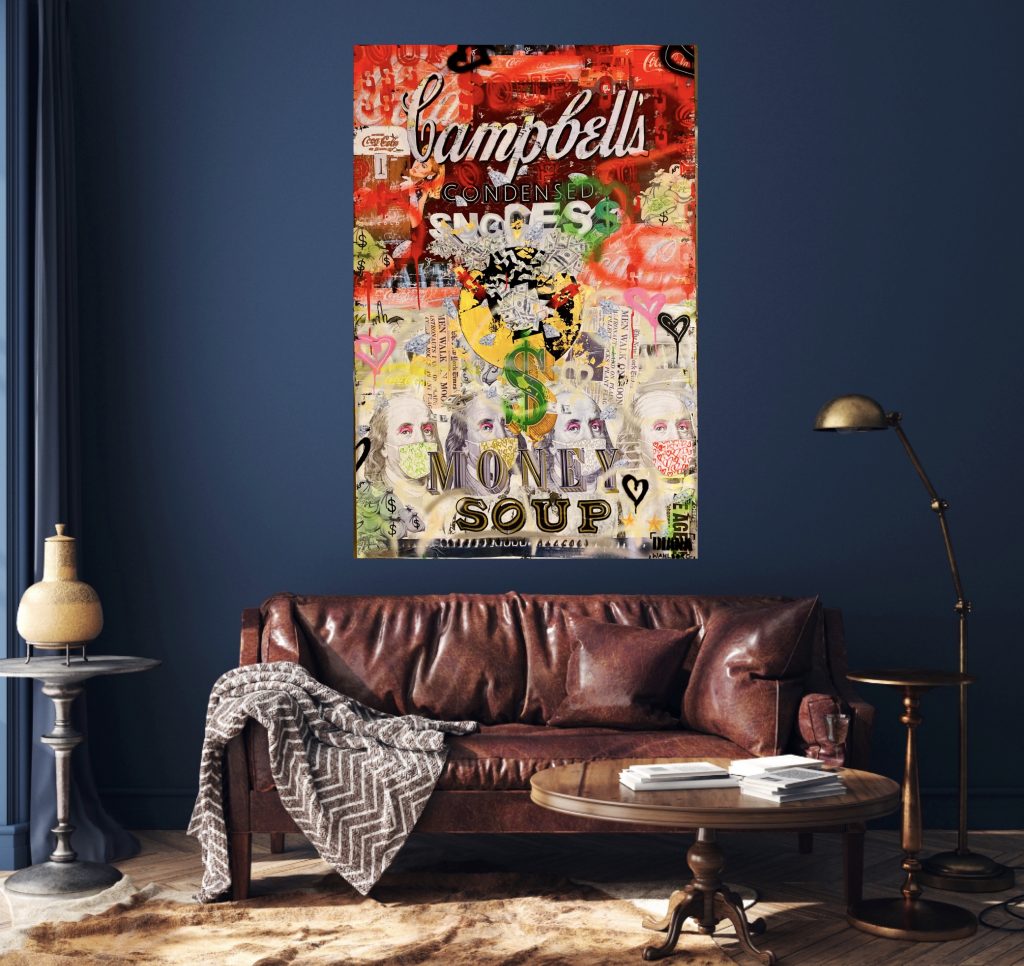 SOLD!
---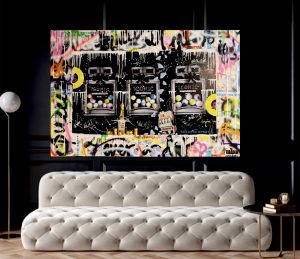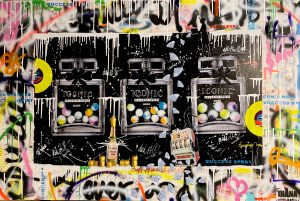 -CONDENSED SUCCESS SPRAY- SOLD!
150 X 100 cm Acrylic, collage, champagne corks on canvas.
---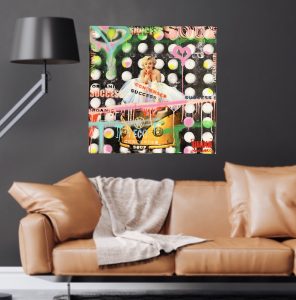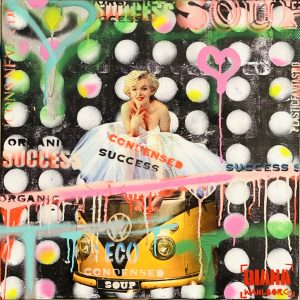 -MARILYN CONDENSED- SOLD!
60 X 60 cm Acrylic, collage on canvas.
Price 10.000 SEK
---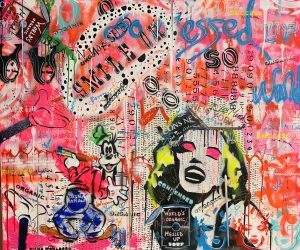 -MESSED UP WORLD-
120 X 100 cm, acrylic on stretched canvas
---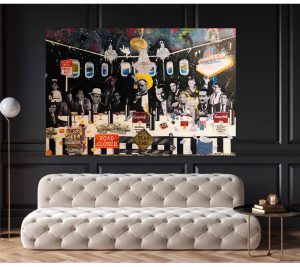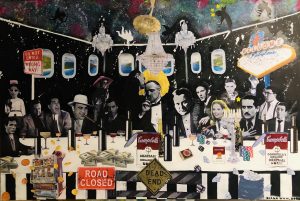 -GOODFELLAS LAST SUPPER- SOLD!
150 X 100 cm acrylic & collage on canvas, resin
Price 20.000 SEK
---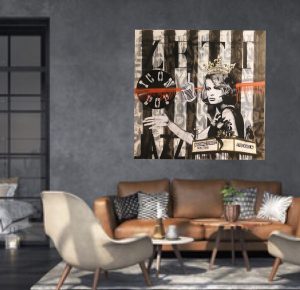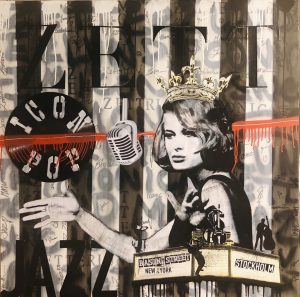 -MONICA ZETTERLUND-
100 X 100 cm Acryl, collage and LP.
---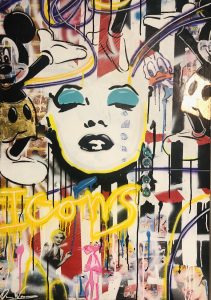 –Marilyn-
This painting is in Italy (Brescia)
100 X 70 cm Acrylic & Collage on canvas.
---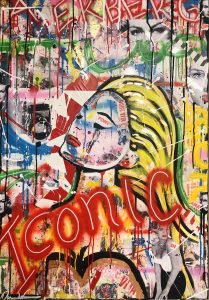 -Anita Ekberg-
This painting is in Italy (Brescia)
100 X 70 cm Acrylic paint & collage on canvas
---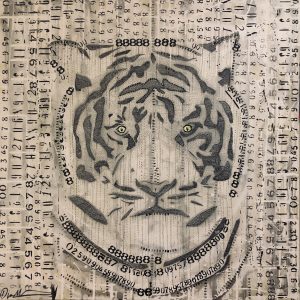 -Ramonas Tiger- SOLD!
100 X 100 cm
THIS ART IS AVAILABLE AS PRINT AT ÅHLENS.SE
OR PELCASA.COM
---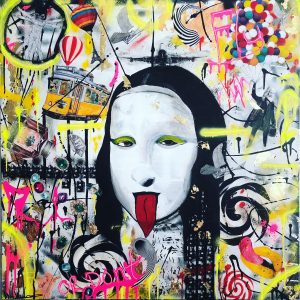 SOMEDAY-LISA
This painting was in in New York Manhattan (Tribeca) at Gallery 104 February 2020.
100 X 100 cm acrylic on canvas & collage
THIS ART IS AVAILABLE AS PRINT AT ÅHLENS.SE
OR PELCASA.COM
-Go banana- SOLD!
THIS ART IS AVAILABLE IN PRINT AT ÅHLENS.SE
OR PELCASA.COM
---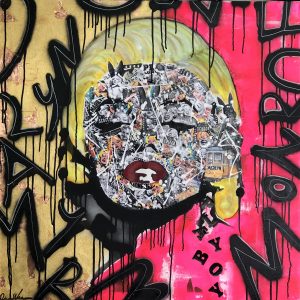 -MARILYN PLAYBOY-
This painting was in in New York Manhattan (Tribeca) at Gallery 104 February 2020.
80 X 80 cm Acrylic paint on canvas, collage & 22 carat goldTHIS ART IS AVAILABLE IN PRINT AT ÅHLENS.SE
OR PELCASA.COM
---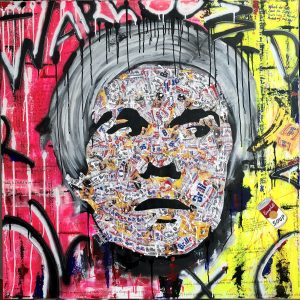 -ANDY WARHOL- SOLD!
This painting was in Rome Italy at gallery Rossocinabro 2019-2020
100 X 100 cm acrylic paint on canvas & collage
---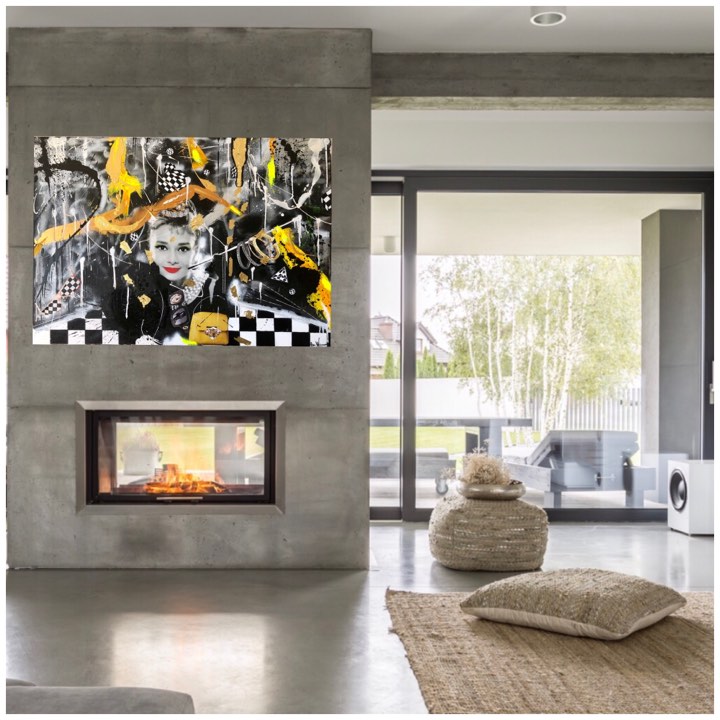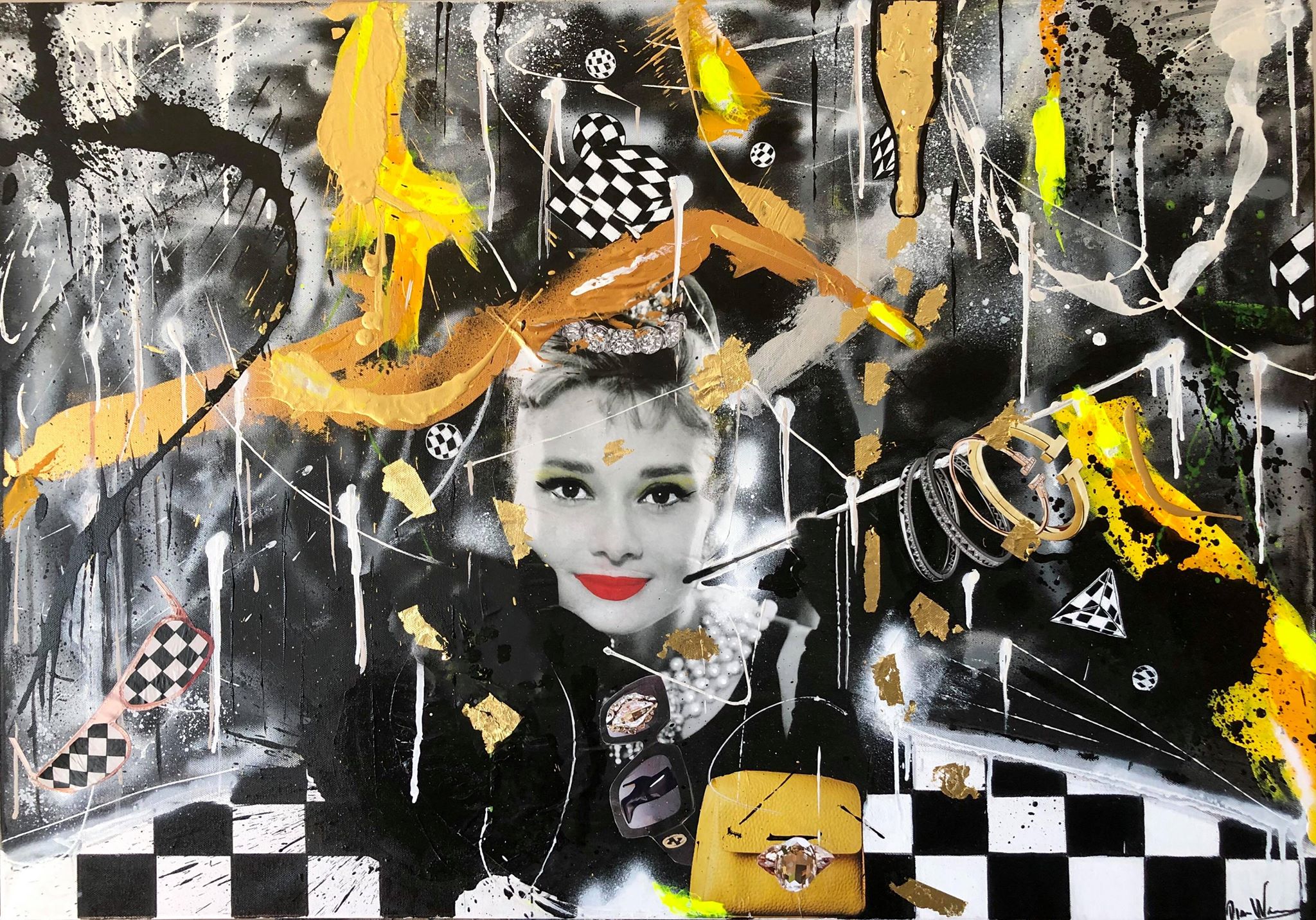 –What do you want-
This painting is in Rome Italy
100 X 70 cm
Acrylic,canvas, collage, 22 carat gold
---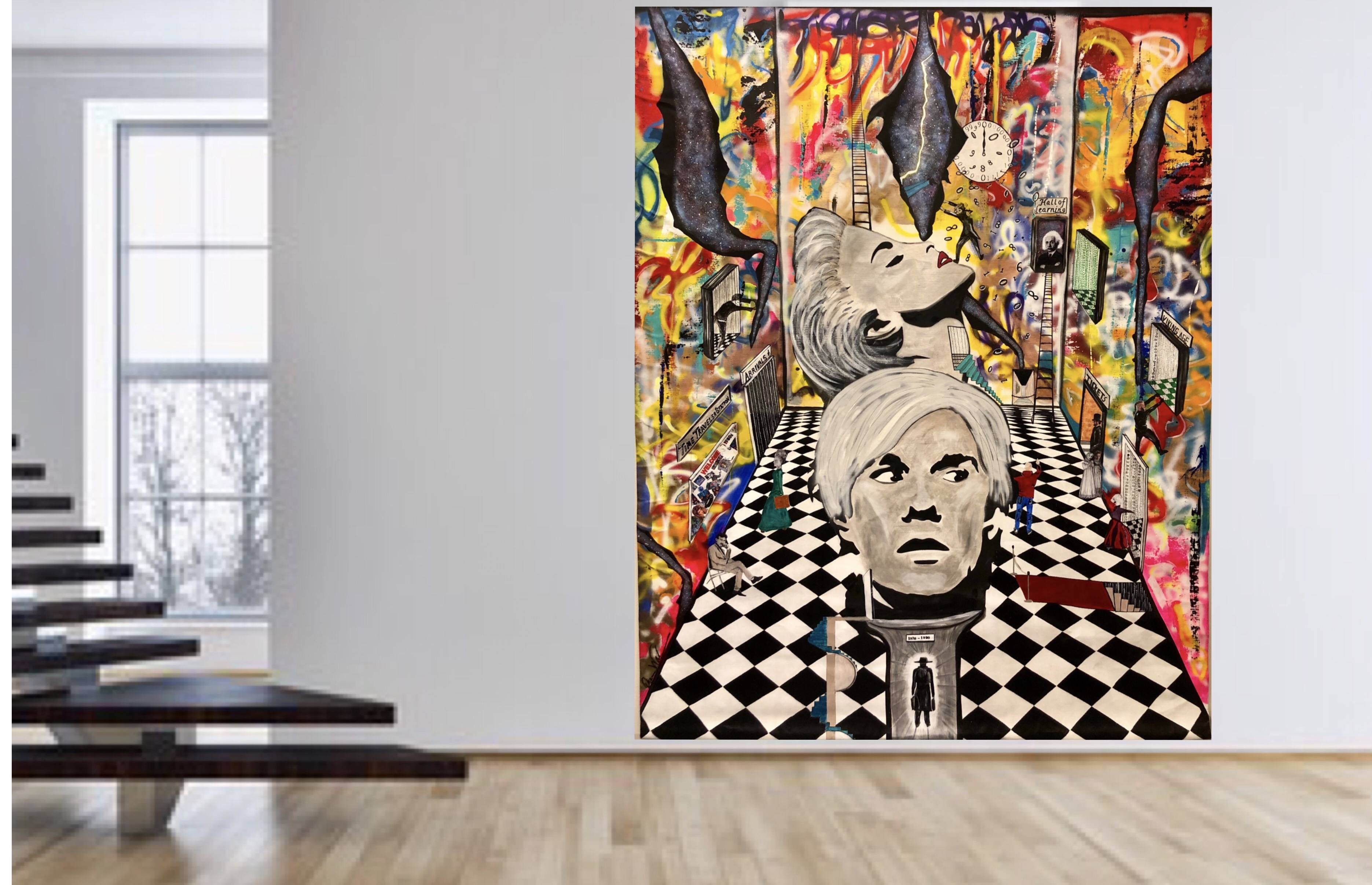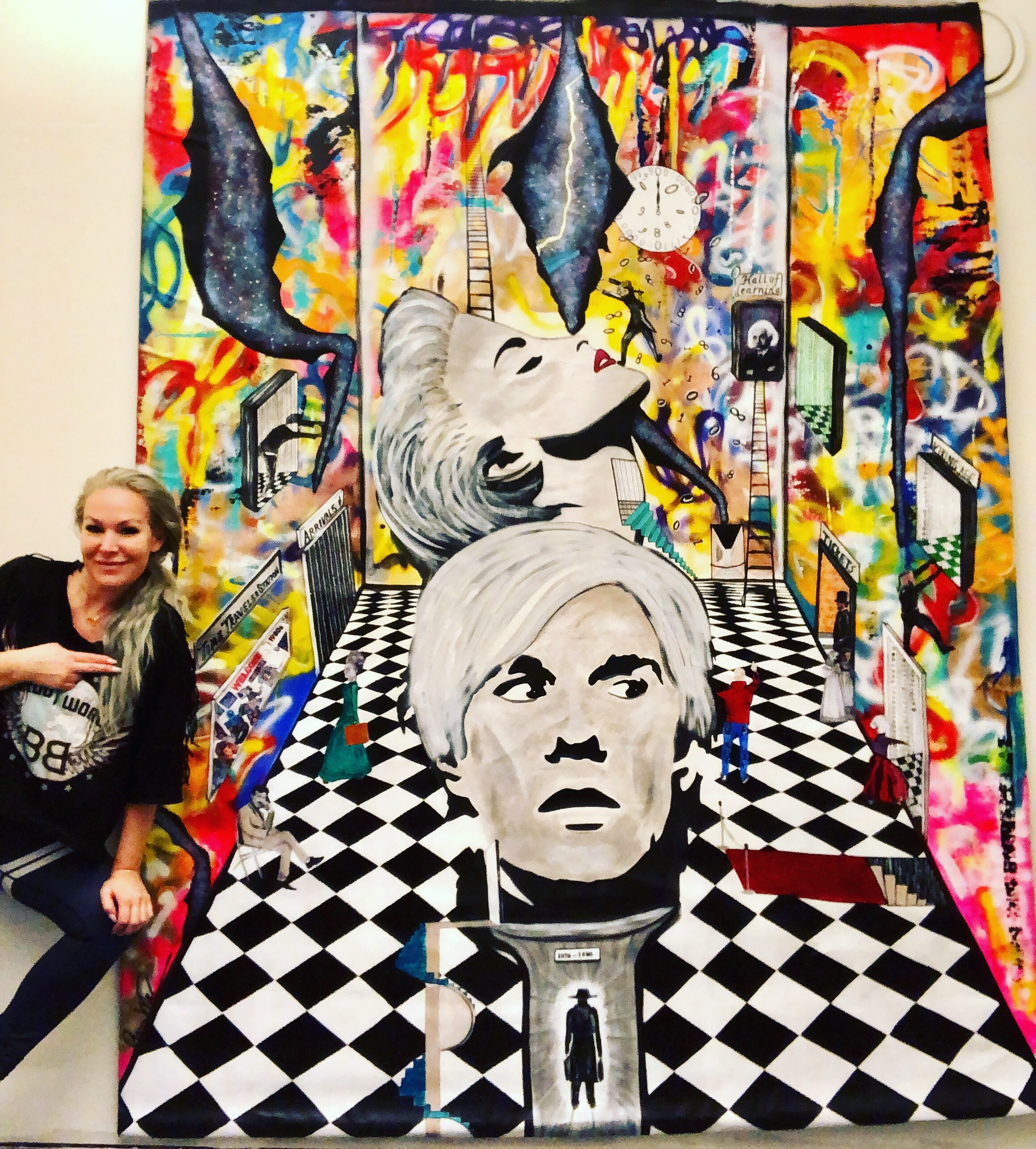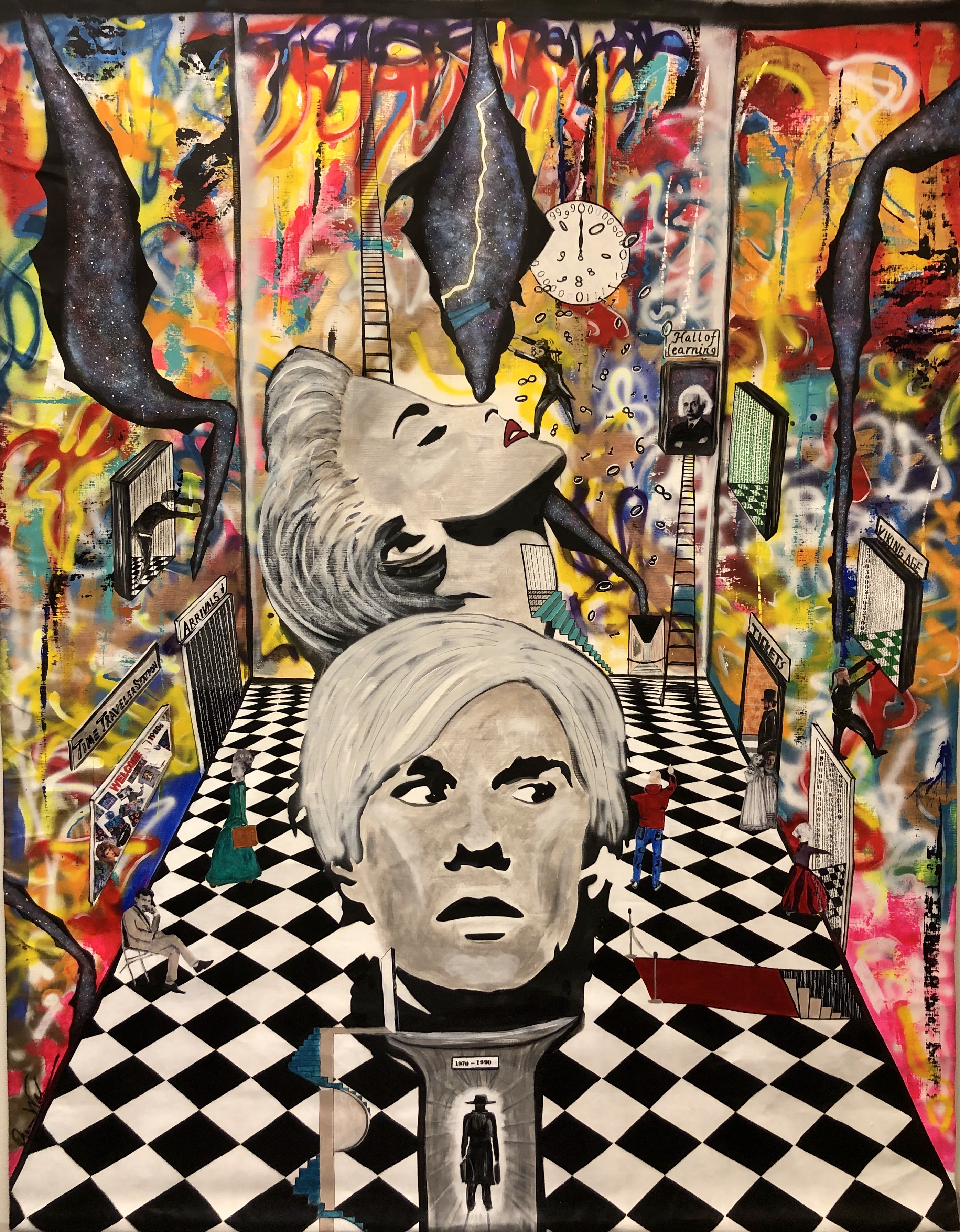 -Time traveler station-
2X3 meter acrylic, canvas
---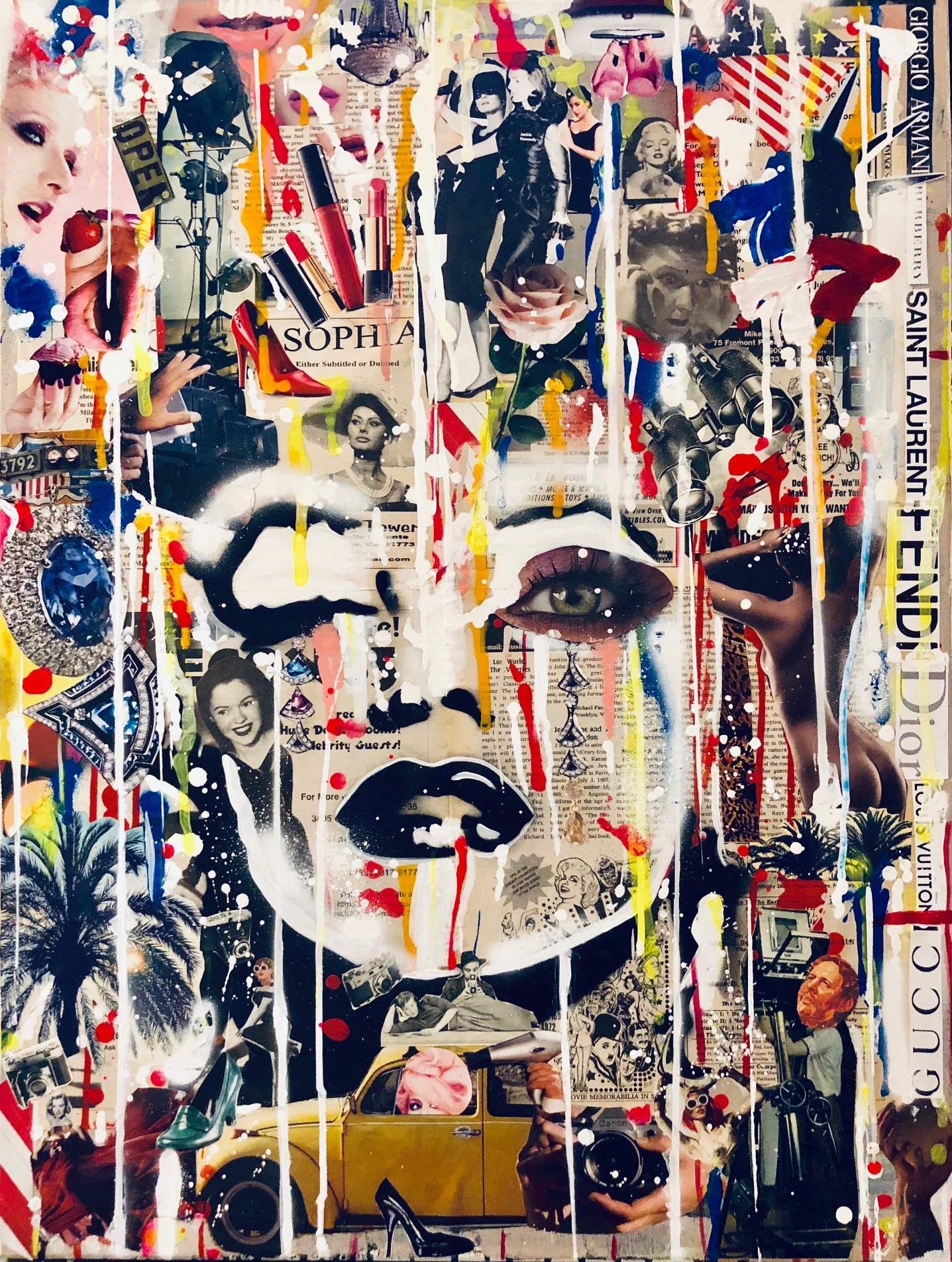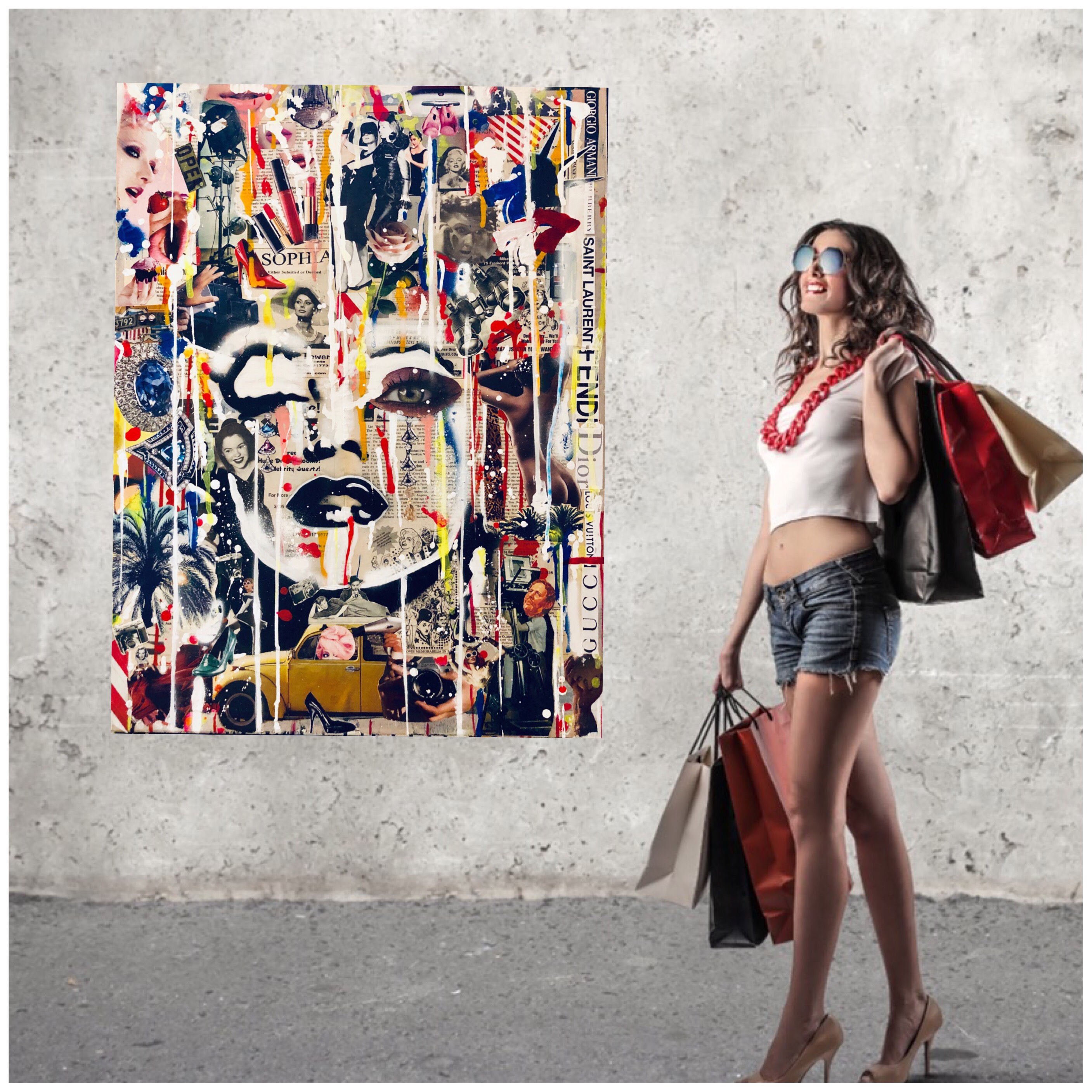 SOLD! -Facets of life-
THIS PAINTING IS AVAILABLE AS PRINT AT ÅHLENS.SE
OR PELCASA.COM
---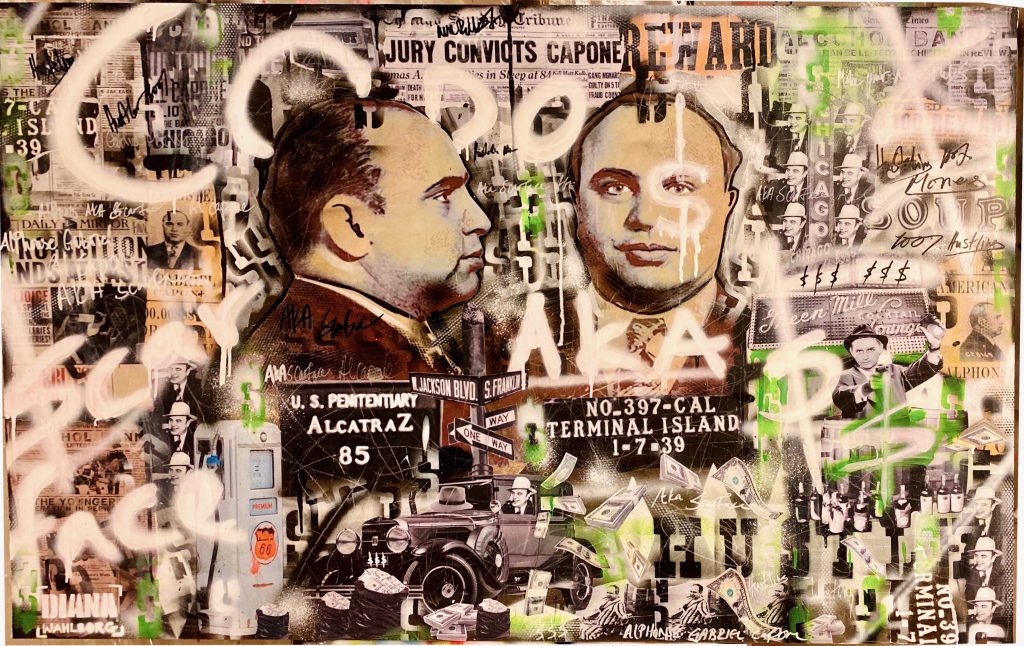 Al Capone AKA Scarface